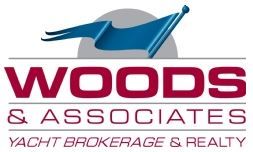 Welcome to Woods & Associates Yacht Brokerage!
You have chosen the boating life style, be it cruising aboard a motor yacht or backing down on Blue Marlin from a sportfisherman. Now it's time to either buy or sell and you must choose the broker to get the job done. Choose wisely!!

The father and son team of Pete & Ryan Woods launched their new company, Woods & Associates Yacht Brokerage, in August 2006. Pete's youngest son, Matt came on board in 2009 following graduation from FAU. Their credentials are well established, Pete with 35 plus years in the trade is further complemented by Ryan & Matt's high energy and impressive track record established during their young careers. "The apples fall not far from the tree."

A diversified range of brokerage product will be professionally represented, with a priority on post sale relationships. This is a comittment that a family owned and operated business can deliver--the old fashioned way--through hard work and dedication. Operational hours are 24/7 and the company mantra is simple & to the point "Accept The Challenge"