So you're ready to sell your boat? The good news is the turnaround time for the sale of used boats can be relatively quick. To ensure you get the right offer in a short time frame, your vessel needs to be prepped appropriately. We asked yacht brokers what they look for, and this is what we learned.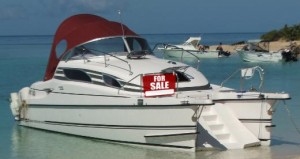 Polished Appearance
"Buyers shop with their eyes first and read the specs second," says Alex Clarke, a broker with Denison Yacht Sales in Ft. Lauderdale, Florida. "For that reason, it should be well-maintained so it shows well." Buyers don't want to see a dirty engine room or bilge, stained carpets in the cabin, or a hull that looks as if it needs a wash. Sellers who spend a couple hundred bucks on a buff and wax could earn thousands back in the asking price, if the boat is shined up when the buyers inspects it at the dock. "The boat shouldn't look as if the seller can't afford the upkeep and wants to dump it," says Clarke. "You want the buyer to say, 'This is how I would keep it if it were my boat.'"
A well-maintained boat will attract a buyer's eye at the dock, and also online. When Denison takes a listing, the brokerage firm creates videos and photo galleries for use online, where many buyers go today to do their research and shopping. A video of the yacht on YouTube, for instance, will attract more eyes if the boat that's featured looks the part of a star performer.
Price
Today's buyers are savvy shoppers and because they do thorough research, they know when a boat is priced competitively. For that reason sellers need to be realistic when establishing the asking price. "Gone are the days of keeping your boat on market at a high price to leave room for negotiating," says Clarke. "Buyers will look past that boat. If you put it on the market at the right price, educated buyers will recognize the accuracy and in the end, the seller will get more action on his boat. Few buyers will pay a premium price in this market, not when there are so many models to choose from."
Good Working Condition
A boat that's prepped to sell quickly also has a good service record, and the documents to back that up. Before you list the boat, make sure all systems are operating efficiently. "You would be amazed at the little things that can turn off a buyer," says Clarke. While many sellers know to keep major systems such as the engines maintained (no buyer wants to see blue smoke upon ignition), they don't always sweat the small stuff. Make sure everything is operating, says Clarke, right down to the GPS display and the entertainment system. "If a buyer turns on the stereo and only half of the speakers on board are working, he may walk. And the seller could have prevented that by simply cleaning the salt off of the connections."
For more information about working with brokers, see:
Yacht Brokers vs Boat Dealers: What's the Difference?
How to Not Sell Your Boat: Our Top 20 Tips
Buying from a Yacht Broker: Commissions, Escrow Accounts, Taxes, and More
Choosing the best Brokers for Mega-Yachts, Super-Yachts, and Luxury Yachts
Related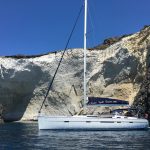 Fall Cruising Focus: Milos Island
Zuzana Prochazka reports on fall cruising around the Greek Islands.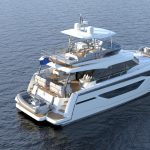 Sneak Peek: 6 Top New Yacht Models
Here's another sneak peek of six new power and sail designs.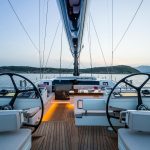 Best Sailing Movies: 33 Top Boating Films To Watch
Check out these not-to-be-missed sailing films and boat movies.