The historic wreck of the SS Pacific, a sidewheel passenger steamship that went down in a storm off the Washington state coast in 1875, was recently located. Aboard the 70' research vessel Sea Blazer, used to find the wreck we relied primarily on scanty cellular reception before Starlink internet connectivity for boats became available. On individual handsets cellular signal in the vicinity of the wreck is erratic. Coverage becomes more consistent when using either a cell carrier's portable hotspot or Wave WiFi's MBR 550 or MNC1250 wireless routers connected to an external cellular antenna. Even with this equipment cell service is sporadic around our search area especially during times of poor propagation.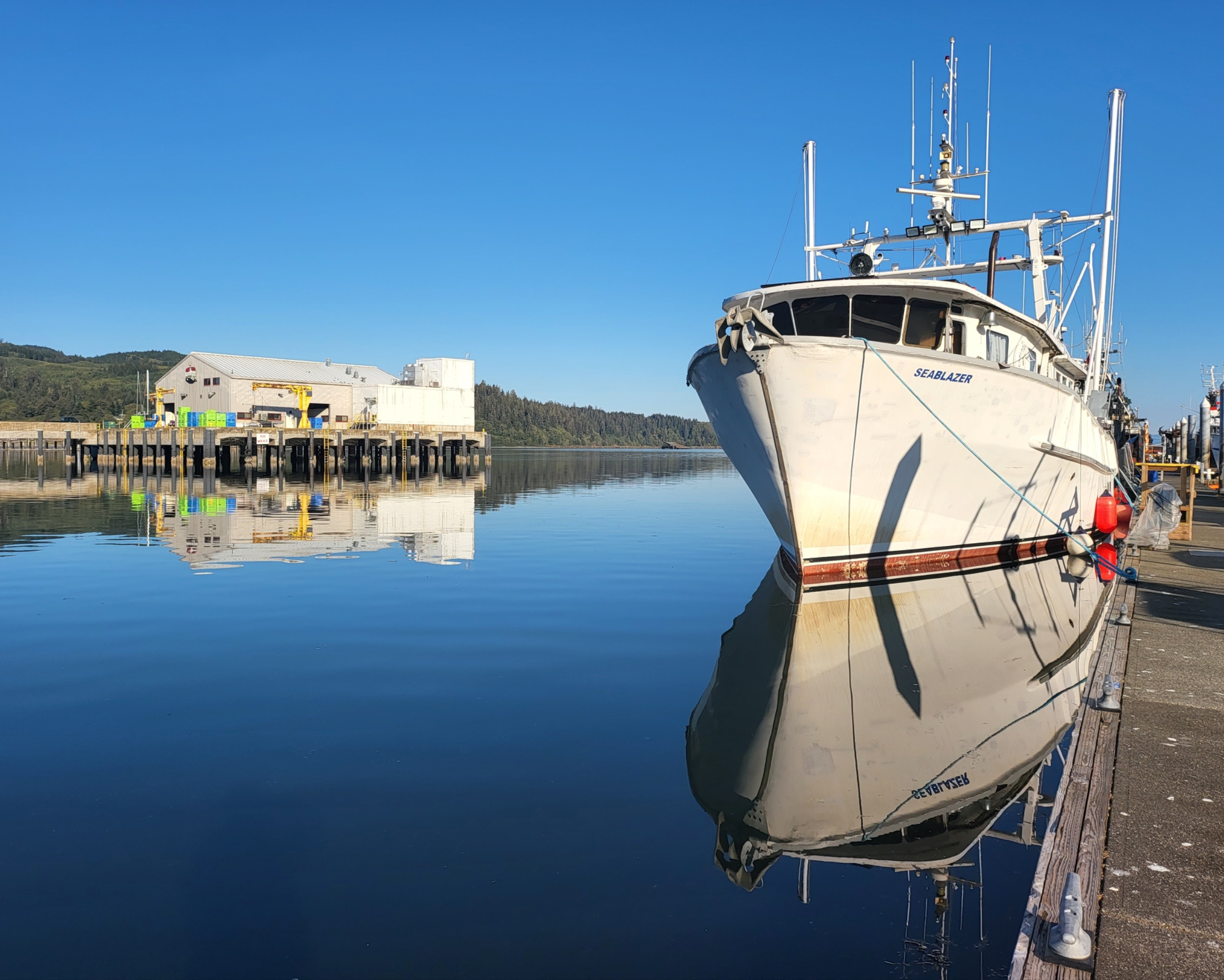 Above: The 70-foot research vessel Sea Blazer docked in Neah Bay. Photo by Arnie Hammerman.
Internet Offshore: Uncovering Treasures of the Deep With Starlink
Using a Starlink system we were able to get better data speeds and signal in and around the wreck site even while moving at slow speeds (less than 8knots). Starlink is an exciting new satellite internet system that can provide the benefits of connectivity to boaters. It is especially important if you cruise offshore where cellular and WiFi signals can no longer be relied on. Starlink internet was more dependable although there were times when satellite signal dropped but typically reconnected in short order. We were able to run the Starlink system into the ship's network providing internet access to multiple users onboard using an optional Starlink Ethernet Adapter.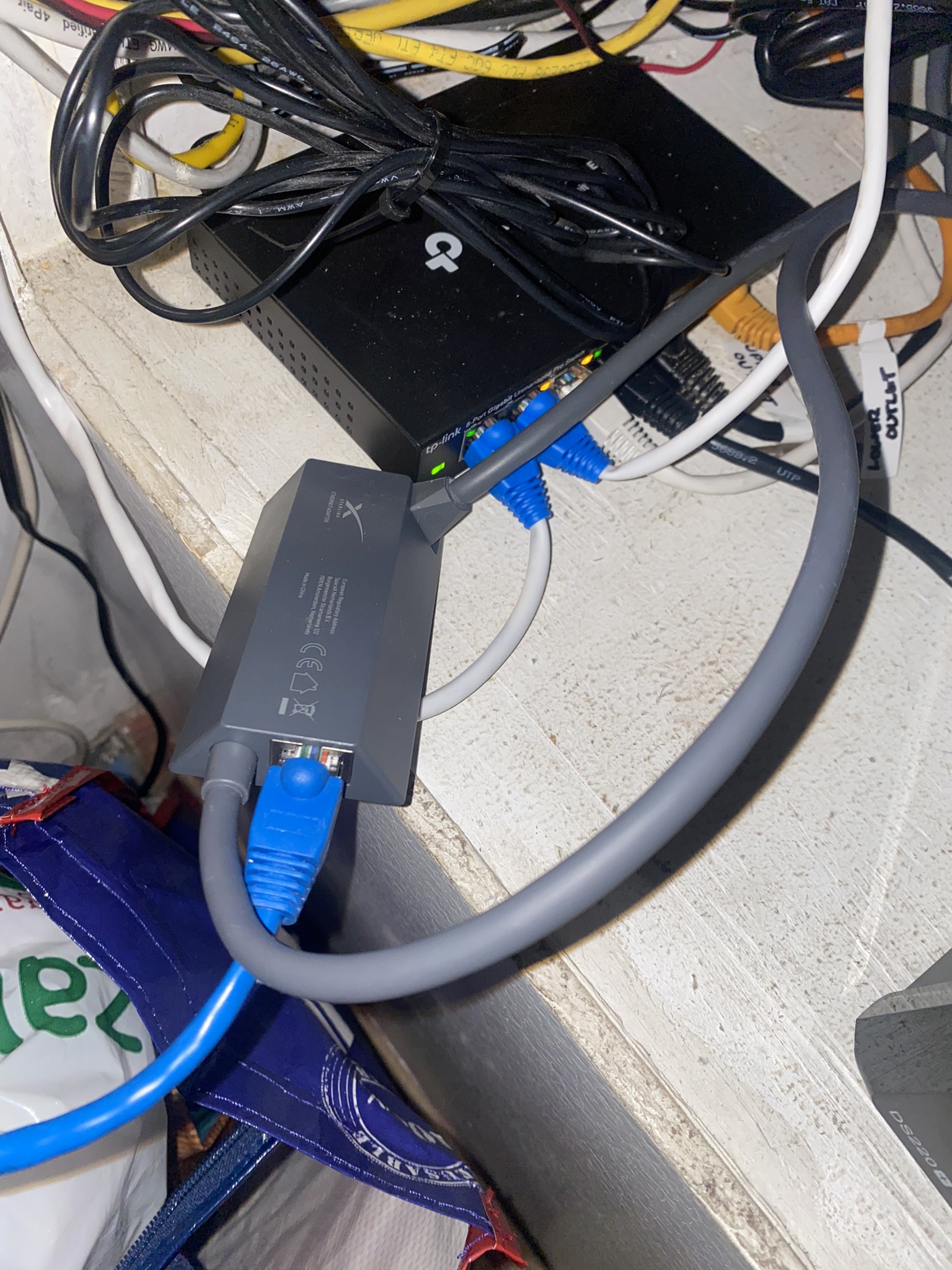 Above: Ethernet link connecting Starlink to the Wave WiFi system. Photo by Arnie Hammerman.
The Wave WiFi equipment that I use is fully compatible with Starlink as well as other satellite systems. It provides the versatility and the redundancy necessary to help bring internet onboard through less expensive cellular and WiFi hot spots when they are available. If you want to keep your boat connected to the internet Wave WiFi has hardware solutions for all types and sizes of vessels. Their systems also work seamlessly with Starlink and other satellite internet providers.
Pairing Starlink With Wave WiFi To Navigate Sunken Secrets
When interfaced with the Wave WiFi MNC 1250 I was able to bring in internet from Starlink and broadcast it via WiFi throughout the vessel. This allowed me to connect my Ipad, laptop PC and my smartphone. My phone uses a carrier with little or no offshore service but with the MNC 1250 and Starlink I was able to make Voice Over Internet phone calls even at sea when I had no cellular service. I also used a SIM slot in the MNC 1250 to connect to cellular using several different SIM cards since one carrier had better coverage in the Straights of Juan De Fuca and Puget Sound and the other carrier's signal went further offshore.
Above: Wave WiFi Boat Network-Diagram. Image via Arnie Hammerman.
At the dock I connected the system to WiFi hotspots ashore for faster connection speeds at no cost. Staying connected to the internet while searching for this historic wreck was very important. Now that the wreck of the Pacific has been discovered and documented, with legal salvage claims granted, it will continue to be important to keep the vessel connected during the recovery phase of this historic project. For more information about the SS Pacific check out the Northwest Shipwreck Alliance.
Using Starlink RV Systems On Boats
For some mariners, the cost and installation complexity of marine systems may be prohibitive at this time so as an alternative, they've set up Starlink RV systems on board boats.
For recreational users – especially those with mid-sized or smaller vessels – the current maritime offerings are costly and require two high performance terminals, essentially two flat panel antennas. The hardware for the marine systems currently costs $5,000 and the monthly charge is $5,000 per month for global maritime coverage with up to 350 Mbps download while at sea. Many boaters find this price tag too expensive to be feasible.
RV systems on the other hand use a single antenna and provide unlimited high-speed, low-latency internet on an as-needed basis at any destination where Starlink has active RV coverage for only $150 per month. The hardware costs $599 for the portable RV antenna or $2,500 for in-motion RV hardware. The catch here is that RVs are supposed to be on land. If your boat is in an inland area or a coastal marina where presumably an RV might also be found, then it should work. The further away from land you travel the higher the likelihood that Starlink might realize your RV seems to be on the water and they reserve the right to cut off your service.
While I have spoken to numerous boaters who say that currently the RV service works quite well aboard boats in the coastal US waters and in some cases beyond, there is no guarantee that RV service on boats will continue indefinitely. There is no way to know if and when service will be terminated for boaters pushing the limits of RV equipment. If you buy the $2,500 in motion RV antenna and set it up on your coastal cruiser you may continue to get service for some time, but your service could get cut off at any time.
It is unknown at this time if Starlink will refund service or hardware costs for users no longer able to use RV equipment for their particular application or location. It is possible that new programs and/or equipment for boaters will come available, but that has yet to be determined. Having a Wave WiFi system onboard that connects to Starlink as well as to cellular internet and shoreside WiFi hot spots provides an added measure of redundancy and reliability to the important function of bringing internet on board.
Data Requirements And Bandwidth Issues At Sea
Because of the uncertainty regarding the Starlink RV systems at sea, and because our data requirements aboard the research vessel are increasing, the current plan is to purchase a maritime system and install the dual antennas. I will try to report on that system including integrating it with the MNC 1250 router once it is set up and I have had a chance to use it.
Overview of Internet Connectivity onboard.
Most of us are used to being online so if there is no Internet connectivity on board it can be unsettling. Not only do we want to stay connected, but many integrated systems onboard are designed to have internet access. If you are near shore, there are several options including using shoreside WiFi hot spots or cellular services where they are available. Once you travel away from land, satellite systems are the only reliable way to stay online. A variety of satellite systems are currently available including VSAT, Inmarsat, Iridium Certus terminals and the newest system Starlink. Satellite systems offer different speeds, coverage areas and pricing and many are dependent on sizeable antennas. Wave WiFi equipment is designed to interface with a variety of satellite systems so you can pick and choose which satellite system fits best on your boat and matches the budget and geographic requirements of your boating.
Staying Connected Nearshore
Wave WiFi offers a variety of WiFi receivers that help keep boats connect to shoreside hotspots. These range from single antenna Rogue systems, and mid-sized Freedom domes, to multi antenna professional systems. All these systems have the same basic function which is to help keep the boat connected to WiFi being broadcast from shore from further away and to keep the signal quality clean for faster connections. Some of the dome and professional systems also have built in SIM slots and cellular antennas that help the boat connect to cellular carriers more reliably than connecting directly from a tablet or smartphone.
Once the internet signal is brought onboard, Wave WiFi also offers marine grade broadband routers that allow multiple devices and onboard systems to connect to the internet source. Some of the routers also have their own SIM slot and can be connected to external cellular antennas for increased range and better cellular coverage. Having a SIM slot provides the added benefit of being able to use different data SIMs for different areas. This allows global travelers to buy prepaid SIMs in foreign countries to better utilize cellular services abroad and avoid costly roaming charges. Wave WiFi also offers a host of SIM solutions with single or multi carrier options depending on the region you cruise in.
Easy-To-Use Interface, Comprehensive Onboard Control
All of Wave WiFi systems use a proprietary Graphic User Interface (GUI) that provides easy access to their hardware and a host of features. You can choose the internet source you want to use and even assign certain onboard devices to specific internet sources. The system allows for auto failover so that the internet source will change from land based hot spot connected WiFi to cellular or satellite sources automatically. You can even set it up so it defaults to satellite once out of cellular range or you can switch the sources manually to control internet access which can be important when using expensive satellite air time. Guest networks can be set up, access to the system can be limited to captain and crew. You can even allocate specific access for specific devices. There are plenty of features available, but the basic system is easy to set up and use.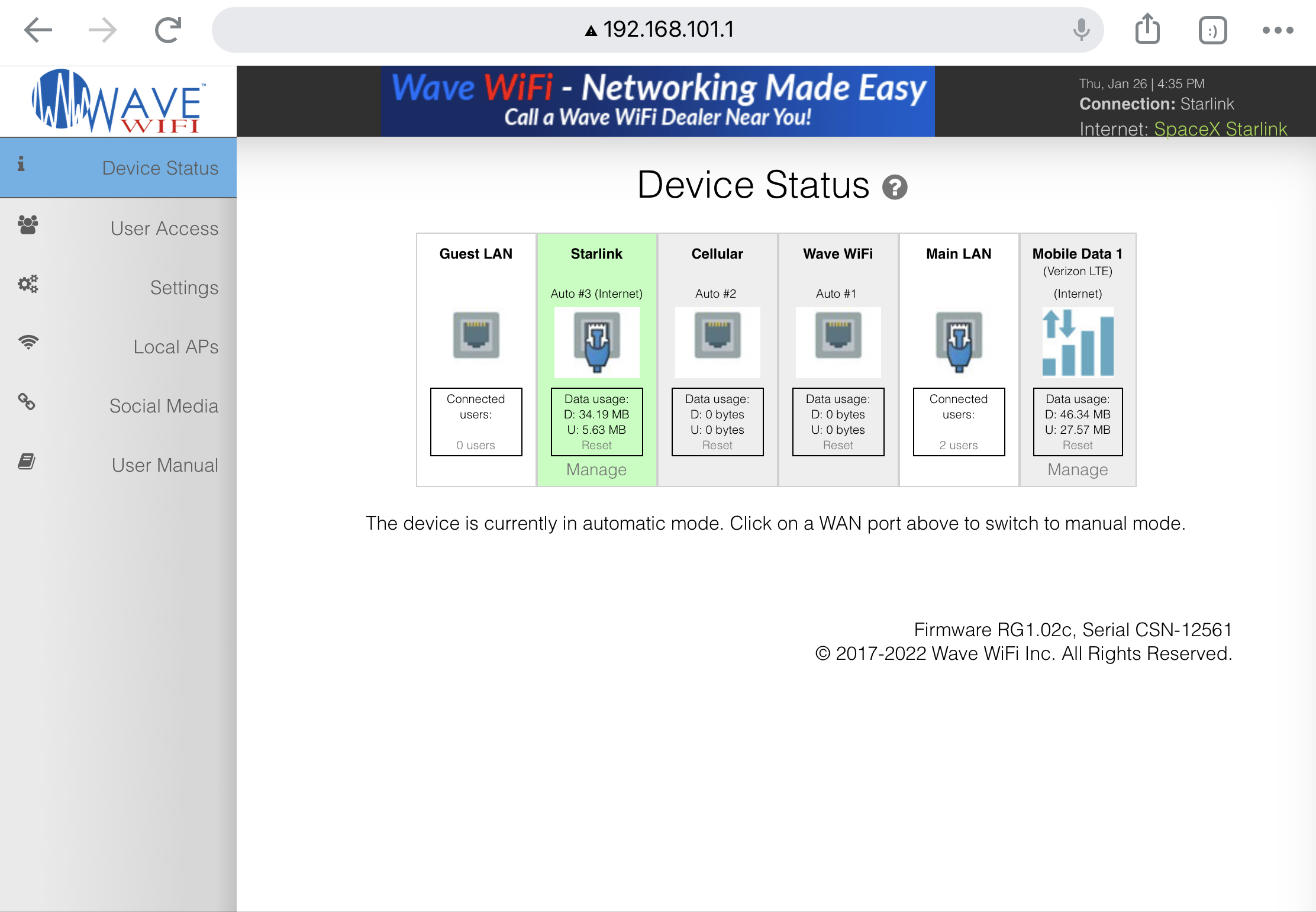 Above: The Wave Wifi GUI Graphic User Interface. Image via Arnie Hammerman.
Both on my own recreational cruiser and onboard the research vessel I have used Wave WiFi equipment to help stay online. Their hardware and easy to use firmware interface has helped keep me connected so that I can check in with friends and family while out on the boat. The systems have also enabled me to work from the boat even when cruising which extends the time I can spend on board. If you want to spend more time on your boat but need to be online to do so, check out Starlink Maritime and Wave WiFi products to see which ones might be appropriate for your boat and the type of cruising you do.
Related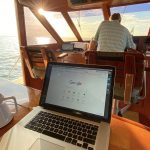 WiFi At Sea: Your Guide To Marine Satellite Internet
Internet access is vital for finding food, fuel, marinas and other basic services along the way.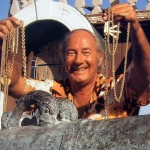 Shipwreck Bounty: 5 Buried Treasure Ships
Here are five marine discoveries that might just have you reaching for your metal detector, from billion-dollar...
Hidria Segundo: Historic Ship For Sale
Category:
Antique and Classic
Restored and rated for passengers, this historic ship still plies the Spanish coast thanks to her fully...