Golf balls made from fish food and underwater drones that remove algae are just some innovative ways the marine industry has adapted to make sailing more sustainable. The archetypal red-faced, cigar-smoking superyacht owner has been superseded by younger, mindful, and socially conscious individuals. The younger wave of yacht owners have implicit confidence and take a holistic approach to self-fulfillment. The synergy between the pursuit of leisure and conservation is prevalent thanks to new initiatives accessible to private yacht owners. This new-fangled approach aligns sailing with protecting the planet.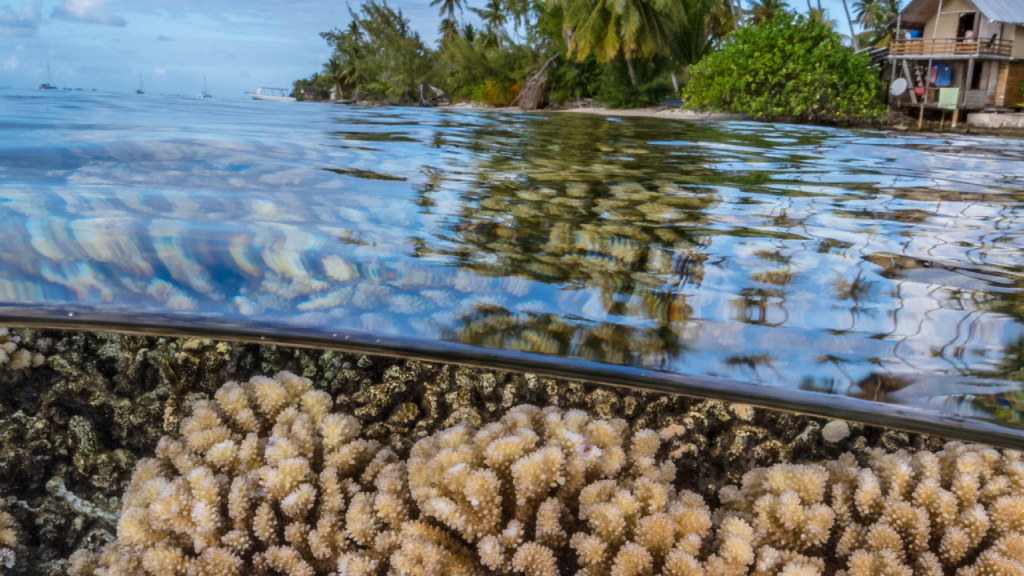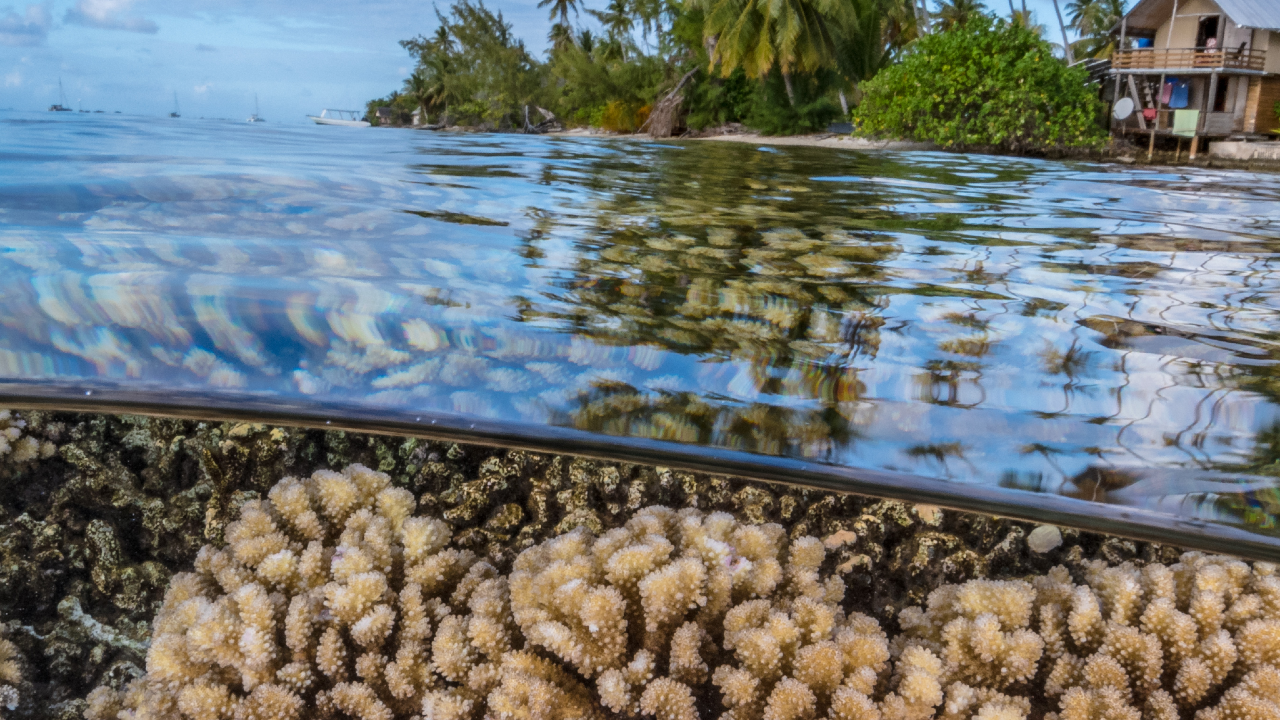 Coral reef in French Polynesia. Photo credit: Hannes Klostermann and the Coral Reef Bank
Travel In A Sustainably Made Yacht
The manufacturing of boats is the first step in the cycle of sustainability. Orbiting around the ocean with a clear conscience using a sustainably made vessel eases boat owners' environmental conscience. Moreover, they are also a savvy strategic investment for the future. The materials of a boat should be recyclable or sustainably sourced. Looking at the supply chain and energy sources used is also essential.
One such company considering the entire lifecycle of its products is Arksen. With the first yacht launching in 2022, Arksen has designed a range of efficient, multi-use aluminum explorer vessels with sustainability at the core of the business. The founder, Jasper Smith, a serial entrepreneur turned 'sea-titan,' was frustrated with the number of yachts sitting dormant in ports needing to be utilized. Hence, he created the Explorers' Club to give owners the confidence to explore more and offer shared ownership through the Adventure Syndicate. The boats can facilitate research projects on board to encourage knowledge sharing and permeate inspiration and positive energy amongst the owner and their family. The interiors are built from sustainable plywood, and work surfaces are recycled plastic and stone.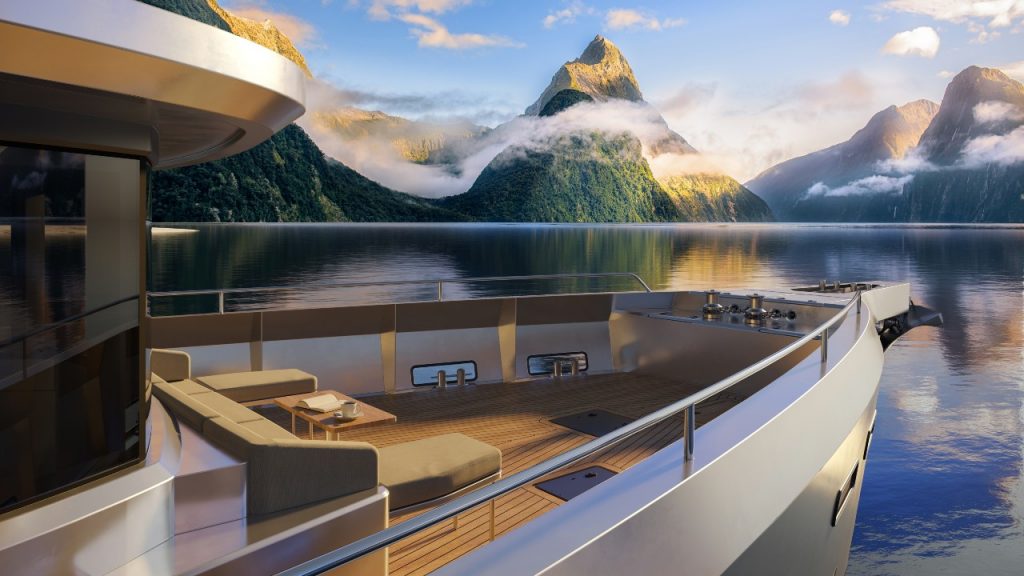 Arksen's 85 explorer vessels are used for scientific research
Technology Fitted To Filter Out The Smog
Some of the latest trailblazing sustainable models of superyachts have filtration systems installed that lower levels of nitrogen oxide (NOx). These gases are responsible for forming smog and acid rain, which are both detrimental to the tropospheric ozone layer (the lowest level of the Earth's atmosphere).
Cleaner Propulsion Methods
Introducing cleaner energy sources has successfully brought energy emissions down; however, there is a long way to go before the industry becomes carbon-free. The most sustainable method produced to date is hybrid propulsion which reduces carbon emissions. This typically requires using two or more energy sources: electric turbines, diesel, LNG (liquid natural gas), battery banks, propellers, and waterjets. With the right combination of hybrid systems, yachts operate more efficiently and reduce fuel consumption by up to 30 per cent. The system also improves manoeuvrability, helping you move around marinas. The silver lining is that these boats cruise silently at low speeds, reducing noise pollution.
Recharge Your Batteries On An Electric Yacht
Silent Yachts have revolutionised the yacht industry providing a sustainable alternative. These solar-powered electric boats are distinctly quiet, and the sounds of the ocean can be heard at all times for an elevated sailing experience. Benefits include minimal maintenance and not having to stop to refuel.
If purchasing a new yacht is not an option right now, it may be worth considering a ready-made portable solar panel which can provide enough energy to power a small television or laptop computer on a bright sunny day. Panels can be folded out to enable users to set the panel up outside the boat, where they can point it directly at the sun.
Eco-luxe Products To Take On Board Your Boat
The circular lifecycle of products is a central focus in sustainable products. Using recyclable fabrics and material is one way to combat waste but using products which can be repurposed in another direction using minimal energy is a more effective long-term solution.
It is a common and outdated misconception that eco-friendly products are mundane. The design industry is innovating reclaimed and natural fabrics. Monalison, for instance, specialises in boating linen with organic certification and fairtrade cotton. Ecobioball is the first-ever ecological and biodegradable golf ball to contain fish food in its core, making it perfect for playing golf close to marine environments.
Partner Up With A Marine Scientist
Participate in ocean conservation by tracking a turtle, or by discovering more about the biodiversity of plankton, or spend the weekend tracking a pod of whales. Yachts for Science utilises existing resources by partnering with a scientist who will use your private vessel to undertake field research. Yacht owners simply inform Yachts for Science the nature of their trip and intended destination. Scientists can either share use of the boat, or owners can help carry out the research.
Scientists are studying different types of coral that can adapt to warmer ocean temperatures and survive coral bleaching. Using this information, they can train corals to adjust to warmer acidic water to reverse the effect of bleaching. This is just one of the ways that marine research is working hard to mitigate the damage that humans have caused.
Research provides a map of what is in the ocean, to understand ocean circulation, tides, underwater geo-hazards, mineral extraction, cable, and pipeline routing and more. There are vast craters of data missing, which is required to produce an effective roadmap for the future and to utilise our existing resources.
Next time a shoal of colourful fish skim your board shorts, think carefully about what can be done to mitigate the damage of the coral reefs. 50% of the world's coral reefs have been destroyed, and another 40% could be lost over the next 30 years.
To find out more about how you can be involved in a Yachts for Science project.
Anti-fouling Alternatives
Biofouling is inevitable, even on ships that have just been cleaned or treated with a new antifouling system and presents problems for both shipowners and the oceans. The accumulation of organisms can damage the hull and propulsion system of the ship. It can also increase drag up to 60%, increasing fuel consumption by 40%.
Biofouling is the accumulation of microorganisms, plants, and algae on wet surfaces. It contributes to higher fuel emissions and increased production costs. It also significantly jeopardises biodiversity.
The industry has moved away from the use of many biocides, as they often contain harmful compounds. In addition to non-toxic coatings that are reasonably efficient, several new developing strategies employ the use of ultrasonic waves, enzymes, or silicone liquids. Sonihull, Mactac, eSHaRK, and Selektope, are all products which temporarily activate the 'swimming mode' of barnacle larvae, preventing them from settling on the hull. Adopting safe and effective antifouling techniques not only protects our oceans but also guarantees compliance with stricter regulations.
Clean Up Your Boat Using An Underwater Drone
Another anti-fouling alternative is the use of the underwater drone, KeelCrab, designed to inspect and remove algae from the hull without lifting any anti-fouling coating. This drone can be driven by remote control. AzkoNobel's Intertrac Vision is an app that, based on factors such as vessel type, fouling challenges, and mode of operation, will assess the value of different systems on power requirements, and CO2 emissions.
Participate In A Beach Clean-up
Participate in the 'Ten little pieces movement'. Next time you are barefoot on a combed white beach, set yourself and the rest of the crew a mission to collect ten pieces of rubbish. This exercise encourages individuals to become mindful about the environment. The initiative has been a catalyst for helping individuals realising that the cumulative result of individual efforts has the potential to make a dramatic difference on a global scale.
If you want to clean-up the beach using your boat, check out Boat Trader's Clean Wake campaign which aims to tackle beach pollution by bringing together boaters who are out on the water, or on the beach.
For those of you who, like David Attenborough, wish that "The world was twice as big and half of it was still unexplored' you are distinguished by action. Becoming an advocate of sustainability can be pervasive and breed seeds of change.
Editors note: This article was originally published in November 2020, and republished in August 2021. 
Related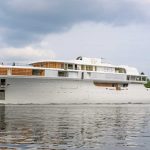 Project Cosmos By Lürssen : Apple Watch Designer Marc Newson's New Baby
A glimpse at the first Lürssen superyacht to feature the new fuel cell technology.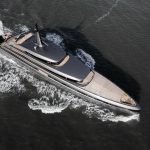 Superyacht Obsidian: Feadship's Willy Wonka Design Focuses On Energy Saving
Feadship makes major improvements to reduce carbon emissions in yacht design.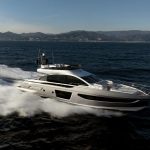 S7 Sports Yacht: A New Member Joins Azimut's Family Of Low-Emission Yachts
Find out about the latest boat debuts in Boot Dusseldorf without having to attend.