Ask the location of a business in Fort Lauderdale's marine industry and you'll likely hear, "Behind Lester's Diner." The iconic eatery has been a landmark since it opened in 1967 as a "locals" spot. And though Lester Bammesberger sold the eatery in 1980, the name and iconic reputation remained. The "BLD" neighborhood extends mainly from State Road 84 to Southwest 34th Street, between Southwest Second and Southwest Third avenues — just minutes from I-95 and I-595, Fort Lauderdale-Hollywood International Airport, and Port Everglades. "BLD" has a high concentration of small and large marine businesses with all the skills and materials needed to do a boat or yacht refit — or more.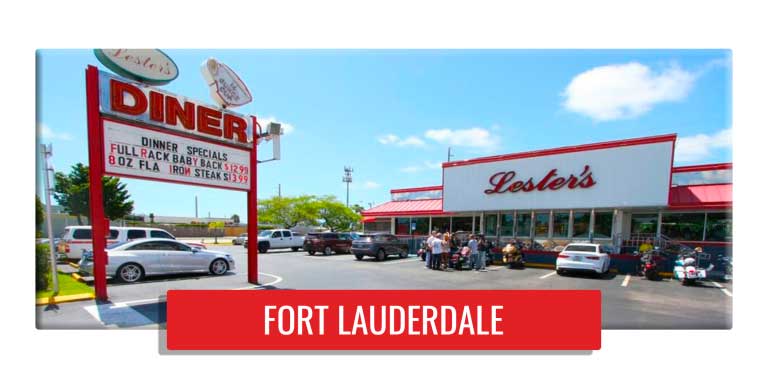 RAZ Marine
"You could literally build an entire boat here!" says Mike Parkinson of RAZ Marine, a Raritan dealer and service center for icemakers, water heaters and MSD systems. The company opened in the early 1980s says Parkinson who took ownership when the original owner died. RAZ serves captains, crews, mechanics and holds the hands of the many new boat owners who have no idea how to handle their marine sanitation. And though rents keep rising, Parkinson says, the business is likely to stay.
Visit Raz Marine for more info
Latham Marine
Costs are a common lament. "I wish I had bought more real estate back in the day when you could get it for $24 per square foot instead of $250 or more," says Bob Latham, who established Latham Marine on SW 32nd Court, in an emergency move nearly 30 years ago. I-595 was being built and he had to move his race service shop in short order, buying an empty, deteriorated freight storage space, tearing it apart while moving and trying to work on race boats. Latham, a former World Championship APBA Offshore racer, expanded into manufacturing after through his racing experience, created the first hydraulic powerboat steering system.
The Best Steering Components & Hardware
The 46-year-old company designs and manufactures custom and high-performance after-market parts, now catering to the yacht market as well. They build and sell some of the world's best steering, hardware and engineering designs for yachts and are best known for their high performance hydraulic steering and tie-bar systems that are used by top racing teams, performance boat enthusiasts and people who take "pleasure" boating seriously.
With over 10,000 parts and 7,000 components, including drive accessories, trim tabs, controls, lifts and hoses and fittings, all engineered in-house and built in the USA, Latham Marine products are hard-tested in the most brutal environments, resulting in robust, ultra-reliable marine hardware. Latham also leases a nearby warehouse and explains that ease of access to expressways, trains and a large customer base within a few miles are among the reasons for the area's popularity.
Visit Latham Marine for more info
Man O'War Marine: A Mercury Marine Dealer
The many local marine businesses rely on each other and have a symbiotic relationship. Bob Latham's daughter, Amanda, who grew up in the business, recently took advantage of another trend in the area–noted by Joe Gonzalez of Everglades Diesel, that does fuel injection and turbocharger rebuilt exchanges and is an authorized Cummins service center. Says Gonzalez, "Older businesses are closing due to competition or the owner passes away, leaving buildings to family members."
Amanda Latham recently leased a 15,000 square foot service bay and warehouse, formerly owned by renowned race boat rigger, Joe DeBellas, who died last year, leaving the buildings to his family. Latham is using the shop for her new Mercury Marine dealership and plans to sublet extra 3,000 square foot portion. Latham named her dealership Man O' War Marine in honor of the boat her father Bob Latham used to win the 1981 World Championship Offshore title. The space is equipped as a Mercury outboard dealership/service center, where she and her crew also work on 7 Marine engines, where she was an international engine service technician over the past several years before going into her own business.
Check out Man O'War Marine on Instagram
Lewis Marine
Most of the "BLD" properties are small and unconnected, while a few larger businesses have grown over time or through acquisitions. One example is Lewis Marine, bought by an avid yachtsman and sportfisherman, Brooks Smith, who also bought Jerry's Marine and Boat Owners Warehouse (BOW). Located in two different buildings, Lewis wholesales to the trades with just about any and all marine goods, from Costa sunglasses to engine parts and marine ecological supplies. BOW sells competitively priced, similar products to captains, crew and the public, with its BOW Worldwide division catering to the megayacht market.
The buildings have "evolved" says Steve Baum, COO of both companies, with the BOW former warehouse becoming the distribution center for its five stores, including the flagship on SR 84 and its new location at Lauderdale Marine Center, where deliveries are made in two hours. The BLD area is a customer base itself, and boasts "lots of Moms and Pops," says Baum, noting the variety of services and technicians.
Visit Lewis Marine for more info
National Marine
The same goes for another big business, National Marine, founded 32 years ago by Dean duToit, who grew the yacht supply/service business from a small, rented bay to a 200,000-square foot space with five buildings at 2800 SW 2nd Avenue. "We carry bow-to-stern and keel-to-mast products," says duToit. "There is nothing we haven't researched, purchased and delivered, including pumps in a backpack to Qatar and a 50-foot Cigarette in a nose cone of a 747 to Saudi Arabia."
DuToit notes the location's transport efficiency to Miami and Palm Beach, where he runs two to three daily deliveries. He says he never "signed up for the responsibility or wrote the business plan" for all he does, but the location also provides the opportunity to give back to the industry by hosting many customer events.
Visit National Marine for more info
Precision Prop Tech
Mark Tomlinson of Precision Prop Tech also picked the location for his business to fill a need for propeller work after he went to Australia to learn and perfect his techniques. He rents the 2-level space, which he would like to have bought. "But things get sold before a sign even goes up," he says, so he deals with the location's rising rates because "Lester's is a landmark — everyone knows it."
Mark graduated from Pennsylvania State University and has been in the marine industry for over 27 years. He began his career in Annapolis Maryland in 1990 as Vice President of Operations for eleven boatyards and their service centers up and down the Chesapeake Bay, before relocating to Fort Lauderdale to start PPT.
PPT Sells The Best Propellers For Boats & Yachts
PPT now sources, distributes, customizes and repairs propellers from brands all over the world to suit your specific requirements. The company was chosen to represent and supply Veem propulsion products to Viking Yacht Company. They also specialize in propeller repairs and alterations, offering the marine industry high quality welding, dynamic balancing and prop scan services. Whether boat owners require re-patching, re-bushing, balancing or custom modifying of new or existing propellers the company can assist.
Visit Precision Prop Tech for more info
Soundown Marine Insulation
"I use the words 'Behind Lester's Diner' all the time," says Georjan Jones, manager at Soundown, supplier of sound insulation to the marine industry from that 3,250 square foot location since 1999. Says Sam Smullin, Quality and Marketing and works in its Salem, MA, working closely with his father Joe, who started the company in 1987, "Some of the faces in the neighborhood have changed, but not its character," he says, adding with a chuckle "I wish I had bought the building—as well as property on Las Olas Isles!"
Sound Proofing For Boats
As Soundown states on their company website, "engineering sound proofing solutions for boat means understanding the unique needs and specific construction of each vessel. The appropriate sound proofing solutions for cruisers and sport fishers will be significantly different than those Soundown will recommend for large yachts or commercial vessels. Even similar vessels may have different needs based on the arrangement of machinery spaces and accommodations or the type of construction."
Visit Soundown Marine Insulation for more info
Big Image Signs
A smaller space player in the area, Big Image Signs, does yacht lettering and owner Chad Taylor uses "Behind Lester's Diner" on his business card. Taylor found the space, formerly used by another printer, through the referral of a neighboring business. "It was karma," he says, "My rent was doubling on Andrews Avenue and here I got a warehouse space, not a storefront, but after 24 years of space hopping, it works and customers are already here."
Check out Big Image Signs on LinkedIn for more info
Blue Water Chairs
Blue Water Chairs, owner, Tom Ackel, was happy he bought a building on SW 33rd Court 30 years ago. The company builds custom teak furniture largely for yachts and sportfish, but not everyone knows that refurbishing is also a part of the company's business, says Ackel. Though 50% of his business is builders and boat dealers, Blue Water often works with captains when a boat changes hands, to replace or refurbish fighting chairs, or replace them with rocket launchers or other equipment. "The best thing about the neighborhood, it is geographically ideal and for captains, boat owners and vendors in the industry, it offers one stop shopping."
Visit Blue Water Chairs for more info
Metcalf Marine Exhaust
A similar sentiment came from Mike Metcalf of Metcalf Marine Exhaust whose expanded yacht service business has been on SW 3rd Avenue for 20 years. "I love the area–the people are great and neighbors help out when you need it," he states. And it's "Behind Lester's Diner."
Related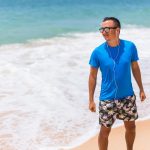 The Best Boating Podcasts: 17 Top Picks
When it's too cold to get out on the water, sometimes listening to podcasts is the next best thing.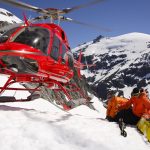 Yacht-Based Heli-Skiing Adventures
Is skiing into a volcano your cup of tea? Charter a yacht to the world's most untouched places.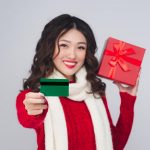 Online Gift Cards And Last Minute Gift Ideas For Boaters
A few quick, last minute ideas for the boater or boat owner in your life.