A Wild Winter Experience Like No Other
Above: A Helipro expedition. Image via Maksim Balakhovskii 
In 2003, organizing a yacht-based heli-ski holiday would have seemed a little off-piste. But today, the demand for adventure experiences has steadily increased over the past few years. We spoke to James Morland, founder of Elemental Adventure about heli-skiing and why it makes sense to ski from a yacht. 
Some of the best skiing found on off-the-grid locations does not cater for accommodation, "Using a yacht as a base for skiing is a total game-changer because it allows exploring areas that you would never have access to.." says Morland. A full expedition yacht allows you to travel further, for longer, and take everything you need to be self-sufficient.
Some of the remote descents would not be possible via a ski lift. On a yacht, you can move to wherever is convenient and store fuel on board to avoid flying back and forth to refuel.
If you are traveling from accommodation further afield, your skiing trip will be cut short, particularly if there are multiple groups using the helicopter, which is common. Most choppers have a seating capacity of six people – ideal for a group of four skiers plus one guide and the pilot. One group of four people can fly around with a yacht all day. 
Morland recommends making a trip at least seven days to allow for a buffer for adverse weather conditions. In the northern hemisphere, an optimal time to embark on a yacht-based heli-ski trip is in springtime, between April and May. 
There is a perception that heli-skiing is an adrenaline-inducing pursuit for the wild and wicked James Bond-type adventure seekers, who want to race avalanches down or jump off cliffs. Heli-skiing doesn't need to be particularly challenging or dangerous, and it's accessible to a much wider range of ability levels than you might expect. The only requirements are that your health and fitness are in reasonably good shape and that you can ski to a competent standard, ie. that you can get down most runs at a resort pretty comfortably in most conditions. And it's not just for young people either. "We've got clients well into their 70s, even early 80s who can cope with the physical side of things," says Morland . "Our clients are typically between the age of 40 and 60 entrepreneurs who love skiing and adventure in wild places. They work hard, and I sometimes see them working before, after, or during the trip."
Elemental Adventures began a yacht-based heli-ski offering back in 2003 when they were approached by the owner of a private yacht who wanted skiing expertise on their boat. The first boat that was used for heli-skiing was a converted tugboat used in the logging industry. Since then, gradually, more people started to talk, and now yacht based heliskiing is something that happens regularly each year.
The Best Yachts For Heli-skiing
Above: A Helipro expedition on Atmosphere. Image via Maksim Balakhovskii 
An ice-class explorer yacht will afford you total flexibility, enabling you to reach far-reaching corners on Earth. However, if you are traveling to a location such as Iceland, contrary to its name, there is no ice, so that an expedition yacht would be optional. Heli-skiing does not have to involve a superyacht. Working boats or converted fishing boats around 100 feet can work just as effectively.
Heliski Trip Organisation: How Does It Work?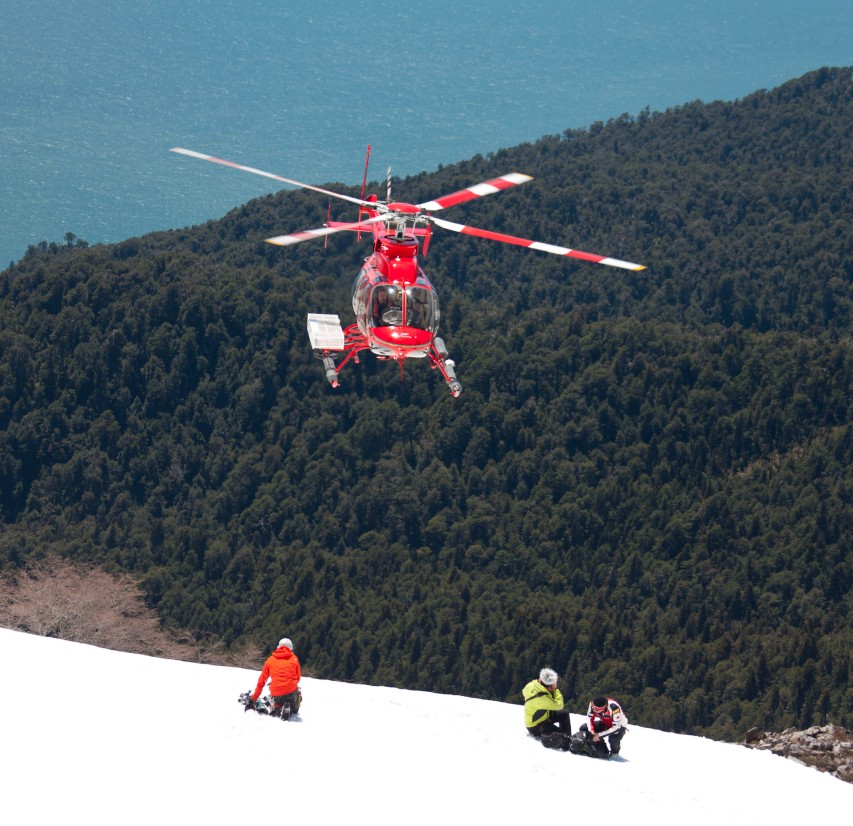 Above: Sea, sun and snow. A Helipro expedition on Atmosphere. Image via Maksim Balakhovskii 
Heli-skiing holiday experts offer the extra support and guidance which is necessary when dealing with such a specialist sport. Heliski companies will source appropriate boats and yards to suit your needs; ideally, one that's not a million miles away from the desired skiing location and will not incur repositioning fees. They will also source the best crew (including pilots and guides), and helicopters, taking a localized approach to organizing trips. "Partnering with experienced locals makes the experience more rewarding, not to mention safer," says Morland. Many heliski areas, particularly in Canada are covered by 'exclusive tenures' meaning that only one company is permitted to operate commercial heliskiing within  the area. Many skiing areas have exclusive zones covered by local instructors and veterans who have been skiing there for several years, if not all, of their lives. You cannot just turn up with your own instructor and heli-ski. 
Heli-skiing, often skiing nameless mountains, with constantly changing geography of snow, creates a different blank slate to pattern with ski tracks on each visit. After embarking on a heli-skiing holiday, skiing and cruising may never be the same again. 
If you have a penchant for explorer yachts, check out Explorer Vessel Ragnar. and Feadship's 87m EXPV. Or,  join myself and Ryan McVinney as we tour around KOGO, one of the most impressive explorer superyachts in the world. as part of YachtWorld's video series, Legends.
Related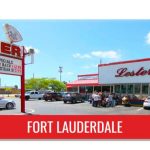 Yacht Central: "Behind Lester's Diner" In Fort Lauderdale
One of the best diners in Florida is also a landmark in the marine industry.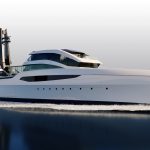 The Superyacht Explorer With A Glass Midriff: Feadship's 87m EXPV
The 285" foot Feadship EXPV concept by Harrison Eidsgaard: an unconventional explorer yacht.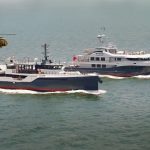 Gene Machine & Gene Chaser Superyachts: YW LEGENDS EP. 6
LEGENDS Ep. 6 features billionaire Jonathan Rothberg's superyachts Gene Machine & Gene Chaser.