The world's largest yachts (aka superyachts or megayachts, see the difference below) represent more than just opulence, luxury and riches; although it takes a heavy helping of all three to breathe life into these massive top yachts. These vessels are feats of design and engineering, which is why there are only a handful of shipyards, naval architects and designers around the world that are up to the challenge.
Pushing the boundaries of possibilities when it comes to how these amazing superyachts are put together designers, shipbuilders and yacht owners are starting to look at the bigger picture. No longer just about lavishness and comfort for the rich and famous, the latest generation of the world's largest yachts are also being built with the environment in mind.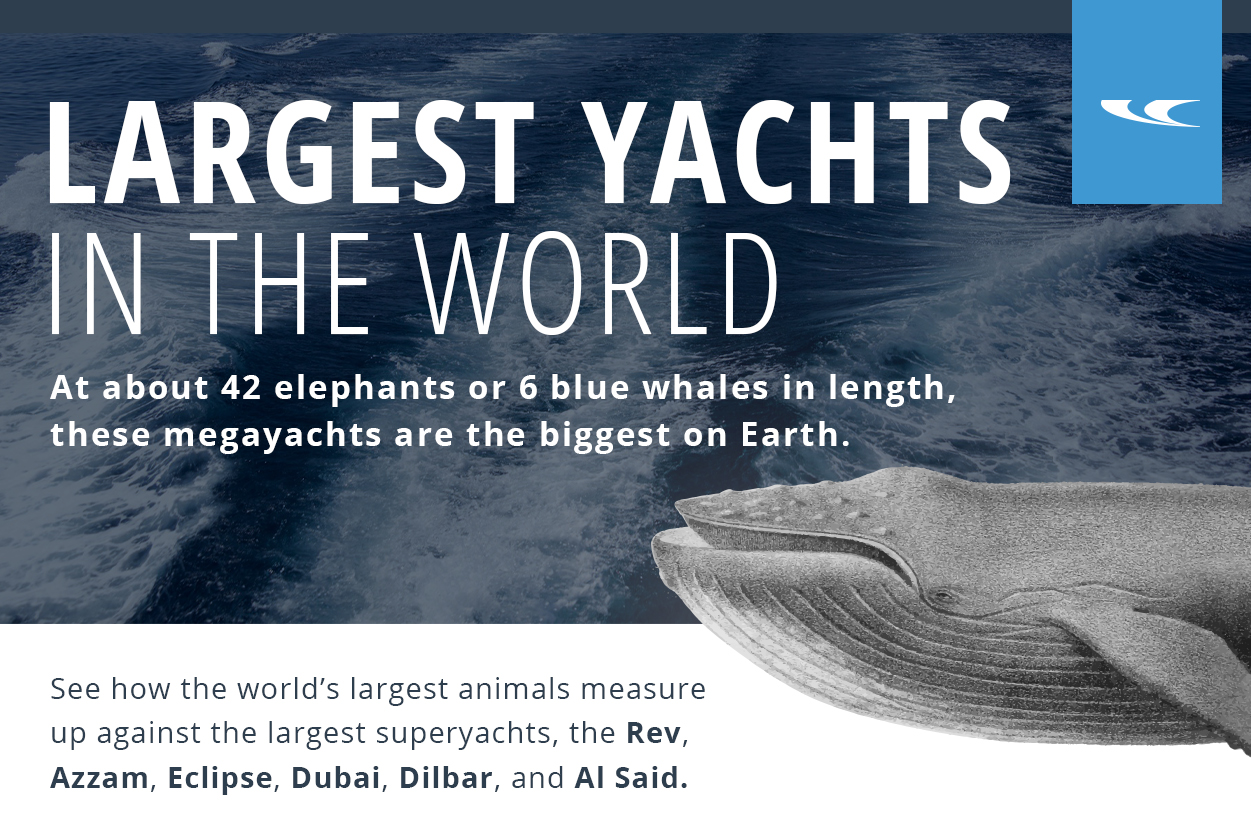 We'll start with the current top power mega yachts in the world and then take a look at the top sailing superyachts (or jump to the full comparison chart below).
LARGEST YACHTS IN THE WORLD
Somnio-728 FT. (222M) * currently in build
First, let's take a look at the new king – now the largest motor yacht in the world:
1. SOMNIO- 728 FT. (222M)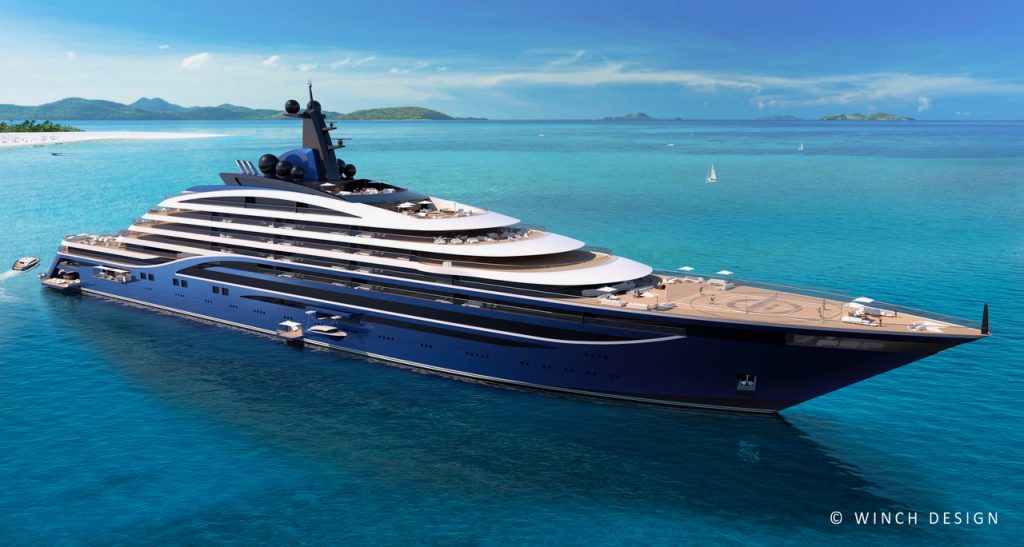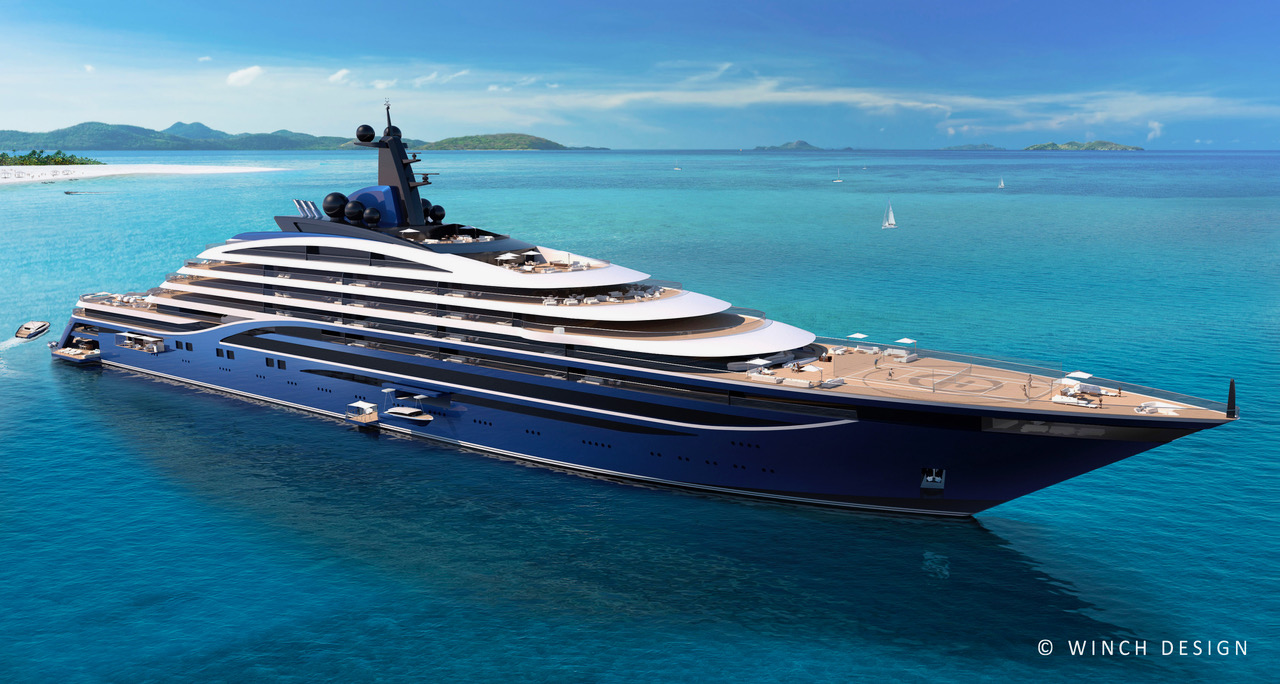 Somnio will be the world's first 'yacht-liner'. Image credit: Winch Design
Due for launch in mid-2024, Somnio  is expected to become the world's largest superyacht, measuring an astounding 222m (728ft) in length. Somnio is an amalgamation of a superyacht, cruise ship and a residential home, referred to as a 'yacht liner'. The vessel will include 30 luxury private residences, all of which can only be acquired through invitation only. Onboard, there will be an extensive array of entertainment and leisure facilities. Apartments reportedly cost at least $11.2 million. Somnio will be delivered from Vard Søviknes in Norway. Somnio is currently being built at VARD in Norway, part of Italy's world-renowned Fincantieri Group. The exterior is penned solely by Winch Design and the interior spaces are being designed by both Winch and Tillberg.
2. REV – 600 FT. (182.9M)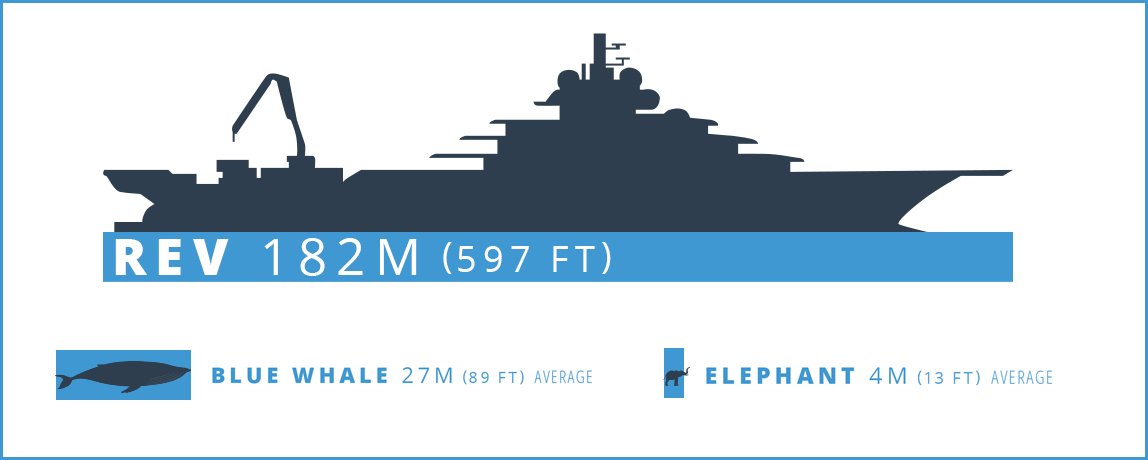 Launched in August 2019 this new giga yacht has upped the ante. Not only is REV now the world's largest yacht, eking out the competition by just 2.9 meters, it is also cutting edge when it comes to design and specifications. A collaboration of Espen Øino and the projects Norwegian owner Kjell Inge Røkke REV adheres to the highest standards for fuel efficiency, pollution and environmental impact. With a heat recovery system, high tech incinerators, sound and vibration reduction, diesel electric engines and a ballast water treatment system the yacht plans to comply with the IMO Polar Code, which requires vessels to be able to operate autonomously for 114 days in Artic/Antarctic conditions.
Above: REV Ocean getting ready to be fully equipped for the organization's science programme and conducting research that will cover climate change, plastic pollution and sustainable fishing.
Designed as both a research ship and luxury expedition vessel it has an amazing 21,120 nautical mile range when cruising at a comfortable 11kts. Although REV was launched from the VARD shipyard in Romania there is still an estimated 8 months to be carried out in their facilities in Norway before the vessel is ready for passengers. Read our in-depth article about the REV superyacht and her on-the-water science lab for more.
3. Azzam – 597 FT. (182M)
Launched in 2013 by Lürssen Yachts in Holland, Azzam was the reigning queen in the giga yacht game until recently. Built for the Sheikh of the United Arab Emirates this privately-owned vessel has been closely guarded. Few details about the interior are known for sure other than it was the creation of French designer Christophe Leoni. Rumoured to cost in excess of $600 million it took only four years from start to finish. Described as "one of the most challenging yachts ever built," this sleek and well-proportioned vessel has recorded top speeds of 31.5kts, thanks to the gas turbine engines that pump out 94,000 horsepower.
4. Fulk Al Salamah- 538 FT (164M)
Fulk Al Salamah has been steeped in mystery since she was announced in 2014. She is rumoured to be owned by the Omani royal family. She spans 538.1 feet and was built and delivered by Italian builder Mariotti Yachts in their Genoa shipyard in 2016. Exterior design is by Studio de Jorio.
5. Eclipse – 534 FT. (163M)
Built in Hamburg, Germany by Blohm & Voss shipyards Eclipse was splashed in 2010 and delivered to Russian billionaire Roman Abramovich. There are 17 staterooms onboard as well as a spa, gym and beach club, not to mention state-of-art electronics and a crew of 70 to tend to every wish and demand. Seemingly designed to incorporate as much luxury and amenities as possible this yacht can carry three helicopters and has a 2 huge swimming pools, one of which can convert into a dance floor. With a top speed of 21kts and a range of 6,000 nautical miles guests have plenty of options when it comes to where they would like to explore.
6. Dubai – 531 FT. (162M)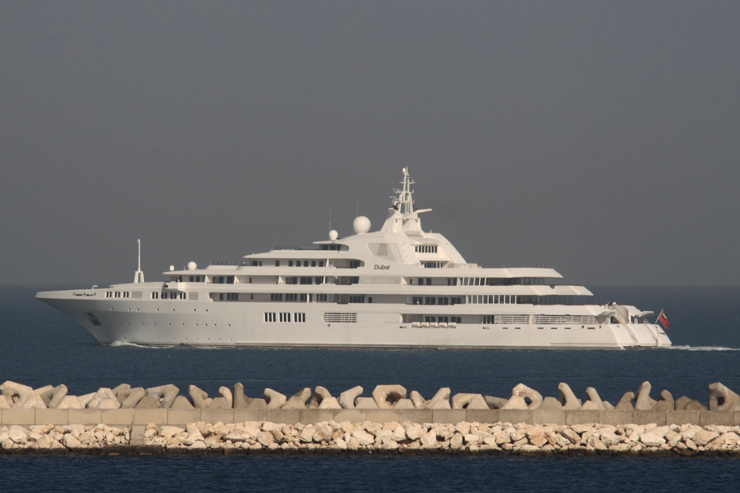 Well-traveled before it was even ready to accommodate guests Dubai started off as a joint build between the two leading boatyards in the giga yacht game; Blohm + Voss and Lürssen. When the project was abandoned in 1998 there was little but a bare hull and the bones of the super structure in place. The unfinished hull was bought by the government of Dubai and relocated. Several years later it was finally launched by Platinum Yachts. Owned by Sheikh Mohammed bin Rashid al-Maktoum, the ruler of Dubai, the yacht is based in the Middle East and used by the Royal family. With a helipad, a submarine garage, a disco and a movie theatre there is a little something for all of the 24 guests to enjoy.
7. Dilbar – 512 FT. (156M)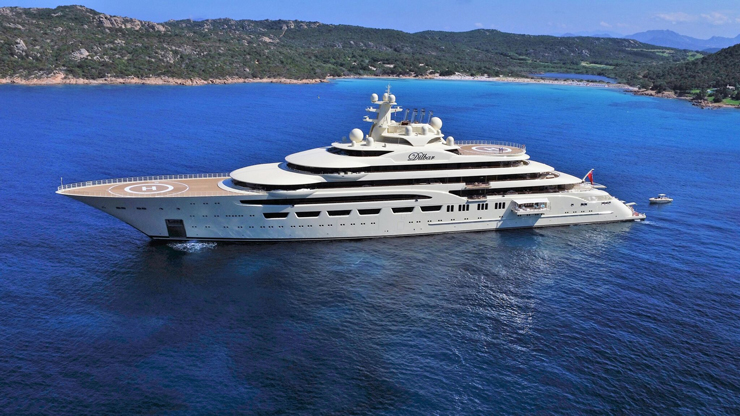 Although slightly shorter than the competition the yacht Dilbar takes the title of the World's Biggest Yacht if you are measuring displacement, or the total volume of the vessel. Launched in 2016 by Lürssen the exterior was designed by Espen Øino (of the REV project) who has been highly praised for making this mammoth yacht look elegant and svelte. The interior was done by Winch Designs, although little has been disclosed beyond the design being decadent and luxurious, but what else would you expect from the estimated $600 million price tag? With an 82-foot swimming pool, rumoured to be the longest pool ever put on a yacht at the time, it is obvious that little expense was spared. Commissioned for the Russian billionaire Alisher Usmanov she was reportedly built because he found his 110M yacht a bit too small.
8. Al Said – 509 FT. (155M)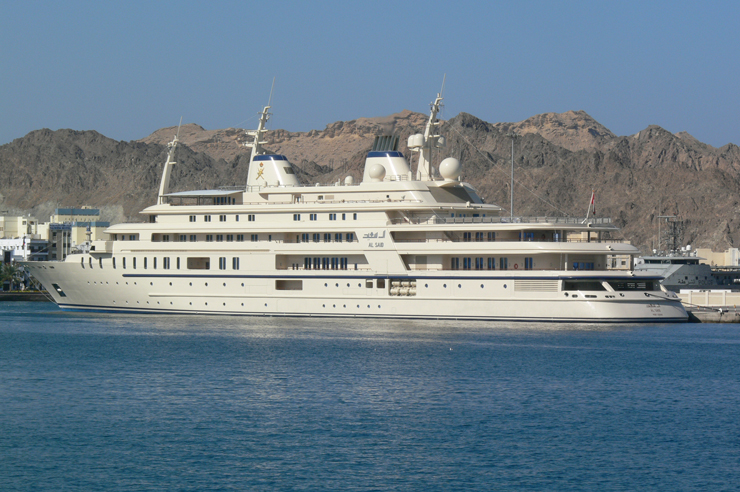 Yet another mega build from the Lürssen yard, Al Said was launched in 2007. Originally commissioned under the moniker "Sunflower" this vessel is also an Espen Øino design, although it has more classic lines than the similarly sized Dilbar. Owned by one of the richest men in the world, Sultan Qaboos bin Said al Said of Oman, this boat is just one his collection. Al Said can reach speeds up to 22kts and is said to have a concert hall onboard that can seat a 50-person orchestra. Details vary about the number of guests that Al Said can sleep, although according to some sources it could be as many as 70. However, with a compliment of 150 crew you can rest assured that everyone is well cared for.
9. A+- 483 FT. (147M)
Launched by German shipyard Lürssen in 2012, Tim Heywood Designs were responsible for the exterior, and Terence Disdale interior. The superyacht features helipads on the foredeck and amidships on an upper deck. A swimming pool is located on the lower aft deck. A+ (formerly Topaz) is shrouded in mystery. Sheikh Mansour bin Zayed al Nahya, who is Emirati royalty and deputy prime minister of the UAE, reportedly owns the yacht.
10. El Mahrousa – 475 FT. (145M)
El Mahrousa was launched in 1863, and is the oldest active superyacht in the world. The name El Mahrousa translates as "freedom'.  British ship building firm Samuda Brothers  built her. Sir Oliver Lang, who is lauded for his work with Royal Navy Ship carried out  the naval engineering. The yacht has a rich history, and has undergone a significant amount of refurbishment over time, and changed hands a number of times. The yacht is now used as an Egyptian presidential yacht, and taken out to sea for special occasions, two or three times each year.
LARGEST SAILING YACHTS IN THE WORLD
You may notice the yachts above are all power yachts, meaning they are powered by engines rather than sails. But it's worth noting that some of the biggest boats in the world are in fact sailboats, even if they come in at slightly smaller than the above yachts (with the exception of the first one on our list, which could be included above, albeit nearly tied for 10th and last place in our order above). So let's also take a look at the four biggest sailing yachts in the world here, just to compare:
1. Sailing Yacht A – 469 FT. (142.8M)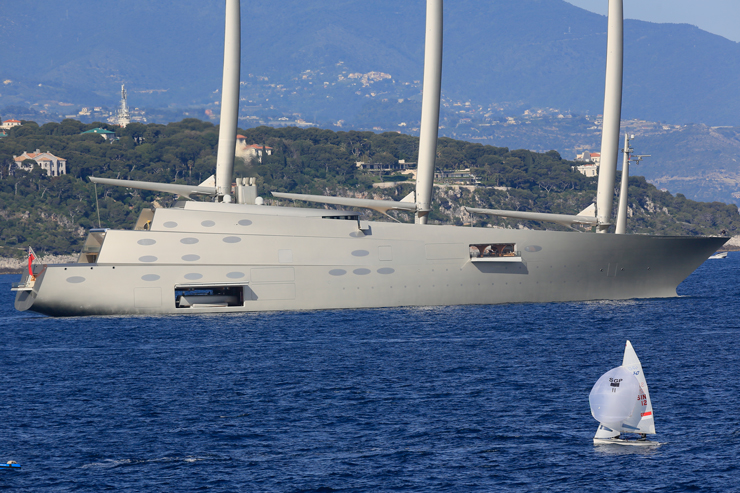 Technically classified as a "sail-assisted motor yacht" it is not hard to see why this vessel is considered both innovative and controversial. Built by Nobiskrug in Keil, Germany and designed by Philippe Starck Sailing Yacht A was launched in 2017. Her large, monochromatic hull, unbroken by the usual slash of black windows, is much more motor yacht than sailing ship, but then there are the three unmistakable 100-meter unstayed carbon fibre masts. It is this radical hull design that has people loving or hating the look of A. Weighing in at over 12,000 GT this schooner has a draught of 8 meters, garages for four tenders, a submarine and a touch-and-go helipad on the bow. Five times larger than the next yacht in the sailing category this unusual boat is sure to keeping turning heads in the anchorage.
2. Koru (Formerly Y721) – 127M (417 Ft.)
Second on our list of the world's largest sailing yachts is Oceanco's 417-foot, $485 Million Masterpiece, commissioned by Jeff Bezos and dubbed Koru. Constructed with a steel hull and an aluminum superstructure she has three towering masts that measure over 230 feet (the same height as the Great Pyramid of Giza), making her the tallest sailing yacht in the world. Named after the Māori phrase for "new beginnings," Koru showcases a glossy black hull and a white superstructure. Additionally, the big sailboat boasts a capacious pool located on the aft deck and several plush outdoor lounges for guests to relax in.
Read more about Jeff Bezos' yacht Koru
3. Sea Cloud – 357 FT. (109M)
Launched in 1931, Sea Cloud is the oldest passenger ship in the world and steeped in history. She was designed by Cox & Stevens and her interiors were initially conceived by her owner heiress Marjorie Merriweather Post, who was trained in marine engineering. Since then, the yacht has been rebuilt (1978). Sea Cloud has changed hands several times, and is used today as a luxury charter yacht and cruise ship. She occupies 32 staterooms and can accommodate a crew of up to 60. 
4. Black Pearl – 347 FT. 106M
Designed to navigate under sail power alone, Black Pear is one of the most advanced sail boats in the world. Built by Oceanco shipyards in Holland, and delivered in 2018, she has a steel hull, an aluminum super structure and carbon fibre masts. She carries over 31,000 square feet of sail, which can be unfurled in under 7 minutes at the touch of a button. Although her max speed is listed as 17.5 knots it is rumored that she has reached speeds of nearly 30 knots under sail. This privately-owned yacht has 6 staterooms which can accommodate 12 guests.
For our entire list of the biggest sailboats in the world, read our in-depth article on that specific topic: The World's Largest Sailing Yachts. There we keep an up-to-date list for you of specifically wind-powered superyachts.
Superyacht Builders
Shipyards are choosing to use more sustainable materials and practices. Designers are incorporating low-impact technologies like diesel/electric engines, heat recovery from generators to provide hot water, emission controls on exhaust and onboard waste management systems to eliminate dumping garbage in foreign ports. And mostly importantly, owners are beginning to allow their vessels to be used not just for pleasure, but also for marine research and data collection.
Superyacht. Megayacht. Gigayacht.
When it comes to the world's largest yachts there seems to be some confusion as to what they are called. Often used interchangeably the terms superyacht, megayacht and gigayacht are actually a way to classify these luxury vessels according to length. Traditionally a "superyacht" was a vessel over 80 feet, although with so many larger vessels afloat today, they are now considered to be vessels over 100 feet. "Megayacht" is generally considered any vessel over 200 feet. Up until about a decade ago we could have stopped there. However, with shipyards pushing the boundaries when it comes to boat design and size the term "gigayacht" was coined to describe the latest generation of yachts that measure over 300 feet in length. Still, to the average boat owner, whether it is super, mega or giga these yachts are just plain HUGE!
Motor Yachts vs. Sailing Yachts
Comparing power yachts and sailing yachts is a bit like comparing cars and motorcycles. Sure, they can both be  motorized vehicles but that's kind of where the similarities stop. A car is bigger, more stable on four wheels and allows the passenger to enjoy the ride without being submitted to the elements. A motorcycle, on the other hand, must consider how the wind will affect the handling of the bike, they might be more nimble but leave the rider exposed to the weather. If a luxury power boat is like a high-end SUV, then a sailing yacht is the sporty motorcycle.
One of the obvious differences between the world's largest power yacht and the world's largest sailing yacht is overall length. The latest power yacht launched in September 2019 is a whopping 182 meters, while the biggest sailing yacht rings in at a fraction of the length at 102 meters. However, that 182-meter power yacht can float in only 4 or 5 meters of water. The sailing yacht, on the other hand, requires at least 10 meters to avoid bouncing her lead keel along the bottom.
Although there are no restrictions, other than draught and height, between power yachts and sailing yachts both can run into the same problem when it comes to finding a place to berth. There are few marinas in the world that are able to accommodate such large vessels. This means these extravagant boats spend much of their time at anchor. In fact, other than stopping at a commercial port to refuel, it is not unusual for the world's largest yachts to spend years away from the docks.
Whether it is a power yacht or a sailing yacht, or a little bit of both, all of these impressive vessels require highly trained and experienced crew. From the Captain, Engineers and Deck staff who take care of the exterior, to the Chefs, Purser and the Stewardess who oversee the interior, each vessel employs a small army to keep them running safe and efficiently.
Want to read about more amazing yachts? Also check out:
* Diane M. Byrne (founder of Megayacht News) contributed to an earlier version of this article.
** This article was originally published in 2019 and updated in Dec 2021.
Full Superyacht Size Comparison Chart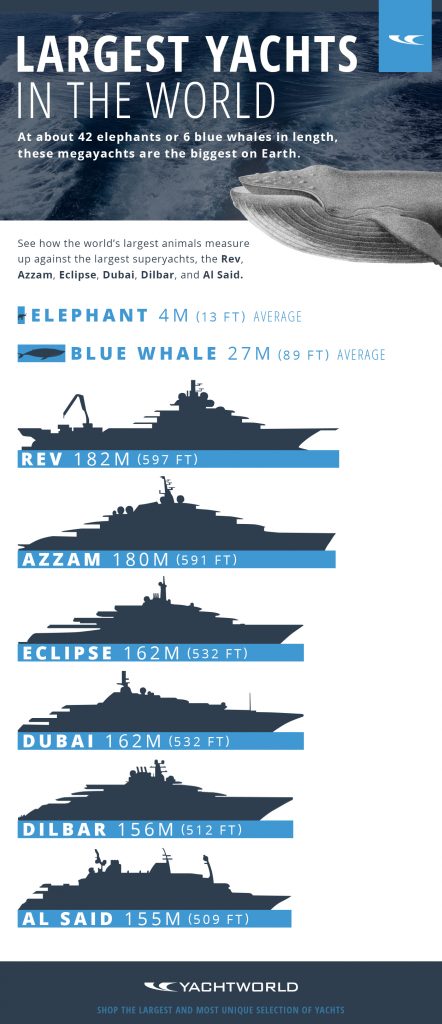 Related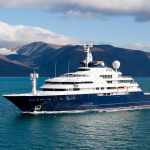 Celebrity Yacht Octopus: All Deck And No Legs
Find out more about the iconic $285 million mega yacht steeped in history.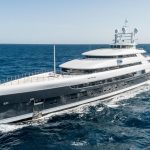 Most Expensive Yachts In The World: Top Contenders In 2023
The top 10 most expensive yachts for sale in the world today.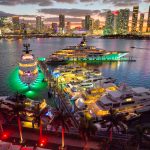 Miami F1 Grand Prix VIP Packages By IGY Marinas
IGY Marinas offers exclusive Miami F1 experiences at Island Gardens.