Ang Lee's latest film Gemini Man, which stars Will Smith, Clive Owen and Mary Elizabeth Winstead, has another unlikely star – a Hinckley Yacht. I recently had a chance to sit down with Hinckley Yachts CMO Pete Saladino and General Manager Dustin Hartley for a chat about the project and what it was like working with the film crew and cast on set. Below is a recap of our discussion.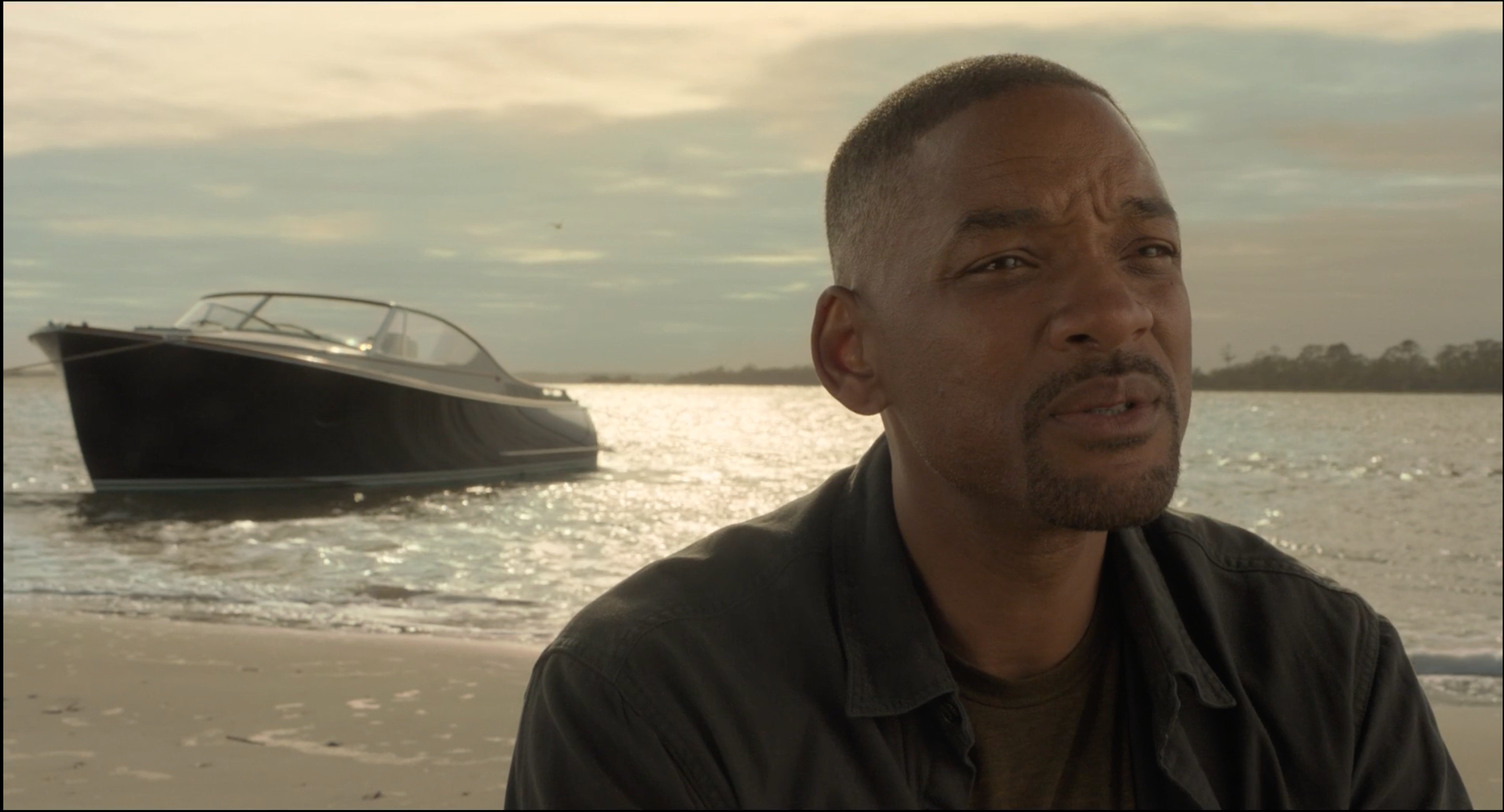 Will Smith with a Hinckley Runabout 34. Photo: Jerry Bruckheimer/Dion Beebe via Hinckley.
How Did This Project Come To Fruition?
Pete Saladino:
It was Jerry Bruckheimer who originally reached out to us. They were interested in featuring one of our Hinckley Runabouts in the film.
Why Do You Think They Chose Hinckley?
Pete Saladino:
I think for many of the same reasons that Hinckley owners choose our boats. Hinckley Yachts stands for American craftsmanship and quality, which is important to our customers. These are boats for those who want to see a beautiful work of art and appreciate the quality and engineering that goes into them. We're celebrating our 92nd anniversary next year and all of our boats are still built here in America, in Maine. I think brands often want to partner with us to highlight these themes.
Which Model Did You Choose And Why?
Pete Saladino:
We went back and forth between the Hinckley Runabout 34 and the Runabout 29. Ultimately it came down to a matter of logistics, based on the filming location and what boats we had available. It turned out they were filming right near our marina in Savannah, GA. We had a Runabout 34 down in Florida that we ended up shipping over and using for the film. We trailered it from the Gulf Coast over to Savannah.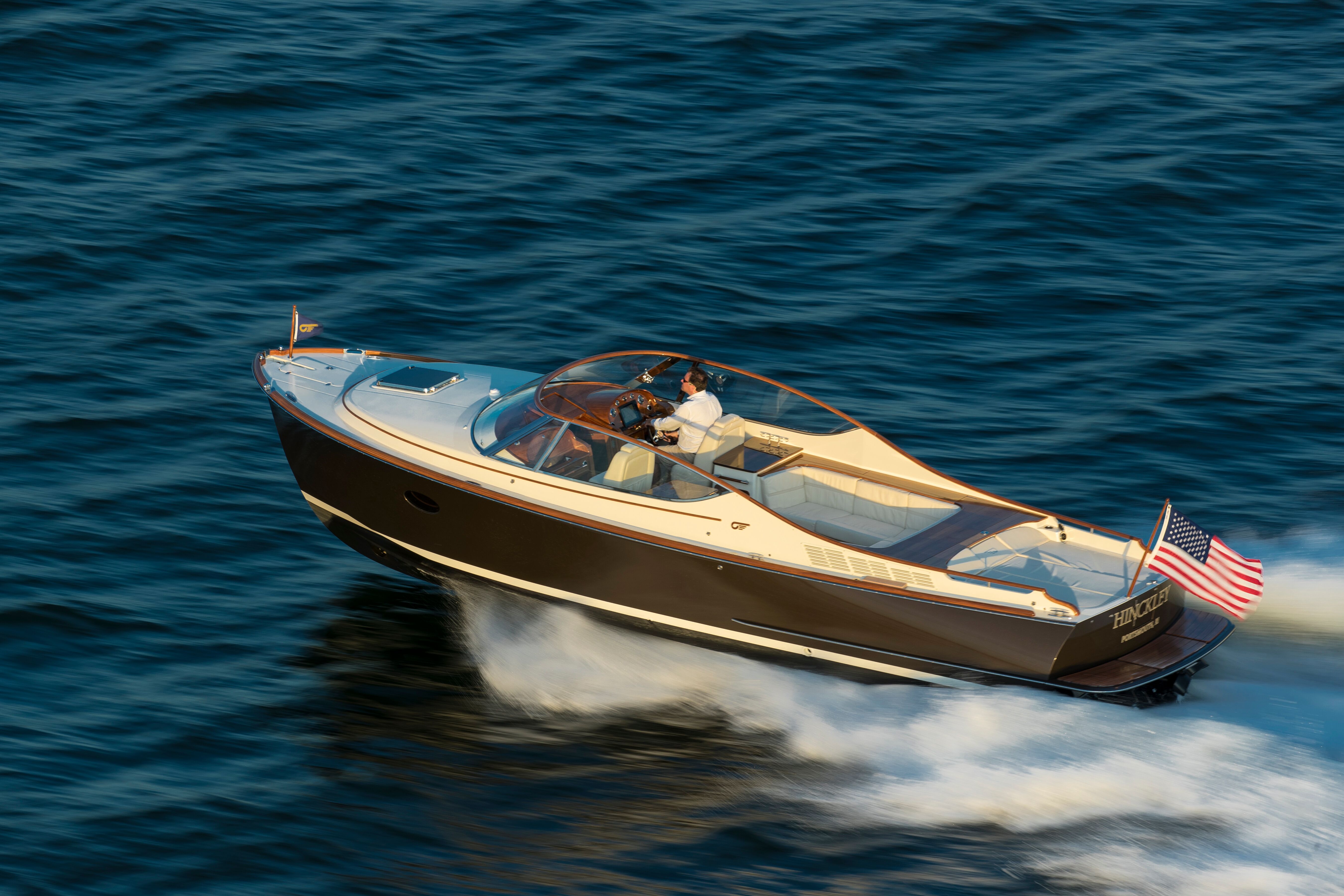 Hinckley Runabout 34. Photo: Alexandra Saletin.
What Was Your Role In The Production Of The Film?
Dustin Hartley:
I'm General Manager for Hinckley's Savannah Yacht Care Center, where I worked directly with the film crew and cast during the filming of the movie. I took actor Will Smith through Hinckley's new owner training program, which is typically a 2-3 day program. We made sure he knew all the controls and was confident handling the boat before filming began.
Pete Saladino:
Just to expand on that a bit: our 7-acre facility on the ICW in Savannah is one of ten care centers we have on the East Coast that represent a pinnacle yacht care experience. All Hinckley customers get a new owner training as part of their purchase, just as Will Smith received. (Hinckley yachts are designed to be owner-driven, so they do not have to be operated by a professional captain.) Our care centers are nice port of calls for Hinckley owners, where they can service troubles they may have run into along their trips, which is a major differentiator for Hinckley. Most other yacht builders don't have service centers like this, where we offer yacht care, training, maintenance, storage and other yacht services.
Did Will Smith Do All The Driving On Screen?
Dustin Hartley:
Yes, on filming days, Will Smith did a lot of driving. He had some previous boating experience and did very well getting underway and handling the boat. They did have a stunt driver on hand as well, especially for some of the more technically challenging shots in the marsh.
Were There Any Surprises On Set?
Dustin Hartley:
There weren't any surprises really, but it was very exciting. There was a boat chase scene that included winding s-turns that was filmed by a helicopter hovering just 15 feet over the boat, as it was doing 30 knots through the marsh!
How Did They Film The Boat Scenes?
Dustin Hartley:
Shooting began at 7AM every day and there was a lot of setup involved for each shot, so there was a lot of time waiting. Overall it was a very busy schedule with multiple scenes shot throughout the day, from filming on the docks, to helicopter and action shots. They also had a platform boat with a camera on a big arm to get whatever angles they wanted, from a on-the-water, boat-to-boat perspective.
What Are Some Notable Features Of The Boat?
Dustin Hartley:
The Hinckley Runabout 34 is a beautiful boat with nice lines. It also has an all digital system that allows the boat to be controlled via digital signal and a JetStick 3 which brings military grade GPS hardware onboard. This is a very advanced system with Hinckley's new technology innovations, which helped us train Will Smith quite quickly. Features include things like heading hold – where the boat guesses intent and re-targets and adjusts compass heading automatically. The helm has dynamic steering and is very responsive. It can be tuned for tight turning at different speed ranges. These are important elements as part of Hinckley's new experience that helps owner-drivers feel very confident handling the boat.
Were There Any Unforeseen Challenges During Production?
Dustin Hartley:
It was a lot of fun to be a part of it, and watch how a movie is made and filmed. Seeing how much goes into that process and the sheer amount of people required to make a film was really amazing.
What was it like working with Will Smith, Director And Lee and the other actors?
Dustin Hartley:
It was a great experience. They are all true professionals and highly-skilled in their trade.
Hinckley Picnic Boat Is Featured In NetFlix's Bloodline. Was This The First Feature Film Hinckley Has Been Involved With?
Pete Saladino:
Yes, this was a new, unique and exciting experience for the whole team. Although Dustin had actually worked with Justin Bieber previously, who arrived to his rehearsal dinner on a Hinckley!
Related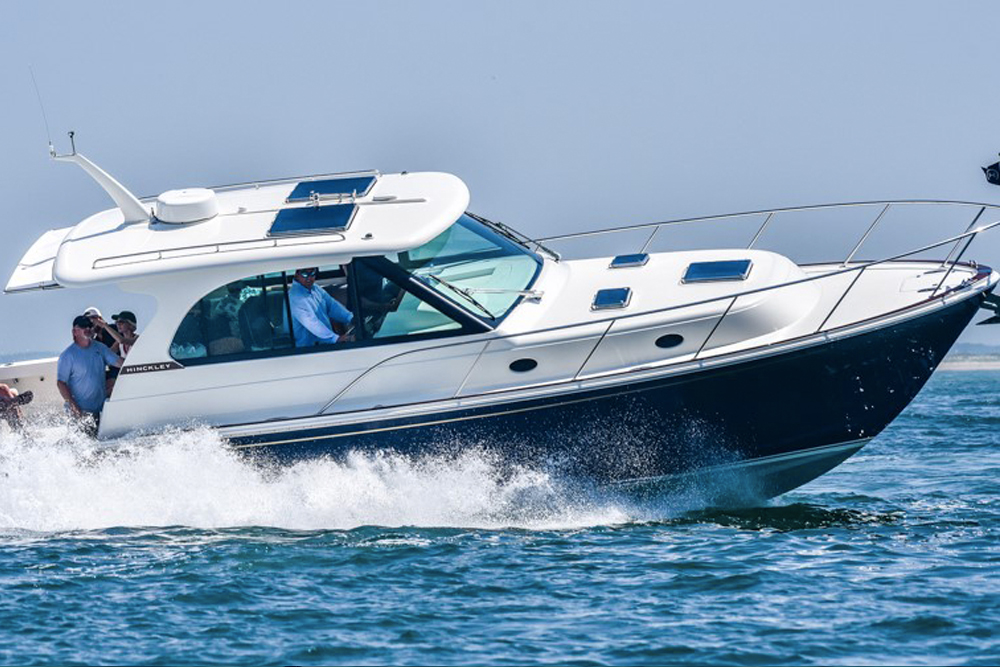 Hinckley 40X: Quick Video Tour
Category:
YachtWorld Experience
YachtWorld recently met up with Hinckley Yachts President Mike Arieta to discuss the new 2020 Hinckley...
Hinckley Talaria 55
The queen of the Hinckley fleet is in high demand on the brokerage market.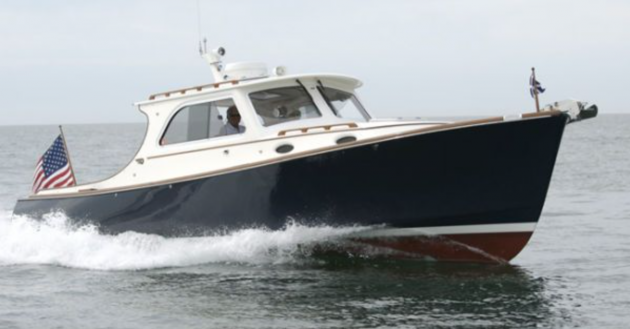 Hinckley 36 Picnic Boat: A True Classic
Category:
Antique and Classic
The first Hinckley Picnic Boat launched in 1994. Even with the current model MKIII up and running, the...