Congratulations! You've sold the family cruiser that's served you well for so long, and now you're shopping for something bigger. A lot bigger. Or, maybe you've chartered for years and decided it's time to buy and hire your own personal crew. Either way, a multitude of choices awaits you. Thanks to advances in technology, both power and sailing yachts are faster than ever, and more fuel-efficient. Still others are capable of globetrotting in the harshest conditions.
So, how do you choose the right yacht? See if any of these five design trends, currently garnering favor from fellow buyers, tickles your fancy.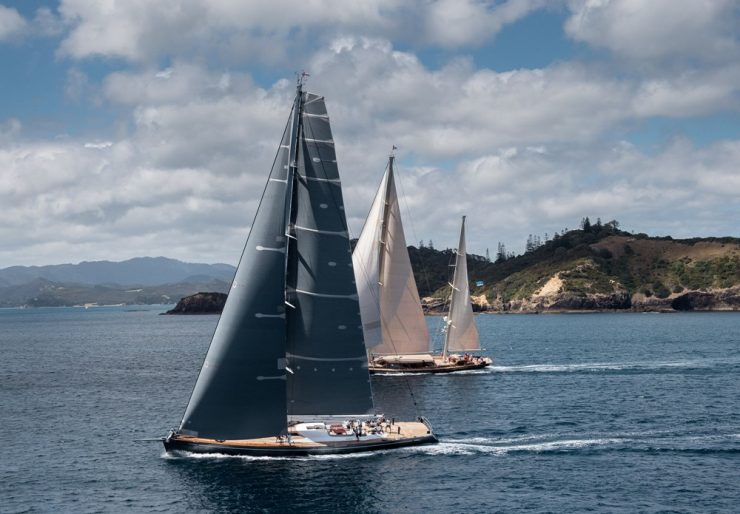 Regatta Racer
While traditional regattas involve prestigious prizes, with superyacht regattas, owners and crew vie for bragging rights, plus focus on camaraderie. This doesn't mean that naval architects and builders take a lackadaisical attitude. In fact, they're making sailing superyachts as swift on the race course as they are luxurious off of it. Indeed, the interiors don't need stripping down to save weight. In addition sail-handling systems have advanced to offer one-handed control of the full (often enormous) sail plan via the furlers. All of this has led to increasingly popular events like the New Zealand Millennium Cup (pictured), the St. Barths Bucket, and the Superyacht Cup regattas in Europe and the Caribbean. In fact, already, 20 yachts have signed up for the Superyacht Cup Palma in June, more than organizers anticipated.
Expedition Yacht
Younger buyers are entering the large-yacht market, and they're taking a different attitude toward cruising. They're simply not content with the "Caribbean in winter, Mediterranean in summer" trend that's been in place for years. That's a good thing; after all, more than 70 percent of the world's surface is water. Thus, true globetrotting motoryachts—and a handful of globetrotting sailing yachts—are gaining favor. Ruggedly built, they're engineered for taking on challenging conditions. Cantiere delle Marche is among the builders focusing exclusively on these true explorers. For example, Galego (pictured), delivered in 2017, has a 4,500-nautical-mile range at 10 knots. The 102-foot, steel-hulled megayacht also consumes as little as 21 gph.
You can find out more about Expedition and Explorer yachts by reading Exploring the Explorer Yachts Trend on boats.com.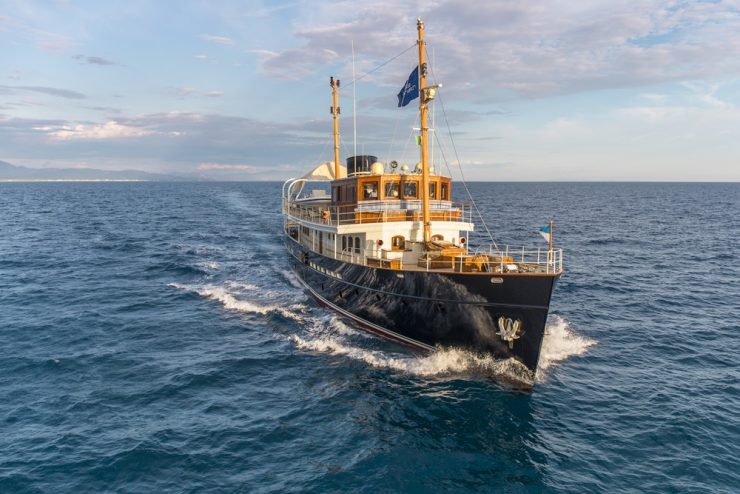 Classic
Classics just never go out of style. It's true of both power and sail. In 2007, for example, a superyacht buyer took delivery of Nero, a 296-foot replica of JP Morgan's famous Corsair yachts from the 1890s through the 1930s. Just three years ago, another classic-lover began cruising aboard Taransay (pictured). He had the 128-footer designed and built in painstakingly authentic detail to honor a same-named cruiser from 1930. That detail extends from her styling to her wheelhouse arrangement. On the sailing-superyacht side, the renowned J Class designs from the early 20th century have new life in replicas like Hanuman, Lionheart, Rainbow, and Topaz.
The J Class Association continues to field inquiries from yacht owners who want to commission their own Js. It owns the rights to several Js designed by the best naval architects back in the day, such as Frank C. Paine. Noted modern design studio Dykstra Naval Architects has, with the Association's blessing, updated the designs for modern necessities.
To learn more, be sure to read Classic Boats: What to Know Before Buying an Antique.
Multi-hull
Similar to classics, multi-hulls encompass both power and sail projects. Sunreef Yachts has a handful of semi-custom catamaran models in both categories, for instance. They offer the stability and space advantages of multi-hulls over monohulls. But, for a super-impressive superyacht multi-hull, look at White Rabbit (pictured). She's the world's largest private trimaran, coming in at 276 feet. Delivered late last year, White Rabbit was built by Echo Yachts in Australia. The owner was attracted to the trimaran design for fuel efficiency and performance benefits. In combination with a diesel-electric propulsion system, the yacht achieves a reported 5,000 nautical miles at 18 knots under full power. It's farther than conventional monohulls of the same LOA. Add in 64 feet of beam, and you can imagine how capacious the accommodations for 22 people are.
Glass Palace
It's hard to read an article about a large yacht these days without seeing photos of huge panes of glass. In most cases, they're nearly floor-to-ceiling glass windows, on the main and upper decks. Still in others, they're giant skylights, like the one aboard the Hatteras M90 Panacera (pictured). Skylights adorn purely private areas like master suites as well as combination crew-guest areas like country kitchens. Regardless of where designers and builders put the glass, big glass is big business. Gone are the days of tiny portholes (emphasis on "holes"). Owners and their guests want to feel more of an emotional connection to the beautiful cruising grounds they're enjoying. Simultaneously, they want more natural light spilling inside. Some builders are taking the concept to the extreme, like the almost entirely glass superstructures found aboard Arcadia Yachts. Whatever you choose, be sure to stop and admire the view.
To start the buying process, begin by browsing through all our different types of yacht listings on YachtWorld including Sailboats, Power Boats & Catamarans.
Related