"That doesn't look like a Wellcraft!" was my first reaction to the announcement of the new 2022 Wellcraft 355 pilothouse walkaround family cruising boat. But that is exactly what Wellcraft wanted. Beneteau Group, the marine behemoth, acquired the brand in 2014 and took its time deciding on the right approach for the classic name.
Background
"Old Schoolers" may remember when Wellcraft licensed and produced racing style Scarabs designed by Larry Smith while others may recall fishing center consoles; both had fallen out of circulation and regard due to lack of attention to the brand, but the name recognition stuck. In 2022, a totally new approach and new team created a reimagined boat to re-brand Wellcraft as the boat to push the limits with "Own the Offshore" as its new tagline. The boat is a combination of Scandinavian inspiration, American and European design—"A re-interpretation of the Downeast look," says Martin Meyers, of Wellcraft Product Development.
Design And Style
Michael Peters Yacht Design, itself a renowned performance brand, acted as the hull's naval architect, in conjunction with designers Pawel Denert and Camillo Garronni, both known for their work with Jenneau, another popular Beneteau brand. The team pooled their respective skills, creating an inverted bow boat with an enclosed helm and salon that can act as an overnighter, a day cruiser or a high speed "commuter"–as Wellcraft bills the boat–as it easily seats five or more passengers inside.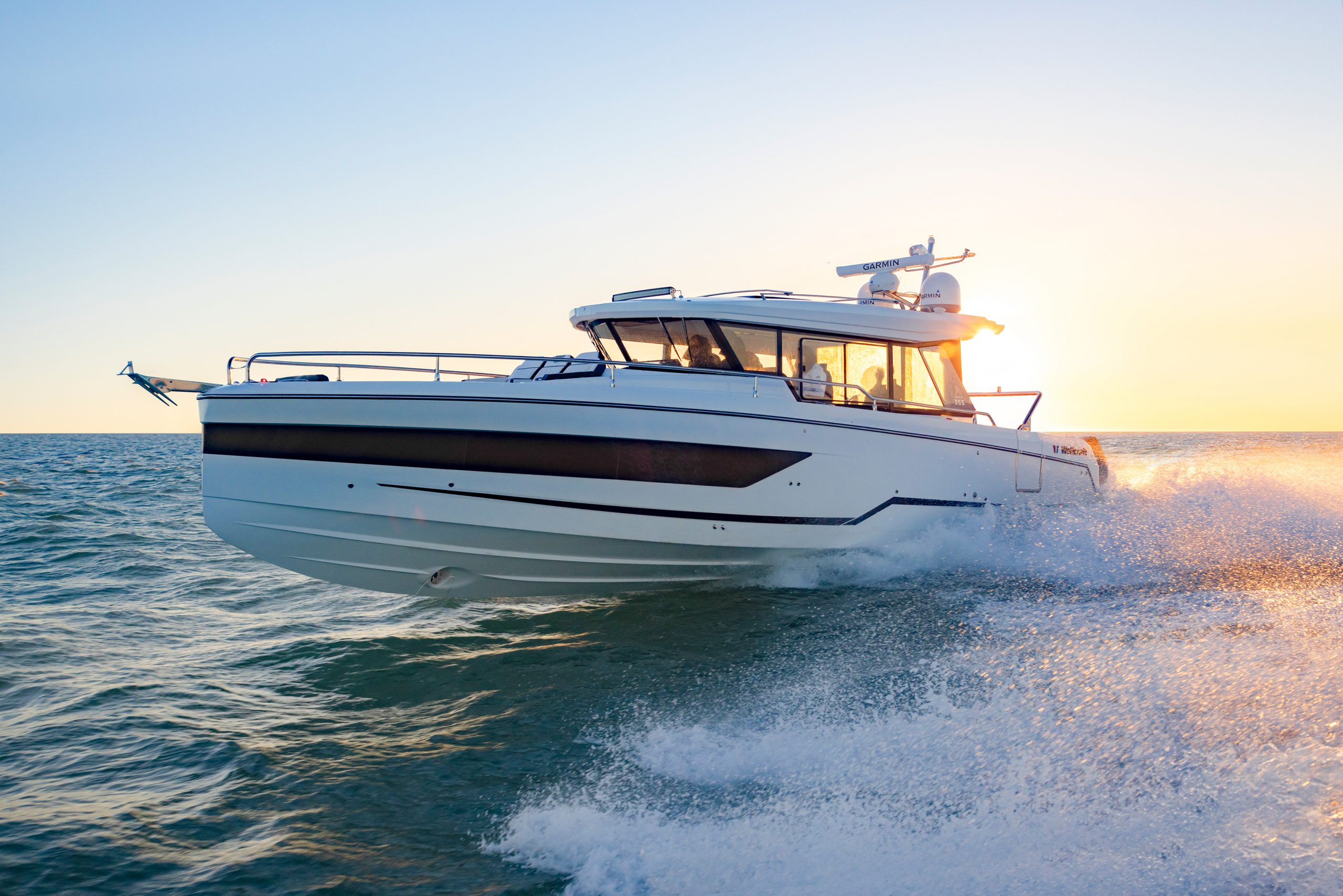 Above: A 2023 Wellcraft 355 Walkaround Pilothouse Boat underway. Photo by Wellcraft.
An Inverted Bow – Bold New Concepts For Wellcraft
According to Peters, who had avoided inverted bows until this project, the hull design required a different approach than his patented "Internally Vented Continuous Chine Stepped Hull." Being high-speed specialists, the Michael Peters team looked at ways to keep the boat, which was planned to travel to 60 mph, operating smoothly in both head and following seas. The bow shape changes the boat's buoyancy so they had to "move things around" to balance the hull properly. There are no steps, and "The aft two-thirds of the boat is a conventional planning hull," says Peters, noting that though an inverted bow slices through water nicely, at high speeds, they needed to avoid bow steering, designing the hull to keep the shape and deadrise consistent from bow to stern. Michael Peters, who has worked with Beneteau on numerous projects, considered the 355 a "bold move" saying, "You can't move forward with old concepts."
The profile of the boat is distinctive, subtly using the Wellcraft lightning bolt graphic to elongate the hull sides, complemented by the similarly back angled windshield and "fashion plate" logo-ed aft cabin windows. The freeboard is deep and boat looks and feels thick and stable. Does it resemble other brands that have been embraced by the U.S. market? Yes, but with its own definitive details that make it Wellcraft's own.
Construction
The construction of the boat is also noteworthy as Wellcraft uses "infujection"– a process where the mold is gelcoated then lined with fabric, followed by infused resin over a structure of ribs and foam. The hull is stiff, solid and lighter, done in "one shot." The T-top is also created by two molds like an upside-down shoe box, creating an upturned lip that acts as a handrail around the entire top, with strategically placed drains.
Bow Area
The bow's large sun lounge accommodates three, but the middle seat flips up to reveal cup holders and arm rests for the outside two passengers as well as a skylight for the cabin below. A bow bench seat has storage beneath and a safety rail wraps the entire bow and windlass anchor locker. The high T-top provides ample head room in the cabin, a rack to carry kayaks or paddle boards and houses the Garmin radar.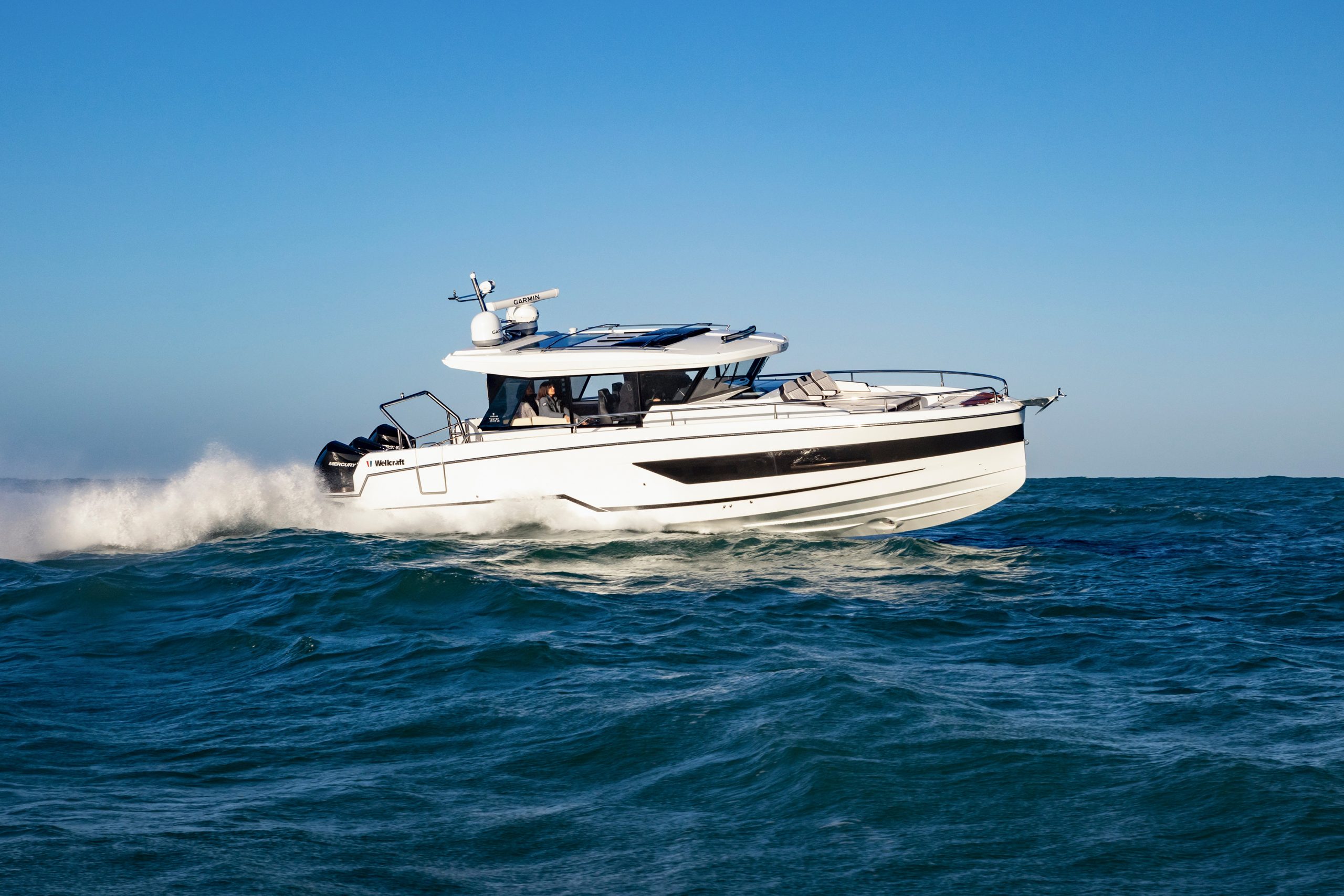 Above: The sharp inverted bow of the Wellcraft 355 cuts through the water while underway. Photo by Wellcraft.
An asymmetrically wider starboard walkway provides access to the helm and cabin through a sizable side door, and then to the broad aft deck which has a rack for fenders or dive tanks. Options include either a fold-up bench seat or a live well and sink at the transom. A huge storage area beneath the deck houses a generator or can have an optional gyro stabilizer with an inverter. The bow table is likewise stored there, along with stainless steel poles for the sunshade which can be attached to the T-top at either bow or stern.
Pilothouse And Cabin Interior
The elongated side door entry is unusual as passengers can access the salon behind the helm without interrupting the captain. Access to the inside is enhanced by the aft deck door to port that swings out, alongside the broad window that likewise swings out and up, breathing fresh sea air into the spacious cabin. Comfortable seating, some of it modular, has storage beneath and the expansive entertainment space has a galley to port with single stove top, microwave, sink, refrigerator and trash container all tucked into attractive cabinetry with plenty of other storage throughout. Bring ALL you need or want on this boat! The dining table, when recessed and cushioned, sits flush with C-seating to starboard and can convert into an extra guest berth.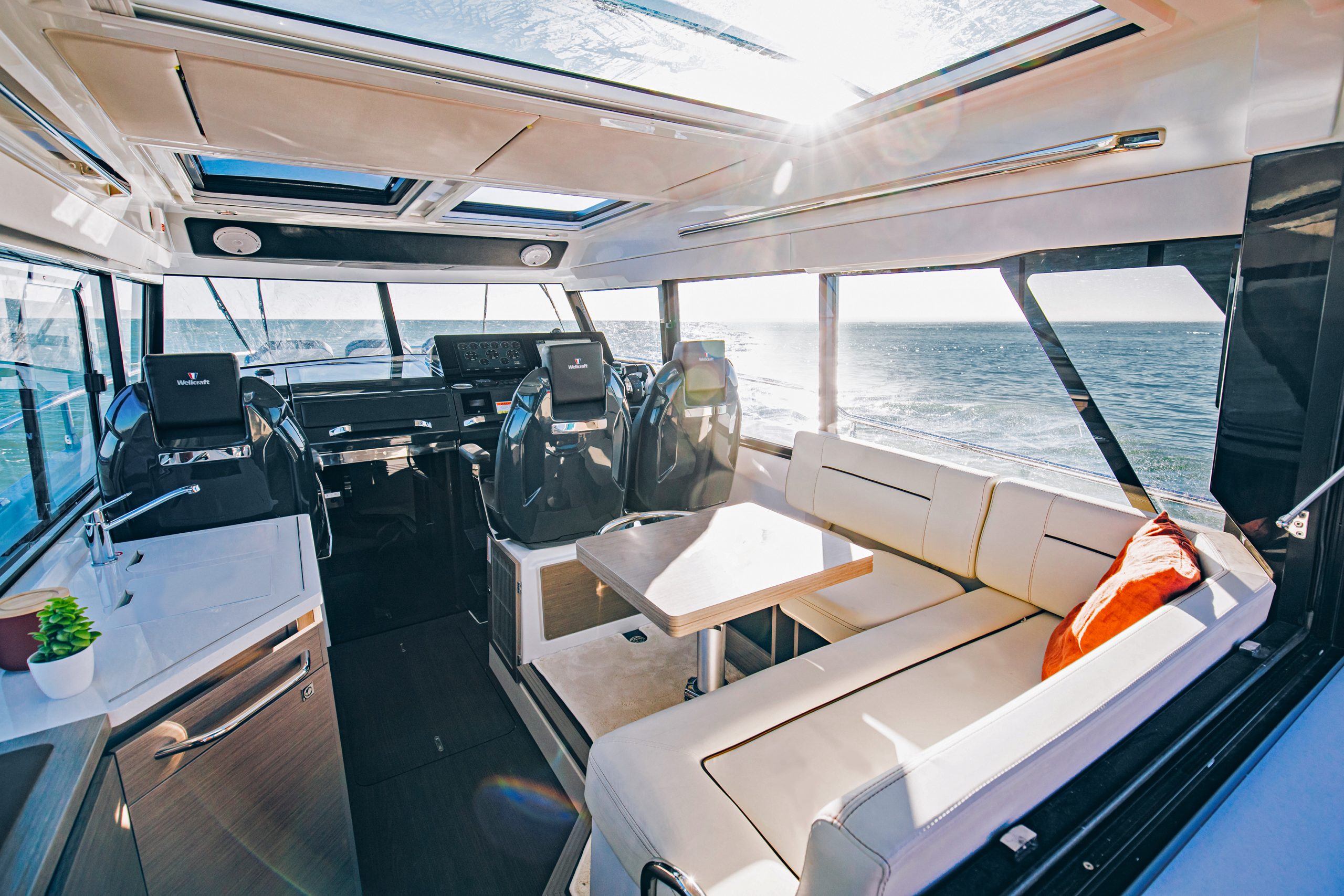 Above: The interior of the pilothouse salon area on a 2023 Wellcraft 355. Photo by Wellcraft.
Subtle LED lighting in a leather header separates full-top width sky lights that provide even more natural light with pull across pleated fabric screens for bug-protected airflow, topped with light-blocking shades. Open some or all of the many windows all the way to feel the ocean breeze.
A leather-covered handle at the dash passenger seat, opens to the spacious cabin and nearly queen-sized bed. Carpet, veneer cabinets and plenty of natural light give an elegant state room feel, while the tall and roomy head with a separate shower and skylight make the space open and comfortable. The layout uses all of the nearly 11' beam and makes moving around the boat easy, even with a boat load of friends and family.
Helm Station Controls
At the dash, throttles are aligned to the right hand while the steering wheel is set off-center, making the dash ergonomic and comfortable. The joystick, bow thruster, Quick anchor chain counter and switches are all within easy reach as is the Fusion head unit, controlling the JL Audio speakers and amp which can also be controlled through a Garmin watch or phone. Two 16" Garmin screens simplify navigation and engine monitoring while a handy glove box keeps the dash neat. Windshield wipers are tucked under the T-top for clear vision and the forward tilt of the windshield protects against blue water.
Engines And Performance
The triple outboards are wrapped by a swim platform with a pull-out 6' ladder to port. This first model has the top-end 350 Mercury engines, with 300 Mercury or Yamahas as an option, depending on budget and need for speed) The fullteak deck is a nice touch and is also an option.
A New Breed
Will the profile of the Wellcraft 355 draw the prior generation's fans or will it welcome the new breed of boater that the marine industry covets? Perhaps both because the name bears a respect for quality and performance—while the look states the newest fashion. That challenge of appeal to the boating personalities of different generation was a worthy one for Beneteau and Wellcraft. The zeal of the design team is evident as we see their vision and reasoning in every aspect of the boat. Their work manifested a sharp looking boat that dutifully handles rough water at speed and can cut through slop. She can take a beating if that's what Mother Nature throws at you, or offer a stable, smooth ride on a mellow cruising weekend.
It's said that imitation is the sincerest form of flattery; another boat may look the same, but it's not. Each builder brings its best to the dock and has borrowed from each other's trade for centuries. The marine industry wouldn't exist if different builders did not compete, making what they think answers the market's needs. It seems today's boaters want performance, quality and "a look." Boats were styled the same for ages but fashion evolves over time and so do buyers. As Peters commented about various builders who have tried both successfully and unsuccessfully to recreate legendary brands, "You can't design around the old fan club."
Wellcraft is definitely going for fashion but backing it with performance. "En vogue"—the company IS French n'est ce pas?!
Specifications:
Length (LOA): 35.92′
Beam: 10.75′
Dry Weight: 11,636 lbs.
Cruising Speed: 35 knots
Max Speed: 50-65 knots
Fresh Water Capacity: 42 Gallons
Fuel Capacity: 264 Gallons
Wastewater Capacity: 23 Gallons
View Wellcraft 355 boats for sale on YachtWorld now
View all Wellcraft boats for sale today
Related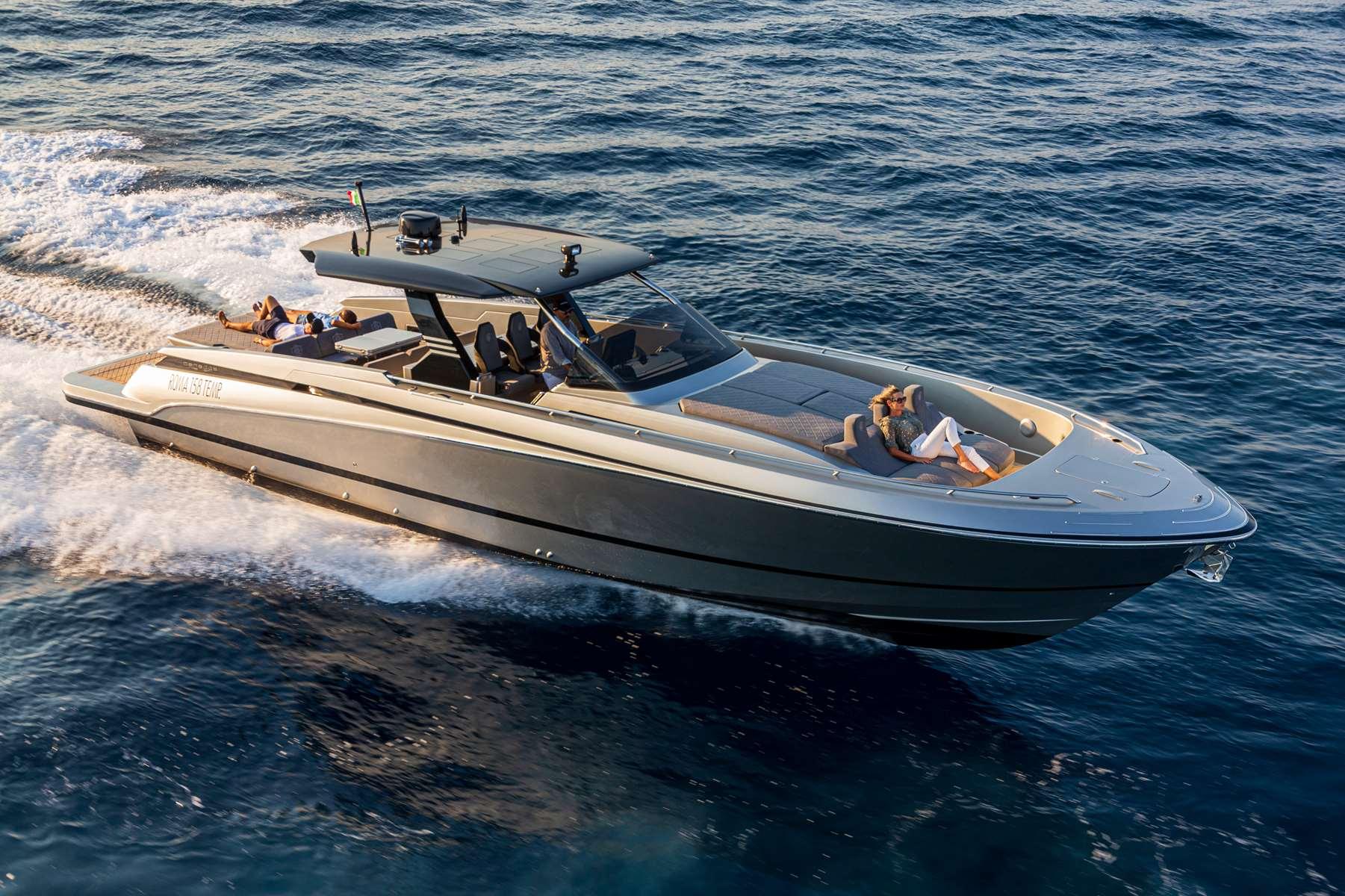 Canados Gladiator 493 Grand Review: Luxurious Italian Performance
Marilyn DeMartini reviews the brand new Gladiator 493 from Canados Yachts.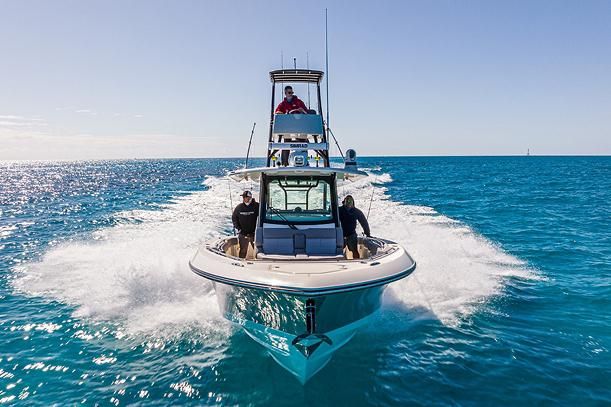 10 Best Center Console Boats Of 2022
The best center consoles to take angling in saltwater.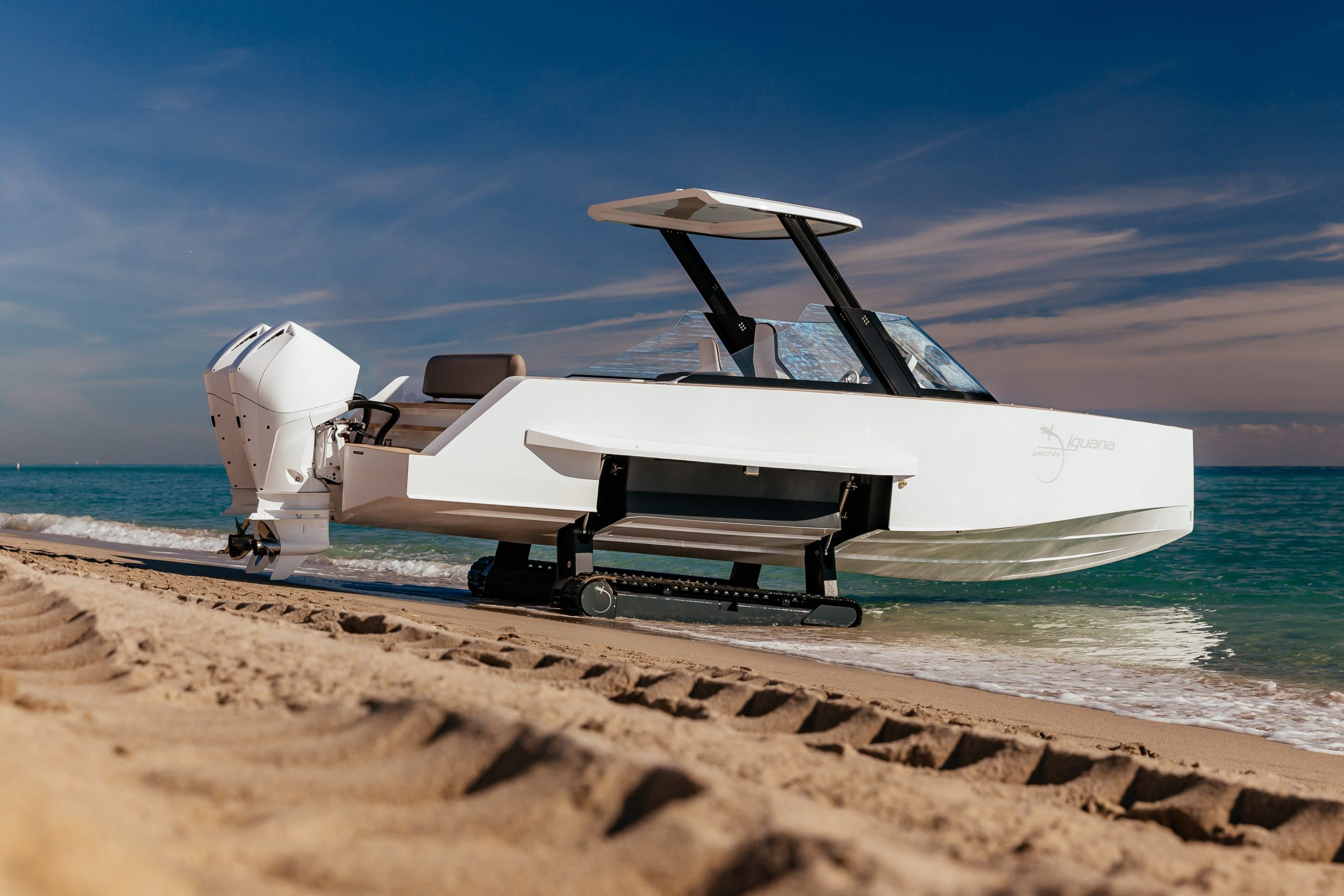 Tenders Guide: From Dinghies To Luxury Superyacht Playmates
Find out which tender type is best suited to your needs.