We've covered Viking yachts in the past, with reviews of boats like their 42 Convertible, the 52 Sport Tower, and the V65 Sport Cruiser. But the latest Viking we set foot on, the 80 Convertible, dwarfs these other boats. With 145,461 pounds of displacement, 2,600 gallons of fuel in her belly, and 5,200 horsepower in the engineroom, the 80 is one seriously impressive beast.
At the invitation of HMY Yacht Sales, we spent an entire day on the 80. We looked at every inch of this boat, inside and out. We tossed free the lines, and went for a ride. We wound up all of those horses (top end: 41.6 knots), and we cranked the wheel hard-over. We did just about everything we could—short of actually going fishing, unfortunately—to put this sportfishing yacht through its paces and report back to you. We also shot this video boat review for our sister-site, boats.com. Check it out, to get a feel for just how awesome this majestic monohull really is.
You say you want more of the nitty-gritty details? No problem. First off, let's point out that this boat is semi-customizable, and if you buy one new you can choose between things like an enclosed or open flybridge, crew's quarters or expanded tackle stowage rooms, and of course, numerous decors. Second, take note of the fact that this is an American-made product, and it delivers in a big way when it comes to craftsmanship. Hopefully, this came across in the video. Throughout the 80 the wood in things like the cabinetry, drawers, and credenzas, literally flows from one surface to another with book-matched grain. The surfaces gleam with multiple layers of buffed varnish. Even the welds in this boat's pipework are something of a wonder to behold, feathered neatly around the joints and completely bubble-free.
Now, we don't want to give you the impression that the Viking 80 is perfect. No boat is, and in this case a rather gigantic price tag (seven-plus mil) and a rather gigantic fuel burn (183 gallons per hour at cruise and 247 per hour at wide-open throttle) are factors potential owners will need to take into consideration. But when all is said and done, you're going to have an extremely difficult time finding things to gripe about on this boat. Defects in manufacturing? We found none. The use of sub-par parts? Uh-uh. Cutting corners to save cost? Ha ha, very funny.
The bottom line: if you want the biggest, most bodacious, bad-a** sportfishing yacht around, then you need to take a good hard look at the Viking 80 Convertible. Spend some time poking through her, from the engineroom to the anchor locker. Go for a sea trial. And then get ready to be crowned king of the marina.
For more information, visit HMY Yacht Sales or Viking Yachts.
LOA: 80'6″ * Beam: 21'4″ * Draft: 5'7″ * Displacement: 145,461 * Fuel Capacity: 2,600 gal. * Water Capacity: 400 gal.
Viking's latest offshore battlewagon the 64C convertible sportfish is an offshore beauty.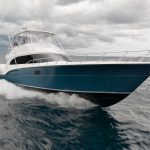 A 76-foot sportfishing yacht is the last masterpiece from icon Bob Roscioli.