In 2020 the yachting industry made great strides forward, despite the pandemic. Restrictions on land have prompted more first-time boat owners to embark on a new hobby, and in some instances, led to a complete lifestyle change. Multifunctional spaces, uniquely shaped exteriors and sustainable yachting are some of the key design principles that emerged in 2020.
A great many more yachts will be designed from the ground up to make the best use of electric propulsion and it is likely greater attention will be focused on multi-hulls. A key trend in contemporary yacht design is semi-custom platforms of between 40 and 70 metres in length, which are growing in popularity.
Take a look at YachtWorld's top four unique yacht concepts of 2020.
1. Silent 80 3-deck // Silent Yachts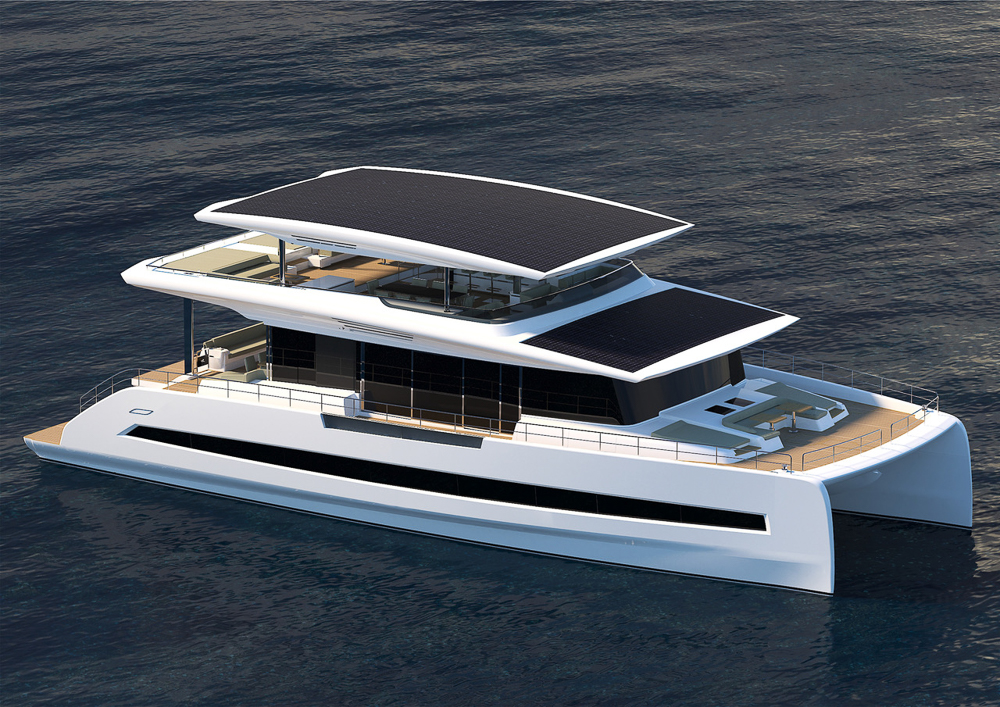 Silent 80 3-deck is completely customisable. Image credit: Silent Yachts
Referred to as the 'Skylounger as the seas', this all-electric, solar-powered catamaran yachts has sleek, curved lines and is fully customisable. The three-deck layout provides passengers with an abundance of space. Silent Yachts have designed three key models, each offering something different. As the name suggests, the benefit of Silent Yachts is that they are entirely noiseless, which is beneficial for both the passengers and marine life.
Silent Yacht envisioned an eco-friendly leisure experience, their mission is to instil a sense of 'being in a luxury cabana' while being entirely engulfed by the ocean. IThe trans-ocean capable Silent 80 is affectionately referred to as "The Skylounge Of The Seas," featuring three spacious decks with the uppermost deck providing 90m2 of enjoyable space and incredible 360 views. There is a bar, and galley, and yacht owners have the option to have a jacuzzi in the flybridge area. This yacht provides every luxury that you would expect in a luxury hotel, making the yacht ideal for long cruising trips.
The Silent 80 measures in at 24.30m length, 10.95m beam, and 1.20m draft with light displacement of 65 tons. The panels on the roof produce 26 kWp. If you are looking for sustainable yachting in the comfort of luxury, this is a great choice. Prices start from €5.51million.
2. Avanguardia // Lazaarini Design Studio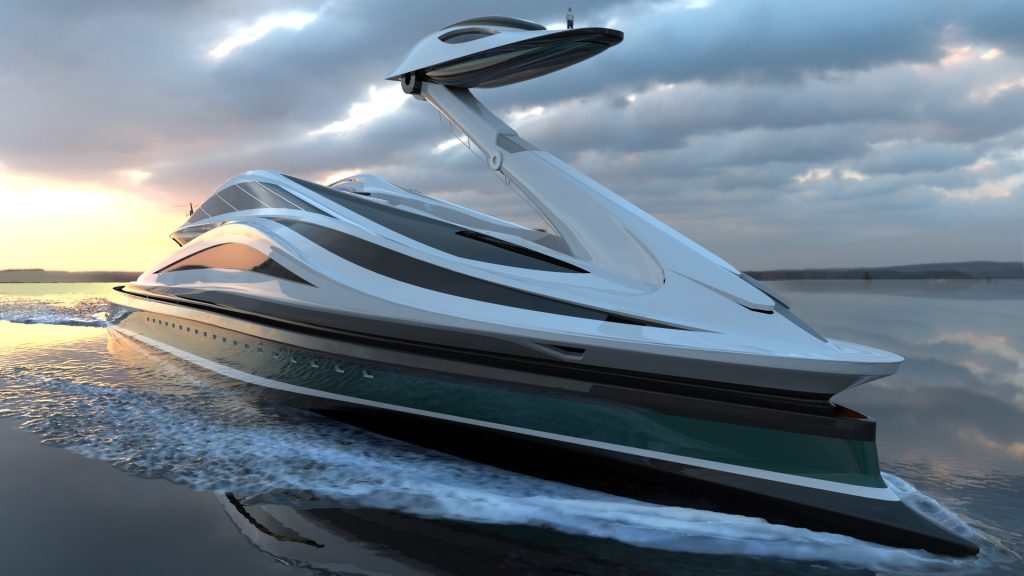 Avanguardia's 'neck' will lower to sea level and release a 16-metre tender. Image credit: Lazaarini design studio 
At first glance, the swan inspired design is immediately recognizable. Sweeping curved lines hint at the wings and feathers of an elegant creature. A strikingly original concept was conceived by the Italian Lazzarini Design Studio were also responsible for creating Prodigium, which resembles a shark.
Avanguardia measures 137 meters and can accommodate up to 60 guests across five decks. The design proposal is for the"head" of the swan, the control tower, is a 16-meter tender that would rest on top of the vessel, attached to a hydraulic "neck". The neck raises up, forward and down to sea level where they guests can launch the tender. Primary propulsion features fully electric twin engines, supported by a central Rolls-Royce engine, helps to push this megalithic yacht to its top speed of 18 knots. Though only a concept as of yet, Lazzarini is waiting for the right investor to turn this design into a reality.
3. Evolution // Codecasa Jet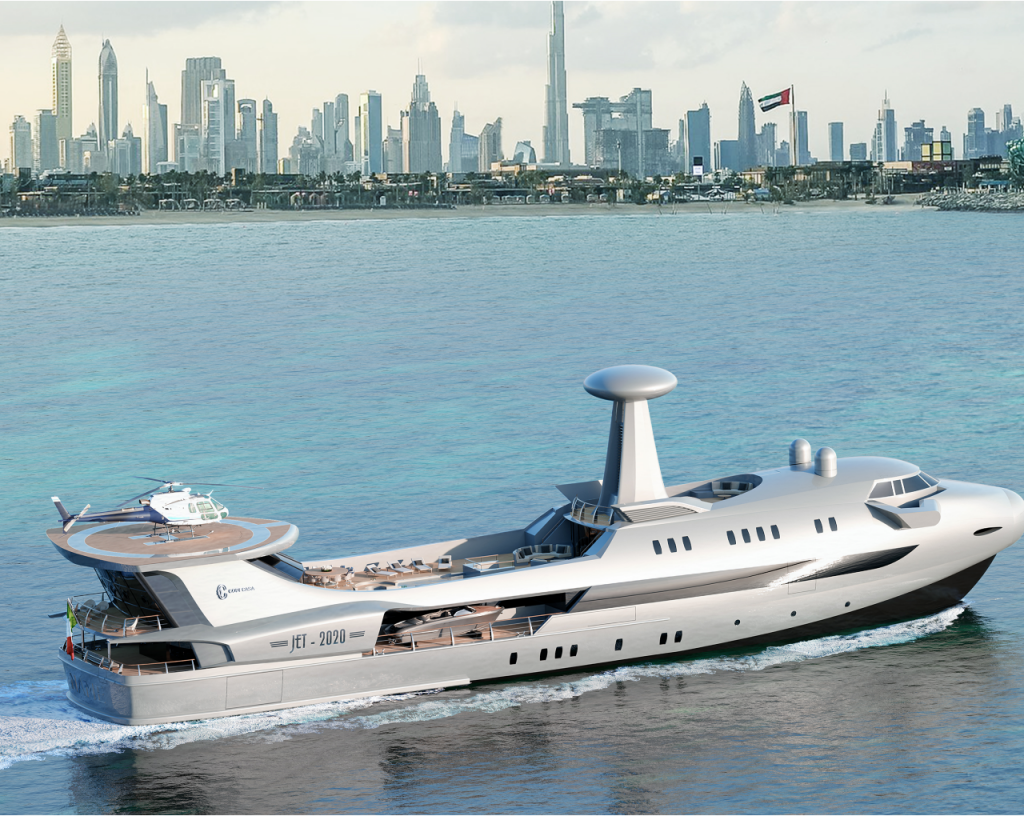 Image credit: Cantieri Navali CODECASA
The bow of this vessel bears an uncanny resemblance to the nose of a jumbo jet, complete with aviation lines that follow through her exterior, and the aeronautic theme doesn't stop here. Designed by Fulvio Codecasa, this ship features a cockpit inspired forward section, complemented by a vertical tail-like structure at the stern. Codecasa Jet 2020 explores the design relationship between aerodynamics and hydrodynamics.
The vessel measures 70 metres in length, (230-feet). The sun deck is 65 feet long, by 32 feet wide, pool, indoor/outdoor fitness center, and at sea-level, there is a beach club. The boat facilitates up to 10 guests. The cockpit of an aircraft opens like the bow of a cargo to provide access to the mooring area and the beach club, which is at sea level. The guests even have the added convenience of being served by lifts. Here, you are connected to a hallway and a skylounge. The salon and the main dining room are both on the same level as the sun deck and feature large glass windows (three meters height) allowing natural light to pour into the social areas, connecting the outside-in.
The main deck bow area is completely devoted to the owner's suite, while the guests are accommodated in the four sumptuous cabins in the lower deck, the forward area of which is occupied by the crew quarters. The pilothouse located on the bridge deck is comfortably served by another lift connecting the three-decks and is directly adjoining the captain's cabin.
4. Oceanclass 68 Fly // Greenline Hybrid Yachts
Oceanclass 68 Fly // Greenline Hybrid Yachts
The Oceanclass 68 Fly has distinctive characteristics that make her the leader in the 60 ft yacht class with the modern, yet classy look, superb comfort and quality together with numerous innovative solutions. Modern design, ecological propulsion and other features drive this yacht to be the choice in the 20-m yacht range in all perspectives.
A bank of solar panels on the roof can be used to charge all of the boat's appliances, whether cruising or at rest. This means there is no noise, no vibrations, no emissions and no disturbing your neighbours when the boat is on anchor. By utilising high performance LiPo batteries, even high load appliances like air-conditioning can be run in silence. Greenline's signature features combine the cockpit and the galley into a big social area, perfect for family parties, wine tasting or celebrations. Thanks to the 360˚ panoramic view inside the salon, there is an abundance of natural light. The owner's cabin aboard the OceanClass 68 sits at full width of the ship.
YachtWorld looks forward to reporting on the top yachts debuting across yacht shows in 2021.
Related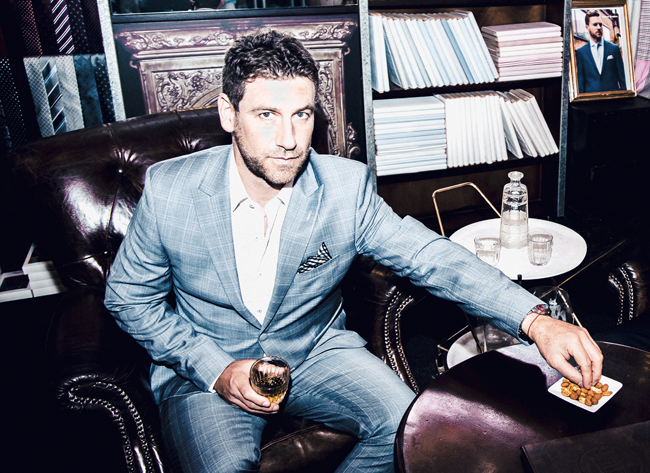 A Diary of a New Boat Owner
YachtWorld talks to new boat owner Anton Marmot about how the pandemic helped him discover a new hobby....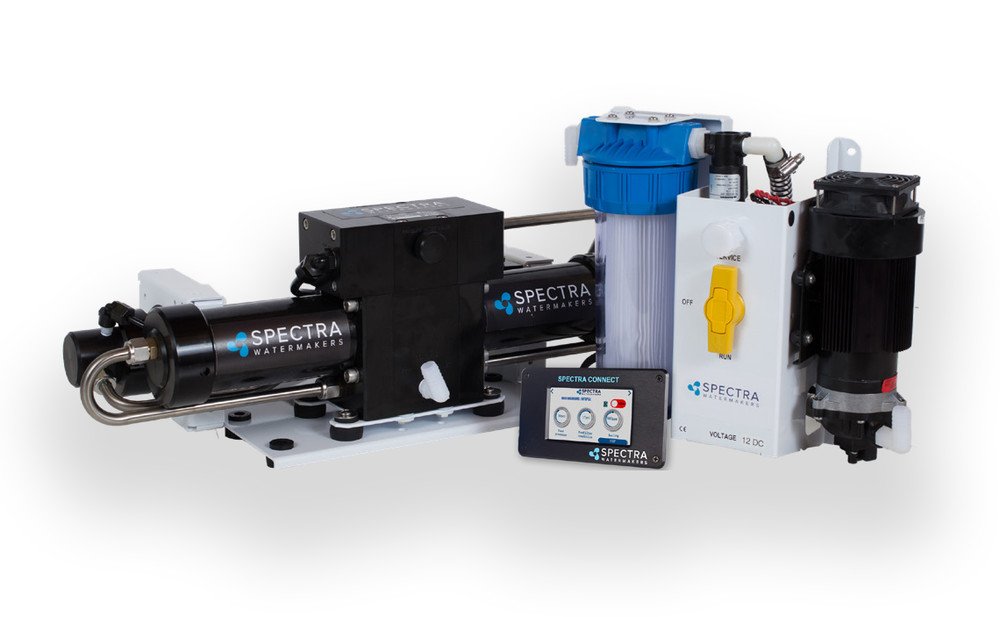 Ventura 150c and 200c watermakers. Photo by Ventura and Katadyn Group. Perhaps you are planning to stay close to docks, water lines, and shore power throughout your journey, but wouldn't it be nice to have the added security of knowing you can make your own freshwater if necessary? Especially if you are interested in exploring areas that are a little more off the grid. Luckily, recent advancements in ever-evolving technology give you plenty of affordable options to outfit your boat with a watermaker that best suits your level of adventure. Here we'll review the basics of how these systems work and take a look at some of the best products on the market right now.
The Basics of Marine Watermakers
Marine watermakers use the process of reverse osmosis to intake seawater and output clean, potable water suitable for any of your live-aboard needs. The newly made freshwater is then pumped into your vessel's current water tank, while the leftover "brine" is thrown overboard. Most marine watermakers differ with regards to the method in which the water is pumped. Typically, the water can be either electrically driven (either AC or DC) or powered by your boat's engine. Note that the colder and saltier the initial seawater is, the slower the purification process will be - so you hardy nor'east sailors may need to invest in a more high-powered system than those of us trawling down in the Carribean. Watermakers also come in all shapes and sizes, with modular options best suited for smaller boats, as the parts can be "stashed" in whatever precious extra cargo space is available.
Best Marine Watermakers
Let's take a look at a roundup of some of the best boat watermakers on the market right now for your vessel.
The Ultra Whisper
The Ultra Whisper by Sea Recovery is best for small boats and sailboats, this super low power machine is specifically engineered for boaters with limited electrical options and can run on either AC or DC power, boasting a 75% reduction in power consumption over other models. It's also very quiet (hence its name)so it won't compete with your epic sound system, and operation is completely automatic with it's simple start and stop controls. Sea Recovery also has another line with a wide variety of size and capacity options called Aqua Whisper - including a miniature version that measures only a mere 2-3 cubic feet, perfect for your day tripper vessel.
Village Marine - Little Wonder series
Village Marine also has a great line of watermakers targeted especially for trawlers and small sailboats, some with very impressive capacity, as well as considerable options for the mega-est of the mega yachts. The Little Wonder series weighs only 69 pounds yet has the ability to manufacture up to 180 gallons of freshwater per day. It also has a low RPM high pressure pump which is both economical and efficient, with the convenient modular design so you can store it in separate compartments if necessary - no "wonder" it's so popular, right? We actually had the pleasure of adding one of these to our 38 foot family yacht on a journey down the ICW for the winter and it made such a difference for us because we had 5 people aboard and a limited freshwater supply. The installation was quick and painless, much to the relief of my father. Also, as it was peak tourist season over the holidays, there were definitely some times when it was difficult to find (or too expensive to stomach) an open slip for the night, and having the Little Wonder aboard enabled us to anchor where we pleased without having to worry.
Village Marine - LW Watermaker Series
Village Marine also has something for the big dogs - the LW Watermaker Series can accommodate boats up to 100 feet in length. A practical and reliable source for long fishing voyages or ocean charters, this feat of engineering can provide you with absolute water independence. Would you believe this series possess the capability to produce up to 1800 gallons of freshwater per day? It has a manual operating system that is both durable and fail safe, and also has a modular design which still gives you some flexibility in terms of installation options. This line is perfect for that person we know that always seems to be island hopping in Greece on their 96 foot super yacht yet never seems to invite us.
Spectra Katadyn PowerSurvivor
Titan of the industry Spectra Watermakers has a variety of great options ranging from a small hand powered pump, to commercial grade hi tech gear. The Katadyn PowerSurvivor 40E/12 V is one of the smallest marine watermakers out there. It runs on a mere 4 amps at 12 volts DC, and is the only machine of its kind that can revert to manual power if necessary - making this one a great model to have aboard in case of emergencies. The PowerSurvivor pumps 1.5 gallons an hour, weighs in at only 25 pounds, and with it's space saving design, can fit in even the tiniest of compartments.
Ventura 150 Watermaker
The Ventura 150 is one of the most versatile and popular watermakers on the market. Not only is it rigged for low power consumption, but it can also run on solar or wind power if you have the capability on your vessel. Like it's name, this system can deliver up to 150 gallons of purified water per day, and possesses analog controls with an instrument panel containing a feed water pressure gauge and a product flow meter. This watermaker runs quiet, and is surprisingly compact and modular given it's capacity. There's also the Ventura 200T, which is the same size and configuration as the Ventura 150, but uses a higher displacement Clark Pump to produce more water, allowing it to operate in warm waters above 50F (wimps).
Conclusion
With all of the recent trends in boating leaning toward self sufficiency and sustainability, it's easy to see why adding a marine watermaker is an intelligent investment for your vessel. Modern advancements in technology and modular parts have made these systems easy to install and incorporate into any on board setup - it's all about deciding what is right for you and your particular boat. Consider how much time you spend on your live-aboard, where you spend your time, and where you wish you spent more time. Working to create a completely independent boat system will ultimately give you more freedom. Additionally, when coupled with solar panels or power, you have the ability to not only reduce your carbon footprint, but also to remain off the grid indefinitely - no longer having to rely on shore power or water. Imagine the possibilities./>
Best Boat Watermakers for Your Yacht
A detailed look at onboard watermaking, water filtration and desalination systems for live-aboard boats...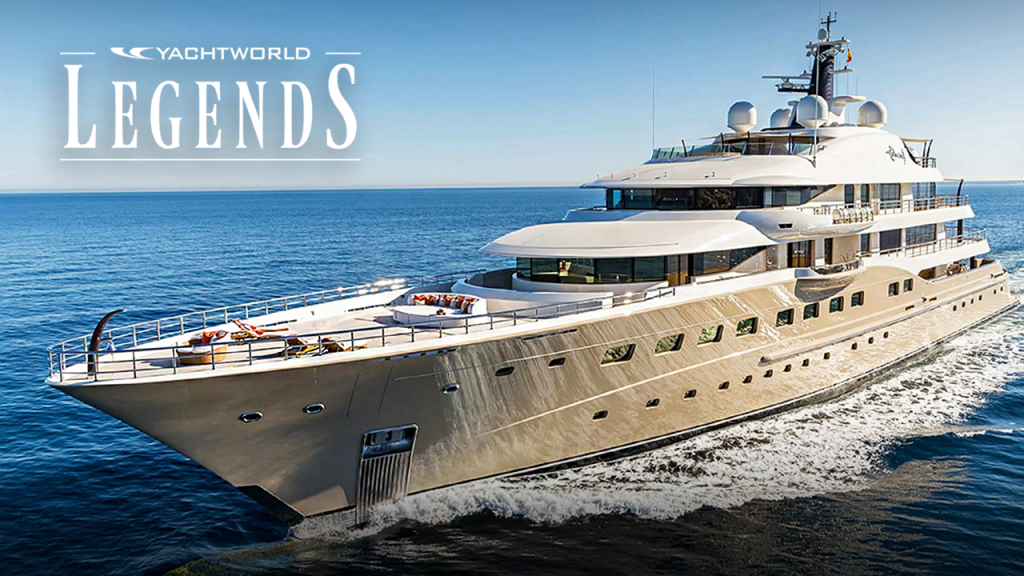 />
New Thrilling Video Series: YachtWorld Legends
Extraordinary yachts that provoke excitement, curiosity and fascination