Lots of boatbuilders use words like groundbreaking and revolutionary when describing new models, but few can throw around the word iconic with the gravitas of Hinckley Yachts. When its 36-foot Picnic Boat premiered in 1994, The Hinckley Company was known primarily as a builder of custom sailing yachts on the coast of Maine. After the Picnic Boat was displayed at a few boat shows, Hinckley became known as the builder of the Downeast-style dayboat that everyone had to have. Builders around the world took notice, and a raft of would-be competitors soon emerged as Hinckley went on to create a whole line of Downeast-style jet boats from 29 to 55 feet long.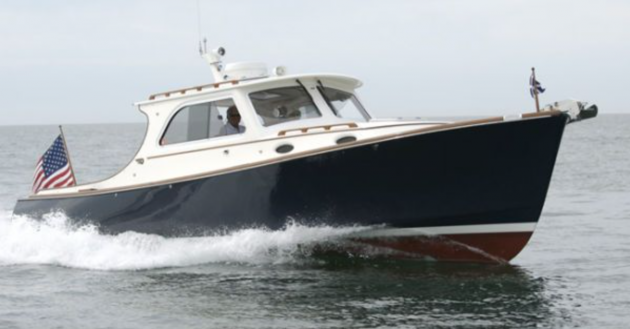 The original 36-foot Hinckley Picnic Boat was a Bruce King design that married Downeast styling with JetStick helm technology and Hamilton water-jet propulsion. She was not only stunning to look at (even Martha Stewart had one) but also easy to skipper, economical with a single Yanmar engine and safe to bring into the shallows—a quartet of features that made the her one of the best-selling models in America from 1994 through 2010. Plenty of other builders tried to copy her, and Hinckley even sued a few of them to protect its design, but none ultimately succeeded the way the Picnic Boat did.
Today, somewhere in the neighborhood of 450 to 500 Picnic Boats (and still counting) have been delivered, with the current model, the MKIII, having premiered in 2010. The MKIII is wider and longer than the original Picnic Boat with twin Yanmar diesels instead of a single, but the granddaddy design still plies the waters from Maine to Florida and beyond, turning heads with her classic good looks that seem destined never to go out of style.
"We went from one office in Southwest Harbor, Maine, to an office in Palm Beach, an office in Annapolis, an office in Monaco—it all started with that Picnic Boat," says Ed Osgood, a sales broker with United Yacht Sales in Florida who previously served as vice president of sales for The Hinckley Company. "The only thing that slowed it down was what slowed everybody else down: 9/11 and the economy tanking. But Hinckley has survived because it is what it is, a beautiful, quality boat."
Two versions of the original Picnic Boat were made. First was the model now known as the classic, and then Hinckley introduced the extended pilothouse, or EP version, in 2001, Osgood says. It had an 18-inch extension on the cabin top.
"Unless you really know what to look for, it's hard to tell the difference," he says. "Same hull, same power, same cabin." On the classic, the only seating is fore-and-aft facing in the center of the cockpit. On the EP, there's a curved settee along the port side.
Owners tend to adore their Hinckley Picnic Boats, care for them and hold onto them for years. Hinckley Picnic Boats are, after all, meant to be day boats, which means a lot less wear-and-tear than ocean cruisers and the possibility of a truly long life with the first owner. As of this writing, the newest brokerage model available in the United States is for sale with Osgood. True Blue III is a decade old, built in 2005—and she's a textbook example of what most Hinckley Picnic Boat buyers find on the brokerage market, having been professionally maintained throughout her lifespan and now with an asking price of $395,000.
"Most people use them as day boats," Osgood says. "The V-berths are only occasionally slept in and the galley isn't used a lot, so the cabin stays in really nice shape. Most Hinckley owners like Hinckley service too. Hinckley service has done a great job over the years of keeping owners coming back to their yards for annual maintenance. When you see 'Hinckley maintained,' that's a big selling point."
True Blue III is currently owned by the Barton & Gray Mariners Club, which has a fleet of eight Hinckleys available to club members who want to go out on the water with a skipper for a day in Florida or New England. "So this boat may have more hours than others," Osgood says of True Blue III, "but it's professionally maintained and operated. It isn't out there kissing docks."
Though hundreds of the original 36-footers were sold, maybe a half-dozen are typically available for brokerage at any given time, he says. The lowest-price brokerage model now available is a 2002 Hinckley Picnic Boat asking $295,000, which shows how well the original Hinckley Picnic Boats hold their value.
"Really, the reason most people sell them is that the people get older and want to make a change in their lives," Osgood says. "That boat was very impressive. We used to take them to Palm Beach over to Bimini, across the Gulf Stream for photo shoots. It's a well-found boat. Not only is it pretty, not only is it beautifully built, but it's a well-found boat."
See Hinckley Picnic Boat listings.
For more information, visit The Hinckley Company.
Ryan McVinney reviews MJM Yachts' flagship outboard-powered express cruiser yacht.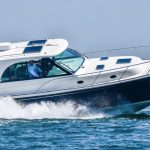 YachtWorld recently met up with Hinckley Yachts President Mike Arieta to discuss the new 2020 Hinckley...