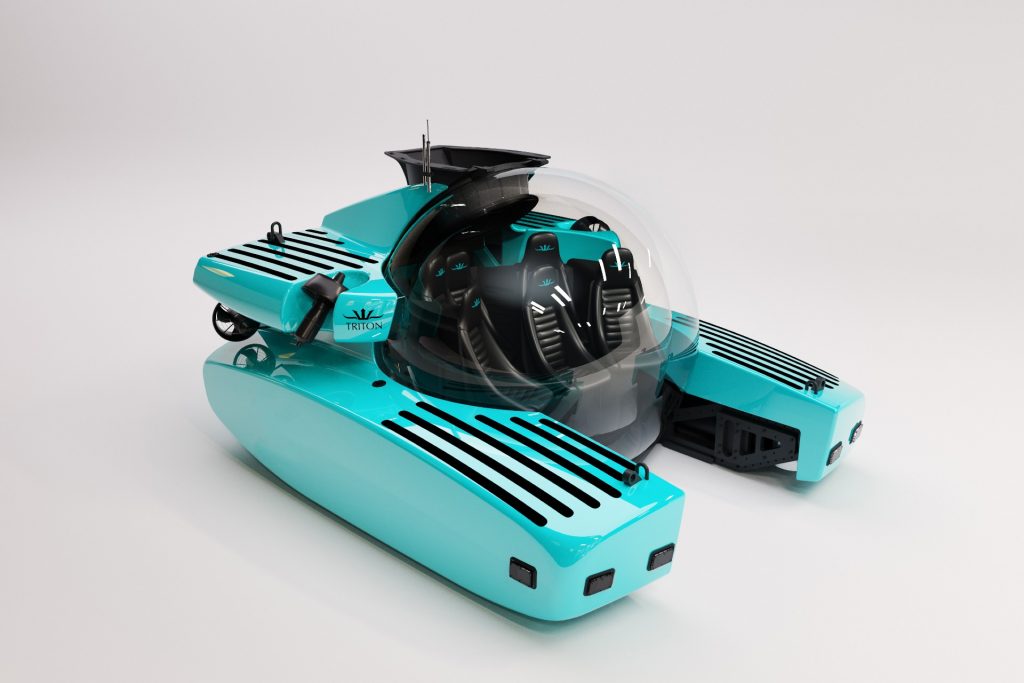 The first Triton 3300/6 submarine with an iconic tiffany-blue exterior. Photo credit: Triton Submarines
'Salon Of The Sea'
Triton Submarines have launched the first six-person submarine, another jewel to add to Triton Submarines crown. The 3300/6 is so stylish that it seems a shame that it spends most of its time underwater. Burgeoning demand in mega-yacht owners seeking larger subs inspired Triton to produce a suite of six, seven- and nine-person submersible models which will be delivered in the near future. The hospitality sector is receiving requests for submersibles that allow families or groups of guests to partake in experiences that generate unique shared memories. While Triton delivered a 24-passenger submersible earlier this year, the delivery of the Triton 3300/6 represents a one-of-a-kind in the submarine market. 
The first release of the 3300/6 was explicitly created for a private superyacht owner. The Triton team worked closely alongside the owner's representative for the project, SEMarine, who was instrumental in the successful integration of the submersible and support systems onboard the 142m Lürssen host vessel. The 3300/6 can be launched and recovered using standard tender lift gear, avoiding the need for special rigging.
The owner personally selected the tiffany-blue exteriors- congruous with the ocean. When the Triton team took the submersible to the Bahamas, they looked down and the submarine immediately disappeared, camouflaged by the shimmering turquoise ocean. 
Life aquatic. The 3300/6 submarine hovering on the surface of the water. Photo credit: Nick Verola
The bulbous glass spherical passenger compartment is the world's largest, and reminiscent of an oversized fishbowl. The 360-view offers an immersive window to the wonders of the sea at the depths of the ocean. The sub is certified to descend up to 1,000m. At these depths, passengers have exposure to rare marine species that only exist in deep water. Diving in undiscovered parts of the ocean is an extraordinary experience and what is more, is that it's completely effortless. 
Patrick Lahey, co-founder of Triton Submarines comments, "Without exception every passenger that descends in a Triton emerges staggered by what they have seen underwater, often claiming their dive was the most incredible experience they've ever had."
The Magical-era of First-Class Experiences
Social interactions generate more profound experiences. Being able to embark on adventures with a large group of friends and family is a new concept. Most submarines fit a maximum of two or three people in. Triton has made it possible for an entire family to navigate the ocean together. Rich experiences like diving are deeply bonding. Until only recently, the idea of diving in a submersible was perceived as a solo venture. Triton expects that this submarine could change the way that submersibles are being used- gathering new steam of families who want to embark on extraordinary experiences together.
 The 3300/6 is a first-class passport to the depths of the ocean, and it comes with all the comfort of a first-class flight. The interior feels reminiscent of a deluxe-salon, fitted with temperature controls, drink holders, iPhone chargers, music speakers and reclining leather seats. A common misconception is that submarine passengers are likely to feel a sense of being enclosed and claustrophobic. However, these particular interiors feel comparatively palatial compared with the dark and tight spaces one might imagine. Triton Submarine designs are invariably imbued with a sense of spaciousness. Passengers can stretch out, and feel like they are in a glass atrium. Submarine design has taken a huge leap since the conception of 'Turtle', the first military submarine used in combat in 1776.  
The Immersive Allure
Triton's application of innovative technology in the design enhances the passengers' experience. The craft features a touchscreen pilot system and joystick control. Cameras are positioned on the top, sides and bottom of the craft, serving as visual antennas. Videos are then mirrored on screens in the passenger's seat. Moreover, the floor plates are acrylic and completely transparent so that when passengers look beneath their feet, they can see into the ocean. The result is you feel that marine life is almost tangible with a peaceful sense of blending into the elements. All of this happens in a quiet environment with the absence of motors. 
 An array of six 20,000-lumen LED lights to illuminate everything in the water around the vessel. Sunlight doesn't penetrate at 1000 meters deep. Therefore, passengers are reliant on artificial light to highlight the wonders of the ocean. 
The 3300/6 descending into the ocean. Photo credit: Nick Verola
The Evolution of Triton Submersible Designs
 Historically Triton submersibles signature exterior was a honeycomb-yellow. However, Triton's clients are opting to personalise their submarines to individual tastes. Patrick Lahey, co-founder of Triton finds that clients' ideas keep his job interesting; the organic process of coevolution is key to creating products that innovate. Occasionally Triton's clients request something beyond what they first perceive as achievable, challenging experts and professionals beyond the realms of comfort- the result is something phenomenal. 
Triton Submarines London-based senior designer, John Ramsden is often described as the 'Leonardo Di Vinci of the submarine world', admired for designing with a perfect equilibrium found between function and form. John chose to use acrylic for the spherical dome with the same refraction index as water. The pressure hull vanishes underwater because of the thick layer of acrylic used- the widest acrylic in a submarine ever before.
The Triton 3300/6 features curved lines and a Triton's striped acrylic hull. While the stripes may look like a styling feature, they are anti-skid. Clients are now seeking a range of personalised non-skid patterns which Triton will release sequentially. 
Unearthing Sunken Treasure
Superyacht owners enjoy planning trips to unearth hidden treasures and secret tales which lie beneath the big-blue. In a quest to uncover history, yacht owners embark on discovery expeditions engaging the services of manufacturers and outside travel experts. The captains and crew plan a full itinerary and determine the best dive locations for the sub for a specific area. A typical team comprises marine biologists, scientists, or archaeologists to encompass an educational element to the experience. A journey on a submarine to view is a sunken aircraft or ship serves a dual purpose- firstly it allows a window in the history, viewing something human made. Secondly, these sights also become a natural sight over the passage as time, as the ruins become a marine sanctuary, the Titanic, for example, is brimming with marine life. 
 For others, the fascination lies purely with the natural world; natural seamounts are the pinnacle of a natural wonder; these underwater mountains are brimming with a biodiverse marine life. Rare marine species live in isolation on these sunken islands because marine life has evolved. In a submarine, you can discover a species unique to the seamount that you are visiting. 
Triton submarines are currently working on the next evolutionary stages of humankind exploration of the marine environment, redefining how we experience and interact with the ocean. YachtWorld looks forward to hearing more about how ocean conservation and submarines will continue to work together.
Related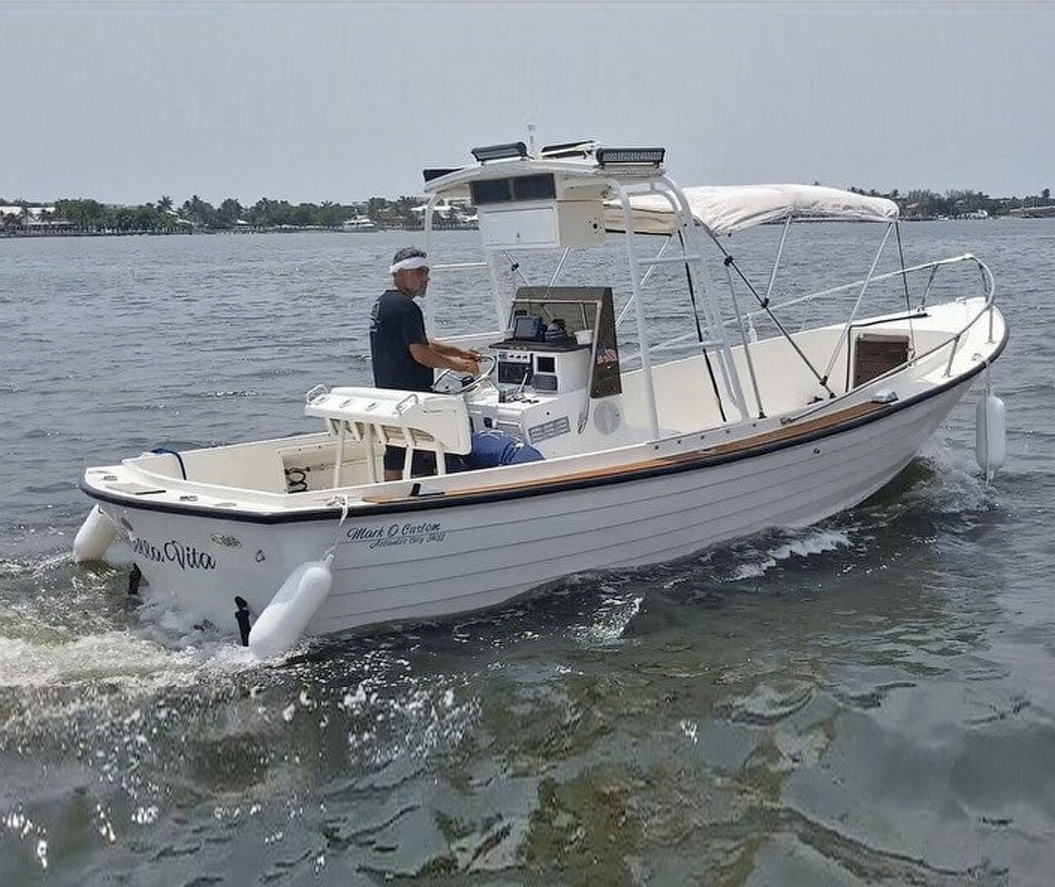 An Atlantic City Skiff by Mark O Custom Boats set up as a dinghy. Photo: Pop Yachts / Mark O Custom Boats.
The dinghy is an unsung work horse on any boat. Part taxi, part tour boat, part delivery vehicle it is often referred to as the "family car." And like cars there are different manufacturers, sizes and styles of boats. So, how you know which dinghy is right for you?
Things To Consider
Before you go shopping for a dinghy there are a few things you need to determine. Answering the following six questions will help you narrow down your search and ensure you buy a boat that is right for you.
1. What is the maximum number of people that will be in the dinghy at once?
A crew of two can manage with a much smaller dinghy than a family of six. As well, four adults require a bigger boat than two adults and two small children. Knowing the total number and maximum weight of your crew is important information for choosing a dinghy that will be comfortable and safe.
2. How will you be storing the dinghy?
If you have davits to lift your dinghy you need to be aware of the maximum weight they can hold. If you are storing your dinghy on deck you should know the maximum length you can accommodate safely. Mapping out where and how the dinghy will be stored when not in used and on passage will help narrow down the size and design of dinghy that you can accommodate.
3. How will you be using the boat?
Not everyone uses their dinghy the same. Some boaters simply need it to go the short distance to and from shore, others take regular day-long dinghy adventures. Avid divers need to consider the size and weight of the gear they need to carry. This information will also affect the size of outboard you choose. For instance, a small 3hp is suitable if you are only intending to potter back and forth to the dock in a calm anchorage. However, more adventurous dinghy users will need a larger engine.
4. What is the shoreline like where you will be using the dinghy?
If you'll be using your dinghy in an area that is mostly rocky shorelines and sharp coral then a soft bottomed dinghy is probably not the best fit. If your area has large tides and long sandy beaches than a heavy dinghy with a deep keel could be difficult to maneuver when going ashore. How your dinghy will perform ashore is also an important consideration.
5. Can all adult crew members move and lift the dinghy by themselves?
Many people choose heavy, fibreglass hulled inflatable dinghies because they are sturdy and robust only to discover that only the strongest crew members can lift it up on deck at night or safely pull it up a beach out of the surf. Having a dinghy that all crew can corale and control not only distributes the workload but ensures everyone's safety.
6. What is your budget?
There are a lot of choices when it comes to dinghy shopping so you need to be prepared before you start looking. Setting a realistic budget to meet the above criteria will help you find the boat of your dreams without breaking the bank.
Type of Dinghies
Dinghies generally fall into two categories - inflatable boats and hard boats. Within those categories there are also variations. No one design is better than all the rest. The important thing to remember is to choose a dinghy that best suits your needs and demands
Inflatables
RIBS or Rigid Inflatable Boats – The most popular choice when it comes to dinghies is the RIB. These boats have inflatable pontoons and a hard, shaped bottom. The combination of the structured hull and inflatable tubes make them lighter that a fully rigid boat without compromising on the performance. These types of boats are great for large crews, divers and avid fishers. There is no need to worry about dropping sharp objects on the floor or grazing a rock when heading ashore. They are also easy to get into from the water, simply hoist yourself up over the pontoons, or a larger RIB may have a boarding ladder on the stern. However, since the hull is made of either fiberglass or aluminum, even small RIB's can be too heavy for one person to easily pull up a beach. Their weight demands a larger outboard to reach sufficient speed to plane. It also makes them harder to row, especially in choppy seas or directly into the wind. Although the pontoons can be deflated a RIB cannot roll up so they require a dedicated storage space at least the length and width of the hull when underway.
SIB / Soft Inflatable Boats
Similar to a RIB these soft dinghies also have inflatable pontoons but lack the sculpted rigid floor. Instead a SIB floor is made of wooden or aluminium slats or is fully inflatable. Much lighter than a RIB a soft inflatable lacks a deep hull which effects the handling, especially at higher speeds. This flat hull design also makes them difficult to row efficiently despite being light weight. Easier to maneuver on the beach and to lift onboard for storage the underside of a SIB can be easily punctured by sharp objects such as oyster shells and rocks. Like an RIB they are easy to get into from the water over the pontoons. However, they are much lighter than and RIB so they can reach high speeds with a smaller outboard engine. The removable floor of an SIB allows the dinghy to be fully deflated and rolled up for storage. This makes them perfect for smaller vessels and for boaters who do not want a dinghy on deck for long passages. This portability also makes it possible to throw the dinghy in the back of a car, perfect for weekend or inland boaters. All inflatables have one thing in common. It is nearly impossible to sink them. Even with a hull full of water most RIB's and SIB's have enough buoyancy in the pontoons to keep the dinghy afloat. Many even have enough buoyancy to keep the outboard dry when the hull is semi-submerged. This one characteristic is probably their biggest selling point. The pontoons of inflatable boats are made out of either PVC or Hypalon and there is a great debate over which material is better. Hypalon is heavier, more resistant to abrasion and is more UV stable. Hypalon seams are welded using a specific technique and this makes them difficult to repair and more labour intensive to manufacture. A Hypalon dinghy is always more expensive than a PVC dinghy of the same size. PVC is lighter weight and slightly less abrasion resistant, although still quite durable. The seams of a PVC dinghy are usually glued, which means punctures are easy to repair. However, there has been widespread complaints about the decline of quality of several manufacturers in recent years. Several boaters have complained about seams coming unglued, which is not only disappointing but dangerous.
Hard Dinghies
A hard dinghy is any small boat that has no inflatable components. They can be made of plastic, hardwood, aluminum, fiberglass, plywood or PVC. Hard dinghies come in a variety of designs and lengths, are produced by several different manufactures and can even be DIYed.
Sailing Dinghy
Usually wooden, fiberglass or molded PVC these small dinghies make a fun addition to any boat. Fully rigid and designed to accommodate a sail, centerboard and rudder/tiller these boats are also fully functional with an outboard. However, due to the hull designs outboard size if often limited. Fun for kids to sail in a protected anchorage they can often be wet boats. This can make bringing home provisions sometimes difficult. These types of boats are also often rowed ashore as their hulls glide nicely, making them efficient and easy to row.
Nesting Dinghy
Usually wooden, and these days custom made, these fun little rigid hulled boats break into two pieces along the middle. They are designed so that one piece of the hull fits neatly inside the other, essentially halving the required deck space needed to store them. Unfortunately, this style of dinghy is not common these days. However, if a nesting dinghy would be your ideal boat and you are skilled DIY-er then check online for tutorials or patterns.
Folding Dinghy
Folding boats are a fairly new design that incorporate the handling and durability of a fully rigid hull while being light weight and easy to store. Constructed from NASA developed reinforced PVC these boats fold up like a paper airplane with the seats removed. Weighing in with the SIB's a 10.9" dinghy folded takes up about as much room as a surf board. The full hull gives good performance, but their light weight doesn't demand a large outboard. A folding dinghy is strong enough to run up on rocks but light enough to be moved by one person. Unlike the RIB/SIB market, there are only a few manufacturers of folding boats.
Outboard Engines For Dinghies
Just as it is important to determine your requirements and budget when choosing a dinghy, so to it is necessary to consider your needs when buying an outboard for the dinghy. Firstly, every dinghy will have a maximum rating for an outboard, either given as max horsepower or max weight. It is very important not to exceed these guidelines. Doing so could result in damage to the dinghy or injury to the crew. It is also important to factor in the activities that you will be using the dinghy for. For instance, if the boat is only needed to ferry people to the dock and back a smaller outboard is perfectly suitable. However, if you are using the boat in larger swell or for longer distances, than a more powerful outboard is required. Where the outboard will be stored when not in use or underway should also be considered. If you are storing the engine on a rail-mounted outboard bracket you must be able to lift the engine off the dinghy and up, over the railing. This is no easy feat when you consider even a 6hp four-stroke can weight 50lbs. RIB's and some hard dinghies can handle larger, more powerful engines. However, this also adds to the overall weight of the boat, making them even more cumbersome and difficult to haul out. Larger outboard also mean more fuel consumed and that equals more expensive dinghy to run. When it comes to dinghies, a bigger outboard is not always better.
New Versus Pre-Owned Dinghies
Everyone loves that new dinghy smell and the excitement of taking it out for the maiden voyage. But, buying new can be very expensive, and isn't always the best option. Over the past five years there has been several reports of the build quality of several reputable dinghy manufacturers going down, way down. Seams coming unglued, handles falling off, and strong points not being all that strong. Unfortunately, buying a well-respected brand name these days doesn't guarantee high quality construction. It pays to do a little research on cruiser forums and to ask around on the docks. It is not only what brand people like but how old the dinghy they have is and what problems they have encountered. If you shop at a store don't be afraid to ask the retailer their opinion too as they will have dealt with warranty issues, repairs and returns. Buying a pre-owned dinghy is a great option for boaters who have a smaller budget, or who are looking for boat to fit their unique needs. Hard dinghies are especially good candidates but an older inflatable that was well stored and maintained can still have many years of life left in them. As well, there is always the boater who bought new only to find out they chose incorrectly, and you can snag a lightly used dinghy for a bargain. Dinghy shopping is not always smooth sailing. Taking time to consider your needs and requirements, as well as your restrictions, will help you make the best choice. There is no one-size-fits-all when it comes to dinghies, but there is a dinghy for everyone. Frequently Asked Questions What Is A Dinghy? A dinghy is any variety of small boat carried, towed or stored onboard a larger vessel for use as a tender or lifeboat and to access the boat from land. Some people refer to dinghies as support vessels, gunboats or pilot boats, although those are typically terms reserved for military or industrial purposes. Most dinghies are powered by small outboard engines although some may have inboard engines or even jet drives (especially those that accompany larger yachts and expedition style superyachts), while some may even be simple row boats with no form of mechanical propulsion. Sailing dinghies are usually designed more for sailing rather than accessing a larger vessel./>
How To Choose A Dinghy
Category:
Guide to Buying and Selling Boats
Heather Francis helps yacht owners choose the right dinghy for their boat.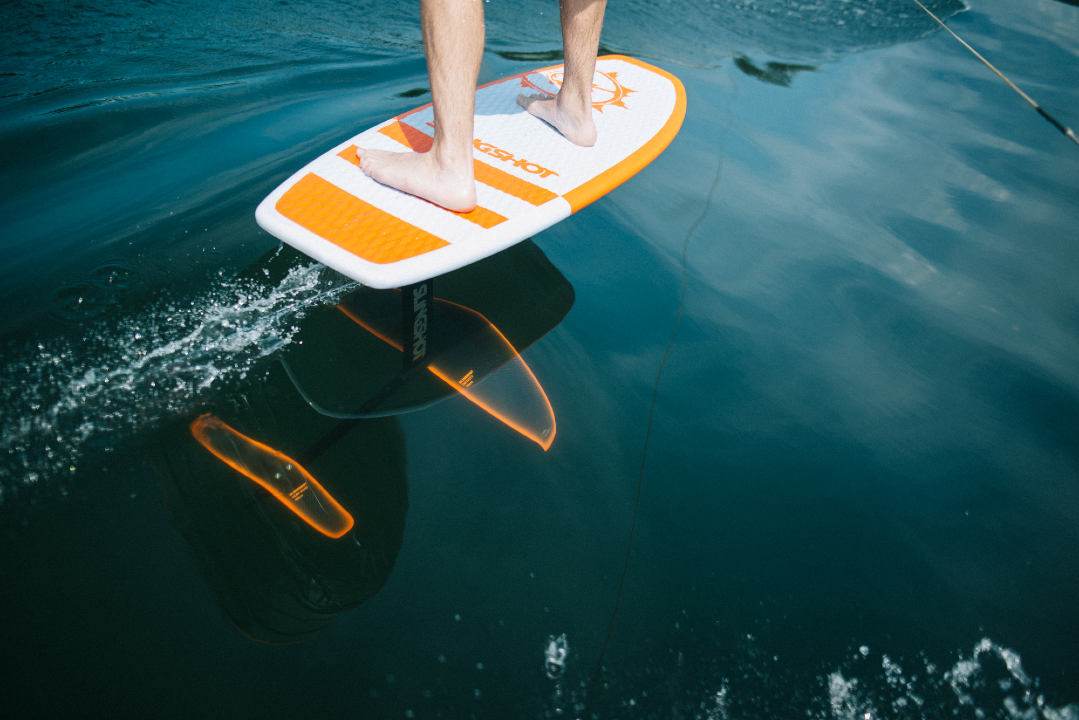 Eco-friendly Toys for Boats
Emma Coady discusses the best eco-toys and tenders to thrash around the ocean.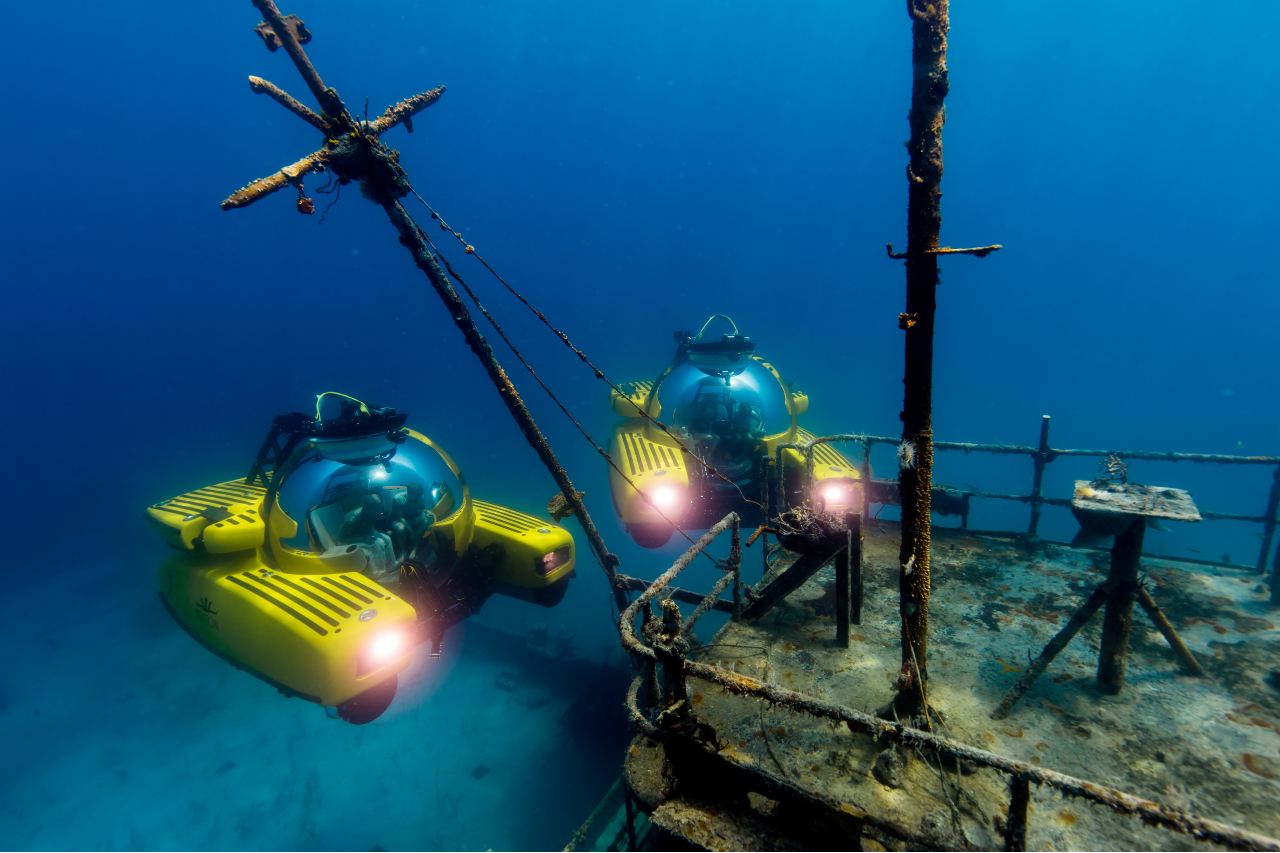 The Best Submarines for Superyachts
Yachtworld cherry picks the best submarines most suited to yachts.