Is there something magical about a 46' boat? The folks at Riviera seem to think so, as they just came out with three new models in this size range. I was lucky enough to get on board all three boats at recent boat shows and will explain some of their details to help you figure out if one of these models is right for you. The Riviera 465 SUV and Riviera 46 Sports Motor Yacht (46 SMY) have a great deal in common with the same hull and basic configuration. Both have a hull length of 46'11" and are 52'2" overall including the bow sprit and swim platform. The similarly named Riviera 4600 Sport Yacht has a slightly smaller overall length of 50'3", but don't let that fool you, this stylish alternative still has a lot to offer. All three of these boats are driven by Volvo Penta IPS pod drives, can have three sleeping cabins, and two heads, and are full of features and refinements meant to please a wide variety of boaters.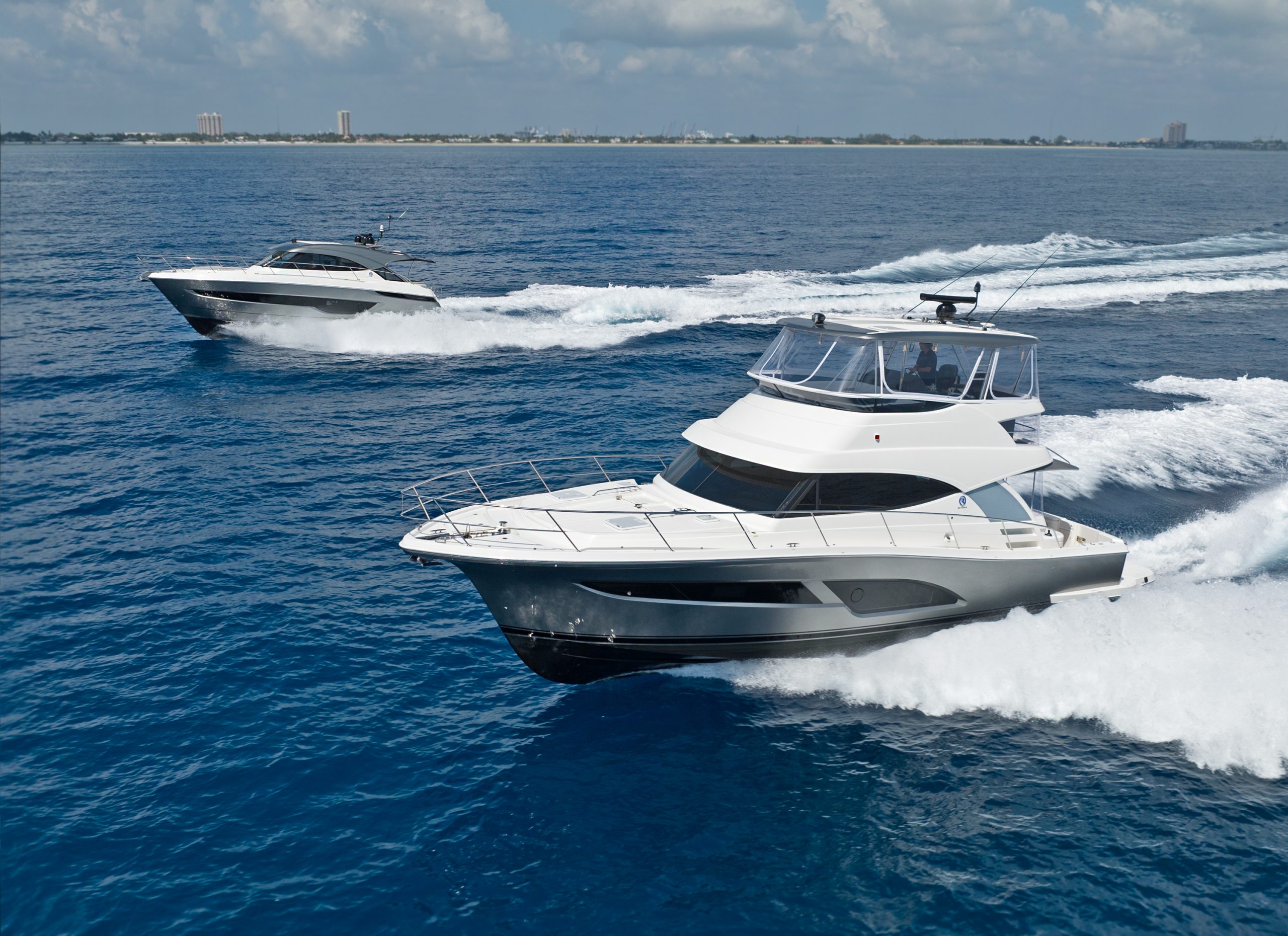 Above: Twin 46-foot yachts from Riviera running on the water – the Riviera 46 Sports Motor Yacht in the foreground, with the 4600 Sport Yacht in the background. Photo by Scott Sanders for YachtWorld.
Riviera 46 Sports Motor Yacht
I spent most of my time aboard the Riviera 46 Sports Motor Yacht so I will start there. This boat has the same features and layout as the 465 SUV but adds a large open flybridge. Historically Rivieras were flybridge fishing boats/cruisers and the 46 Sports Motor Yacht pays homage to those great boats. It is not really a "convertible" but combines some traditional elements with a fixed hard top and other modern touches like an internal staircase, not a ladder. The Flybridge is spacious at 15'4" long x 9'3" wide, meaning you get an additional 144 square feet of extra living space compared to the SUV version. In addition to the two plush Pompanette adjustable helm seats on the flybridge, there is a comfortable lounge ahead of the helm with a drop-down table, drink holders and stereo speakers.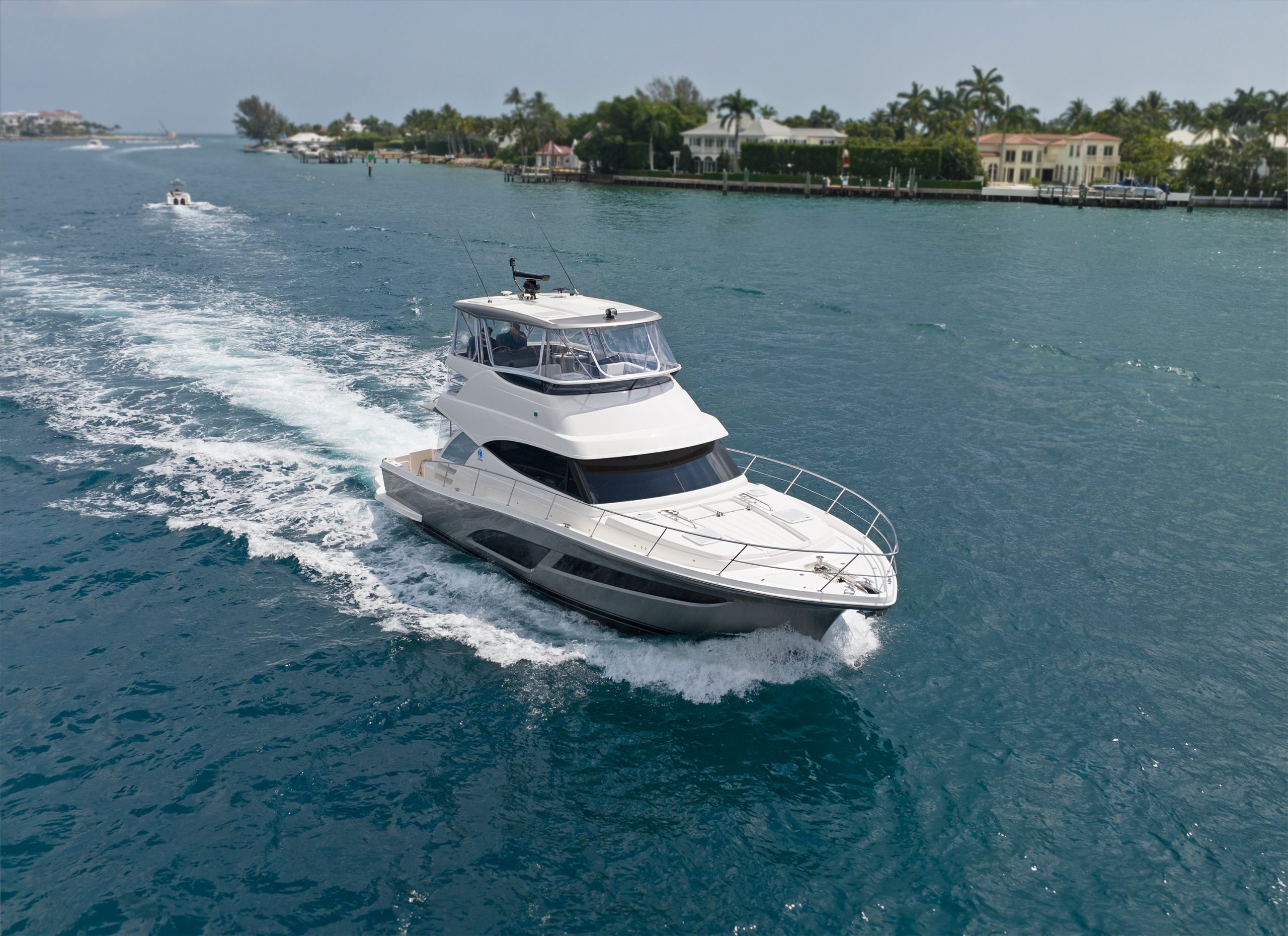 Above: The 2023 Riviera 46 Sports Motor Yacht. Photo by Scott Sanders for YachtWorld.
This configuration lets the helmsperson easily communicate with people hanging out in the sky lounge and when children are on board they remain in sight while underway. This area is great for drinks and appetizers, or lunch on the go, and there is a convenient wetbar and fridge at the top of the stairs. The port lounge seat is perfectly angled to watch the scenery while underway and comfortable enough to lean back with a book and relax. The lounge table lowers, and a filler cushion can create a bed ideal for stargazing or frolicking in the night air away from activity below. When the clear Vinyl windows are zipped up, air conditioning vents facing both the helm and forward toward the lounge chill the area on our 85F test day before rolling up the clears to let the breeze in which really feels great. Driving with the air flowing through is exhilarating and fun. Having a flybridge differentiates the 46 Sports Motor Yacht from the other two models.
Key Features And Differences
Both the 46 Sports Motor Yacht and 465 SUV have similar cabin layouts, but the SUV helm takes up room in the main salon. Twin helm seats and controls abutting the windshield replace the starboard interior lounge of the Sports Motor Yacht. Since there is no flybridge above, a powered sunroof can open to let in light and air.
Below Decks
Below decks both boats feature a master cabin forward with a center island berth and ensuite head. Two additional cabins have standing headroom at their entrances that lowers a bit at the beds since they are under the main salon. There is nearly 3' above the beds, making them cozy, not claustrophobic and hull windows brighten the overall cabin atmosphere. Typically, the starboard stateroom has twin bunks and there is a double bed in the port cabin but either cabin can be a twin or a double which gives you three cabin versatility and no bunk beds.
Cabin Layouts
In terms of cabin layout, I prefer the 4600, unless you need lots of single beds for kids, because of the expansive full beam master under the salon. The private ensuite head is at the cabin entrance allowing for a centerline bed in a room that spans the full hull creating a spacious look and feel. An additional VIP cabin forward features a double island berth and ensuite head access. On the 4600 Sport Yacht a third bunkbed style cabin is an option, or that area can be set up as a lower deck lounge which can be used as a sleeper when needed. The master and the VIP forward on the 4600 is a nice arrangement if two couples are on board, and the cabin separation provides additional privacy.
The 4600 also features a separate washer and dryer accessed through doors in the foyer. The 465 SUV and 46 Sports Motor Yacht have a single combo washer/dryer in the starboard cabin.
Galleys
All three models have fully appointed galleys aft of the salon that feature solid surface counter tops, stainless steel sinks, fridges, freezers, drawer dishwashers and storage. The centrally located galley position works well as they are adjacent to the salon (and helm areas on the two sedans,) and connect to the back covered decks by an aft window that pops up for easy pass through. The stairs on the 46 Sports Motor Yacht land in the galley adding convenience on the flybridge model.
Aft Seating
All three boats have a semi-enclosed aft seating area adjacent the glass and stainless salon door. A flip top table here complete with drink holders makes this area ideal for entertaining, al fresco dining, or simply lounging. The mezzanine seating under the hardtop can be enclosed with clears and climate controlled, although the 4600 lends itself more to being open. On the 4600 the lounge is opposite a vented electric BBQ, wetbar, fridge, and icemaker. The aft seating section isn't fully under the hardtop, but an awning above provides protection. A single stairway to starboard leads directly to the swim platform on the 4600, the opposite stairs connect to the side deck.
Both the 46 Sports Motor Yacht and 465 SUV have a 61-square open cockpit perfect for fishing or partying, in addition to the covered mezzanine lounge. The cockpit has room to fish, and includes rod holders, and an optional lighted, windowed, recirculating bait tank. An electric BBQ, wet bar, fridge, and ice maker here are perfect for entertaining. Twin transom doors connect to the swim platform. All three models feature hydraulic dinghy lifts on the swim platform capable of carrying a substantial RIB. Ample side decks with handrails lead forward to the bow. Centerline sun pads with bolstered backrests and drink holders make the bow lounge a great area to relax. Anchors can be launched and retrieved from the bow roller or remotely using helm switches, and deep foredeck hatches provide storage, and access to washdown pumps and anchor rode.
Performance
Above: The 2023 Riviera 4600 Sport Yacht in the foreground, with the 46 Sports Motor Yacht (SMY) running in the background. Photo by Scott Sanders for YachtWorld.
I was only able to drive one of these three boats, the Riviera 46 Sports Motor Yacht (flybridge boat above), but observed the 4600 Sport Yacht (again, similar name, but different boat) as she ran along with us. The 4600 appears fast and nimble as the two boats maneuvered side by side. The deep V bow cleanly slices through the short chop with minimal spray.
Aboard the 46 SMY optional Volvo Penta D11 IPS 950s push us smoothly and rapidly alongside the 4600 as we line up the two boats to get running photos. All controls are in easy reach of the helm including the throttles and joystick, twin Garmin MFDs, C-Zone, engine monitors, Muir windlass remote, stereo controls, and a compass.
Bowrise on the 46 Sports Motoryacht never exceeds 6 degrees allowing me to easily see over the bow even from the aft helm position. After some tandem cruising alongside the 4600 I turned away to complete our sea trial. The 46 SMY gently leans into tight turns even at speed and feels comfortable and in control aided by an optional Seakeeper 6 running during our test. We hit a peak speed of 35.3knots as the big Volvos pushed the Riviera effortlessly through the short chop. At a comfortable fast cruise of 28knots we use 59.5g/h delivering a calculated range of 280 nautical miles based on 90% of fuel capacity. That speed at 2,250RPM seems to be our best performance as other speeds never quite matched that efficiency.
The boat feels solid at 22knots and 2000 RPM and fuel burn moderates to 50g/h but the calculated range drops slightly to 262nautical miles. In fact, once on plane from 16.7knots/1750RPM up to Wide Open Throttle at 2550RPM and an average of 34.4knots the fuel burn in gallons per hour steadily increases, but the faster speeds make up for it and the calculated range remains right around 260 nautical miles. Basically, there is no speed penalty at the top end so if the conditions warrant it, you can run faster, get there slightly sooner, and use roughly the same amount of fuel as you would if you slowed down a little. I like it! The 260nautical mile range should be adequate for most coastal cruises and moderate passages.
Overall Conclusions
Riviera's three new 46 footers are all packed with features and accommodations perfect for most boaters so how do you choose? If you plan to fish, then the 465 SUV and 46 Sports Motor Yacht have an advantage with their open cockpits. Another major difference is your preference regarding sleeping configurations. There are pros and cons to each layout, and choices to make in how you want the cabins set up. If you want the extra space of a flybridge and the ability to drive in the open air, then the 46 Sports Motor Yacht delivers, although the drawback is a 22' 6" bridge clearance too tall for some Great Loop Bridges. The styling on each model is slightly different and performance will vary on the non-flybridge boats running D8s. All three of these new 46 footers from Riviera, have a lot to offer. Deciding which one is best for you might be difficult, but the good news is that after my detailed examination I don't think you can go wrong with any one of them.
Riviera 46 Sports Motoryacht Specifications:
LOA: 52′ 2″ (15.90 m)
Hull Length: 46′ 11″ (14.30 m)
Beam: 15′ 7″ (4.76 m)
Draft: (includes props) 4'8″ (1.44 m)
Bridge clearance (Approx.): 22' 6" (6.86 m)
Dry Weight (Approx.): ` 48,325 lbs (21,920 kg) 21.92tonnes
Fuel (Diesel): 660 US gal (2,500 L)
Freshwater: 132 US gal (500 L)
Holding Tank: 40 US gal (151 L)
Standard Generator: Onan 13.5 kW 110V @ 60 Hz
Optional Generator: Onan 17.0 kW 110V @ 60 Hz
Standard Power: 2X Volvo Penta D11 IPS 950 6 cyl 10.8L, 533kW 725 HP each
Optional Power: 2X Volvo Penta D8 IPS 800 6 cyl 7.7L, 441kW 600 HP each
Gear: IPS950 Pod Drive ratio 1.7:1
Headroom: 6'4" salon and galley, 6'4" at helm under hard top
Props: Twin forward facing/counter rotating type P/PS 4 NiBrAl, 3-blade front, 4-blade rear.
Cruise/Fast Cruise/Top Speed: 25MPH/22kn -32mph/28kn – 39.6mph/34.4kn (W optional engines 2X Volvo Penta D11 IPS 950)
Range: 322 Miles/280 nautical miles @ fast cruise (based on 90% of fuel capacity)
Price starts at (Spring 2023): $1,703,200 U.S.
Fiberglass Construction: Machine cut precision cloth kits hand laid in multiple layers with vinyl ester resin to form a solid hull below the waterline and covered with isophthalic gelcoat. Glassed in bulkheads and stringers for rigidity. Major structural components use glass reinforced plastic (GRP) to add strength. Some foam coring used in above water decks and components to reduce weight.
Cruise/Fast Cruise/Top Speed: 25.3/32.2/39.5 MPH (W optional engines 2X Volvo Penta D11 IPS 950)
Range: 322 miles/ 280 nautical miles @ fast cruise (based on 90% of fuel capacity)
46 Sports Motoryacht Price starts at (Spring 2023): $1,703,200
Performance Data from author's testing Atlantic Ocean, Palm Beach, FL 3-28-23 11:30am. Conditions Wind WSW 8MPH, 83F/28.3C, Seas negligible. Loading for test 561gal/2125 liters fuel (85% of 660gal/2,500L capacity), 74gal/280 liters fresh water (56% of 132gal/500 liter capacity), 20gal/75.5 liters blackwater(50% of 40gal/151liter capacity) and 5 POB (950lb/430kg), Light gear, Seakeeper 6 gyro, Blue Water Express XT 600 25gal/hr watermaker, Hydraulic dinghy lift, No dinghy.
Riviera 465 SUV Specifications:
LOA: 52′ 2″ (15.90 m)
Hull Length: 46′ 11″ (14.30 m)
Beam: 15′ 7″ (4.76 m)
Draft: (includes props) 4'8″ (1.44 m)
Bridge clearance (Approx.): 22' 6" (6.86 m)
Dry Weight (Approx.): ` 48,325 lbs (21,920 kg) 21.92tonnes
Fuel (Diesel): 660 US gal (2,500 L)
Freshwater: 132 US gal (500 L)
Holding Tank: 40 US gal (151 L)
Standard Generator: Onan 13.5 kW 110V @ 60 Hz
Standard Power: 2X Volvo Penta D8 IPS 800 6 cyl 7.7L, 441kW 600 HP each
465 SUV Price starts at (Spring 2023): $1,583,800
Riviera 4600 Sport Yacht Specifications:
LOA: 50′ 3″ (15.30 m)
Hull Length: 43′ 2″ (13.16 m)
Beam: 15′ 5″ (4.7 m)
Draft: (includes props) 4'3″ (1.30 m)
Bridge clearance (mast up): 15′ 6″ (4.73 m)
Dry Weight (Approx.): ` 42,329 lbs (19,200 kg)
Fuel (Diesel): 555 US gal (2,100 L)
Freshwater: 164 US gal (620 L)
Holding Tank: 40 US gal (151 L)
Generator: Onan 13.5 kW 110V @ 60 Hz
Standard Power: 2X Volvo Penta D8 IPS 800 441kW 600 HP each
4600 Sport Yacht Price starts at (Spring 2023): $1,660,500
Related