There's always a bit of rivalry between sailors (rag boaters) and powerboaters (stink potters). Sailors make fun of powerboaters for burning boatloads of fuel and powerboaters thumb their noses at sailors when there's no wind. However, some sailors turn to power as they get older. This is often called "going to the dark side" by die-hard sailors, but it's happening more and more as ex-sailors slip over to power yachts and have even become yacht designers themselves.
Let's look at four examples of brands that developed a bluewater cruising power option, or were designed by sailors who brought the best from sailing to powerboating.
MJM 3z Dual Console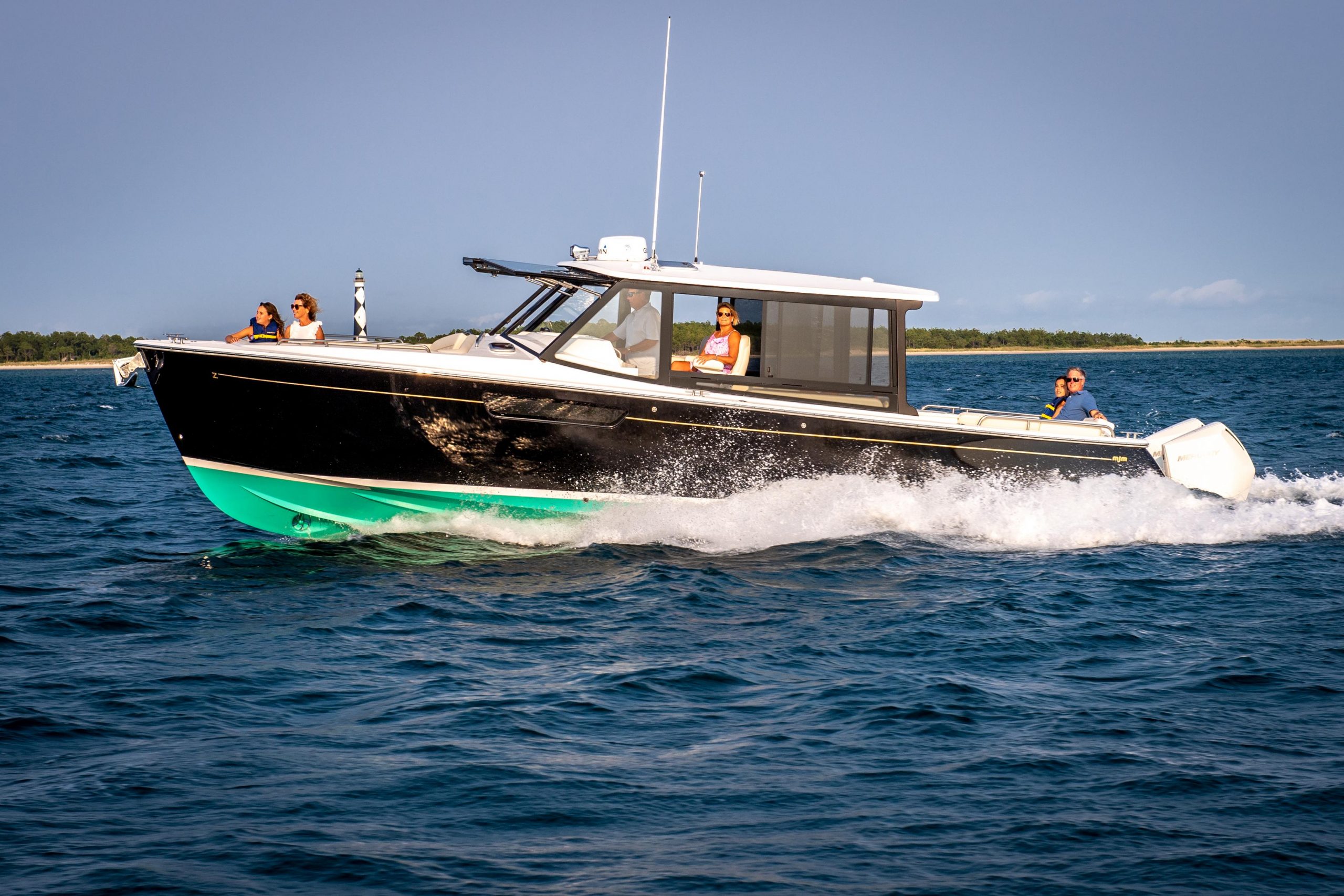 Above: A 2022 MJM Yachts 3z for sale on YachtWorld. Photo via Cape Yachts at South Wharf in South Dartmouth, MA.
It has been nearly two decades since Peter Johnstone, of J-boats fame, decided to focus on powerboats. Initially, he built his reputation on high performance sailboats, but he realized that as we age, comfortable cruising is easier on a motorboat. That's when he came up with MJM (which stands for Mary Johnstone's Motorboat named for his wife). The brand took off and now there are a half dozen models in the line from 35 to 53 feet.
The latest to launch is the MJM 3z Dual Console dayboat. It's designed in a Carolina Downeast style with three "zones of fun" which means there are three areas where to relax: the bow, the aft cockpit and the salon beneath the hardtop. Since this is a dual console design, it's easy to step from the helm/salon area forward to the seating in the open bow or aft, where you'll find more seating around a table that converts to a lounge/sun bed. The whole thing rides on the proven, previously launched 35z hull designed by Doug Zurn.
Power comes from twin 300-hp Mercury Verado outboards with joystick piloting. Top speed is reported to be 43 knots. To maximize comfort and minimize fatigue, a Seakeeper gyrostabilizer is optional.
The 3z is a dayboat aimed at family cruising with plenty of stowage for toys and gear and there's even a head/shower compartment in the port console. Johnstone's approach is simple – when sailing becomes too much of an effort, you can still enjoy long days on the water and go farther and faster.
View MJM Yachts for sale on Yacht World.
Hylas M44 and M58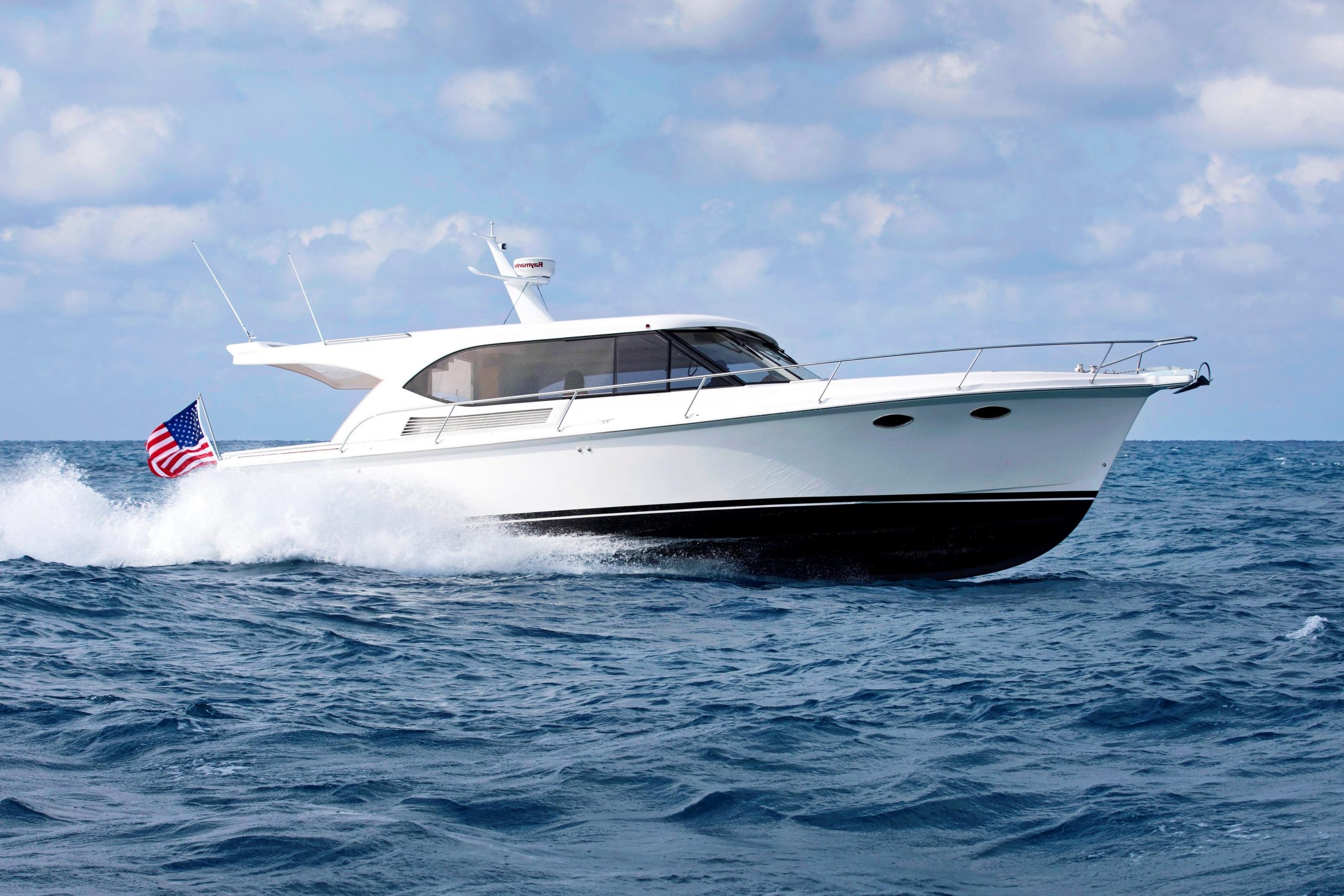 Above: A 2022 Hylas M44 motor yacht for sale on YachtWorld. Photo by David Walters Yachts in Dania Beach, FL.
Hylas Yachts has long been a builder of bluewater sailing cruisers. These are the kind of boats that cross oceans and the company has built a solid reputation with their globe-trotting clientele. Instead of seeing these circumnavigators turn to another brand or stop boating altogether in their twilight years, Hylas jumped on the motoryacht trend and developed a few models to retain their customers. They started with a 44-footer and now have three models in the line albeit the last one, the M58, is still on the drawing board.
For the M44, the Taiwan builder collaborated with New Zealand yacht builder Salthouse and created a fuel-efficient design with good performance and maximum space. The design displaces 21,000 pounds and is powered by twin Yanmar 370-hp inboard engines. The living spaces are on the same deck with the galley, dinette, helm station, companion seating and a large aft cockpit. Two cabins are below in the accommodations area.
For the forthcoming Hylas M58, they teamed with Zurn Yacht Design which took them in a slightly new and much sleeker direction. The windows have been changed, the hull was simplified and a flybridge is now an option. The overall Downeast aesthetic is that of a large lobster boat with a sizeable swim platform that extends her LOA to 64'7". The construction is a vinylester resin hull cored with Corecell throughout, a 16.5-degree transom deadrise and a fine entry.
It's not clear when the M58 will be ready but certainly Hylas afficionados have much to look forward to as they plan their next big adventure well beyond the horizon.
View Hylas Yachts for sale on YachtWorld.
Cape 50 Motoryacht
From Down under comes a lobster boat crossover designed by an ex-pro sailor. The Cape 50 was conceived by Steve Campbell of America's Cup racing fame and a few hulls have already been built in Australia. Designer Angelo Finocchiaro joined forces with Campbell who applied his lifetime expertise of building Grand Prix racing sailboats to create a strong, lightweight construction with a vinylester, resin-infused foam-core sandwich. The light hull carves sharp turns without digging in and reaches a mid-30-knot top speed with Volvo Penta 400 IPS engines and pods.
The design is contemporary and minimalist. Campbell incorporated plenty of white surfaces in his interior and mixed them in with light wood finishes. The main deck has a sparse salon with a long settee because Campbell expects everyone to dine and socialize outside in the aft cockpit. Inside is the galley with a fridge, sink, induction cooktop and plentiful countertops with integrated fiddles that are a nod to Campbell's sailing days when things would go flying as sailboats heeled.
Fuel tankage is just over 200 gallons. Burning 24 gallons per hour at 3000 rpm (which will be near the top end) will deliver a respectable range so ex-sailors will be able to stretch their legs in a short amount of time and that's part of what going from sailing to powering is all about.
Wally WHY200
Sailors have long been gobsmacked by Wally – builder of swanky, uber-fast sailboats that look like a spaceship landed in the water and grew a mast. It's easy for Wally to command attention and the trend toward powerboating wasn't lost on them so they took up building powerboats from large cruisers to yacht tenders worthy of James Bond. The appeal has been such that there are now two Wallytender models (43 and 48 feet) that draw attention wherever they roam.
One of the most anticipated Wally designs is the WHY200. At nearly 90 feet LOA, this 200GT yacht pushes up against the superyacht demarcation line. Naval architect Laurent Giles drew the lines for a hull with a bow that towers 15 feet above the water. That height should keep the decks dry in all but the most inclement weather. Interior design is by A. Vallicelli and features a master suite that measures nearly 400 square feet and offers 270-degree views of the horizon. There's also a one-piece laminated carbon staircase and a fold-down beach club. The partially enclosed flybridge has a glass and carbon dome with no supporting struts that would make any engineer scratch his head.
Power is provided by four Volvo Penta D-13 IPS 1000-hp engines that should provide a cruising speed of 20 knots and a range of 350 nautical miles. Expect to find zero-speed fin stabilizers and optional twin Seakeeper gyrostabilizers to make this posh yacht even more comfortable.
Sail to power – it's a thing! But going to the dark side isn't as scary as it sounds. Rather than give up cruising altogether, ex-sailors are staying on the water longer with boats from brands they trust. More importantly, many of these new motoryachts are finding a younger audience that never cruised under sail at all. These boaters also want the benefits of a proven brand built by people who understand how to bring the best of all kinds of boating to a powerful platform. There are lots of options these days so dive in – the water's fine and the adjustment is easy.
Related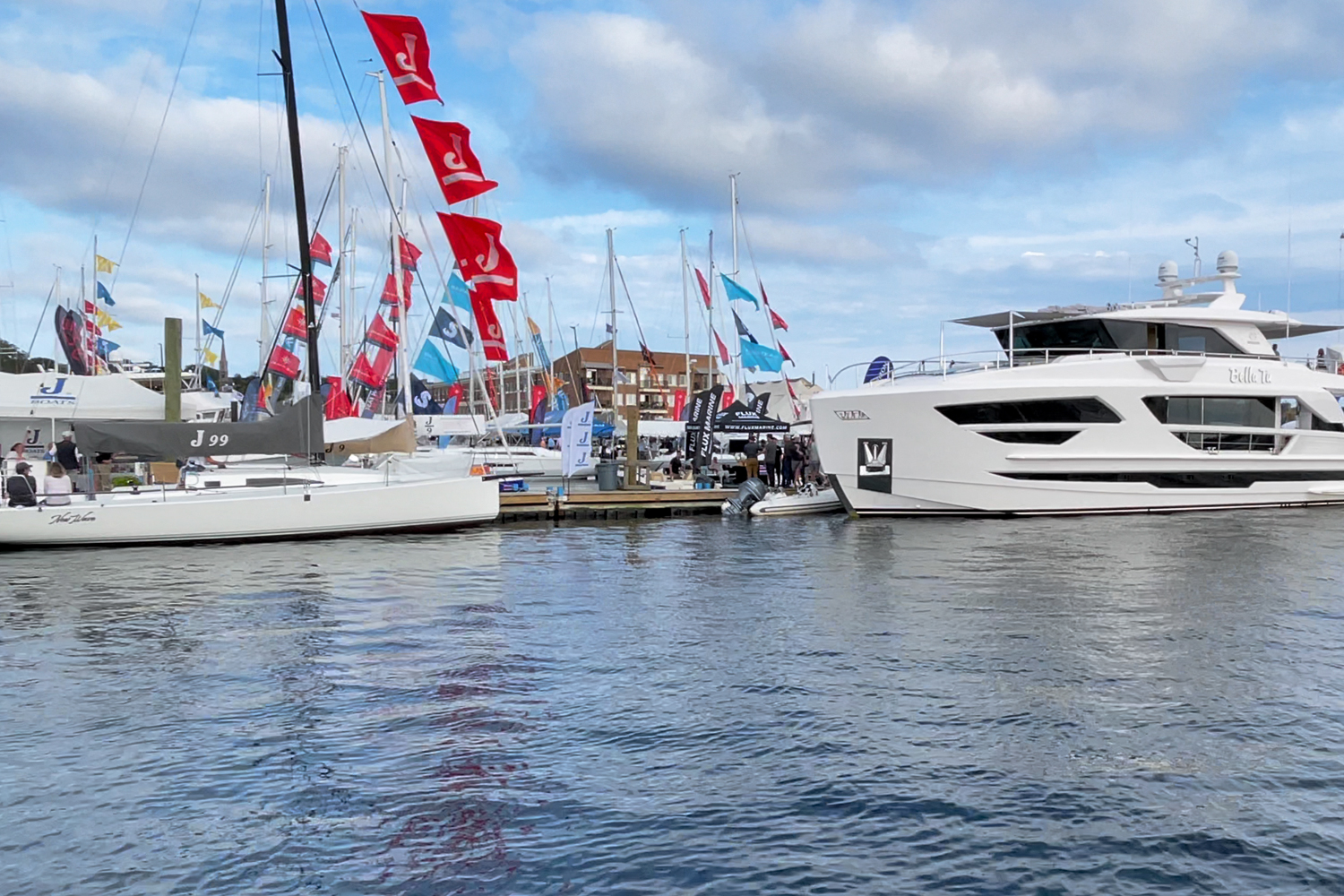 Newport Boat Show Recap: New 2022 Yacht Debuts And Highlights
Recap of boat debuts at the Newport International Boat Show 2021.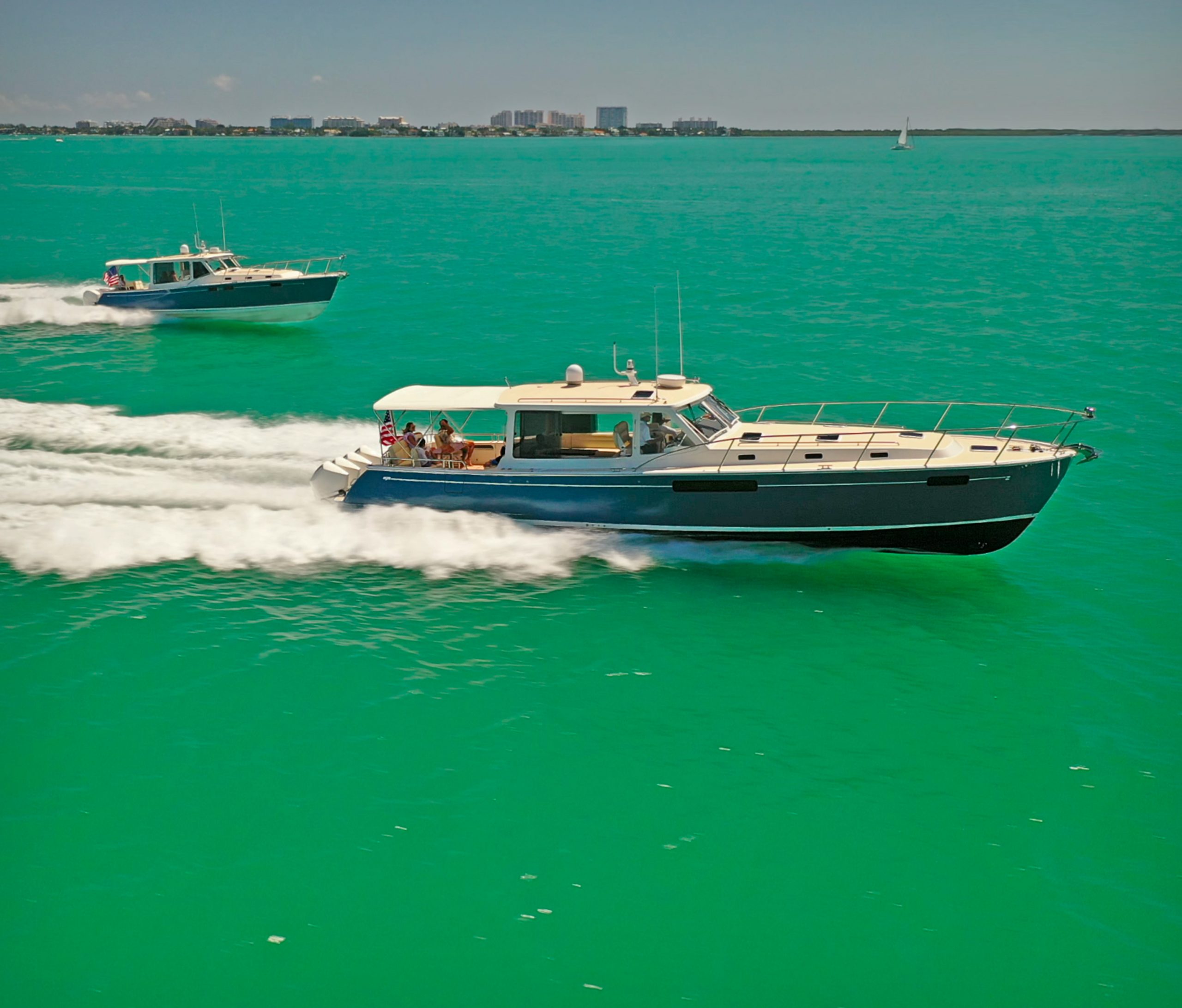 MJM Yachts Outboard Powered Express Cruisers
MJM Yachts shakes things up with a family of shallow draft, downeast-style express cruisers.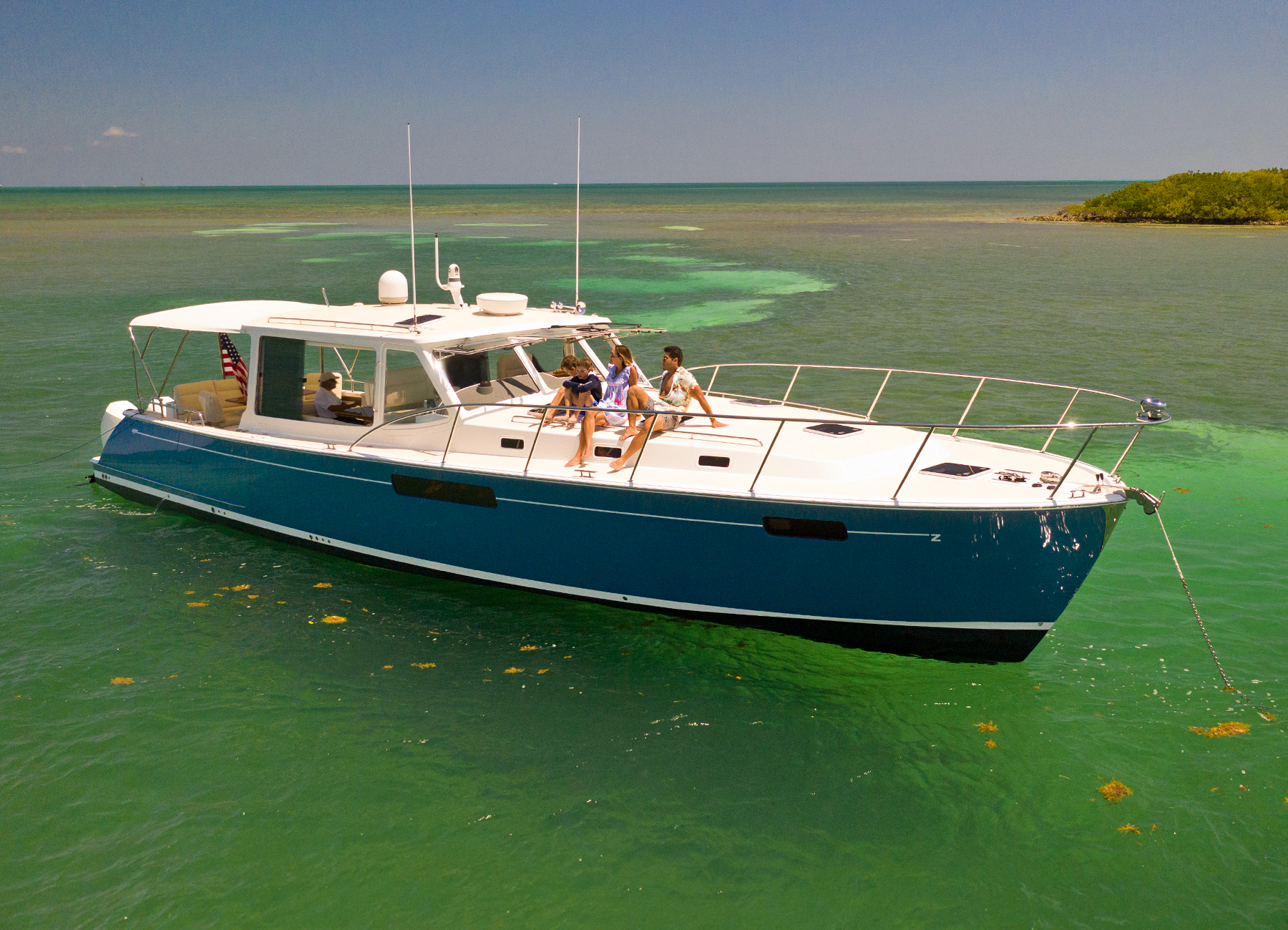 MJM Yachts 53z: World's Largest Outboard Powered Express Cruiser
Ryan McVinney reviews MJM Yachts' flagship outboard-powered express cruiser yacht.