Despite the "recent unpleasantness" in the economy, several boatbuilders have managed to keep new-boat projects on-track. 2011 will see a fleet of new trawlers and cruisers, and we've highlighted five here. All come from established builders and will show off some innovative new features. Some are derived from current designs and some are totally new; all are worth a closer look, whether you're in the market for a coastal cruiser or a global expeditionary yacht.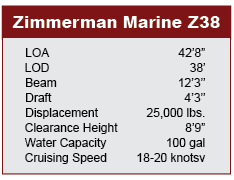 ZIMMERMAN MARINE Z38
This is a Spencer Lincoln redesign of the legendary Z36 sedan. It features a longer hull and more freeboard, resulting in a significant increase in onboard space. The Zimmerman Marine 38 is built for a cruising couple who have occasional guests. The first hull will arrive in late spring or early summer and will be cruised on the Chesapeake during the warm season before being shipped to the home of its California owner.
Powered by a 600hp Cummins, the boat will take its owner on short trips to Catalina Island, as well as on extended cruising in the Pacific Northwest. Zimmerman, a Virginia Tidewater-area custom builder, can outfit the boat any way you like but most customers will stick close to the layout shown in the accompanying illustrations.

MAINSHIP 389 PILOT
Mainship heard from its customers that they really wanted a second stateroom in the Pilot 34, so the company took the basic hull and created a completely new deck and interior. In the process they re-named all the models in the fleet to conform to market expectations of LOA-derived model numbers.
All this effort created the 389 Pilot, which will be splashing late spring or early summer. This might be close to the perfect boat for a young family or a couple getting started in cruising. With a base price of about $275,000, and equipped with a single, 380hp Yanmar diesel, it's affordable and economical to run. You can also order it with twins, but unless you want the extra shallow draft—2' with the twins, compared to 3' 3" with the single—I'd keep it simple. As long as you keep the fuel clean, today's diesels are profoundly reliable. And if the fuel is compromised then two engines aren't going to help.
SABRE 46 SALON EXPRESS

The success of its 40 Salon Express led Sabre to develop a larger edition of this beautiful, Maine-built cruiser. With two powerful Cummins diesels driving twin Zeus 3800 pod drives, performance should be pretty spectacular. And the extra room below decks derived from the economical installation of the Zeus drives makes for an extra spacious owner's stateroom amidships. There's even space for potential crew quarters with berth and head.
Both the power and sail lines of this Casco, Maine, company exhibit superior workmanship and attention to detail. On this yacht, Sabre designed the cockpit and salon decks at the same level, and with the aft end of the house opened up you have a single indoor-outdoor entertainment space. This is a luxury cruiser which will help a couple and guests enjoy exploring any coast in the world.
KADEY-KROGEN 52
While they don't call it an "expedition yacht," the Krogen 52 is more than capable of taking you nearly anywhere in the world. With a continuous-duty John Deere in the engine room of this pilothouse yacht, you can count on at least 2,500 miles of range at a good 8 knots.
The 52 is based on the Kadey-Krogen 58 (read our review) but has all new molds and engineering. It comes with either two or three staterooms, a spacious salon, covered aft deck, and my favorite – a true gourmet galley with a full-size Jenn-Air fridge and four-burner Viking range. Get the wok out!
If you choose the two-stateroom configuration, you can use the extra space for a dedicated office. Kadey-Krogen has already sold several 52's, and hull #1 will likely make its debut during the second half of the year in Seattle.
NORDHAVN 63
Pacific Asian Enterprises continues to fill in its line of salty Nordhavn trawlers. The next new boat in the fleet will be the Nordhavn 63, which is an aft wheelhouse version of the N60, which was itself based on the original N55 hull. This new boat, however, gets an entirely new deck and engine room, with more volume and amenities. There's now room for crew quarters forward of the engine room and a now-standard centerline guest stateroom. With the master stateroom to port and a sleeping cabin aft of the pilothouse, there is plenty of room to live aboard.
The aft wheelhouse gives the boat some of the expeditionary look of the original N62, but in truth, all Nordhavns can be considered expeditionary yachts. They can and do travel all over the world. The Nordhavn website keeps an up-to-date list of owner travel blogs.
The N63 is scheduled for delivery in the spring, after commissioning is completed at the company's Stuart, Florida, facility.
For more information, visit the company websites.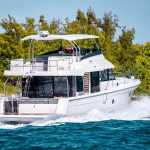 Zuzana Prochazka shares her top five new trawlers for 2022.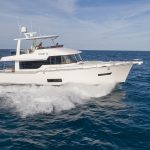 The Summit 54 built by Kadey-Krogen is a longe-range, fast trawler with chic and inviting features.