At one time, trawlers evoked images of a large, slow, and ungainly commercial fishing craft. However, the trawler concept was eventually embraced by cruising yachties looking for a comfortable and fuel-efficient single-engine ocean-going craft. These utilitarian trawlers were known for a slow turn of speed and a compensating range that let owners explore far-flung anchorages.
Over the decades, trawlers evolved into posh yachts with multiple power plants capable of planing speeds. They were no longer sparse or slow. Today, the trawler's profile is the only factor that differentiates it from the sleek express cruiser, tall sportfisher, or voluminous motoryacht.
With the trawler's enormous growth in popularity, 2022 has birthed five spectacular new models perfect for bluewater travelers seeking style, comfort, and luxury. Plus, this year's line-up comes with added agility and desirable amenities. Let's take a look at the top trawler models of 2022.
Nordhavn 41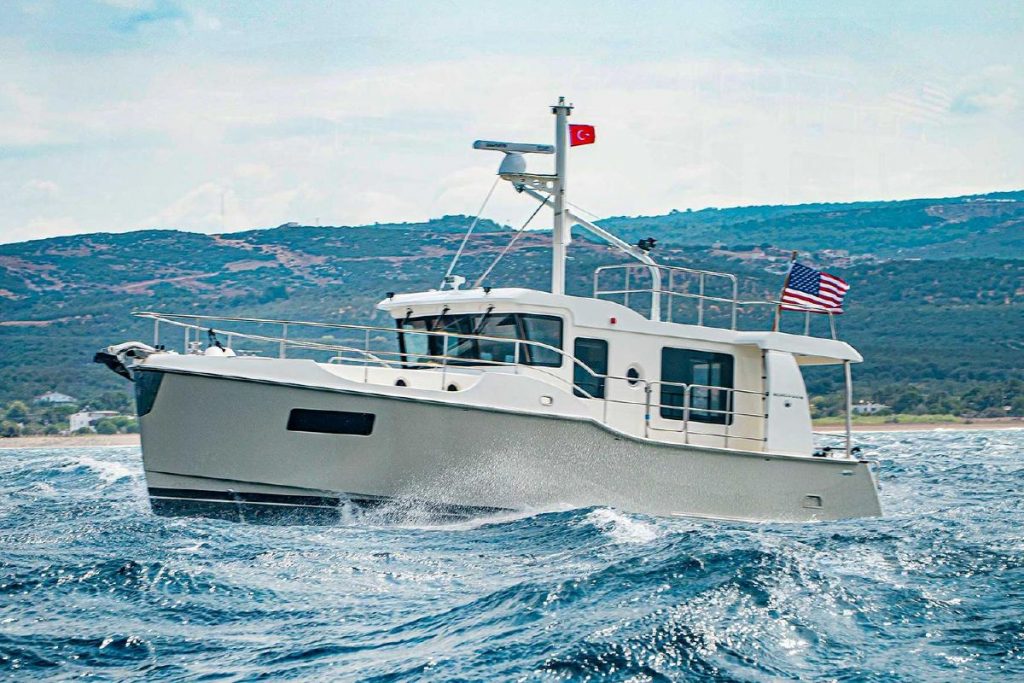 Nordhavn Yachts are built by PAE (Pacific Asian Enterprises), a California company that has traditionally built its upmarket durable expedition yachts in Taiwan. They've found an enthusiastic market for a half-century, with a current range of 41 feet to 148 feet. The baby of the family is the Nordhavn 41 (N41), which was modeled after its predecessor, the famous, globe-trotting N40.
The N41 is powered by twin 75-hp Kubota turbo diesels under the Beta Marine name. This is a departure from early Nordhavn models that operated with one main engine and a single "get you home" motor that was rarely used. The top speed is nine knots burning nine gph for a range of over 900 miles. At six knots, the range increases to over 3,300 nautical miles.
The N41 is offered with a single or double stateroom layout and one head. The options list is short, with almost all features designated as standard equipment, including stabilizers, a bow thruster, an electronics suite, a life raft, an inverter, and a genset. It's as if the company has outfitted the boat right out of the box for cruisers who need do little else but move aboard. This particular model is actually built in Turkey so you can start your cruise in the Med before working your way (with a provision for extra fuel) across to the US. The base price, depending on delivery location, is $750,000.
Specifications:
Length Overall (LOA): 41'
Beam: 13'11″
Draft: 4'16"
Freshwater Capacity: 300 Gallons
Fuel Capacity: 900 Gallons
Ranger Tugs 43 CB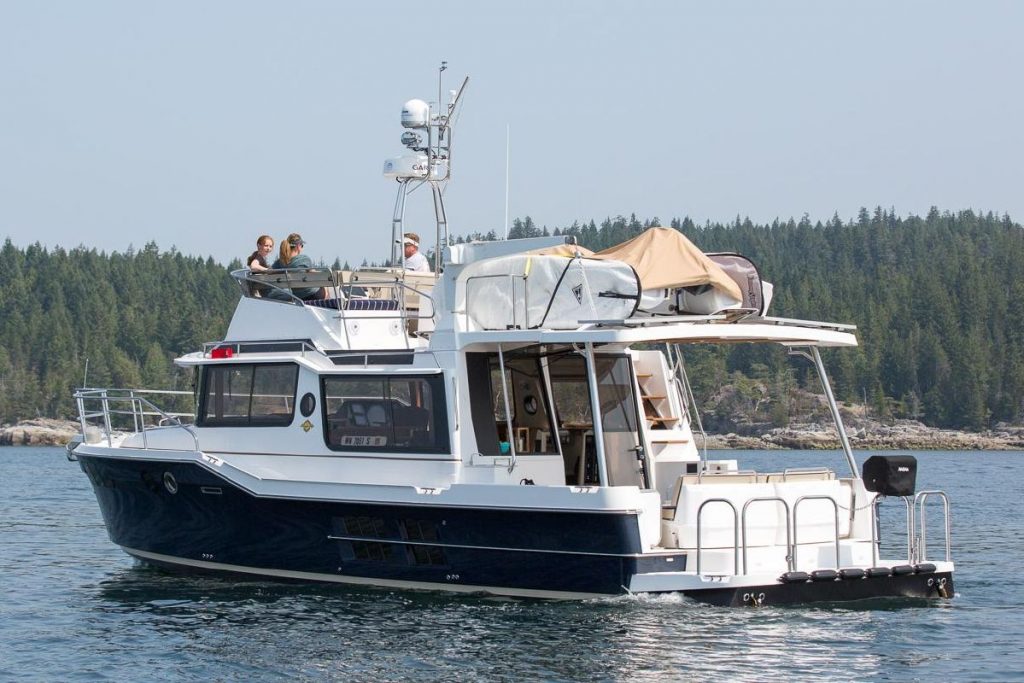 Based in the Pacific Northwest, Ranger Tugs has built pocket cruisers for decades, specializing in amazing innovations that maximize space and functionality. With the launch of their flagship, the 43 CB, they've ducked out of the pocket moniker and moved to full-scale trawler status. The CB stands for "Command Bridge" and it's Ranger's way of designating the flybridge where you'll find an upper helm, a galley, and a comfortable dinette for six.
The 43 CB is powered by twin Volvo Penta 340-hp IPS 450 pod drives that deliver a top speed of just under 30 knots, a far cry from a slow trawler. At 11 knots, the engines burn only 10 gph, so the model has long legs with its 300 gallons of onboard fuel. Both the upper and lower helms offer joystick control. There's even an option for a docking station with a third joystick available in the aft cockpit. Speaking of the cockpit, here you'll find a unique dinette arrangement of two facing benches with two tables in between. To starboard is a side hull gate for dock access and the steps to the flybridge.
The interior layout includes two cabins and two heads. The master, with an island bed, is in the bow and guest quarters are aft. The galley is on the main deck to port while a lounge and separate dinette are forward. Light pours in from the enormous windows, so you'll never feel buried. The base price for this model is $1.1 million.
Specifications:
Length Overall (LOA): 46'9"
Beam: 14'
Draft: 3'6"
Freshwater Capacity: 120 Gallons
Fuel Capacity: 57 Gallons
Beneteau Swift 48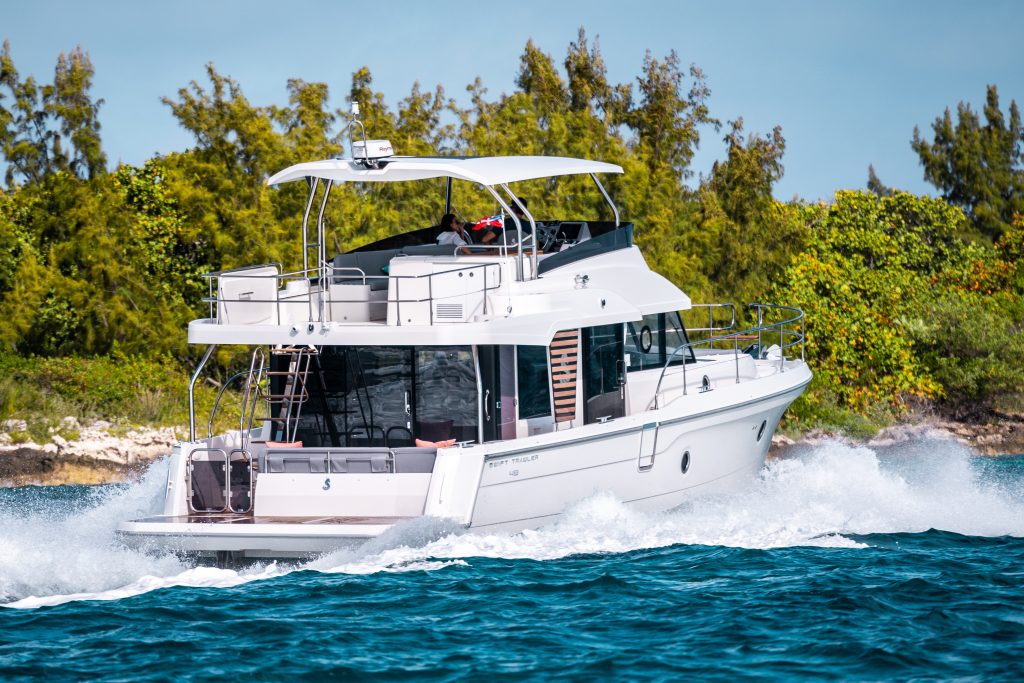 Beneteau turned the concept of the "slow trawler" on its ear with the introduction of the Swift series, with over 1,300 hulls built to date. The newest of these is the Swift 48, a replacement for the successful Swift 47 with a few new twists.
The starboard deck is still wider than the port one, since this model has an asymmetrical layout with an offset cabinhouse like her predecessor. The $34,000 hydraulic swim platform is also still an option that can carry a 770-pound tender and double as a teak beach.
The interior is where the 48 truly departs from the previous 47. The galley is moved to port and aft, which opens up the interior. Ahead is a U-shaped settee or dinette and the lower helm that has moved from the centerline to starboard. With the helm now offset, the driver can easily step out onto the wider side deck through the sliding door to help with lines and enjoy sight along the entire starboard hull when docking. The driver is also able to jump onto the dock through the side hull gate to manage lines.
Standard propulsion is provided by a pair of 350-hp Cummins QSB6.7 diesels that can be the upgraded to 425-hp motors. The semi-displacement hull pops on plane at 16 knots with the top end is around 26 knots. A more fuel-efficient cruise is at 2500 rpm and 18 knots. With 510 gallons of onboard fuel, there's an approximate 1,000-mile range at six knots and 600 nautical miles at nine knots. Base price is around $1.3 million.
Specifications:
Length Overall (LOA): 49'
Beam: 14'9″
Draft: 3'9"
Beneteau Grand Trawler 62
The flagship of the Beneteau trawler series is the Grand Trawler 62. You'll notice that they dropped the "Swift" moniker to differentiate it from its smaller siblings. The Grand Trawler 62 is now in a class of her own and can run up to 20 knots. However, this model is happiest at 8 to 10 knots, a cruising speed that's easily managed by the twin 730-hp MAN diesels. These are offered with joystick control via integrated thrusters.
The hull has a round bilge with a fine entry that widens above the waterline to create a surprising interior volume. The propellers are ensconced in tunnels and the model is offered with an MC2 gyrostabilizer to compensate for any rolling from the full bilge.
The Grand 62 has a few identifying exterior elements, including a raked windshield that gives her a shippy look. Aft, there's an enormous swim platform — more than five feet deep — that runs the full beam. It's designed to carry the tender on integrated chocks with stairs on port that deploy down when the platform is at or below the waterline. There is also a hidden passarelle on starboard. The transom is transparent plexiglass, so there are excellent views of the water aft. Beneteau has dubbed this open concept to the environment as the "sea terrace".
The lower deck accommodation comes with either three or four cabins, including a full-beam master stateroom amidship. Up top is a flybridge that's more than 330 square feet, which includes the helm, companion seating, a dinette with a summer galley, a soft sunroof, and a crane to hoist up a PWC or second small tender. The base price starts at $2 million.
Specifications:
Length Overall (LOA): 62'2"
Beam: 17'11″
Draft: 4'7"
Freshwater Capacity: 1 X 221.9 Gallons
Fuel Capacity: 2 X 1056.69 Gallons
Grand Banks 85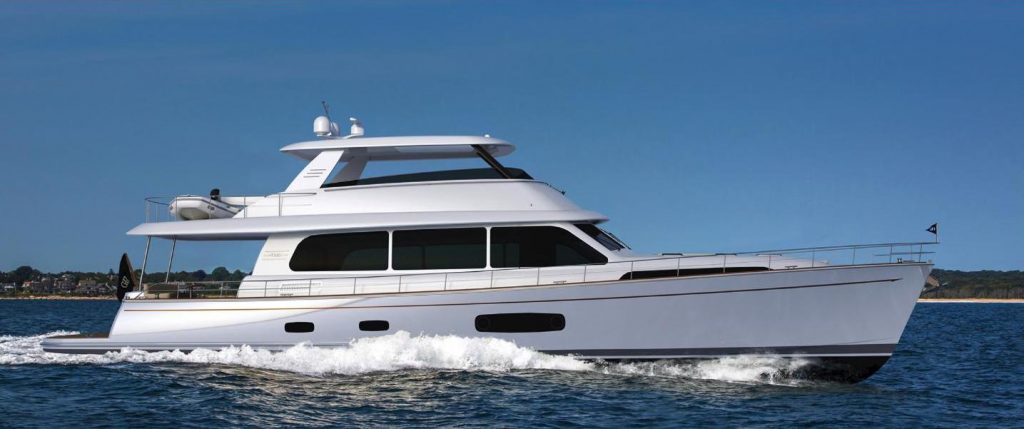 Bringing the concept of a trawler to superyacht level, Grand Banks launched their flagship 85-footer at the Fort Lauderdale boat show last fall. This iconic brand began building long-range trawlers six decades ago. There are few places these boats haven't ventured.
The new 85 is actually 87 feet LOA and 108,000 pounds dry displacement. She has a 1,000 nautical mile range at 20 knots. The range jumps significantly when you cut that speed down to 10 knots. Here, you can expect 3,500 miles, so it's clear that there are few places she can't go. Depending on load and conditions, expect 27 knots at wide-open-throttle.
The GB 85 is almost entirely custom, including your choice of engines: twin Volvo Penta 1350s with IPS pods or twin 1300-hp V8 Man motors with shaft drives. You can spec an open flybridge or an enclosed third deck in the form of a skylounge. The helm is up top with a second docking station on the main deck level next to the galley.
The standard layout includes a full-beam master and two to three guest cabins, all with ensuite heads. The Grand Banks 85 is built in Malaysia and has a base price of 7.5 million.
Specifications:
Length Overall (LOA): 87'2"
Beam: 22'2″
Draft: 4'11"
Freshwater Capacity: 370 Gallons
Fuel Capacity: 2,640 Gallons
There's no denying that the trawler has undergone quite the metamorphosis. These days, it takes the form of a luxury vessel able to plane and reach speeds sufficient enough to avoid oncoming storms. But let's not forget—the trawler still has the heart of a long-distance cruiser, ready to open up the world to anyone looking for a new adventure.
Related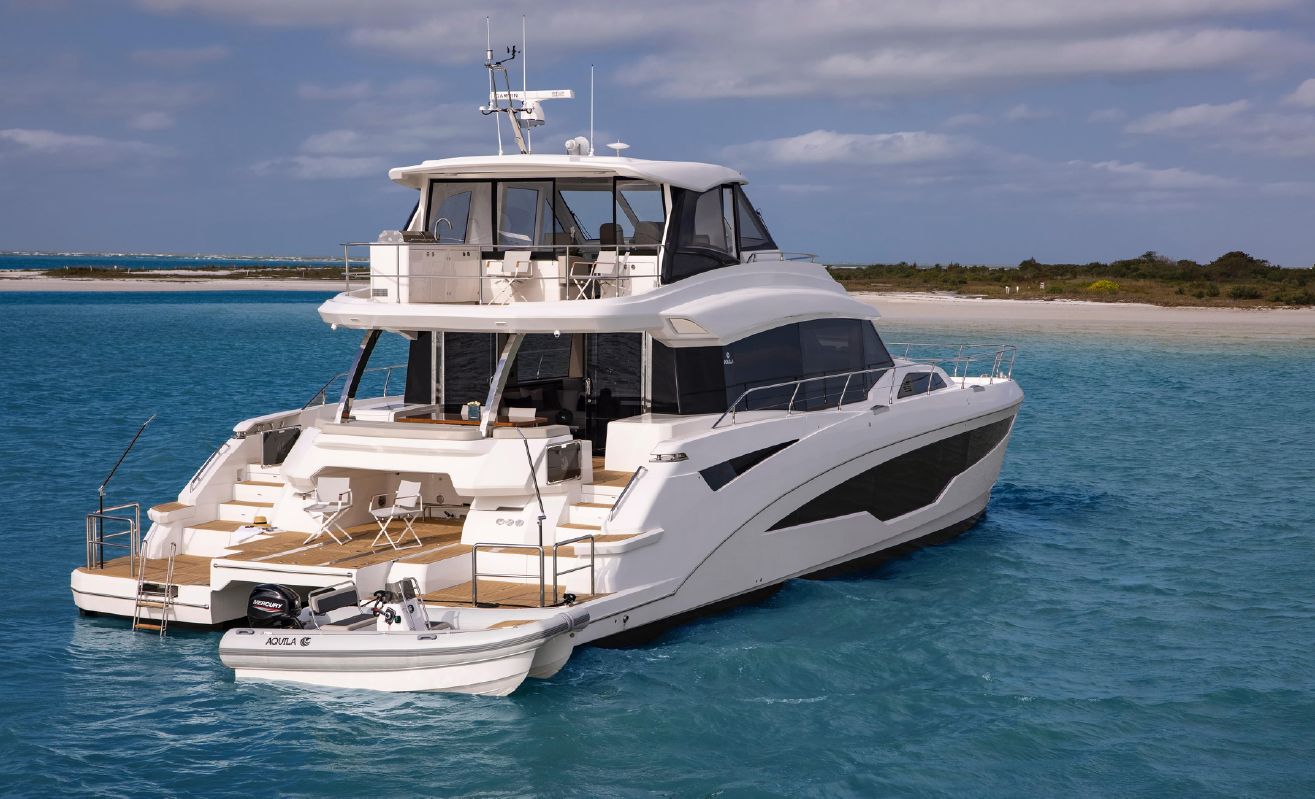 Top 5 Power Yachts of 2022
Zuzana Prochazka shares her top 5 picks for the best power yachts of 2022.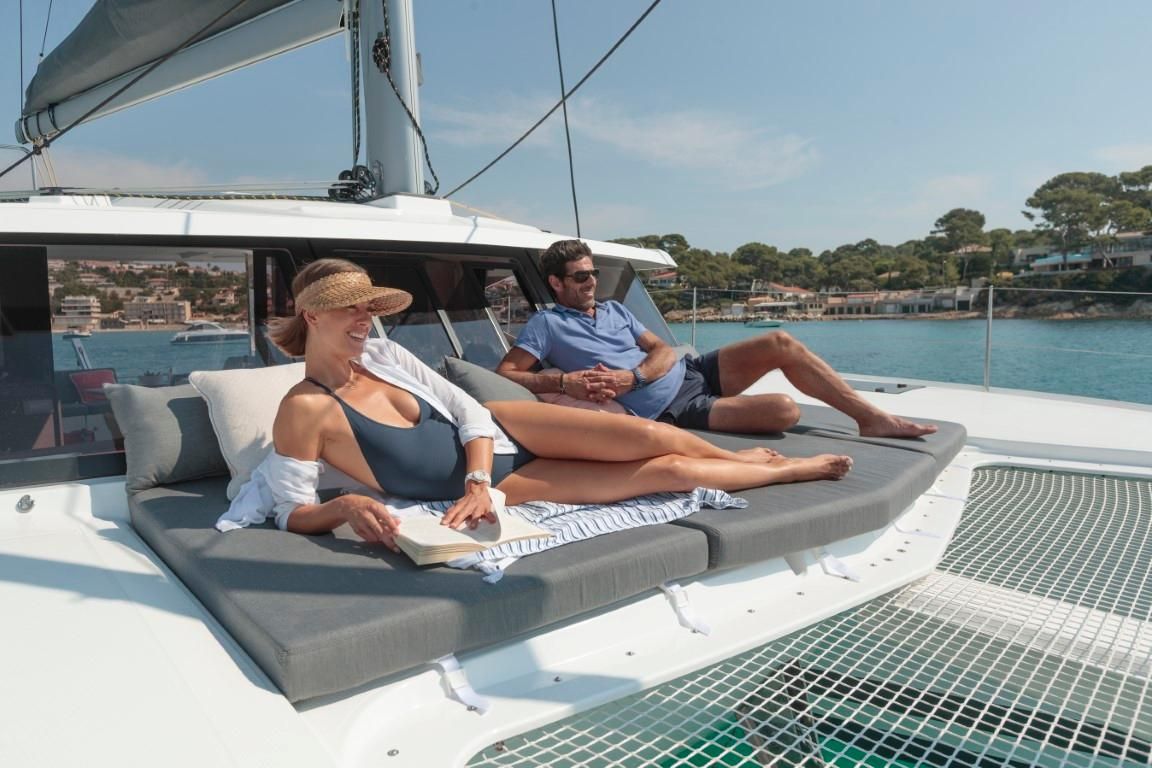 Best Sailboats of 2022: From Top To Sail
Category:
Cruising Under Sail
Are you looking for a new sailboat? We select our top five sailboats of 2022.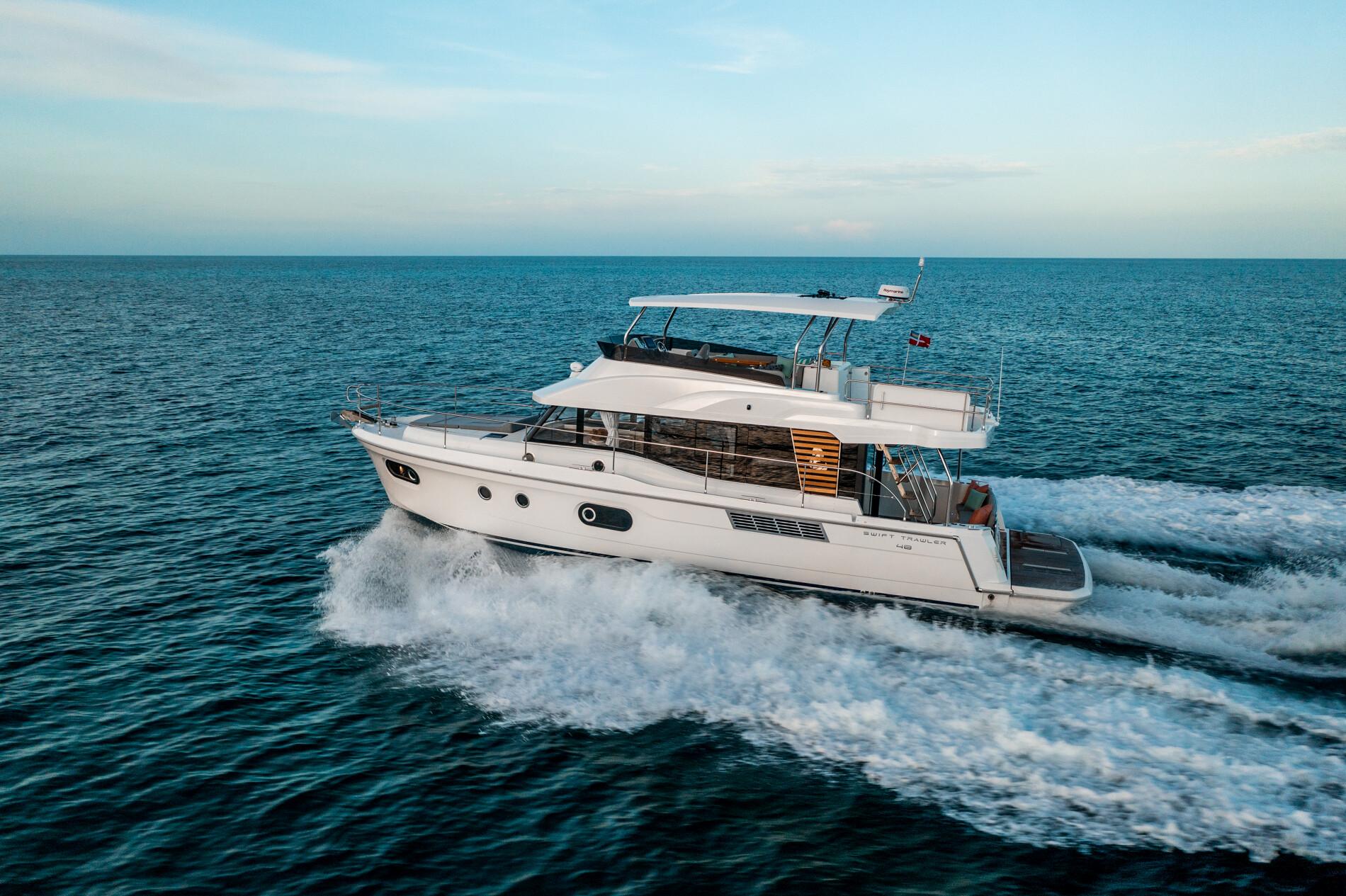 2023 Beneteau Swift 48 Review: New Fast Trawler
Beneteau's new swift trawler builds on success for even better results.