The Caribbean yacht charter season is just kicking off, with plenty of time left to book some of the hottest new yachts from Sint Maarten to St. Barts. Here's a look at five of our favorites that are expected to be available in the Caribbean through March or April.
Irimari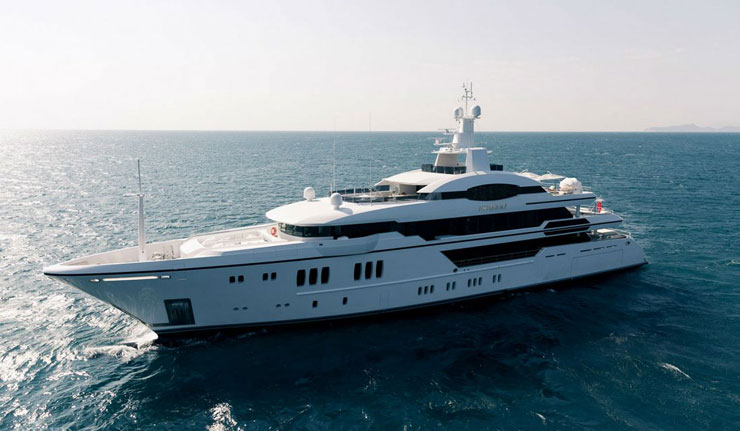 Irimari is the first yacht in the 63-meter series from Sunrise Yachts, just delivered this past summer and having made her world debut at September's Monaco Yacht Show. Ocean Independence is her management company.
At a weekly base rate of €460,000 for 12 guests, Irimari is at the top end of the offerings for superyacht charter in the Caribbean this winter. She is, of course, a head-turner because of her sheer size. But she also offers some "unseen" qualities that are great for charter clients.
For instance, the crew includes instructors for personal watercraft, sailing dinghies, and serious kayaking, and the yacht herself is a certified RYA Training Center, which means the crew can issue Jet Ski and WaveRunner licenses to charter clients who need them.
Her interior décor is noteworthy for its unique elements: lots of bleached oak and copper strips. The chandelier above the indoor formal dining area is practically a work of art, and windows that run almost floor-to-ceiling give charter guests the feeling of being one with the outdoors.
Blue Deer and 19th Hole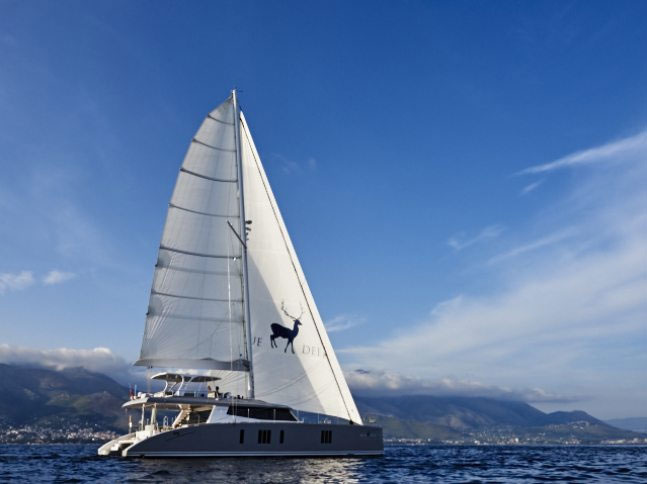 These sistership Sunreef 74s—one apiece for different members of the same family—are the newest entries into the Sunreef Yachts Charter fleet of catamarans that are available in the Caribbean this winter. They made their debut side-by-side at the recent Antigua Charter Yacht Show, where guests stepping aboard were treated to fineries like aged Parmesan cheese from the owners' native Italy (that's where Blue Deer is expected to charter for summer 2016; 19th Hole is planning to be in Greece and Turkey).
The accommodations layout aboard both yachts is the same—and it is noteworthy. As many as 10 guests can sleep in the four staterooms. Two of the staterooms have double berths, while the other two staterooms are convertible with either double or single/loft berth combinations. That means groups of adult couples can be just as comfortable as families on charter with children.
Each yacht is being offered in the Caribbean this winter at a weekly base rate of $43,000 to $44,000.
Aphrodite
Though she launched from the builder in 2010, the 130-foot Westport Aphrodite is brand-new to the charter market, having been kept for private owner's use until now. She is expected to start strong during her debut season in the Caribbean with Northrop and Johnson, given that 130 Westports are among the most popular designs for family charters year-round.
Aphrodite also has lots of room for families to spread out in the fresh air and sunshine. Her top deck has a hot tub, outdoor dining for all 10 guests, and a sunbathing area. A second dining area is aft on the main deck, where extra friends can fit for a total of 12 to 18 people during cocktail hour on the hook.
Her weekly base rate is $110,000, which includes use of her towed, 35-foot Intrepid tender—a great boat for water sports, snorkeling and fishing throughout the Caribbean islands.
H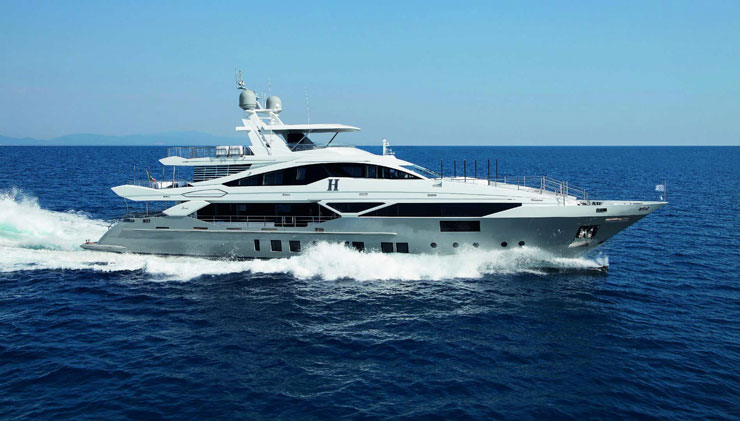 Just one letter—H—defines this new 139-foot Benetti motoryacht, which is making her charter debut this winter in the Caribbean. She may look somewhat traditional on the outside, but she is all contemporary on the inside with a décor palette of grays and navy blues accented by stainless steel.
And elephants. Lots of elephants: in some of the upholstery, in a fair number of the art pieces and even permanently emblazoned as part of the nameplate across the yacht's transom. The owner's wife is a major fan of the species, and she worked with the interior designers to add homages to elephants strategically throughout the décor.
That's not to say that H is in any way kitchy. On the contrary, she offers a cool vibe and lots of modern amenities, including a state-of-the-art audiovisual system with reclining cinema seats in the main saloon.
Look for her as part of the Burgess Yachts charter fleet, taking 10 guests at a weekly base rate of $150,000.
Scorpion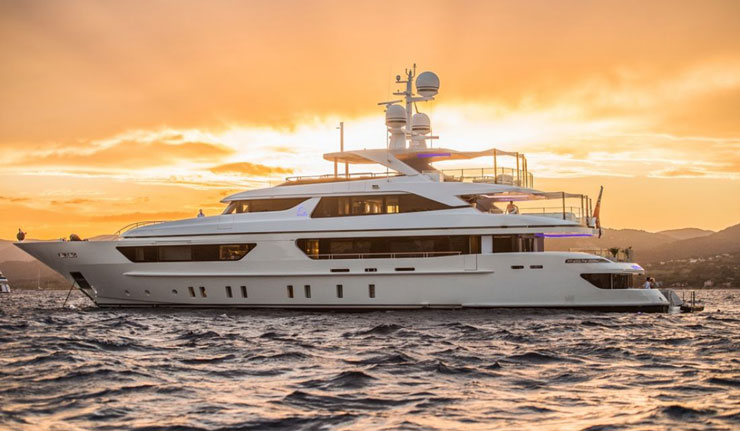 Just launched in 2015 and making her Caribbean charter debut this winter is the 150-foot Sanlorenzo Scorpion—with the most customized, embellished and eye-popping interior décor of any Sanlorenzo ever built. The sheer quantity of fine stonework, custom-made furnishings and one-of-a-kind details is nearly unimaginable, right down to the sky lounge bar that sits atop an aquarium remotely controlled from Europe to ensure that the fish are always living in optimal conditions.
For the human guests aboard, Scorpion offers some special features among charter yachts, including about 20 misters that are strategically placed around the sitting and dining areas on her sundeck. Head forward for a dip in the hot tub, relax for a while on the sunpads near the 360-degree-spinning television and beneath the retractable sunroof, and then cool off under the misters while enjoying a gourmet salad for lunch. Heaven!
Ten to 12 guests are accommodated in five staterooms, and the weekly base rate is $240,000 through Ocean Independence.
Related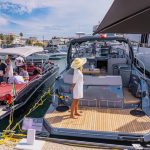 Cannes Yachting Festival 2022: 6 Dreamy Debuts
Meet the major boat builders in the motorboat industry who made their public debuts at the festival.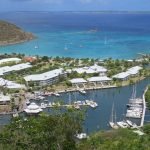 Ultimate Caribbean Charter Itinerary
Learn why St. Martin is the ultimate base for your next Caribbean charter. Here's my latest charter itinerary...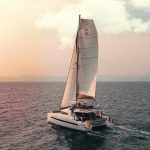 Charter Prep for Beginners
Kevin and Cathy Sebrowski share advice on how to plan a yacht charter.