YachtWorld talks to Jenny Keisu, CEO of X Shore. Jenny lives in Stockholm, where the city centre is virtually situated on the water. X Shore's launch of the Eelex 8000 has outstepped competitors offering a unique 'smart tech' experience. X Shore has integrated smart technology, changing the way that users interact with boats. Information is available through multi-channels to give users the choice to engage on the channel they prefer. The result is that boat owners will have increased knowledge, visibility, speed, accessibility, and boating efficiency. Watch this space.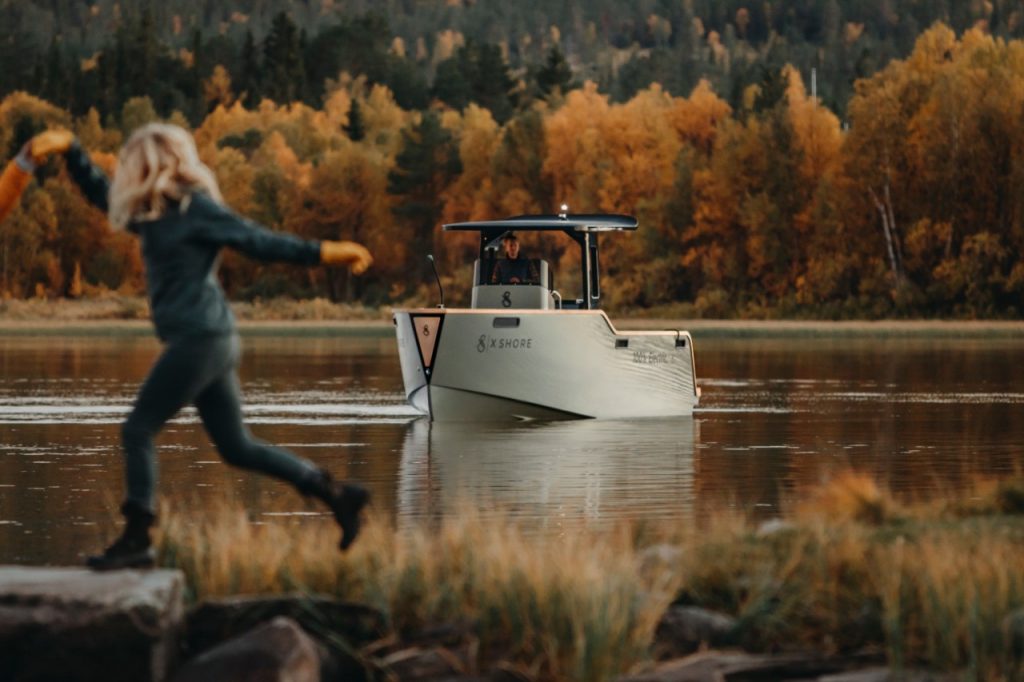 Natural hues of pine green and sandy beige are homogenous with the environment. Image credit: X Shore
Clean Energy Meets Supersonic Performance
The Eelex 8000 combines clean energy, smart technology and high performance, making it an unrivalled choice in the watersports boat market. Design, technology and sustainability are at the cornerstone of X Shores philosophy, offering an actionable solution to the pollution of the traditional boating industry.
X Shore has always believed that speed and clean energy do not need to be mutually exclusive. While there is a range of electric yachts available, the Eelex 8000's high-performance capabilities set it apart from the competition. Most electric boats cruise relatively slowly, typically between 12 and 15 knots, but the Eelex 8000 has revolutionized watersports, allowing users to reach jet-fast speeds of 35 knots. "Some owners want to go fishing, some want a way to socialize, while others want a boat for watersports. However, being able to utilize an electric boat for watersports like waterskiing or wakeboarding is contingent on whether it can achieve high speeds," says Jenny.
The Eelex 8000 is named after the South American electric eel defined by its strength and grace. It's capable of travelling far at fast speeds- like the electric eel, and it has a range of 100 nautical miles. Its high-performance 225 KW electric motor and dual 60 kWh lithium-ion batteries can be charged in just one night by any power outlet or harbour.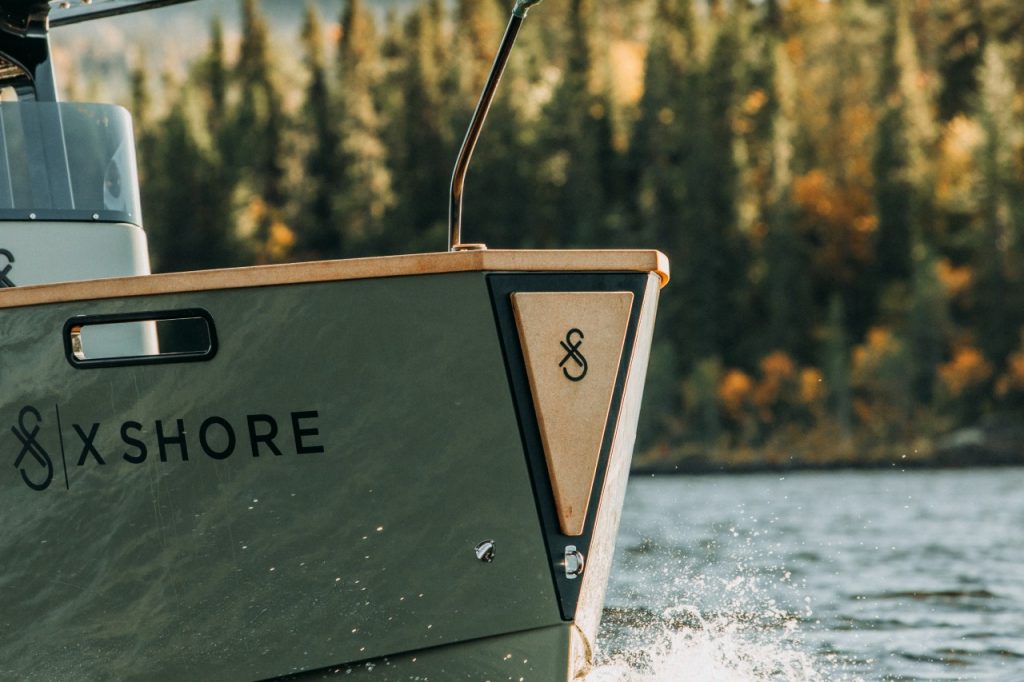 Accelerating through the water. The Eelex 8000 is ideal for watersports and socialising. Image credit: X Shore
A Smart Boat: Interact with Your Boat
X Shore's Eelex 8000 smart technology is outpacing its competitors by a country mile. Automated updates are communicated to the driver, flagging in advance when the boat needs refuelling, whether the boat requires any maintenance, the state of charge, and location. The user can download the X Shore app to receive the updates, choose to wear a Garmin smartwatch, or log in using a computer.
The data travels by air, capturing 150 data points every second allowing for real-time analytics and updates on the battery and engine performance. The technology also allows for comprehensive safety and security. It is difficult for anybody to steal the boat because the owner has a "kill switch," which enables the owner to shut down the boat remotely, and they can always see the boat's location in the X Shore app. Plus, to start the boat, the driver must have a key, mobile app, or be connected to the smartwatch. Users that opt for an integrated Sea-Lab receive data about the environment, including the PH and oxygen levels in the body of water that surround the boat.
Key features of the Eelex 8000 include:
Safety Features
Remote tracking of location and performance;

Battery monitoring;

Alerts users if there are any issues with the boat;

Low power wireless network to enable data visibility;

Dual camera and cloud security onboard;

Overboard protection;
Convenience and Usability Features
Maps of local areas- sync routes through Active Captain (through a phone or tablet)

Garmin marine-graded 24-inch touchscreens;

Set drive modes;

Audio, light and temperature control;

Electric steering;

Optional autopilot;
Connectivity
Users can switch the boat on or off within a ten-meter range of the boat using the Garmin watch or the app;
Perhaps the most impressive feature to date is the Eelex 8000's autopilot capability. According to Jenny, the boat is very much a result of evolution of working at the intersection of technology and boats to create a better product and provide a better experience. Jenny believes that the boat and owner should grow together, "The test of a great product is whether people have chosen to evolve with it. I don't think that people will buy an electric boat, just because it does not emit any co2." says Jenny. X Shores innovation strategy focuses on transforming the boating industry as a whole.
The roof is constructed using 100% carbon fibre to reduce the vessel's weight, and it's incredibly strong, designed to withstand a lot of pressure.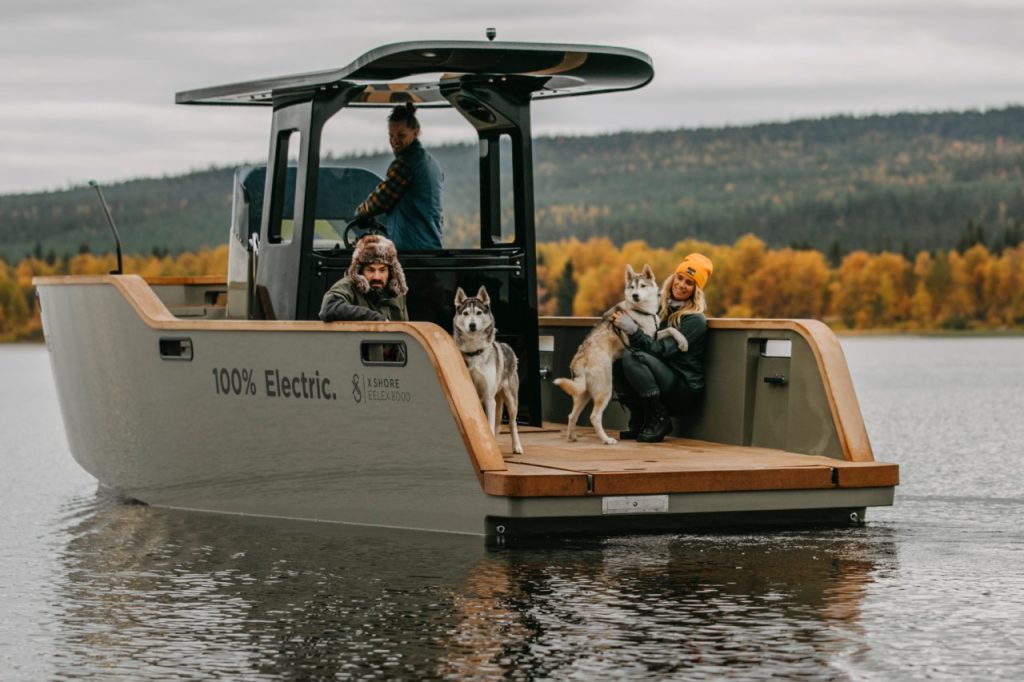 There is also a wakeboard hook conveniently located on the roof too. Image credit: X Shore
Modular Design
The Eelex 8000 is defined by sleek, clean lines and functionality- the epitome of Swedish design. X Shore embodies modular design to enable the user to benefit from maximum flexibility. X Shore offers over 15 different layouts for every need, such as fishing, diving, and socializing. A system of struts and rails makes it easy to secure various types of loads and add or move seats. X Shore also offers customers a unique opportunity to customize their X Shore craft.
A Circular Lifecycle
Recycled, reclaimed and recyclable materials applied are superior in terms of functionality and environmental impact. The hull is made from flax fabric and recycled PET. Cork is used instead of teak, which is great for when it's sweltering outside because it doesn't get warm. Another benefit to using cork is that it doesn't get slippery when it's wet, and if you spill red wine on it, you can take a piece of sandpaper and rub it off.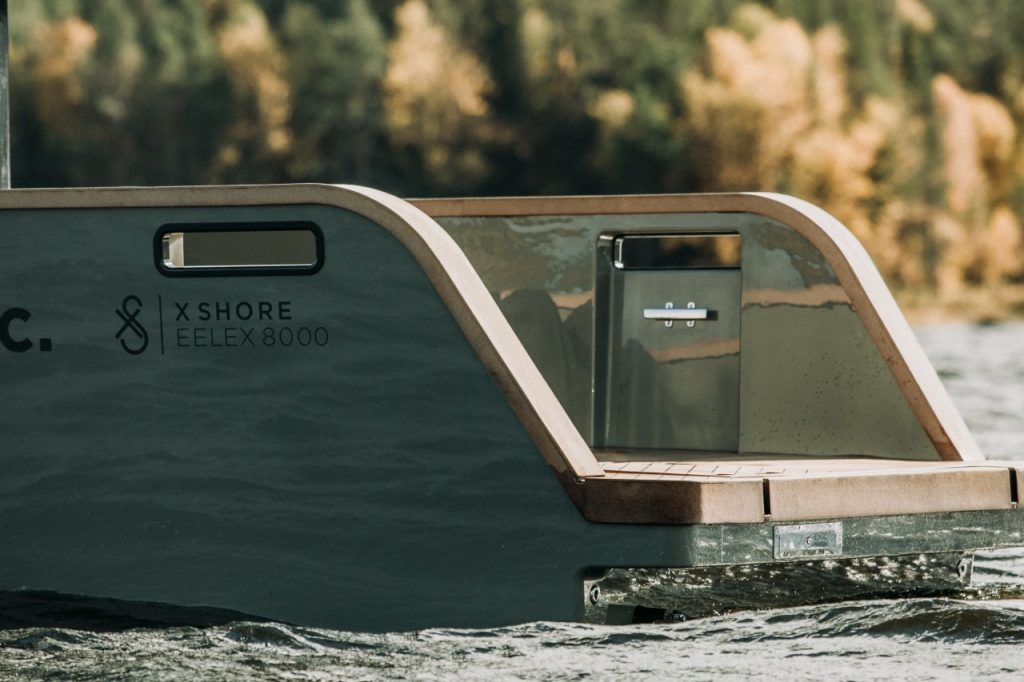 The low structure is designed to allow users to get close to the water. Image credit: X Shore
Pioneers of Progress
Konrad Bergström is the founder and Chairman of X Shore, spearheading the company's mission to bring sustainability and innovation to the maritime sector. X Shore was founded three years ago, and Konrad spent years trying to crack the code of how to make electric high performing boats. Konrad built several prototypes, different holes, and different drawings, to try and figure out how to make it work.
Jenny Keisu joined X Shore in 2019. X Shore's Head Office is located in Sweden, a country with ambitious sustainability goals. Jenny's background is predominantly in private equity, where she was part of the group which focused their resources in sustainable investments. "Back in 2016 then nobody believed it was possible to make sustainable investments and yet make a profit. But years later, at least in Europe, it is basically impossible to raise capital without investing sustainably." By 2025 Amsterdam will be completely fossil-free, and it won't be long before every other country in Europe and the states follow suit, making fossil-fuelled boats obsolete.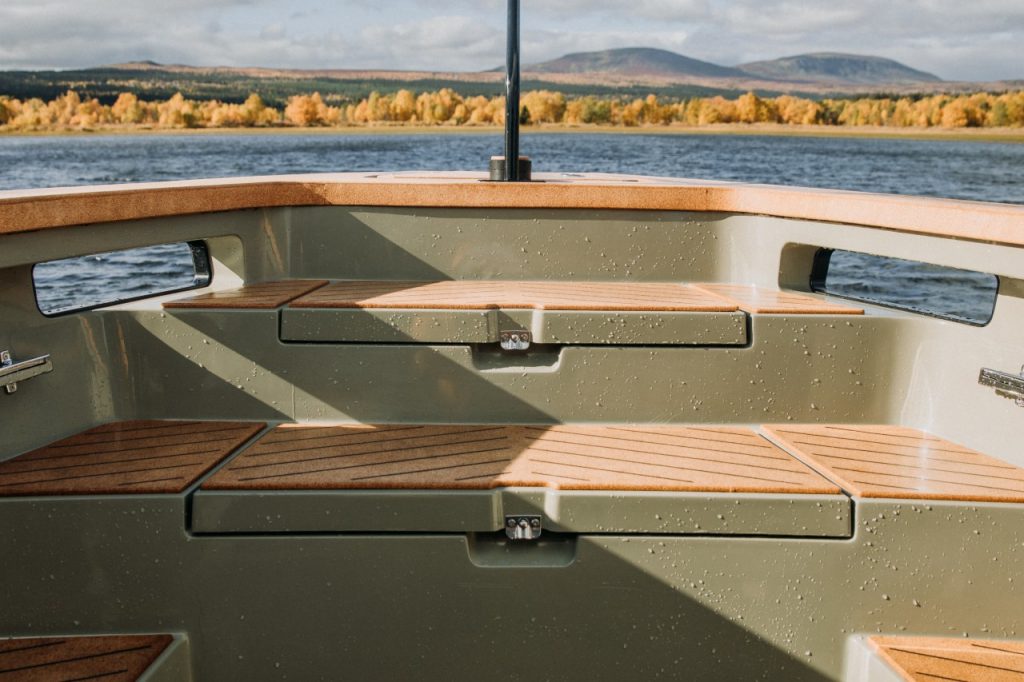 Eelex 8000 interiors are made using cork. There is ample storage for your day trips on the water. Image credit: X Shore
Request Your Smart Boat
Costs for the Eelex 8000 starts at $329,000. The first release of the X Shore boat in the US will be a limited edition, shipping between 20 and 30 boats to the United States. To get on the waiting list, clients can contact X Shore to reserve their edition. Based on customer requests, the boats will be fully built in Sweden, except for the propeller and rudder, and shipped on boat dollies or trailers to the new owners.
Related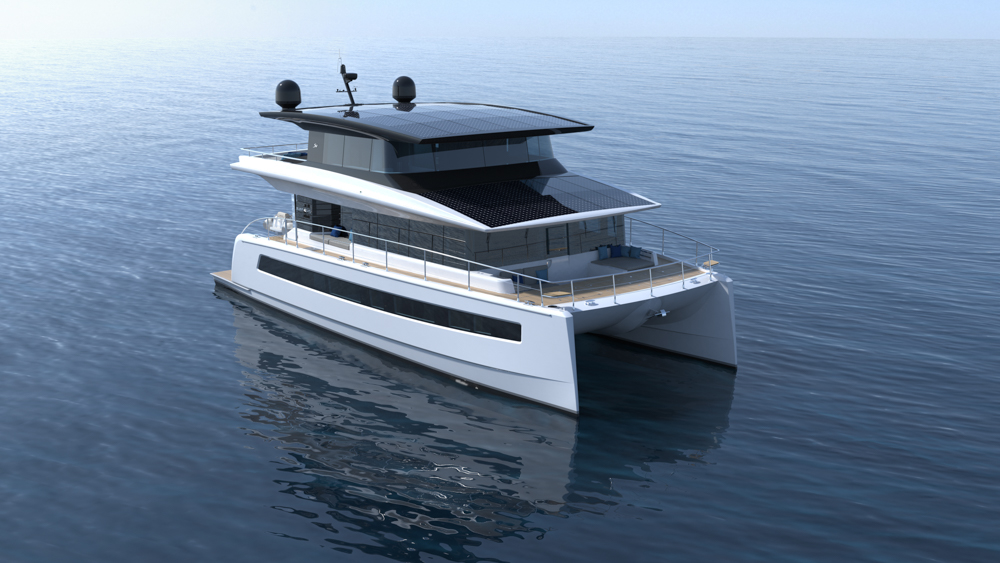 The Silent 62: A Self-Sufficient Electric Catamaran
Emma Coady talks to Franz Boese about the launch of the all new SILENT 62 3-deck.
Hot Boat Debuts And Tech At Palm Beach Boat Show 2021
Hot boats and tech at the upcoming 2021 Palm Beach International Boat Show.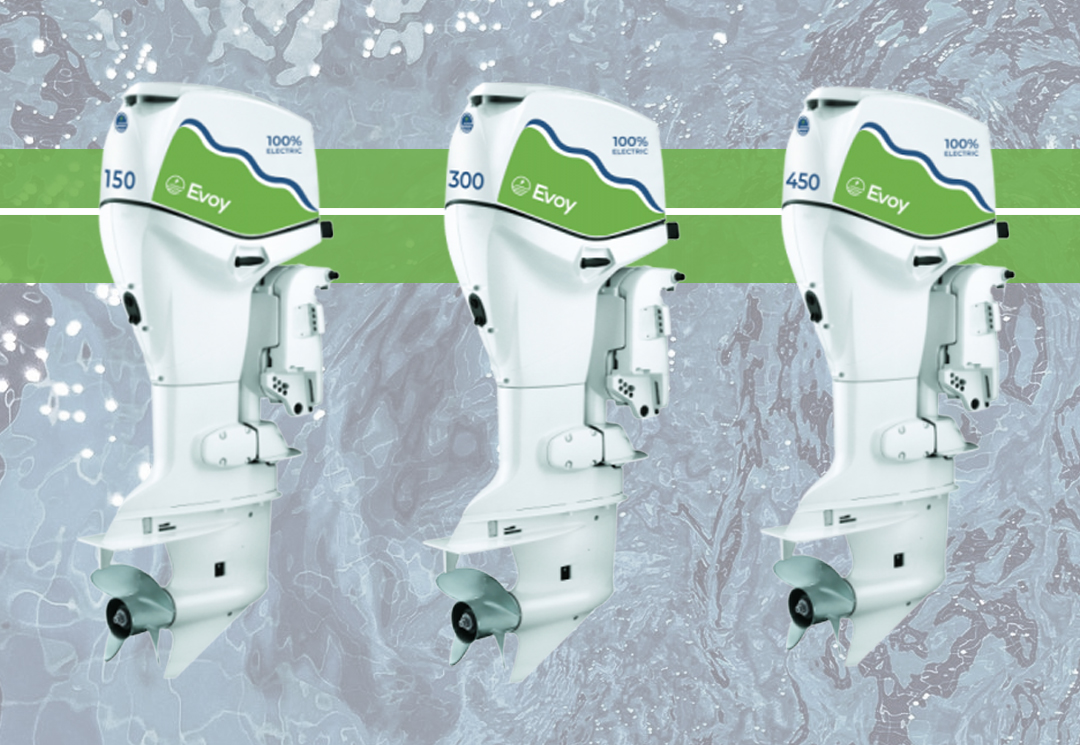 Exciting News for Electric Boats from Evoy Outboards
From batteries and controllers to electric outboards, Evoy is making waves in electric boats.