In Europe, island hopping, spending relaxing days on the water or jaunting from place to place while enjoying the sun are all common activities boat owners enjoy on Rigid Inflatable Boats (RIBS) — sometimes called Rigid Hull Inflatable Boats (RHIBS). However, boaters in the U.S. have traditionally regarded RIBS as a lowly second cousin — a utility work boat often used as a rescue or lifeboat, or to get ashore from a moored sailboat or yacht. Often they've been relegated as a boat for kids to begin learning some basic boating skills. In recent years, this perception has begun to shift, with what some are calling "the rise of RIBS".
Advantages of RIBS
Whether dropping anchor, going for a swim or docking easily at a restaurant, the stability, safety and diversity offered by an "inflatable collar" around a rigid hull seems a natural way to boat. As yacht tenders, RIBS are light and easy to load off and onto a larger yacht's swim platform or garage, and are stable enough to carry passengers and luggage to the yacht. They are ideal vessels to carry guests off on snorkeling, diving or exploring adventures.
Despite the advantages of RIBS as tenders, the rapid advancement of technology and shipbuilding has resulted in larger, more sophisticated yachts increasingly moving towards center consoles as a viable choice for tenders. Seeing that as an opportunity, many RIB builders have become cognizant of a potential growing market beyond yacht tenders into the recreational market. They see this is a chance to become the "SUV of the sea", offering a wide variety of RIBS for sale geared towards different boating styles.
Lower weight, more fuel efficiency, easier operation and most of all, stability and safety for a variety of uses, are priorities, but now aesthetic design, a wide range of colors and combination of fiberglass bottoms and Hypalon tubes creates a new generation of RIBs. These are not your daddy's dinghies!
Today's RIBS are built to be designer accessories to a yacht as well as adventure vessels. Hopping from sandbars to islands, going fishing, diving or snorkeling have become easier and more stylish. And depending on choice of outboard, diesel inboard or jet power, we can get there with friends, family or guests in record time!
Who makes the best RIBS?
There are now many boat manufacturers pushing the envelope with modern RIB construction, but here's a sampling of some top RIB brands to explore:
Zodiac Boats
This pillar of the industry bills itself as the inventor of inflatable boats, dating back to 1896 when the Zodiac French aviation company developed an inflatable boat for military transport. The three-part construction of a durable buoyant tube, separated by waterproof partitions, coupled with a spar and floor network of rot-resistant polyester, then topped by the sole and console, creates a rigid platform that maintains stability and is virtually sink proof. Zodiac's removable, foldable tubes make it easy to change, transport or repair them and tubes are made from welded Strongan durable and waterproof material, coupled with Hypalon in some models.
Zodiac celebrates 120 years of "Fun Adventure on the Water" with a model range from Pro, Open, Medline, N-ZO, Classic and Futura and plenty of Zodiac boats for sale on YachtWorld. There is a model for every need, whether a "4×4 of the sea," a fishing boat, an all-in-one versatile performance boat with gear storage, a private oasis with colors and luxury features, or a premium cabin cruiser. The Futura even offers a sporty, foldable "Cadet" version to carry in a bag while the rigid bow N-ZO has a "reverse & sun" seat that unfolds into a sun lounge, while a cabin with a berth and wet head add comfort and overnight capabilities.
The new Medline 7.5 debuted at the Miami International Boat Show and brought a combination of the leisurely, Mediterranean style, complete with sun pad and upholstered cushions in assorted colors. An optional soft top support arch resembles a wakeboard boat, giving the 24-footer with a 9' 6" beam a sporty look. The synthetic teak, self-bailing floor, aft deck lounge and dining table (convertible to a second sun pad) and choice of tube and gelcoat colors add design features. Two swim platforms, a ladder and deck shower facilitate swimming and a ski mast is available. Powered by a Yamaha 300 HP outboard, the Medline achieved nearly 60 mph speeds. Base price $87,600.
View Zodiac RIBS for sale on YachtWorld.
Zar Formenti
Recognizing the Mediterranean stature of RIBs, Piero Formenti, the founder of Zar Formenti, the Italian leader in production of rigid inflatables, started his personal brand in 1992. He brought his boats to the U.S. in 2009 to upgrade the stateside RIB market. This patented fiberglass hull is deemed a performance vessel due to its patented deep V-bottom with sharp chines and tunnels that ensure a dry, flat ride with little bow rise; its transom also extends further aft than other RIBs, providing a longer, smooth running surface to cut through rough seas. The company also uses high tenacity ORCA rubber tubing system, secured to the fiberglass hull with an overlapped, double-junction attachment.
Zar Formenti and Florida dealer, Inflatable Boat Pro, introduced the 95 SL at the 2019 Ft. Lauderdale International Boat Show, demonstrating that a 32' RIB can add luxury to performance with teak flooring, a summer kitchen, cabin, T-top with a Sureshade and leather-like upholstery. Two racing-style seats at the glass helm add a sporty feature and leisure is provided by the bow dining settee and aft deck lounge area, (both converting to a sun pad), a berth that sleeps two and a separate head and shower.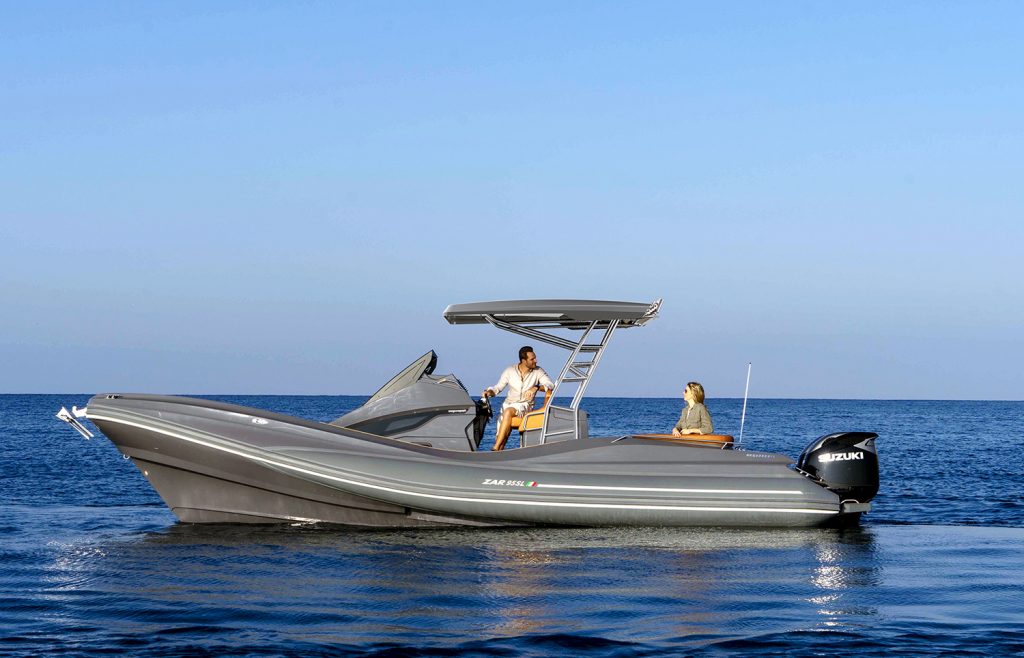 Powered by twin Suzuki 350 DuoProp motors, the boat can achieve top speeds of 69 mph and cruises comfortably at 48 mph. Specially equipped and priced at $279,000, this boat was purchased by a Miami resort to shuttle guests to dinners or pleasure day cruises.
View Zar Formenti RIBS for sale on YachtWorld.
Technohull
Another Mediterranean-based company, Technohull, recently made its U.S. debut with an Omega 45, built in Greece, where the sea-faring nation considers a fast and maneuverable boat a necessity, not a luxury. Billed as a performance boat using diesel inboards or twin or triple outboards, the company takes pride in creating a different hull for each model, ranging from 22' to a sporty 39' and a new 40' model, the Explorer. The hydrodynamic and streamlined patented DynaStream hull is foam cored, with multiaxial fibers for lightweight strength and features a wide teak gunwale over the tubes.
The company presented an interesting fabric zipped cabin in the Omega, covering an enclosed head and berth but offers a full cabin in the Explorer. The boat is striking in appearance with many models built in black with contrasting colored automotive style upholstery and luxury touches like teak flooring. The center consoles with T-tops have touchscreen electronic controls, shockproof helm seats, and considerable storage. The new Explorer with twin Mercury 450 HP engines cruises at 38 mph with a top speed of 75 mph. Base price $360,000-450,000.
View Technohull RIBS for sale on YachtWorld.
Ribcraft
A staple in U.S.A.-made RIBs, Ribcraft was initially a commercial boat, still built to exacting professional-grade standards, even for the recreational market. Its deep-V bottom has been tested in rough New England Atlantic waters as the boats are built-to-order in Marblehead, Massachusetts. Ribcrafts are configured exactly for the intended use, whether law enforcement, government, yacht clubs, as a wake boarding tow boat or for cruising and fishing. The layouts from 15'-41' are flexible for center console operation, carrying large loads or numbers of seats for group transport and Ribcraft can also provide cabins for weather protection or overnight accommodations.
The trend for Ribcraft is the larger center consoles with more creature comforts like upholstered seating and a head. The popular 9.0 model (29' 7" with 10' 3" beam), is a sturdy and stable fiberglass hull with Hypalon tubing equipped with twin Yamaha 250 or 300 engines. Base price $199,375-275,000, pending power options.
View Ribcraft RIBS for sale on YachtWorld.
Airship
Airship is also Made in the U.S.A. – a boat with racing heritage, created by three veterans of the high-performance catamaran racing circuit, Jim Dyke, Steve Neeley, and Dominic Visconsi, Jr. Having seen the use of RIBS in Europe, this team brought its own concept to the states and continues to oversee construction of Airship boats on the shores of Lake Erie—where waters can become ocean-like at any time.
The stepped hull and deck are vacuum-infused vinylester, with an exacting resin-to-glass ratio, combined with a moisture resistant foam coring for a strong, light, and more rigid structure. From 28' to 31' the platform grew to the new 34' model which combines luxury, comfort and durability in a towable tender or pleasure boat. The aft deck with a transom shower and large swim platform can be configured for diving, fishing or cruising and accommodates 12 or more comfortably on the sun pad, (which tops a huge storage area), lounges and at the electric bolster seats at the carbon fiber helm.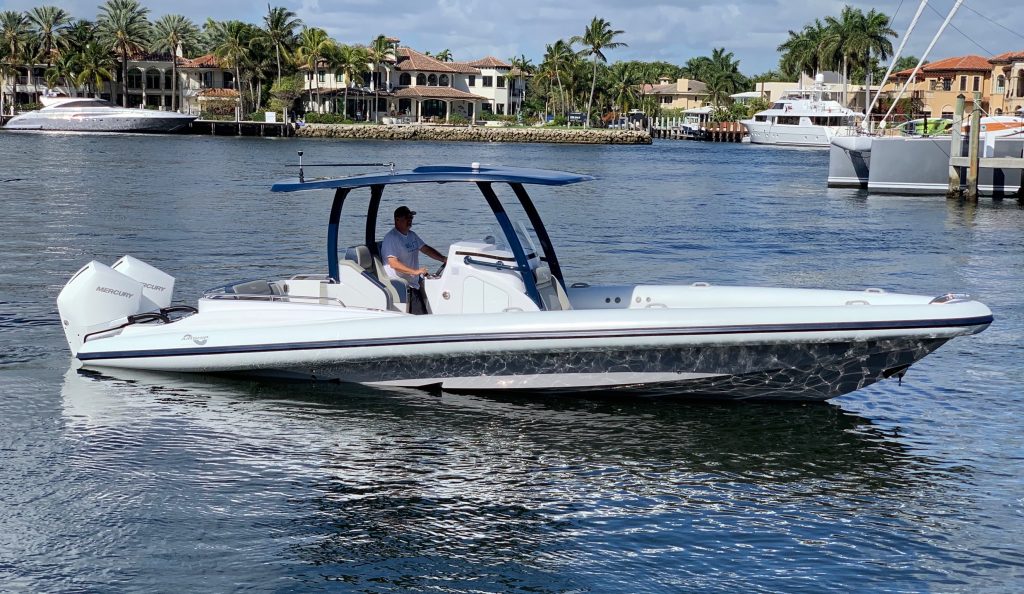 The self-draining cockpit has and optional T-top and SeaDek flooring, JL sound system, LED lighting and a Porta Potty under the center console. Hypalon tubing fabric from ORCA has an extra heavy rubber strip and six hand holds and tapers to the bow cleat and anchor locker. Twin Mercury 300 Verado engines were used for the Miami Boat Show debut model and with two 96-gallon fuel tanks, this boat has cruising capacity. Base price of $174,150 does not include choice of power.
View Airship RIBS for sale on YachtWorld.
BRIG
A leading RIB builder from Australia, BRIG bills itself as "Rigid Intelligent Boats" and is distributed in the U.S. by Boyd Tompkies of Sirocco Marine. Tompkies sees inflatables as "big, family boats," just like fishing, deck boats or bow riders—not as yacht tenders. He also owns the dealerships in Annapolis and Florida, which he calls the most underserved and largest market. His 72,000 s.f. showroom in Fort Lauderdale is the biggest of all 19 U.S. dealerships. While he sells a lot of "little" boats, Tompkies says the 20'+ market is most viable, noting the success of the new Eagle 8, selected as an award winner by Motorboat and Boot Dusseldorf, which he sees as a "small leap" from a traditional hull.
In just two weeks after the Miami Boat Show, Sirocco Marine sold eight of the 26' family cruisers with extra-wide tubes, a square bow and an extended waterline for smooth cruising at 40+ mph. Copious storage and bench seating with a table make the Eagle a fun day boat for up to 16 adults, complete with an enclosed head, swim platform, transom shower and foldable dive ladder to port of the single outboard Yamaha 300 engine. The Eagle's robust radar arch and tow bar are notable, as are the upholstered grab handles and Gussi Italian steering wheel. Base price $120-175,000.
The Eagle 10 at 32' 6" with 11' 2" beam and twin outboards was just added, with a cabin, double berth and optional kitchen to further extend the model lineup that begins with an Eagle 340 at 11'.
View BRIG RIBS for sale on YachtWorld.
Williams Tender
The jet-powered Williams Tender, took the yacht tender market by storm as its BRP-powered Sportjet model offered lightweight, low profile, easy storage options. Ranging in size from the Minijet to the Evojet, Williams Tenders are categorized by the size yacht they best suit.
The Evojet, 22' 9" with 8' 6" beam is the latest luxury model, powered by a Yanmar 4LV 250 HP diesel engine, ideal for yachts that do not want to carry gasoline; it was designed for 40+ meter yachts and carries 13 passengers. Its easy aft deck boarding swim platform with ladder, upholstered forward and aft facing seats, walkaround space, built-in cooler and storage make the Evojet practical.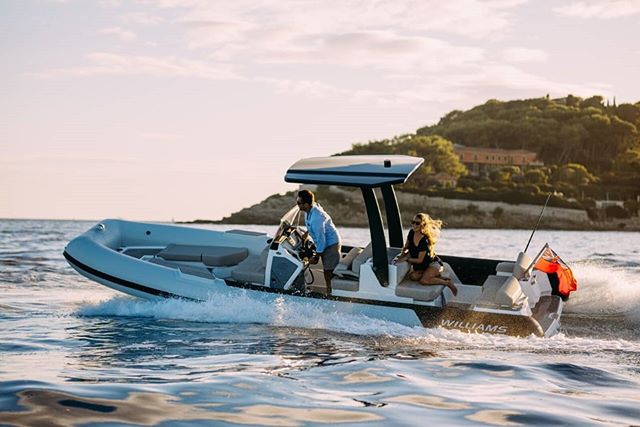 However, its sleek appearance with the fold-down carbon fiber T-top, Flexiteek flooring and recessed lighting make it a head-turner, day or night. The Evojet's Raymarine-equipped helm with acrylic windscreen adds a sporty touch, while the hand-made Inflatable tube with rubstrake and grab handles, outfitted with four lifting pad eyes, tie-downs, bow cleat and U-bolt make it crew-friendly. Base price $205,000.
View Williams Jet Tender RIBS for sale on YachtWorld.
Also worthy of note
Sealegs
An amphibious RIB with 3 hydraulic powered wheels and one or two outboard engines can handle rough seas, beaches—or hills! Built in New Zealand, the Hydrasol 9.0-meter (30', 10' 3" beam) version can house up to eight suspension seats, accommodate bench seating and hold a lot of sports gear. Launchable by one person, Sealegs is aptly named and a true adventure vehicle/vessel.
View Sealegs RIBS for sale on YachtWorld.
Argos Nautic
This sexy little yacht tender blends aesthetics, ergonomics and performance. It is built in Miami with Italian design influence and caters to the yacht owner who wants an equally attractive, luxurious and fully customizable tender. The 13' 6" RIB with a 6' 9" beam, teak deck, carbon fiber dash, leather steering wheel and Ultra upholstery can carry 5-7 passengers and travel at 40 mph with a 50 HP outboard.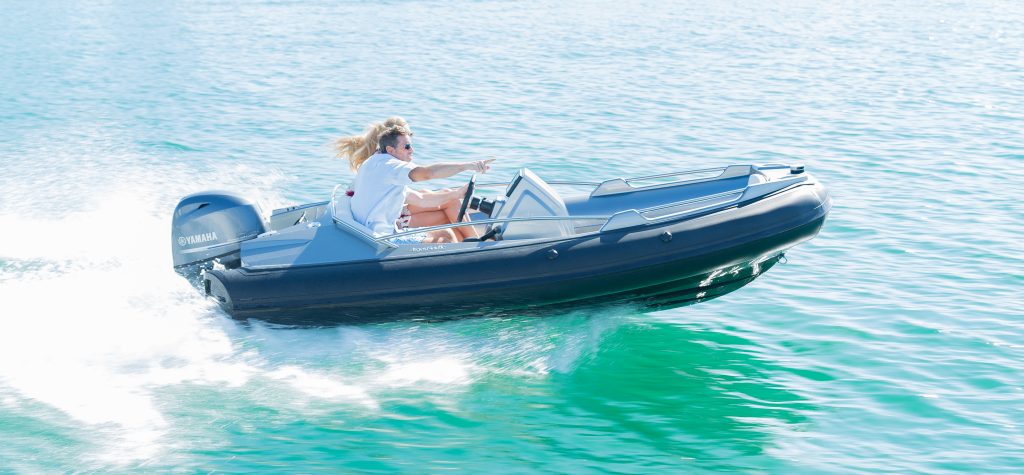 View Argos Nautic RIBS for sale on YachtWorld.
Tornado Boats International
The Coach 6M is new 20' model with an 8' beam from Tornado with an 80 HP electric Torqueedo Deep Blue 50R outboard. The polyurethane tube RIB has a steering console with a charging point for the battery system and with eight-person full load in smooth water can travel approximately 32 mph or up to 39 mph with just a driver.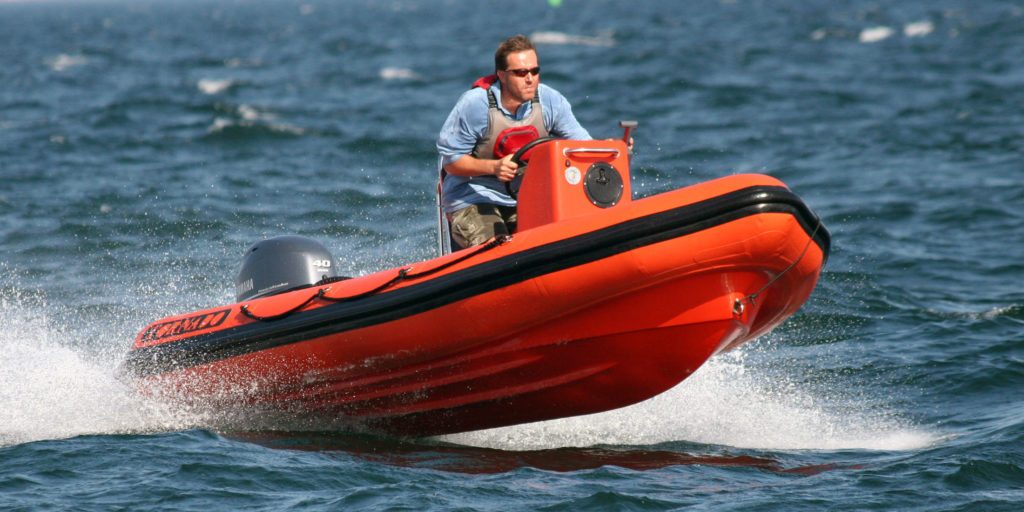 View Tornado RIBS for sale on YachtWorld.
Jetsurf USA
This eye-catching motorized surfboard has a RIB option! The inflatable rubber tube wraps around the board, creating a more stable, buoyant platform for beginners, children—or even pets. Though it is a $989 addition to the $9,900-12,900 surfboard, (also available with electric engine) it shows the diversity of inflatable RIBs in the marine industry.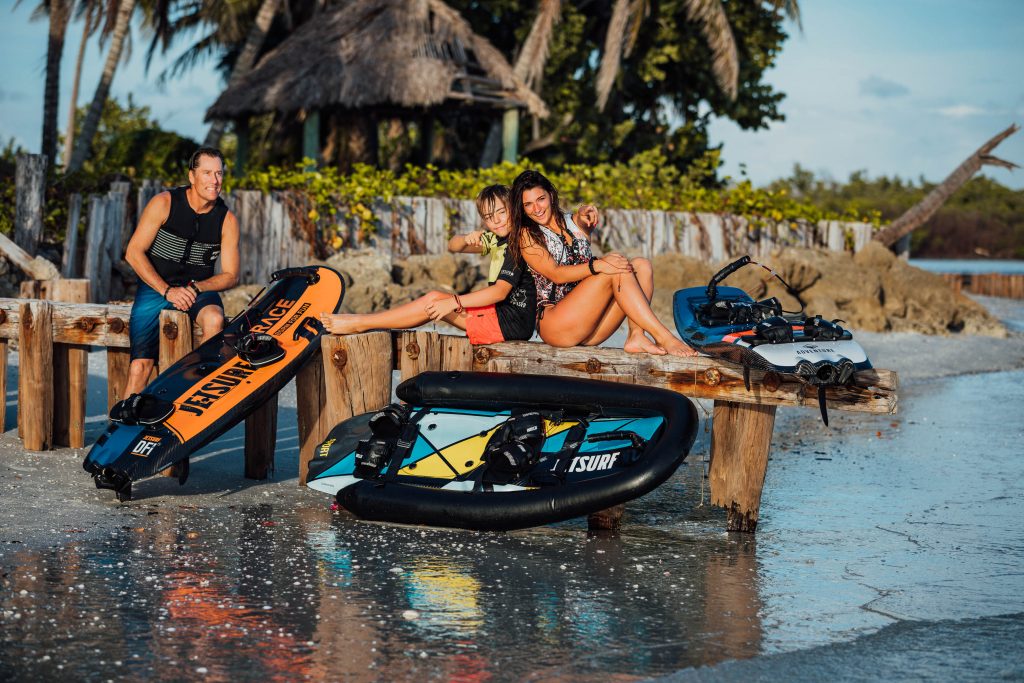 View Jetsurf RIBS for sale on YachtWorld.
Frequently Asked Questions About RIBS
What is a RIB on a boat?
The term RIB refers to the rigid hull construction molded to air tubes that are inflated to form a buoyant, resilient vessel. This makes for a stable, seaworthy and lightweight boat ideal for lifeboats, rescue boats and utility boats.
Are RIB boats safe?
Yes, RIBS are considered extremely safe due to their natural buoyancy and resilient design. In fact, they are extremely stable in rough water and designed for difficult boating conditions.
Related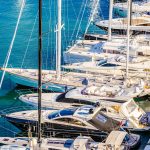 Boat Trader Research Points to Increases in Consumer Spending to Upgrade Boats
Marilyn DeMartini summarizes recent reports on the marine industry, boat prices and sales da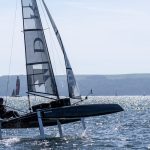 Drift Energy: Are Hydrogen-Powered Yachts In Our Future?
Drift Energy's hydrogen-powered yacht propels the marine industry into a clean-energy future.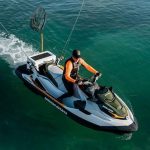 Best Yachting Toys And Boat Gear
Our ultimate roundup of the best yachting toys and gear.