A seismic shift towards remote working precipitated by the pandemic has boosted new boat sales. Boats are being converted into floating offices, offering panoramic views of a different palm-fringed island every day of the week. Swap a stationary office for a yacht deck and choose from several hotspots. The new staycation involves laptops, sunshades and toes ice-dipped into a plunge pool. WFAB.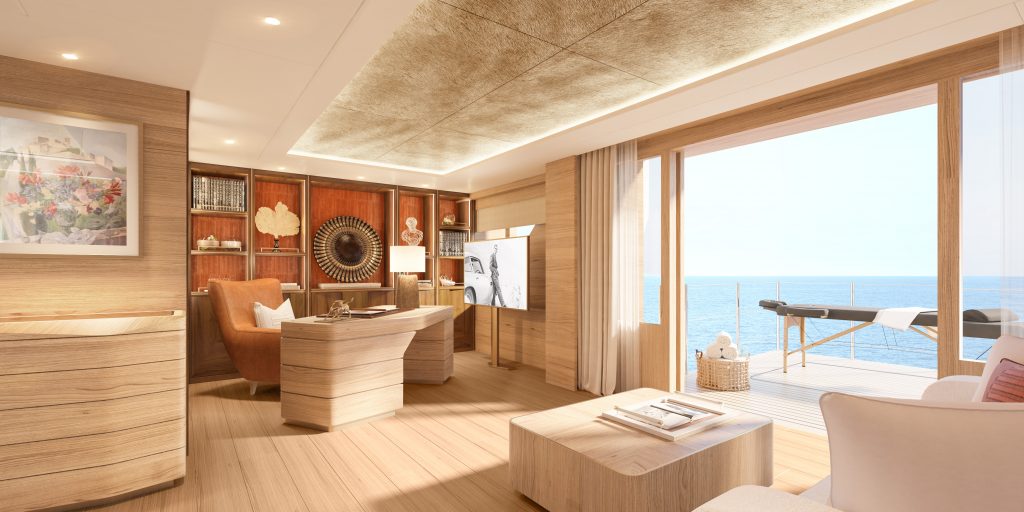 AMELS 60 Photo credit: Winch Media
In this floating office Winch Design chose geometric shapes which have been drawn and combined with organic forms and materials such as Jerusalem limestone, light bleached matte oak, light-tone walnut and bronze. With the overall feel made to be 'beachy and relaxed with a subtle masculine edge' suitable for a family. A warm colour palette was used for the yacht's smooth edges, brushed finishes and contemporary selection of furniture. 
For boat owners, WFAB (Working from a boat) or WFASY (Working from a superyacht) has displaced WFH (Working from home). People are looking to invest in new ways to escape and work for the duration of the social distancing era. Smart technologies and flexible working hours have made working from a boat more viable than ever before.
Modern cellular networks provide boat owners with the capacity to work all along most coasts and inland waterways, making working from boats a viable option. The shift to remote working is driving a record number of boat sales in 2020, despite the economic downturn caused by the pandemic. New boat sales were up 59 per cent in May compared to April, and up 19 per cent compared to May 2019, according to the NMMA (National Marine Manufacturers Association). Bigger is better is ringing true, as reports from the NMMA show that boats 33 feet in length or longer were the most popular, with sales increasing by a staggering 51 per cent in the U.S. in May.
Working from a boat can be a catalyst for productivity. The wide range of hotspots offer diverse scenery, and you can adapt your environment depending on the type of work you are doing and your mood. You can work through your inbox facing the coral-fringed sandy islands of Grenada until lunchtime, then choose to spend the second half of your day facing the horizon engulfed by the deep-blue ocean. The options of different working environments to suit your mood are infinite. You can happily enjoy a different working desk view every hour, every day of the week.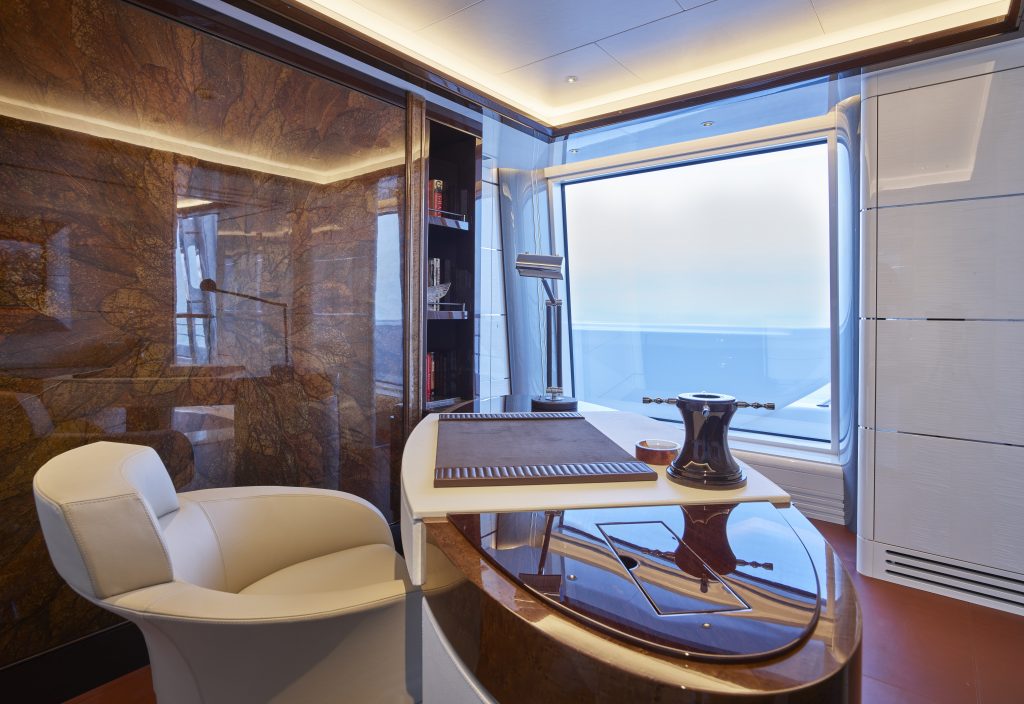 EXCELLENCE Photo credit: Winch Media
Delivered in 2019, her office interior takes cues from Floridian East Coast Deco, where the owner grew up, as well as from the details found in his impressive automotive collection. These automotive references are found throughout her interior, from the shape of furniture to the detailing on handles.
Working in confined spaces with no change of scene can cause energy and productivity levels to diminish. New boat owners have ambitions to use their new boats as a platform to incorporate family life, entertaining, work, and vacations while living a superior lifestyle. Working from a boat allows owners to fit other activities around a working schedule. For example, work until 11am, pop downstairs to the gym, jump on the ski-jet and return for lunch followed by an afternoon of work- a balance of work and play. A modern outlook rejects hard-nosed work/home boundaries.
Designing The Ultimate Floating Office
Malcolm McKeon has been a leading designer in the superyacht industry for over 30 years and won multiple international design awards. His portfolio includes more than 200 sailing and motor yachts, 50 of them in excess of 30m in length. Malcolm's inspirational conceptual work, space planning, exterior styling and construction. MMYD (Malcome McKeon Yacht Design) comments on his projections on yacht design ensuing a shift towards remote work:
"With new technology, faster communications and recent changes in the way that we conduct meetings virtually due to the pandemic, we foresee an increase in the demand for dedicated offshore offices onboard yachts."
When you are working from your boat on a sunny afternoon, the glare can be blinding (as far as problems go, this is not a bad one to have). Wearing a pair of polarized mineral-flash Ray-Ban's will help temper the light. Be certain to invest in a glare screen for your laptop too.
Stay Secure at Sea
A strong and secure Wi-Fi connectivity is essential for yacht owners who want to be omnipresent. Cyber-attacks on the maritime industry's operational technology (OT) systems have increased over the last three years. Yachts are an easy target because cyber security is often an after-thought. Boats regularly tether onto the marina's public WiFi, which are inherently not as secure as private networks. Hot-spotting or 'yacht spotting' is a riskier option and should be avoided from a security standpoint. From a regulatory standpoint, a VPN (Virtual private network) is not required but should be used without exception, according to Keith Campbell, a Senior Information Security Analyst. If you are looking for ultimate connectivity in the remote or hard to reach areas such as the depths of the Indian ocean or the glacier arctic seas, there is only one option, a communications satellite. An unlimited-cost budget contract and tracking antenna dish will provide you with megabits of bandwidth.
Patching operating systems, Zero-Trust technology, data encryption and a robust firewall should all be used without exception, according to Keith Campbell, a Senior Information Security Analyst. Cybersecurity also encompasses physical security measures. A weakness in physical security could cause access to workstation and server consoles, network ports and USB ports. Once this is attained you are 'owned'.
All it takes is one guest member to post pictures of a party posing in a glass-bottom pool on Facebook to provide hackers with all the data they need to hold you ransom. Everybody on the yacht should undertake cybersecurity awareness training. Many attacks begin via specially crafted emails (Phishing emails) to entice users to click on malicious links, divulge login credentials or download malicious files.
Adopting a floating office can take you to the most unexpected places. For enhanced creativity, reduced levels of stress levels, and unforgettable memories, WFAB is the way forward.
Related
Legends Episode 3: Here Comes The Sun Superyacht
Here Comes The Sun Superyacht by Amels Holland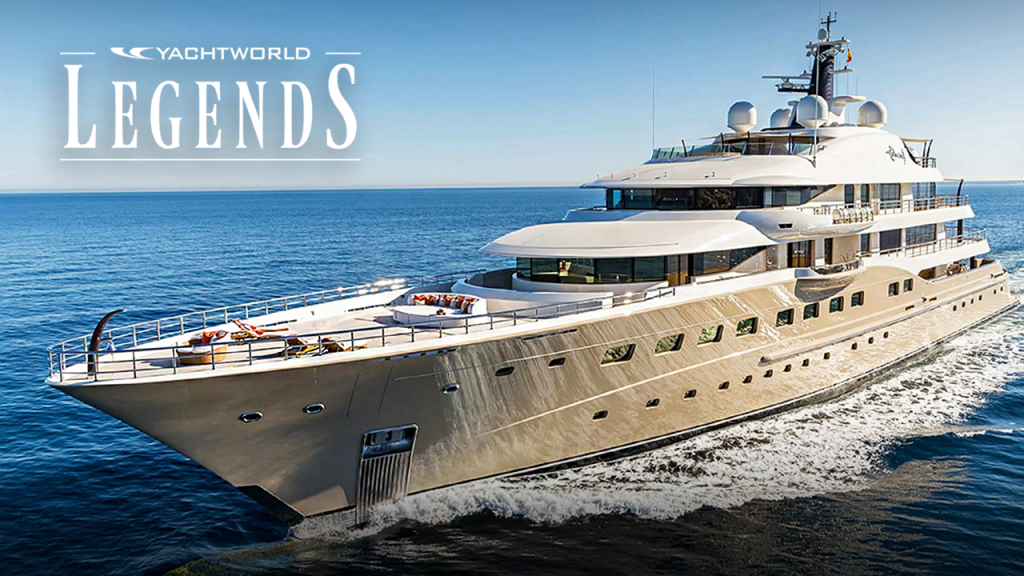 />
New Thrilling Video Series: YachtWorld Legends
Extraordinary yachts that provoke excitement, curiosity and fascination
Amels Sells First 188 Limited Editions Superyacht
Amels has completed the first sale of their 188 Limited Editions design, which includes the builders'...