The Outback 50 is a brainchild of Michael Peters and Andrew Cilla. Combined, they have over a century of yacht design and boating experience and are hailed as 'the brain trust' of the marine industry.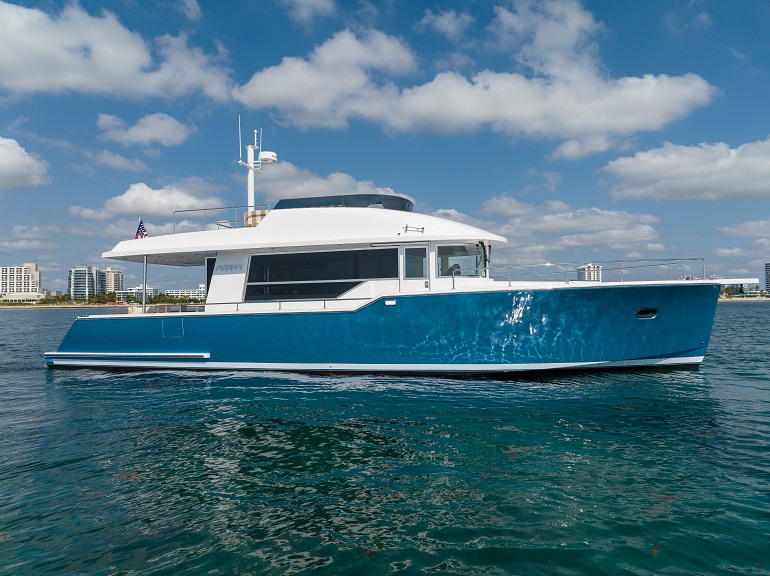 Above: The Outback 50 has a range of 1,200 miles, enabling the owners to go anywhere in the world.
The Outback 50: Born Through Friendship
Imagine cherry-picking a team of the world's most experienced, respected and seasoned yacht designers to design your own personal yacht. That is precisely what Andrew Cilla did over fifteen years ago when he commissioned world-famous boat designer Michael Peters to design his boat. The two friends have known each other for decades. Peters and Cilla were having lunch and delved into a conversation about designing, developing, designing and building a motor yacht that addressed all of the items and components essential to create a boat that they would enjoy owning and cruising on board. In the background, Cilla had been working on his yacht creation. Incidentally, Michael Peters was also penning the beginnings of a similar 50-foot model for his own retirement at that time. Cilla and Peters designed an entirely new yacht that would eventually be built and used for Andrew Cilla's vessel to use the prototype for Michael Peters retirement vessel.
The first attempt of designing the yacht was not popular. Peters comments, "I tried to draw what they were looking for, and to be frank, none of us liked it. It was a hideous looking thing. I didn't like it. They didn't like it. It was cobbling everybody's ideas together. A friend of one of theirs said, "You know, you really should let Michael just do what he would do if it was his own boat."
The Godfather Of Outback 50: Understanding Its Lineage
Above: Outback 50 descends from Sarrisa, designed in 1987, Michael Peters first custom-built design project. Image credit: Michael Peters.
Peters retraced his design archive and dusted the cobwebs off Sarissa, a custom-built trawler he worked on back in 1987 for his fathers friend and drew inspiration from the concept he describes at the "Godfather" of Outback. Sarissa was an 48-foot ultralight displacement boat designed for a sailor. He drew heavily on its long, narrow, lightweight structure to create something that is very easy to push and runs efficiently at all speeds. The Outback is not near as extreme as Sarissa, and not as narrow. The final design ended up being a blend of Sarissa, combined with what Peters wanted to achieve for his own boat.
"I focused on what I would want that was efficient and practical, and wouldn't embarrass me. I was much more exposed because I was putting a boat out there that is a statement about me personally. Designing a boat is a dangerous thing for designers to do because sometimes, they are not necessarily commercially-oriented," says Peters.
The owner of Sarissa didn't care for modern conveniences, and didn't even have a hot water tank on the boat. Peters comments, "If you knew the owner, you'd understand that is just the way he was. He didn't have to be on the boat." He also happened to be one of the best sailors in the United States at the time. In Peters redesign he made the vessel bigger to cater for his desire to extend the deck, and he also made it more civilized."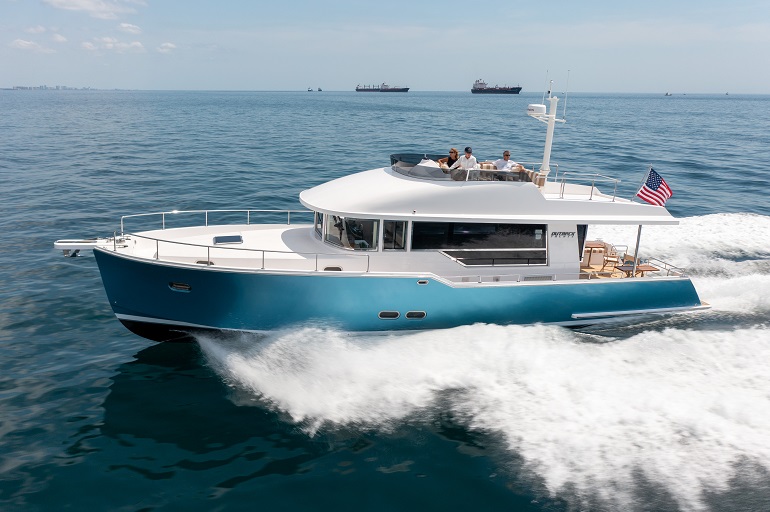 Above: Hull #4 Outback 50 is for sale for $1,681,565 on YachtWorld's marketplace. Its long, slender lightweight hull optimized for mileage and fuel efficiency for long-distance cruising. Image credit: Outback 50.
The research and development process took over ten years. "We penned several iterations and spoke to a lot of smart people, including marine and systems engineers, marine surveyors, boat captains, and boat builders," In 2019, the prototype for Cilla's yacht, the Outback 50, had undergone construction and was ready for its maiden voyage. "I kept the boat for nearly two and a half years and covered over 7000 miles. The boat has been north to New England and south to the keys each year. We did that trip three times which really helped us to fine-tune the concept." says Cilla.
For decades Cilla and Peters had been close friends with John Olson from Olson Yacht Group, now president of Offshore Yachts. In a chance meeting in Cilla's office in Fort Lauderdale, Olson was waiting for Cilla in his office when he spotted a scale model of the Outback 50 and was struck by what he saw. "I asked Andrew the story behind the boat, and I just thought it was the coolest thing. I could picture myself and my family using it," says Olson. Peters and Cilla were looking for a boat yard to construct their yacht, and it was a natural step for Offshore Yachts to build their Outback yachts.
Fast forward a few years, and the ownership of the Outback Yachts has transferred to John, and the 'brain trust' consisting of Cilla and Peters has stepped down from their ownership position. However, they remain very much involved in the business. They are not interested in mass-producing yachts, churning them out in high volumes. Outback was born from a passion for building high-quality boats and an uncompromising approach to constructing anything other than perfection.
A Motor Boat For Pragmatic Sailors
The Outback 50 is designed for yachtsmen with an appreciation for ocean travel as it has long-distance cruising attributes and is particularly suitable for somebody who has time to travel and utilize its ocean-going capabilities. It's no wonder that Outback has attracted a sophisticated owner list, including two world-renowned sailors.
Outback owners are all one creature, they all come from a serious sailing background and have been cruising sailboats their whole lives and, like ancient trees, have rich wisdom of the water to impart on their boat-buying decision making process. "This boat speaks to them. Because it's practical." says Peters. It appeals to somebody who can appreciate the simplicity of it, and somebody who has the imagination to see how flexible it is. A boat defined by its simplicity has its challenges as a sales pitch.
Boat buyers, particularly first time boat buyers, envision using a boat differently than its actual use, and therefore tend to build way too much into a boat. "Instead of seeing the possibilities, they see it as empty. I think it's really important, not having the money to go rushing into buying an abundance of luxury amenities that you probably will not use or need. Sometimes not having the financial means actually causes you to live these experiences that understand what you need first. The less you do with a boat now, the more opportunities now to fill in the gaps later." says Peters. "First time boaters, which make up a significant proportion of boat sales, tend to want all these features built in, instead of having just a big open platform which you can do anything you want with."
Outback's exceptional performance and simple layout, makes this boat appeal to sailors and well-seasoned boaters.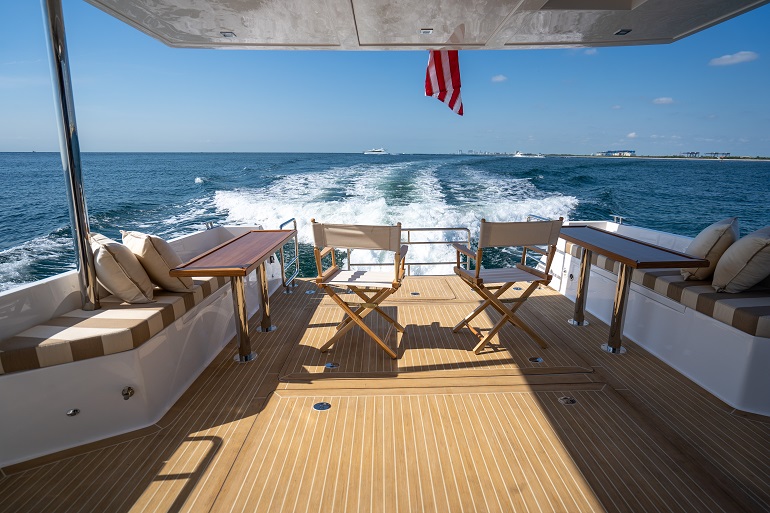 Above: The spacious infinity deck on the Outback 50. Image credit: Outback Yachts.
Recreating The Perfect 50-foot Yacht
The name says it all. Outback was explicitly designed for having fun "out back". The layout was the product of a common frustration that Peters and Andrew had: the aft deck, where families spend most of their time socializing, was not being utilized and was underserved.
The concept of the 50 Outback is based on three basic principles: efficiency, simplicity, and performance. It's long, lithe, and lightweight, typically uncharacteristic of a motor yacht.
The Outback remains relatively flat as speed increases and the transition from displacement into planing mode is seamless and does so within seconds. Visibility over the bow is not compromised. Her speed performance sets her apart from traditional long-distance motor boats. Traveling at 14-20 knots, you could easily cover a few hundred miles, which is twice the speed of a typical cruising trawler. And if you're only concerned with distance and travel at respectable 8 knots, you can stretch the range up to 1,200 miles. Her 550-gallon fuel capacity is designed for long distances too.
The Outback 50 also features a shoal draft enabling owners to access areas that other conventional 50-foot boats simply cannot reach, making it an ideal vessel for exploring tropical waters. Her hull is relatively narrow, and the expansive deck space enables guests to enjoy outdoor living by the water. Abaft is a modular infinity deck with a vast al fresco dining area to seat eight. An open transom enables 360 'goldfish bowl' views through the wide open aft doors and throughout the salon and galley. There is plenty of room on the aft deck for dive equipment, water toys, and SUPs. Dismountable stainless rails protect the step-down swim platform, and a foldable teak ladder leads up to the flybridge. The Outback's diesel engines are direct drive, further optimizing space on the aft. Other advantages to the direct drive advantages include quieting the engine noise, with reduced odors and vibration on board. The movable teak furniture makes the space flexible, and guests can adapt the deck to suit their family's needs.
While you might expect that the Outback is exactly fifty feet, in reality, it's 56 feet long, and the 'piece-de-resistance', the aft deck, occupies 185" sq. ft alone. There are two staterooms, but the layout can be customized to suit the owner's wishes. The latest Outback 50 released was built with three staterooms and two heads.
Aside from the aft deck, there is another social area on the flybridge, which features an upper helm station, providing an additional space to sit and relax and offering panoramic views.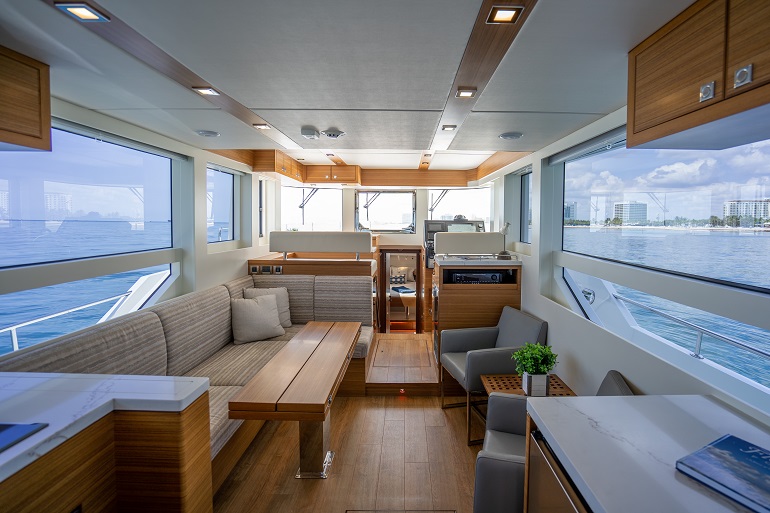 Above: Outback Yacht salon clad in teak with 360 degree views. Image credit: Outback Yachts.
Browse new and used Outback 50 boats for sale on YachtWorld.
Specification
LOA: 56 ft. 3 inches
Beam: 15 ft. 6 inches
Draft: 3 ft.
Displacement: 40,000 lbs. (half-load)
Fuel: 550 gallons
Engines (standard): 2 x 320-hp Volvo D4
Engines (optional): 2 x 425-hp Cummins QSB 6.7
Are you in the market for a trawler yacht? Read our Five Best Trawler Yachts For 2022 ,
Related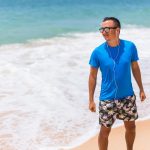 The Best Boating Podcasts: 17 Top Picks
When it's too cold to get out on the water, sometimes listening to podcasts is the next best thing.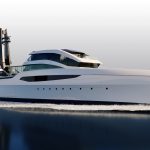 The Superyacht Explorer With A Glass Midriff: Feadship's 87m EXPV
The 285" foot Feadship EXPV concept by Harrison Eidsgaard: an unconventional explorer yacht.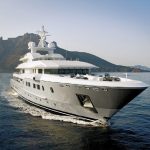 Legends Episode 5: Superyacht Kogo
Join hosts Ryan McViinney and Emma Coady as they tour around Kogo.