So you want to be a millionaire? To make this list, try Billionaire, with a capital "B". And remember, the operating cost of vessels this size is generally considered to be 20 percent of the purchase price, annually. So don't be fooled if you think that some of these superyachts are more affordable than you initially thought (which of course, let's face it, they aren't).
While there are many proposed custom builds available for order on the market, for the purposes of this list, we are going to take a look at actual vessels that are already built and available for purchase today on YachtWorld (last updated November 7, 2022). Oh, and by the way, you can browse, save and share a whole slew of superyachts for sale over 130 feet (which is generally considered the agreed upon, current definition of a superyacht)  right now on YachtWorld. And if you're really in the market for one of these amazing machines, you can use our Search Alerts tool to stay on top of the fast-moving luxury market.
Current Top 6 Yachts For Sale By Price Globally:
Honorable Mentions – Recent Listings:
1 – KISMET by Lürssen: $201,143,800 USD
NOV 2022 Update: Price Drop To 169,015,380!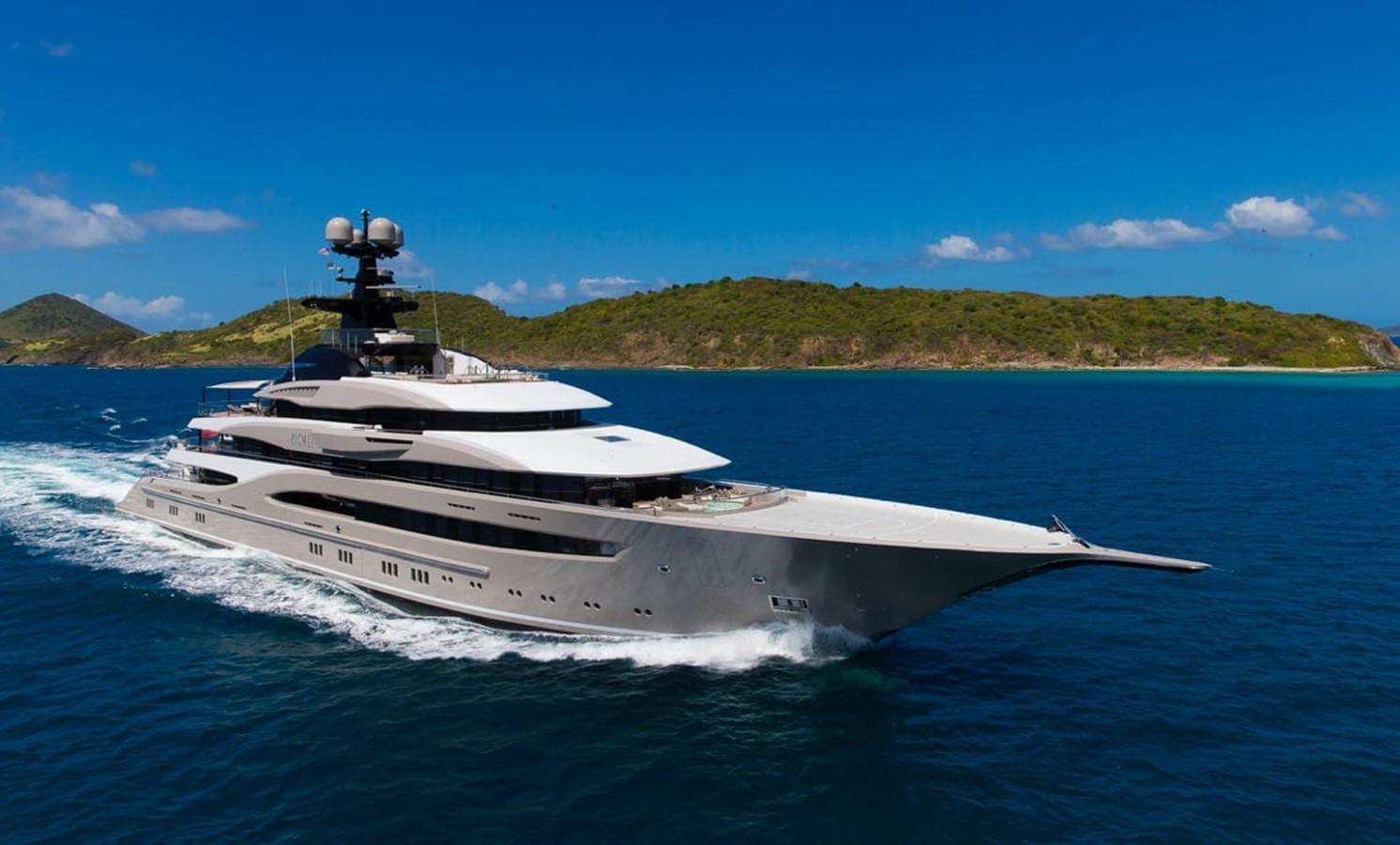 Above: The KISMET Superyacht by Lürssen. Photo by Moran Yacht and Ship.
What's better than having 100 million dollars to spend on your dream megayacht? Having 200 million of course! At just shy of the $200M mark (with a recent drop in price in 2022, noted above) KISMET still tops our list as the most expensive yacht in the world for sale on YachtWorld currently. This award-winning superyacht features a gorgeous exterior design by Espen Espen Oeino and a decadent interior by the world-renowned Reymond Langton Design.
Built under the supervision of the Moran yacht construction team, the 312-foot KISMET yacht was delivered by luxury yacht builders Lürssen in 2014. Currently for sale with Moran Yacht and Ship, she can accommodate 16 guests in 8 opulent staterooms, with the master stateroom featuring a private deck complete with a Jacuzzi and access to the yacht's helipad. If luxury is your thing, check out her other features including a spacious sundeck complete with a swimming pool, full-service spa, and a one-of-a-kind retractable outdoor fireplace. A highly successful charter yacht, KISMET represents the highest quality superyacht available for sale in the world today.
View the KISMET superyacht for sale on YachtWorld now.
Specifications:
Length (LOA): 312 ft. 3 in.
Waterline Length: (LWL): 247 ft. 8 in.
Beam: 45 ft. 3 in.
Maximum Draft: 12 ft. 3 in.
Hull Material: Steel
Total Power: 5,364 HP
Cruising Speed: 12 knots
Maximum Speed: 17 knots
Fresh Water Tanks: (39500 Liters)
Fuel Tanks: (183800 Liters)
Number of twin berths: 1
Number of double berths: 7
Number of heads: 30
2 – VICTORIOUS by AKYACHT: $109,873,975 USD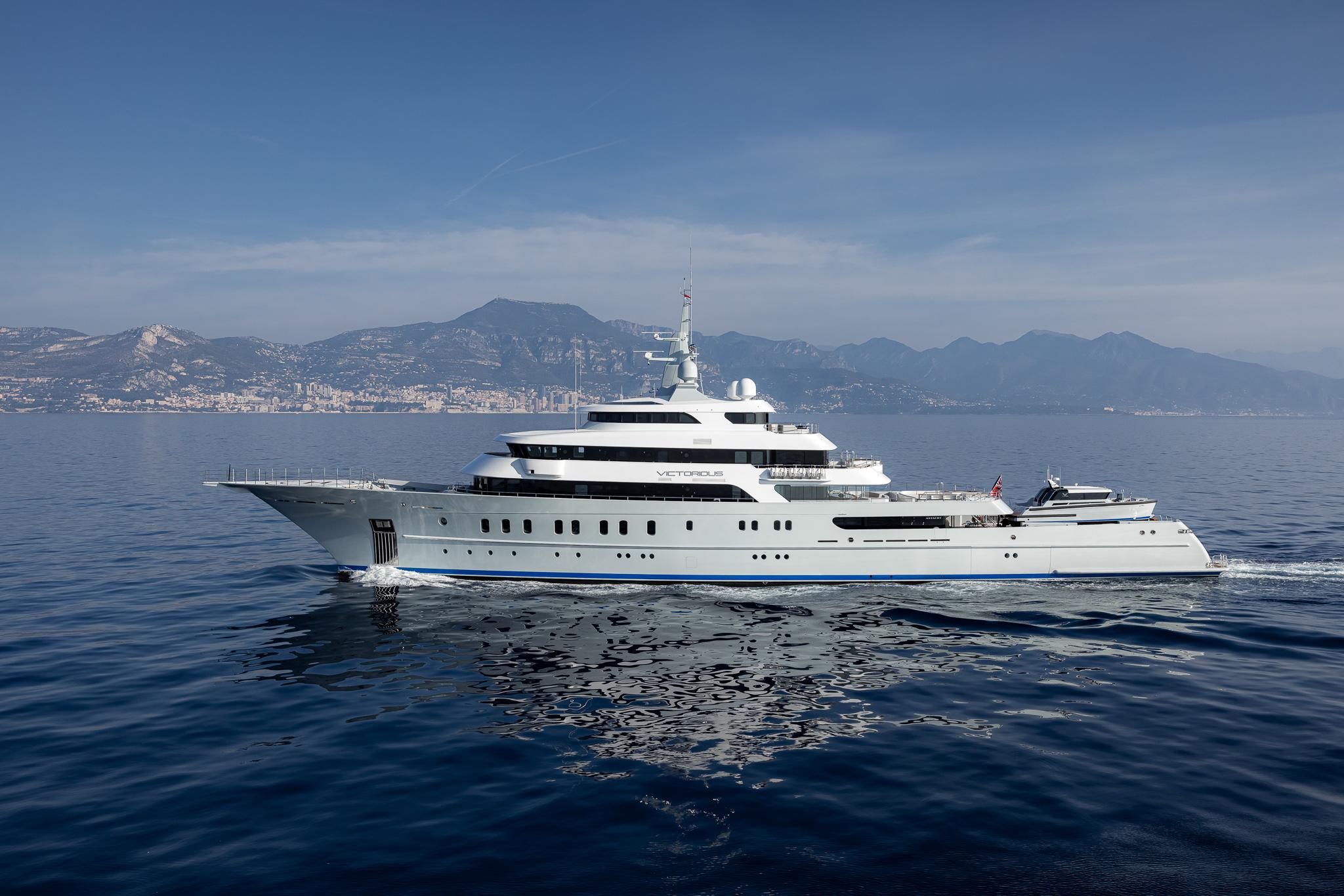 Above: The superyacht VICTORIOUS listed for sale on YachtWorld, currently one of the world's most expensive yachts. Photo via Fraser Yachts in Monaco.
Second on our current list of the world's most expensive yachts is the impressive superyacht VICTORIOUS built by Turkish shipyard AKYACHT. This award-winning 279-foot explorer yacht was originally delivered in 2021 and packed with exceptional features. Built to Lloyd's classification and MCA LY2 compliance in collaboration with Michael Leach Design and H2 Yacht Design, she features a 2,153 square-foot beach club, wellness center with a pool, two lounge and bar areas, sea terraces, gym, massage, and treatment rooms, hammam and of course, a beauty salon. VICTORIOUS also boasts a children's playroom, cinema, and considerable storage space for tenders. The boat is capable of traveling the world in comfort and style with zero speed stabilizers to ensure comfort onboard.
This amazing vessel is powered by twin 1,475-horsepower Caterpillar diesel engines, giving her a top speed of between 17-18 knots and a cruising speed of 13 knots. She has a whopping range of 14,000 nautical miles, meaning she is built to traverse the planet and circumnavigate oceans with comfort and ease. Offered by Fraser Yachts in Monaco.
Specifications:
Length Overall: 278.87 ft.
Max Draft 14.44 ft.
Beam: 46.59 ft.
Length at Waterline: 236.22 ft.
Fresh Water Capacity: 33,655.54 gallons
Fuel Capacity: 69,847.12 gallons
Cruising Speed: 13.8 knots
Max Speed: 17 knots
Range: 14,000 nautical miles
View the VICTORIOUS superyacht for sale on YachtWorld right now
3 – DRIZZLE by Feadship: $76,006,917 USD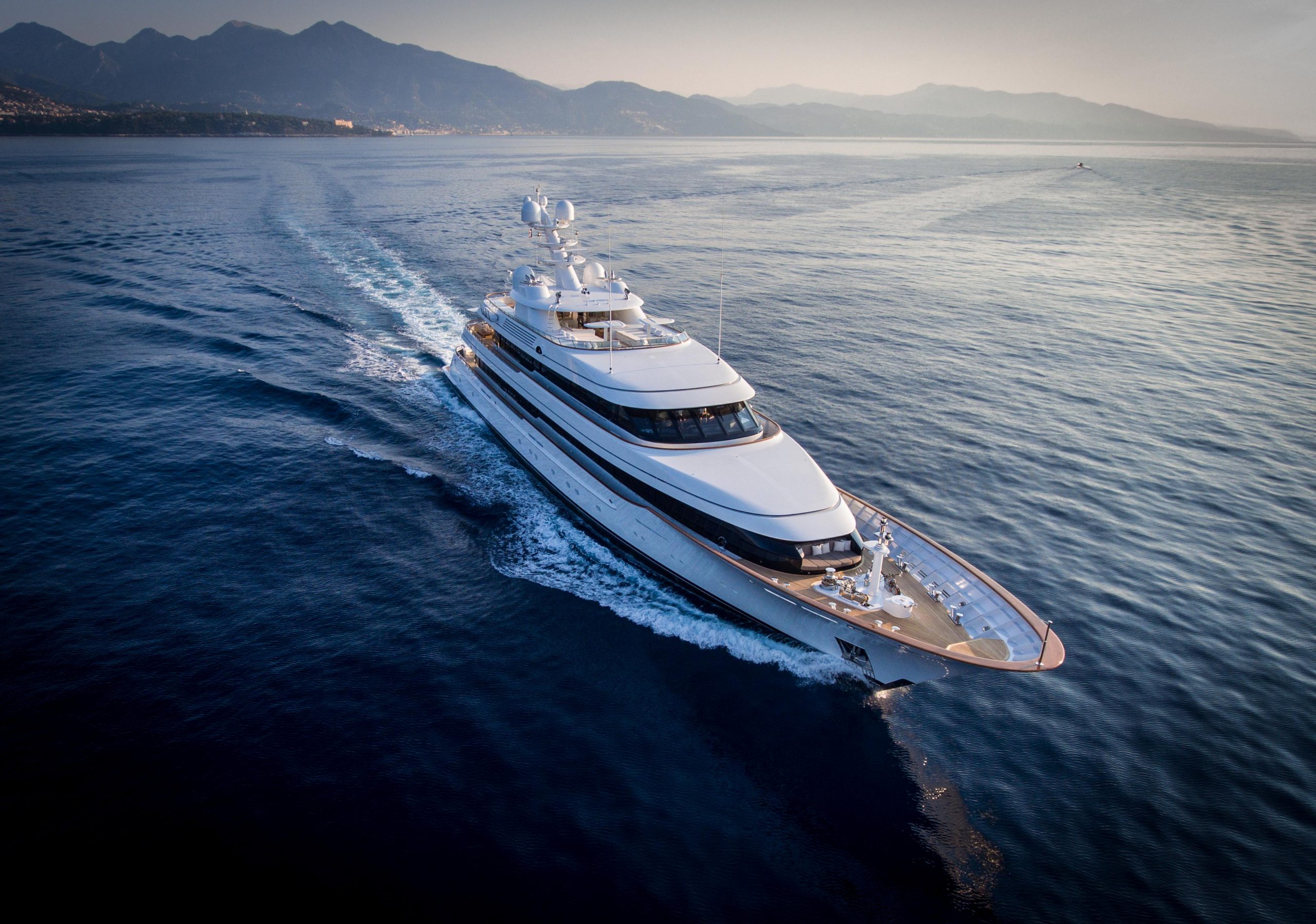 Above: Superyacht DRIZZLE by Feadship, listed for sale on YachtWorld. Photo via Hamilton Marine International.
You may notice a price jump below 100 million from second place to third place on our current list – but don't be fooled into thinking this boat is anything but spectacular! The breathtaking 225-foot superyacht DRIZZLE was commissioned by experienced yacht owners who had enjoyed many good times on board their previous De Vries (the model designation) by Feadship and decided to create a bespoke version of their own. She is meticulously maintained and kept up to date by a top crew, has a comprehensive service history, presents extremely well and is now available for sale for the first time.
DRIZZLE has a timeless low profile which is a modern take on a classic De Voogt Naval Architects' design, enhancing her contemporary feel. She has a comfortable and warm Redman Whitely Dixon interior that feels like a home away from home. She has completed her 10 year Lloyds special survey and is ready for a new home. Offered by Jonathan H. Syrett at Hamilton Marine International.
Specifications:
Length Overall: 225.62 ft.
Max Draft: 11.98 ft.
Beam: 36.75 ft.
Length at Waterline: 196.85 ft.
Cruising Speed: 13.5 knots
Max Speed: 16.5 knots
Range: 4,500 nautical miles
Cabins: 7
Heads: 7
View the superyacht DRIZZLE for sale today on YachtWorld
4 – Superyacht LAUREL by Delta Marine: $69,500,000 USD
Above: Superyacht LAUREL by Delta Marine. Photo via IYC.
The 204-foot superyacht LAUREL is a top pedigree vessel from Delta Marine, that represents a true world ocean cruiser with 7 staterooms and 12 heads and a 7,000 mile range. She has a steel hull with a fiberglass superstructure and comes with a touch-and-go helipad and some amazing onboard amenities.
The on-deck master suite has its own private balconies (yes plural) and even includes a private office. She has stunning deck space with amazing vistas and 6 lavish staterooms including 4 king en suites, 1 queen en suite – plus a bonus 7th stateroom that can double as a massage/spa room if the owner chooses.
Other notable features on this iconic yacht include an elevator (serving all 5 of the boat's decks), wheelchair access, jacuzzi on the sundeck, private gym and a luxurious beach club. The boat is powered by twin 3516B HD Caterpillar engines making 2,500 horsepower. Offered by Mark Elliott at International Yacht Corporation (IYC).
Specifications:
Length Overall: 240 ft.
Max Draft: 12 ft.
Beam: 40.17 ft.
Fresh Water Capacity: 11,000 gallons
Fuel Capacity: 45,783 gallons
Cruising Speed: 13 knots
Max Speed: 18.2 knots
Range: 7,000 nm
Cabins: 7
Heads: 12
View the superyacht LAUREL for sale on YachtWorld today.
5 – ATOMIC by VSY Yachts: $63,000,000 USD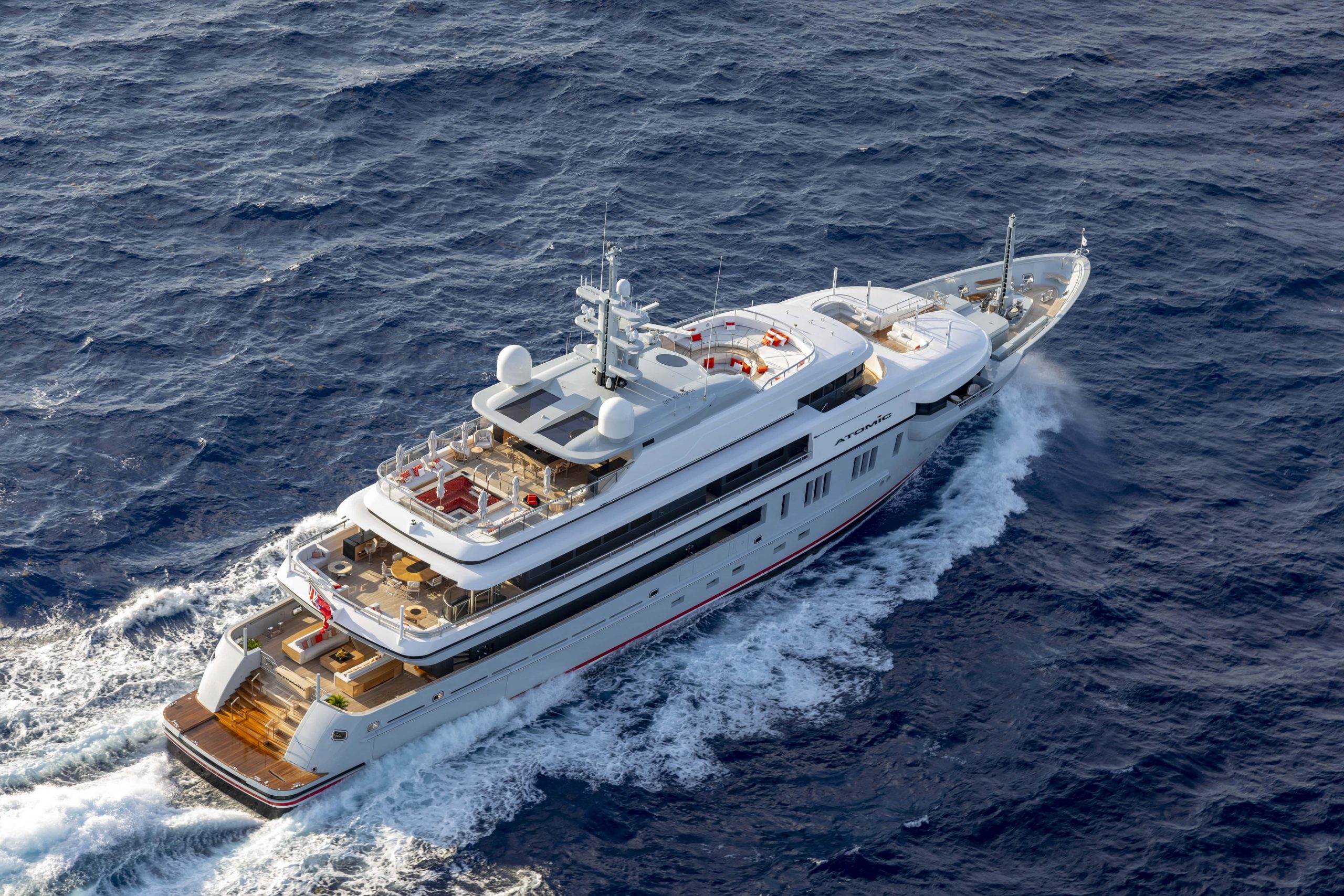 Above: The superyacht ATOMIC by VSY Custom Yachts. Photo via International Yacht Corporation.
The astonishing 209-foot superyacht ATOMIC is a yacht owner's dream, with a lavish beach club and dive center plus a full-beam master stateroom featuring private balconies. Built by VSY yachts, an Italian superyacht builder that operates in Viareggio, in the very heart of Tuscany, she features state-of-the-art engineering and technology. VSY has a reputation for imbuing the beauty of Italian craftsmanship and design into all of their vessels, and ATOMIC is no exception. Her custom design offers a reflection of the owner's cultural background and the technological expertise of the builder.
Recently reduced by $5 million, this extravagant, expensive vessel has a remarkable glass elevator that provides passengers a stunning bird's eye view from within, and can accommodate up to 12 guests in absolute luxury. Other notable features on the boat include a gas fire pit on the sundeck (imagine star-gazing by a fire pit from the comfort of your own boat), a remarkable spa pool on the aft sun deck, high ceilings, exquisite millwork and state-of-the-art technology (including dynamic positioning, zero speed stabilizers and more). The boat is powered by twin 3561 Caterpillars with 2,680 horsepower apiece, both of which are still under warranty and have under 2,000 hours on them.
Specifications:
Length Overall: 209 ft.
Max Draft: 10.25 ft.
Beam: 38 ft.
Cruising Speed: 12 knots
Max Speed: 17 knots
Range: 5,200 nautical miles
Cabins: 6
Heads: 8
View the superyacht ATOMIC for sale on YachtWorld right now.
6 – ICON by Icon Yachts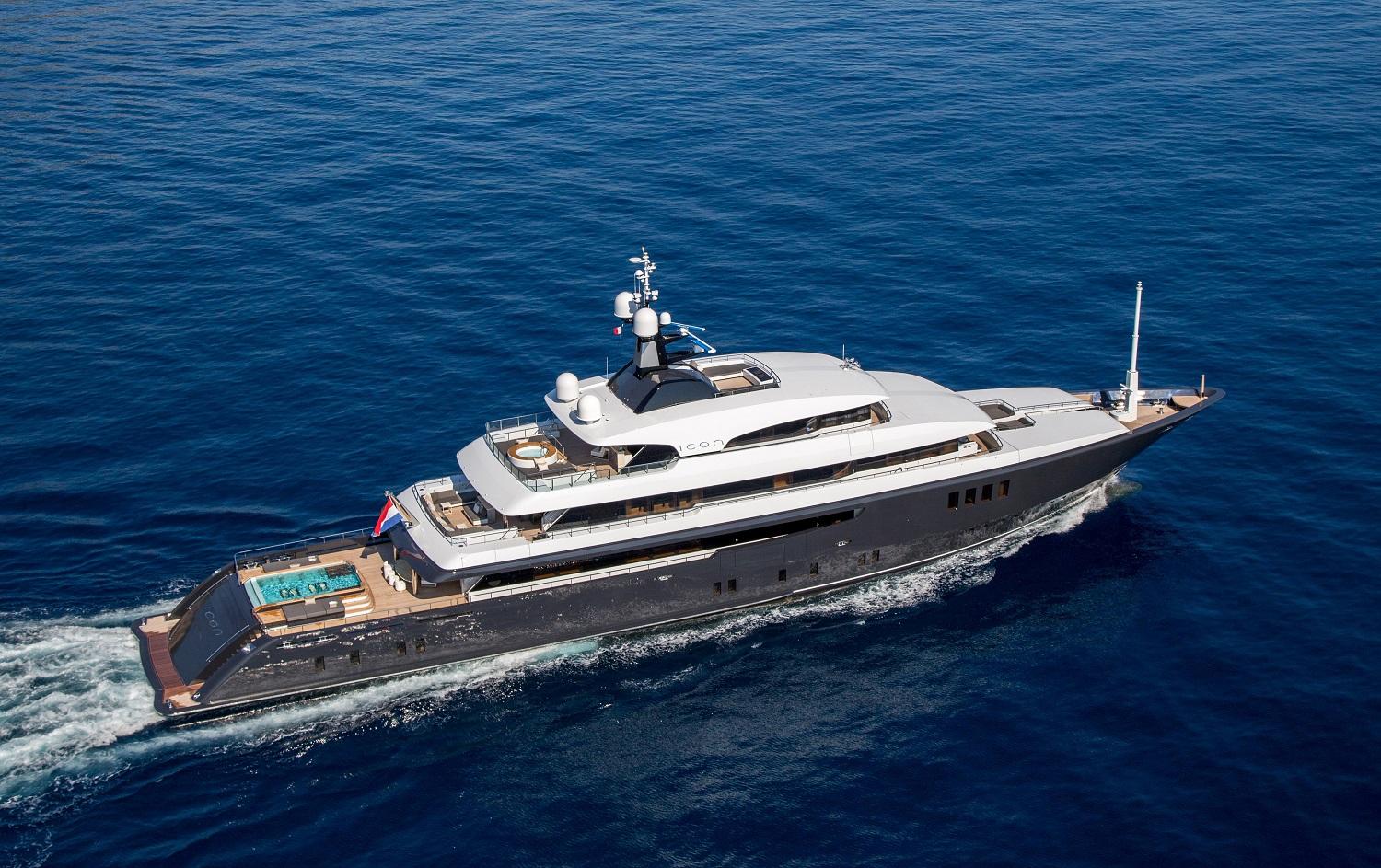 Above: Superyacht ICON by Icon Yachts. Photo via Fraser Yachts.
Designed by Redman Whiteley Dixon (RWD) to blend performance with comfort and luxury, the 216-foot megayacht ICON is a pioneering benchmark in superyacht design. She boasts a spectacular main deck pool, and an exceptional beach club, great gym, massage room and sauna, all opening aft to the sea. Her Studio Linse interior and her contemporary and elegant furnishings provide a peaceful and inviting environment for relaxed ocean living in a generous seven stateroom layout with exceptional salon and outside deck spaces. As well as offering luxurious interior spaces, ICON is properly built for extensive world cruising and has a 6,000-nautical-mile cruising range. Offered for sale by Fraser Yachts in Fort Lauderdale, Florida.
Specifications:
Length Overall: 215.55 ft.
Max Draft: 12.47 ft.
Beam: 37.4 ft.
Length at Waterline: 168.64 ft.
Fresh Water Capacity: 7,660.99 gallons
Fuel Capacity: 42,267.55 gallons
Holding Tank: 11,729.24 gallons
Max Speed: 16 knots
Cruising Speed: 12.5 knots
Range: 6000 nautical miles
View superyacht ICON for sale on YachtWorld today.
Recently Listed – Honorable Mentions
Think you have found more expensive yachts for sale than those mentioned above on this list? Keep in mind, these are the most expensive yachts actively listed on YachtWorld today, which represents the largest database of yachts for sale in the world. There may indeed be more expensive vessels for sale on the planet, after all, even is something isn't listed for sale, an owner may consider an offer too good to refuse. However, these vessels are all currently constructed and active listings, as of November 2022.
That said, it is worth mentioning that there are a few notable vessels not on this list, that were recently available and made our previous most expensive list in 2021. Some of them may or may not still be on the market for the right price, and the right buyer. Let's take a look at some of these record-breaking boats below, that have since been either purchased or unlisted.
SUNRAYS by Oceanco: $153,535,800 USD
Above: SUNRAYS Superyacht by Lürssen. Photo: Alex Busher/Edmiston.
The spectacular 280 foot superyacht SUNRAYS is the 5th hull from Oceanco's impressive Y700 series and was designed by Bjorn Johansson Design with interior styling by the renowned designer Terence Disdale. Built in 2010, every inch of this giagantic boat exudes luxury. With six decks her mult-functional interior layout has been carefully considered for entertaining in comfort. She features a spacious main salon, formal dining area, lavish spa, onboard cinema, central elevator, nine suites (including a master with its own private terrace and jacuzzi) and of course – an air-conditioned gym. SUNRAYS offers a new owner an opportunity like no other.
If you're on the fence about pulling the trigger on purchasing the SUNRAYS superyacht, you may want to consider becoming a lunar explorer as an alternative. For around the same price ($150 million) aerospace engineer Eric C. Anderson's company Space Adventures is currently offering trips to the moon, billed as "Circumlunar Mission Experiences". But don't be too disappointed when you get there since you won't be able to get off and shop at the outlet stores yet – it is just a "passby". When you arrive in the moon's orbit, you'll actually be slingshotted back around and head home again. Some may prefer being on the water to traveling into outer space, although we imagine the views and experience might be worth it for others.
View the SUNRAYS superyacht for sale on YachtWorld.
ILLUSIONS PLUS by Pride Mega Yachts: $145,000,000 USD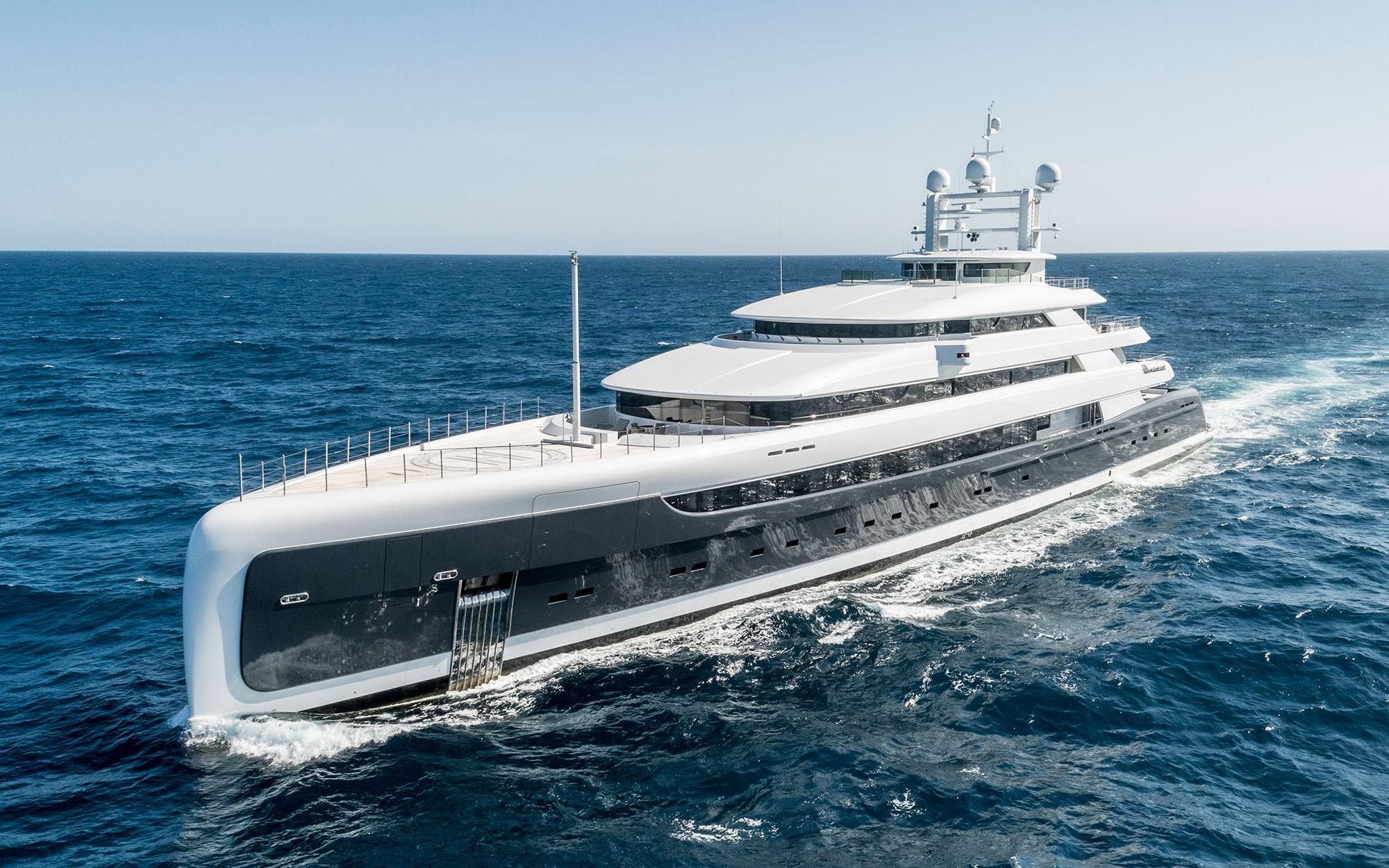 ILLUSIONS PLUS superyacht by Pride Mega Yachts. Photo by Ocean Independence.
If you were on a bit of a budget and really needed to keep it below the $150 million mark, don't worry, you could still secure the largest gigayacht ever to be produced in Asia, powered by an innovative, Rolls-Royce diesel-electric propulsion system. (Oh, and if you don't know what a gigayacht is, read our article on what exactly defines a gigayacht, megayacht and superyacht). In 2021, the boat was offered for sale and listed on YachtWorld at 145 million.
ILLUSIONS PLUS is, quite simply, no joke. Designed by Rainsford Saunders and built by Pride Mega Yachts in 2018, she combines performance and comfort while offering the long-range cruising capabilities of 5000 nautical miles at 15 knots. This 290 foot, 6-deck masterpiece features an innovative vertical bow and an abundance of interior volume measuring in at 3,642 gross tons coupled with her unique propulsion system make her a truly unique gigayacht. Pride worked closely with Rolls-Royce to create the aforementioned diesel-electric system along with Azipull thruster pods – so she is ultra-efficient and quiet, without compromising her speed in any way.
View the ILLUSIONS PLUS superyacht for sale on YachtWorld.
VALERIE by Lürssen: $142,824,000 USD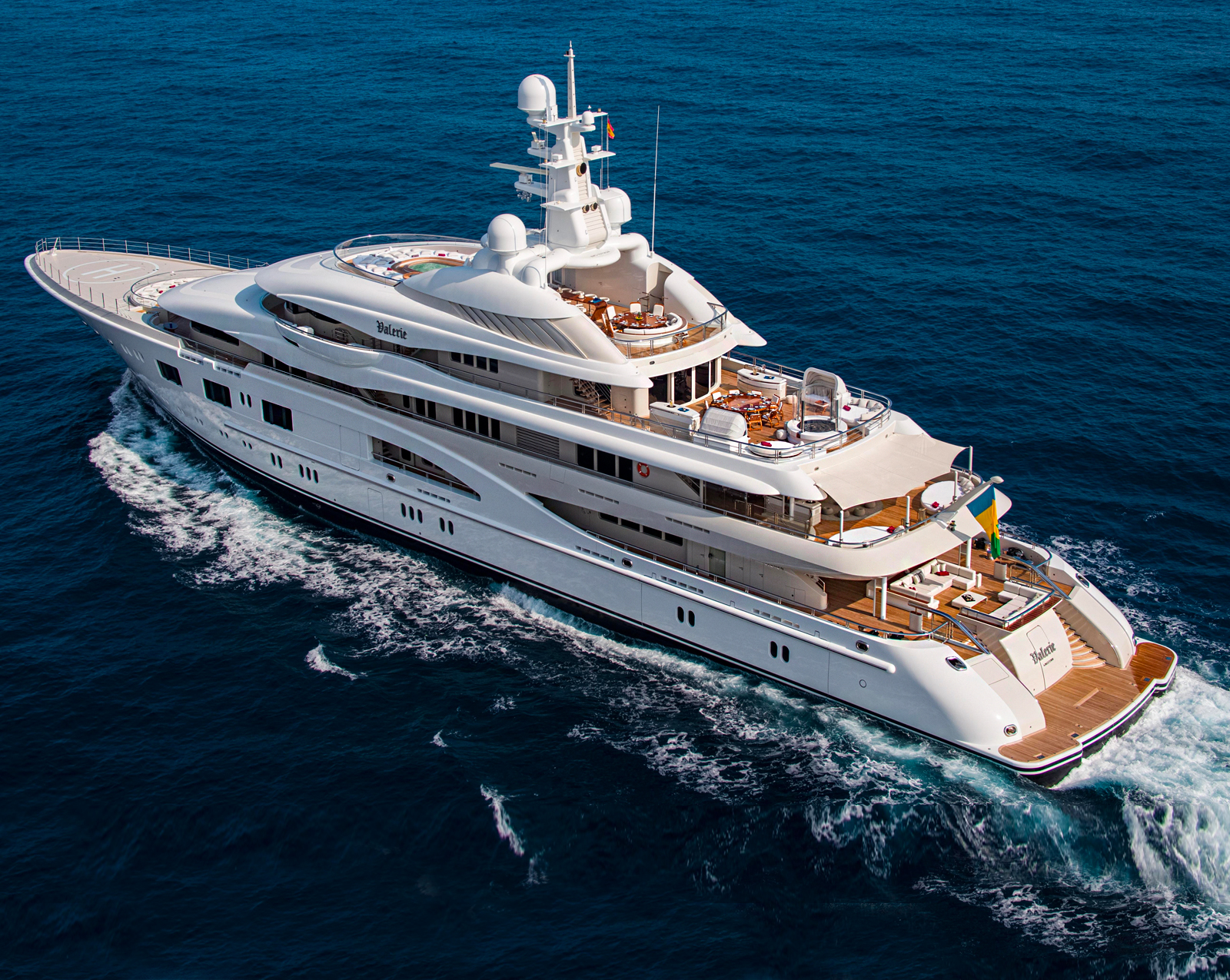 VALERIE superyacht by Lürssen. Photo: Dynamiq Sales & Charter.
The phenomenal 280 foot superyacht VALERIE was built by Lürssen in 2011 and underwent an extensive refit in 2019. With an impressive volume of 2,755 GT spread over six decks, she combines exterior styling by the renowned Espen Øino with stunning interior design by Reymond Langton. Accommodation is for 17 guests in nine well-appointed cabins (with an additional nursery and staff cabin on the upper and lower decks) served by 27 crew.
On the VALERIE, there is no shortage of amenities, from a fully equipped spa with hammam to the heli-deck and expansive private sundeck with a 20-foot swimming pool. Moreover, an elevator serves all deck levels with additional waterline guest boarding access on the portside. Lürssen's legendary build quality is evident in every element of Valerie's design. She is a pedigree product and a rare opportunity to acquire one of the most impressive and impeccably maintained superyachts on the market today without waiting years for a new construction.
View the VALERIE superyacht for sale on YachtWorld.
ACE by Lürssen: $141,633,800 USD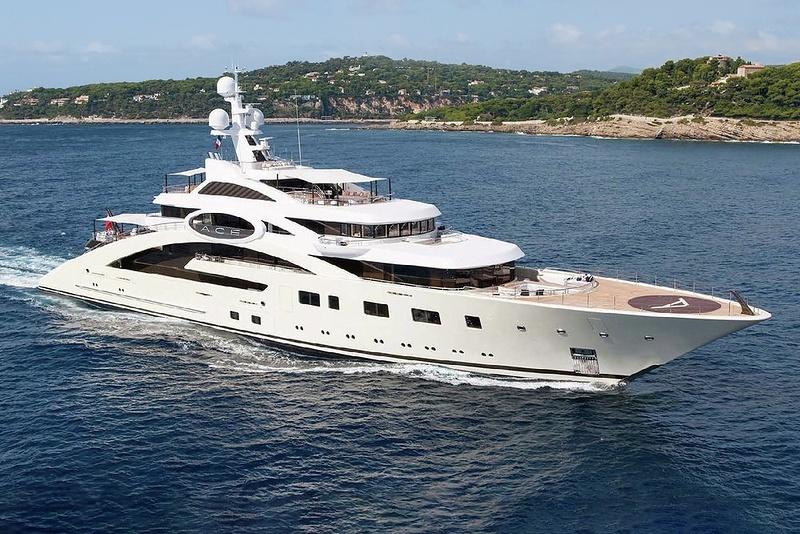 ACE superyacht by Lürssen. Photo: Burgess/Dominic Millman.
Still ranked among the most elite megayachts afloat, the 280-foot ACE was built at the Lürssen shipyard in Germany and has been maintained in excellent condition since her launch in 2012. Her striking exterior lines and classically styled interior showcase the talents of renowned designer Andrew Winch. With a substantial volume of 2,732GT she has an impressive array of lifestyle spaces and features. ACE was built to Lloyd's 100A1, its highest class, and features a displacement steel hull and aluminum superstructure. Her twin MTU 16V 4000 M61 engines give her to a top speed of 16.5 knots, with a range of 6,000nm when cruising at 12 knots and a 4,000nm range when cruising at 14 knots.
ACE also features a helipad suitable for the take-off and landing of large helicopters, and is equipped with Quantum XT zero speed stabilisers, making her a stable platform whatever the weather. Leisure facilities include a cinema room, gym, beauty salon, large pool on the top deck and a stunning beach club area on the lower deck, with jacuzzi and plunge pool located adjacent to a large spa with sauna and hammam. ACE has a full line of tenders and toys including a Hinckley Talaria tender, scuba diving equipment, SeaBobs, jetskis and inflatables.
If you think that ACE not occupying the top few spots on our list of the most expensive yachts for sale in the world right now is something to scoff at, consider that the most expensive car in the world – i.e. the most expensive car ever sold – is a 1963 Ferrari 250 GTO that sold for $70 million (in June of 2018). And that was a museum quality showpiece, the value of which was due in large part to the fact the car had won the prestigious 1964 Tour de France Automobile race, and had been driven by famous race car drivers Luciano Bianchi, Jacques Swaters and the renown racing team Ecurie Francorchamps. For the price of ACE you could actually buy two of those record-breaking cars, and still have about 25K left to spare (or should we say, spend on gas). So even as the last yacht mentioned on our list, don't worry, you'll still be amongst some fine company if you are to become the owner of this amazing boat!
View the ACE superyacht for sale on YachtWorld.
Don't Forget The Cost Of Ownership!
When you look at these prices, remember our earlier point – that a vessel's cost of ownership is generally around 20 percent of its purchase price, annually. That means the price tag of these stunning vessels doesn't represent the full picture. In fact, even the ACE, at the deceiving "bottom" of our impressive list here, costs an estimated $28,326,760 per year to own, operate and maintain. Yes, you read that right: $28 million dollars per year just to call her yours. Talk about an expensive date. This is one truly high-maintenance, albeit classy, gal!
Most Expensive Yachts Ever
While we're mentioning the most expensive yachts in the world for sale today, in 2022, let's take a moment to pause and reflect on some of the most expensive yachts ever sold in the history of the marine industry. The most expensive private yacht ever sold (by far) was the unbelievable gold and platinum-coated HISTORY SUPREME that sold for $4.8 billion USD. No, that isn't a typo. $4.8 billion dollars!
Built with a whopping 220,462 pounds of precious metals encasing virtually every square inch of the yacht from stern to bow, this gold-encrusted vessel was the brainchild of Stuart Hughes and incorporated such out-of-this world features as an onboard meteor on display, along with an actual T-Rex dinosaur bone (who needs the American Museum of Natural History when you can just bring it aboard). Needless to say if this vessel were to ever sink (knock on wood – er, gold), there will be some serious treasure hunting to ensue. 
Second place on the most expensive boats ever sold, by our count, is Roman Abramovich's 533-foot ECLIPSE that was reportedly purchased for a cool $590 million back in 2010. She is currently estimated to be valued somewhere around 1.5 billion in 2021. With nine decks and multiple helicopter helipads plus a submarine docking station, extensive water toy storage areas and tenders in her onboard "garage" that blur the line with yachts in their own right, this is one behemoth on the water. Her art deco interior and innovative technological environment features swimming pools, a massive sundeck, atrium and even her own disco club.
Putting It Into Perspective
Finally, how does all this stack up against the list of the most expensive items on our planet? Well, if you had even a single gram of antimatter, you could ostensibly buy about 118 KISMET superyachts. Although your local marina might have some issues accommodating your new fleet. Estimated at $23.6 billion per gram, this is the most expensive substance known to humans and may someday even be used to power space ships of the future.
According to CERN, antimatter is so expensive because it requires millions of dollars just to create one-billionth of a gram. Turns out even though theoretic intergalactic space travel is becoming more en vogue these days, it's not quite economical (yet).
Lastly, the iconic B-2 Spirit flying wing – aka the "Stealth Bomber" – by Northrop Grumman, that is legendary for being able to avoid radar detection while carrying up to eighty 500-pound thermonuclear weapons onboard at speeds of up to 628 miles per hour (forget running with scissors in your hands), is estimated to cost about 2 billion per aircraft. So, for the price of the HISTORY SUPREME yacht (above), you could actually have two of your very own stealth bombers and still have $800 million left over for a rainy day.
In Conclusion
In summary, these are some of the most outstanding, elegant yachts in the world that represent the culmination of decades of naval architecture, marine engineering and superyacht design plus the collaborative teamwork of literally thousands of industry experts, artists, designers and technicians. While it's fun to crack a few jokes about the sheer size and eye-popping cost of these vessels, it's important to keep in mind these are amazing feats of human achievement. No one built or operates these boats by themselves.
Each one of these yachts shows us, in its own unique way, what we can accomplish together as a species when we use our imaginations and work in sync on a team towards a common end goal. And while the lap of luxury may not be the first place you'd think to look for sustainability, some of the most extravagant vessels afloat today are surprisingly responsible citizens that are helping to power entire industries and fuel amazing technological innovations for the benefit of our entire species.
Editor's Note: This article is updated regularly by YachtWorld to reflect current vessels for sale on the marketplace.
Related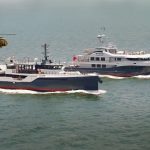 Gene Machine & Gene Chaser Superyachts: YW LEGENDS EP. 6
LEGENDS Ep. 6 features billionaire Jonathan Rothberg's superyachts Gene Machine & Gene Chaser.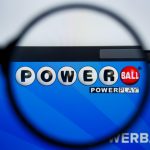 Record Powerball Jackpot Winner Yacht Options
Ryan McVinney rounds up yachts that tonight's powerball jackpot lottery winners could afford.
Step Inside David Bowie's Glamorous El Caran
David Bowie's legacy has been the topic of conversation lately, and we're drooling over his former...