Only a small percentage of boat owners choose to make their boat a full-time home. These "live aboards" can be found all over the world, living in style and comfort. I have been a live aboard since we bought our boat 12 years ago. I never imagined or planned on making a boat my permanent home, but it is a decision I definitely do not regret.
Over the years I've been asked a lot of questions about my life as a live aboard. Beyond the basics, I always stumble over the answers – because, just like so many other things in life, there is no one way. There is no simple answer and one-size-fits all solution to being a live aboard. This can make the learning curve feel steep, but the live aboard lifestyle is worth it effort.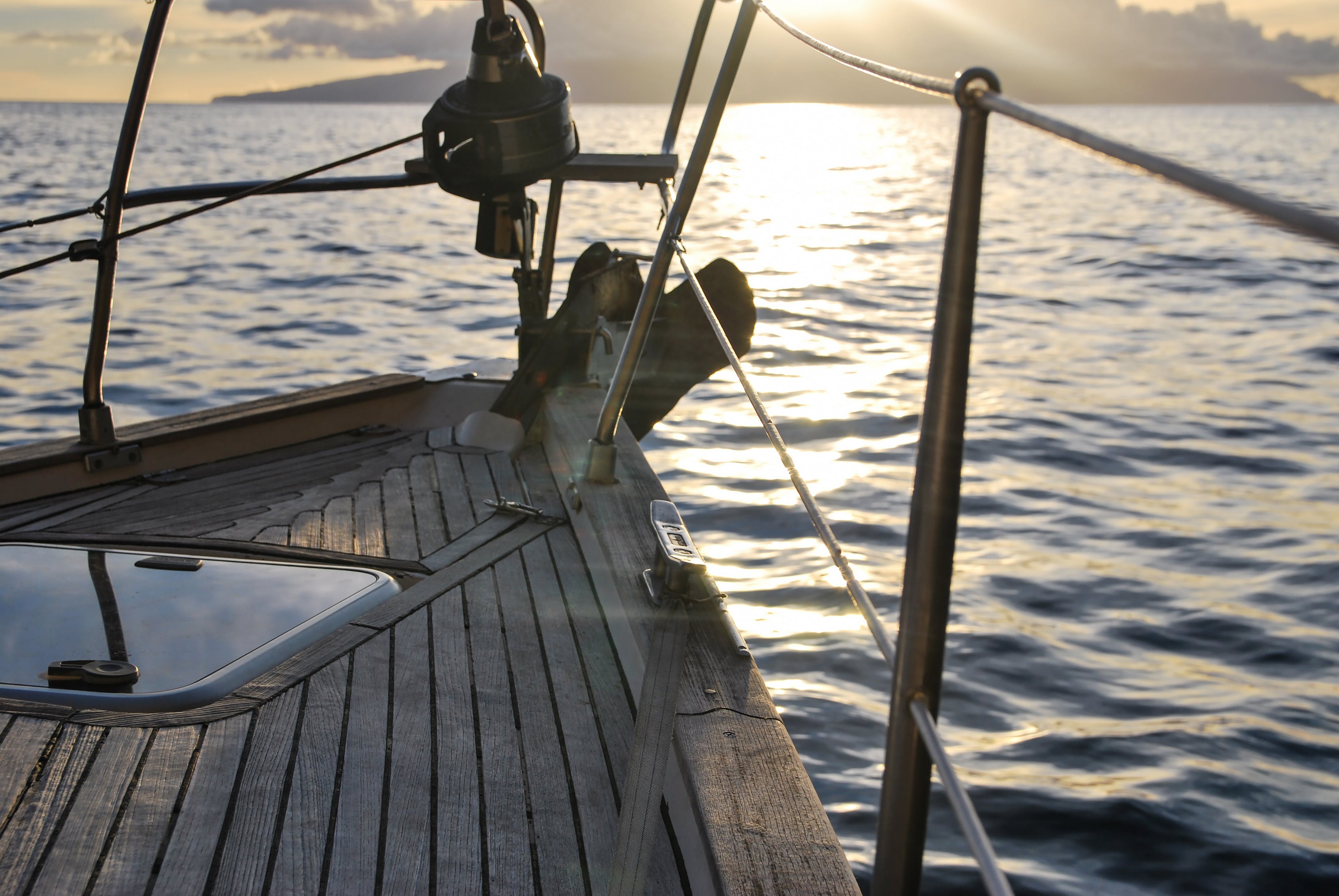 What is the best kind of live aboard boat?
Like buying a house or renting an apartment, personal taste weighs heavy when choosing a boat. People sail around the world and live on vessels as small as 24 foot (7.3 M) and as large as hundreds of feet. Essentially, as long as the vessel is seaworthy, it is possible.
Determining your limits and expectations of the vessel will be big factors into finding the perfect boat. A few things that are worth considering are: the size of your crew, your location and sail plans and your budget. Getting these few things down on paper will allow you to eliminate potential vessels that just don't meet your criteria.
Hull Designs: Monohulls Versus Catamarans
The design of the vessel plays a big part in the interior layout. It is well known that a catamaran will have much more space than a monohull of the same length, simply because it has two hulls instead of one and a large adjoining deck. This increased space is popular with live board families. Not only is there more space for the kids to run around but by allotting one hull for the kid's cabins and one hull for the parents, everyone gets some much need privacy.
A monohull is a bit cozier, but you can still have privacy and comfort onboard too. A center cockpit design is popular with monohull live aboards as it usually means that there is a large, private cabin down below, tucked aft of the entrance and separate from the main living space and other cabins. This design is great for live aboard families, but many other people who sail like it because it allows them to host visitors onboard while giving them a bit privacy at the end of the day.
When considering a live aboard boat, it is easy to get caught up in cabin layouts and what mod-cons you'll have onboard but there is one factor that should always be considered: safety. Making sure your vessel is as seaworthy as it is comfortable can mean the difference between living your dream or suffering a nightmare.
What is the best location to live aboard?
For most people the word boating conjures up scenes of sun-kisses beaches, clear blue skies and palm trees. In reality, boats can go anywhere there is enough water to float them. From the hot and steamy tropics to the frozen high latitudes of the Arctic and Antarctic, it is possible to live aboard just about anywhere in the world. That is, as long as you and your vessel are prepared!
There are many easy add-ons and modifications that can make life onboard a little more comfortable, wherever you choose to live. A large bimini or a boom tent can provide shade for vessels in tropical locations. Full cockpit enclosures with see-through walls or windows are popular with boats spending time in cool or rainy climates. Adding insulation and a space heater is essential if you are planning on toughing it out somewhere for the winter.
One of biggest advantages of life onboard is that life is not stationary. Not only is it possible explore the area close by, it is also possible to travel the world with all the comforts and familiarity of home.
What is the cost of living aboard?
The cost of living on a boat varies greatly depending on your lifestyle. For instance, eating ashore is always more expensive than preparing a meal onboard, and staying a marina costs a lot more than anchoring for free. There is one major factor that contributes greatly to the cost of living aboard, and that is location.
Many people choose to live aboard in foreign countries simply because the cost of living is lower. Everyday expenses and provisions like food and fuel are often a fraction of the price of those same commodities in North America or Europe. Add to that the fact that anchoring is almost always free and monthly expenses can be significantly lower that life on land.
Another key factor in monthly costs onboard is the skillset of the crew. A boat demands constant maintenance and creative problem solving. Having a crew that is able to make repairs, or at least is willing to learn, will cut down on the cost of having to call in an expert who works on an hourly rate.
A good starting point is knowing the basic workings of outboards and diesel engines. Having basic sewing skills comes in handy, as does general knowledge about paint, fiberglass and power tools. If this all seems a little overwhelming at first – take a deep breath! There are lots of course available to new boaters wanting to expand their abilities, as well as a supportive and helpful community of boaters worldwide that are always willing to help.
Can you live aboard at a marina?
Yes, it is possible to live aboard at a marina, however some restrictions may apply. In the USA requirements vary from state to state however there are a few basics followed, even internationally. Most marinas require vessels to have a working holding tank so that no toilet waste can be pumped overboard. Wanting to keep the grounds clean and visually appealing to guests, some marinas have strict rules about what is allowable on deck. For instance, prohibiting boaters from hanging laundry out to dry on the lifeline.
Marina charge for berths based on the vessels LOA (length-over-all). This fee is quoted as a set amount per foot or meter – i.e. $2/foot. Catamarans are usually charged this LOA fee multiplied by 1.5 or 2, as they can occupy two standard berths. Additional charges may include power, water, access to onshore bathroom and shower facilities, dinghy dock fees and key deposits.
In the USA there is often a cap on the number of boats allowed with live aboards in any one marina. So, if you are planning on living onboard it is best to inform the marina before taking a berth that you are planning on living onboard and to ask about any rules or restrictions they might have.
Can you get mail as a live aboard?
Long gone are the days of receiving hand written letters and care packages from family when arriving in a far-flung port. Even if we live on land most of us have eliminated the need to receive mail thanks to electronic billing options, digital subscriptions and online banking. Yet, mail can still be an essential service when it comes to receiving parts and supplies.
If you decide to stay in one place it is very easy to receive mail while living onboard. The simplest method is simply to open a post box at the post office or subscribe to a mail forwarding service that will collect your mail on your behalf.
Another solution is to send mail to your marina office. Many marinas are happy to receive mail for their guests, either permanent live aboard or those visiting from overseas. It is also common to contact a marina at your next destination and have mail forwarded while you are at sea, especially if you are in need of parts or are sailing on a tight schedule.
If you are traveling somewhere without a marina or shoreside support, it is still possible to receive mail world wide using the long-established service of Post Restante. Sending something post restante, or general delivery as it is called in North America, means that the item will be held at the destination post office until it is collected, or until one month has elapsed. Addresses, charges and proper labelling guidelines can be found online for almost every country in world.
If you are importing goods or parts, it is important to know duty and import fees of the country where you are receiving mail, or you may end up with a costly surprise at the post office. Boats can often get import fees waived as goods are not technically imported into the country but going on your "vessel is transit." Specific documents and proper labelling are required, so make sure to research your destination.
Can you have TV and internet onboard?
The answer to this question would have been very different 12 years ago when we moved onboard our boat. Back then it was free to air TV channels and searching for WIFI signals at local hotspots, cafes and marinas. Options for having internet access at sea were slow and extremely expensive.
These days, thanks to dramatic technological advancements, it is possible to be online and connected almost everywhere you travel. Smart phones and tablets have replaced bulky laptops, and on demand services like Netflix and YouTube have all but replaced scheduled TV programming.
Most countries, especially developing countries, rely on mobile phone networks as it is easier and cheaper to install cellphone towers than it is to run phone cables. This generally means that there are now fewer and fewer places that you can truly be out of touch. SIM cards are widely available and usually inexpensive, and prepaid services that include talk time, text messaging and data usage easy to access.
Internet access at sea is still difficult and if you're cruising more than 10 miles offshore you'll need to get satellite service to access the internet. Marine satellite internet service is a maturing industry, and once out of range of cell towers, connectivity depends on the satellite's signal. The price tag for such services is often cost-prohibitive for most boaters, especially if you're wanting to surf the web and stream video or music. However, gadgets like the Iridium GO and Garmin InReach now allow users to stay connected via basic internet services, location reports, weather reports and international text messaging without breaking the bank.
How do you get power?
Most live aboards have renewable energy strategies in place to meet their power demands. Advancements in onboard solar panels, hybrid solar propulsion and solar power gadgets such as rechargeable lights and power packs makes living off the grid easy and now affordable. As well many boaters install wind generators to harness power when sailing or at night, when solar panels do not work. There is also the option of a tow generator that produces power while underway.
Some live aboards rely on generators, either portable gas units or more powerful built-in diesel set ups, to provide electricity they require. As well, like in your car, the engine is equipped with an alternator which will provide power when the engine is running, either when the vessel is underway or in neutral at anchor.
While at a marina it is possible to plug into shore power. The power outputs and plug configurations can change from country to country so it is important research where you are going, and requirements to plug into shore power at your location.
All of these options make power that is stored in a battery bank onboard, similar to charging up an electric car or golf cart. As many live aboards will attest, it is a constant dance to keep the batteries topped up, devices charged, the fridge cold and the lights on.
What do you do for water?
Every boat has built-in water tanks; however, the capacity of those tanks varies greatly. In the old days it was common for live aboards to fill tanks when visiting a marina or a fuel dock, or to ferry water from a community well ashore. With limited tankage it was then necessary to ration water usage onboard to conserve their supply. Plumbing salt water into the galley to wash dishes and taking salt water showers were both common ways to cut down on fresh water usage.
These days more and more live aboards are installing reverse osmosis watermaker systems that can convert salt water into clean drinking water. These systems not only allow boaters to be self-sufficient, but they alleviate the need to burden shoreside water supplies in remote places. An important consideration if travelling to destinations that rely on rain catchment, as climate change is making rainy seasons less predictable and shorter in many areas. Water conservation is still habit with most live aboards, watermaker or not.
In Summary
Living on a boat will require an adjustment period if you are a life-long landlubber. The biggest change most people struggle with is downsizing their life, possessions and expectations, to fit into the compact dimensions of a boat. The process can be difficult, but in the end, most enjoy the freedom and lightness that comes with paring down the clutter and discovering what is really important to them. Life as a live aboard is its own reward.
Related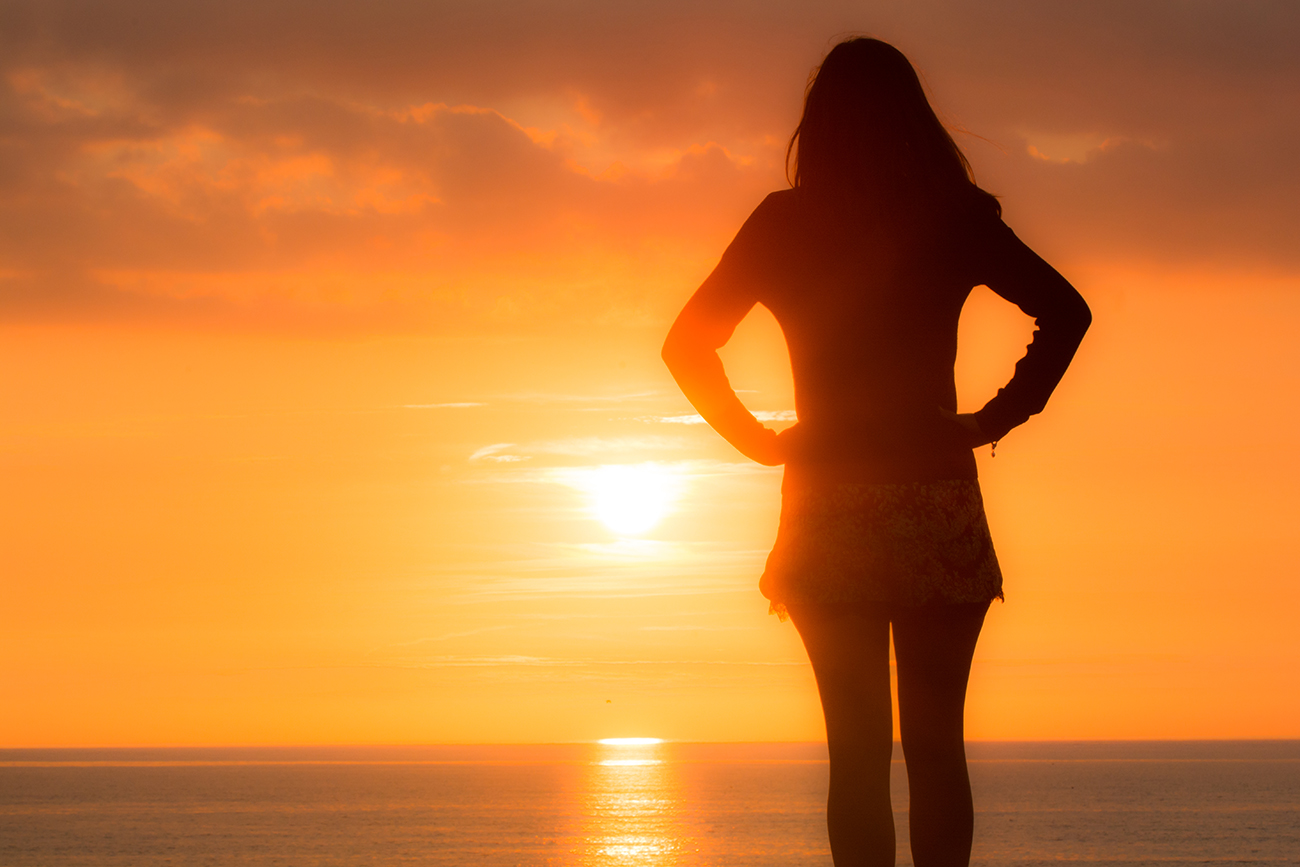 Lessons On Isolation From A Long Distance Sea Traveler
Heather Francis gives some timely perspective on social isolation at sea.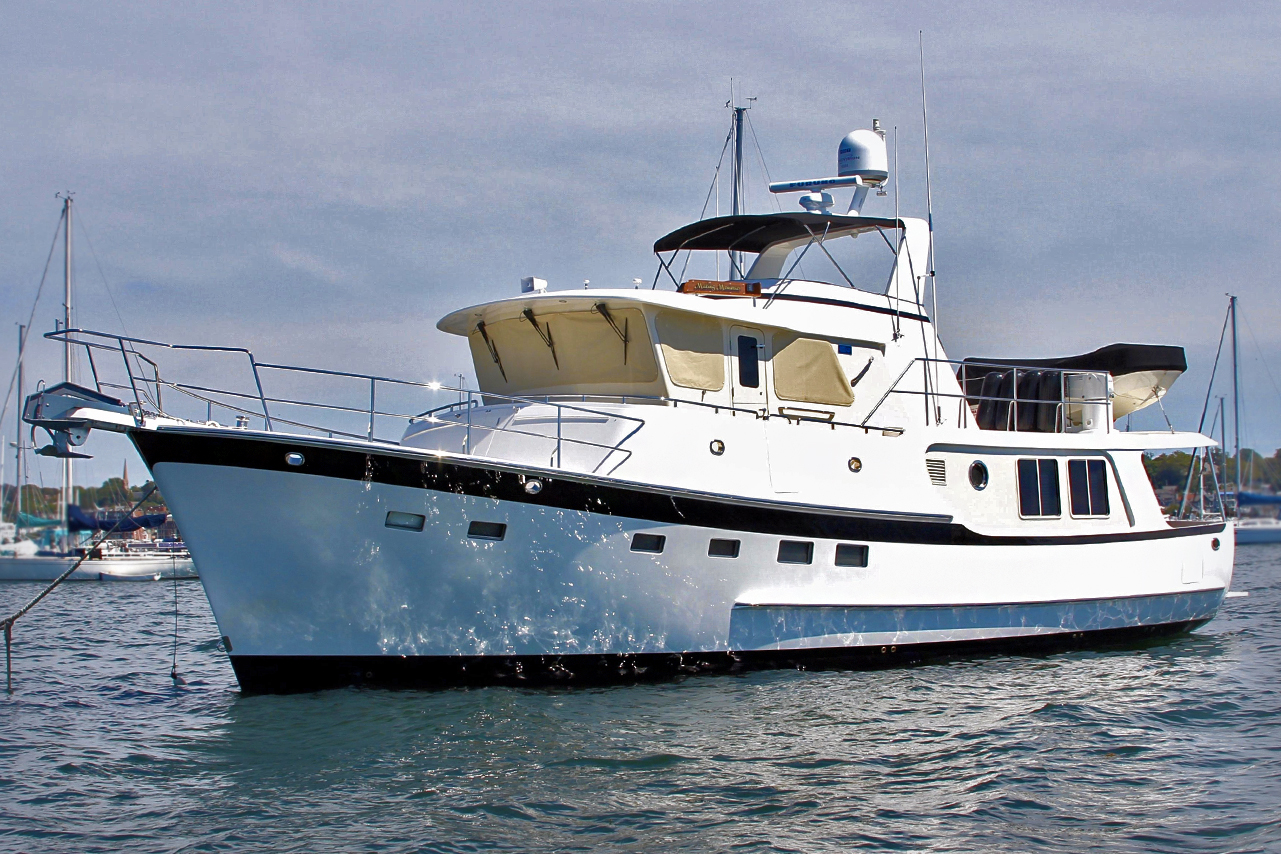 The Trawler-Life Trend
Trawler living is all about enjoying the journey and experiencing the bounty of the sea.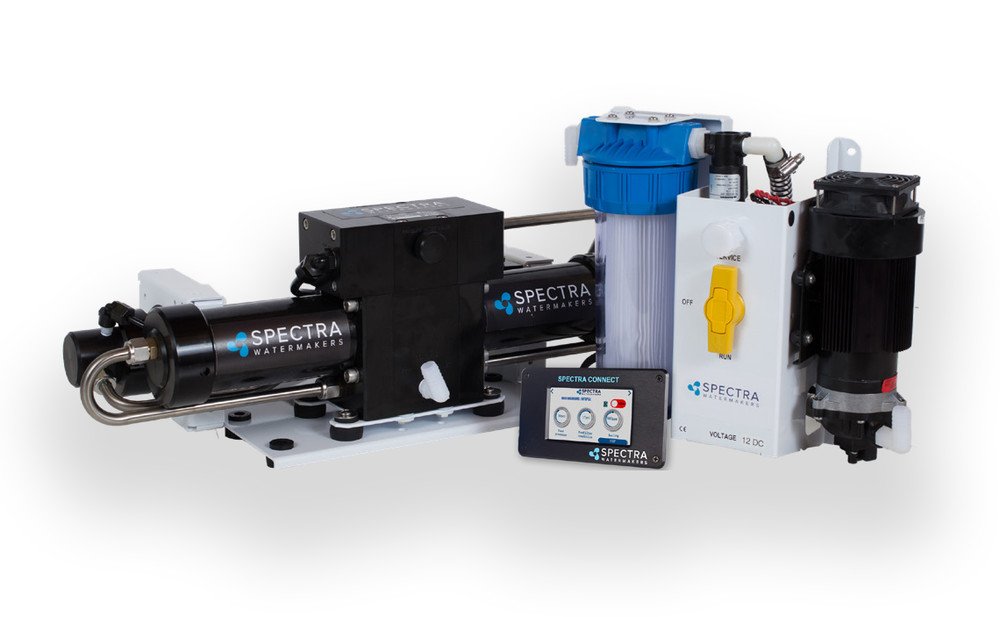 Ventura 150c and 200c watermakers. Photo by Ventura and Katadyn Group. Perhaps you are planning to stay close to docks, water lines, and shore power throughout your journey, but wouldn't it be nice to have the added security of knowing you can make your own freshwater if necessary? Especially if you are interested in exploring areas that are a little more off the grid. Luckily, recent advancements in ever-evolving technology give you plenty of affordable options to outfit your boat with a watermaker that best suits your level of adventure. Here we'll review the basics of how these systems work and take a look at some of the best products on the market right now.
The Basics of Marine Watermakers
Marine watermakers use the process of reverse osmosis to intake seawater and output clean, potable water suitable for any of your live-aboard needs. The newly made freshwater is then pumped into your vessel's current water tank, while the leftover "brine" is thrown overboard. Most marine watermakers differ with regards to the method in which the water is pumped. Typically, the water can be either electrically driven (either AC or DC) or powered by your boat's engine. Note that the colder and saltier the initial seawater is, the slower the purification process will be - so you hardy nor'east sailors may need to invest in a more high-powered system than those of us trawling down in the Carribean. Watermakers also come in all shapes and sizes, with modular options best suited for smaller boats, as the parts can be "stashed" in whatever precious extra cargo space is available.
Best Marine Watermakers
Let's take a look at a roundup of some of the best boat watermakers on the market right now for your vessel.
The Ultra Whisper
The Ultra Whisper by Sea Recovery is best for small boats and sailboats, this super low power machine is specifically engineered for boaters with limited electrical options and can run on either AC or DC power, boasting a 75% reduction in power consumption over other models. It's also very quiet (hence its name)so it won't compete with your epic sound system, and operation is completely automatic with it's simple start and stop controls. Sea Recovery also has another line with a wide variety of size and capacity options called Aqua Whisper - including a miniature version that measures only a mere 2-3 cubic feet, perfect for your day tripper vessel.
Village Marine - Little Wonder series
Village Marine also has a great line of watermakers targeted especially for trawlers and small sailboats, some with very impressive capacity, as well as considerable options for the mega-est of the mega yachts. The Little Wonder series weighs only 69 pounds yet has the ability to manufacture up to 180 gallons of freshwater per day. It also has a low RPM high pressure pump which is both economical and efficient, with the convenient modular design so you can store it in separate compartments if necessary - no "wonder" it's so popular, right? We actually had the pleasure of adding one of these to our 38 foot family yacht on a journey down the ICW for the winter and it made such a difference for us because we had 5 people aboard and a limited freshwater supply. The installation was quick and painless, much to the relief of my father. Also, as it was peak tourist season over the holidays, there were definitely some times when it was difficult to find (or too expensive to stomach) an open slip for the night, and having the Little Wonder aboard enabled us to anchor where we pleased without having to worry.
Village Marine - LW Watermaker Series
Village Marine also has something for the big dogs - the LW Watermaker Series can accommodate boats up to 100 feet in length. A practical and reliable source for long fishing voyages or ocean charters, this feat of engineering can provide you with absolute water independence. Would you believe this series possess the capability to produce up to 1800 gallons of freshwater per day? It has a manual operating system that is both durable and fail safe, and also has a modular design which still gives you some flexibility in terms of installation options. This line is perfect for that person we know that always seems to be island hopping in Greece on their 96 foot super yacht yet never seems to invite us.
Spectra Katadyn PowerSurvivor
Titan of the industry Spectra Watermakers has a variety of great options ranging from a small hand powered pump, to commercial grade hi tech gear. The Katadyn PowerSurvivor 40E/12 V is one of the smallest marine watermakers out there. It runs on a mere 4 amps at 12 volts DC, and is the only machine of its kind that can revert to manual power if necessary - making this one a great model to have aboard in case of emergencies. The PowerSurvivor pumps 1.5 gallons an hour, weighs in at only 25 pounds, and with it's space saving design, can fit in even the tiniest of compartments.
Ventura 150 Watermaker
The Ventura 150 is one of the most versatile and popular watermakers on the market. Not only is it rigged for low power consumption, but it can also run on solar or wind power if you have the capability on your vessel. Like it's name, this system can deliver up to 150 gallons of purified water per day, and possesses analog controls with an instrument panel containing a feed water pressure gauge and a product flow meter. This watermaker runs quiet, and is surprisingly compact and modular given it's capacity. There's also the Ventura 200T, which is the same size and configuration as the Ventura 150, but uses a higher displacement Clark Pump to produce more water, allowing it to operate in warm waters above 50F (wimps).
Conclusion
With all of the recent trends in boating leaning toward self sufficiency and sustainability, it's easy to see why adding a marine watermaker is an intelligent investment for your vessel. Modern advancements in technology and modular parts have made these systems easy to install and incorporate into any on board setup - it's all about deciding what is right for you and your particular boat. Consider how much time you spend on your live-aboard, where you spend your time, and where you wish you spent more time. Working to create a completely independent boat system will ultimately give you more freedom. Additionally, when coupled with solar panels or power, you have the ability to not only reduce your carbon footprint, but also to remain off the grid indefinitely - no longer having to rely on shore power or water. Imagine the possibilities./>
Best Boat Watermakers for Your Yacht
A detailed look at onboard watermaking, water filtration and desalination systems for live-aboard boats...