While it's true that 2020 is one of those years that many of us would perhaps prefer to forget, when it comes to sportfishing yachts, it was actually a banner season. If you're a serious fisherman considering owning a boat, read our list of some of the best sportfishing yachts currently on the market. Whether you like massive convertibles, speedy center consoles, or expressive express yachts, these sportfishing yachts all made newsworthy headlines in 2020.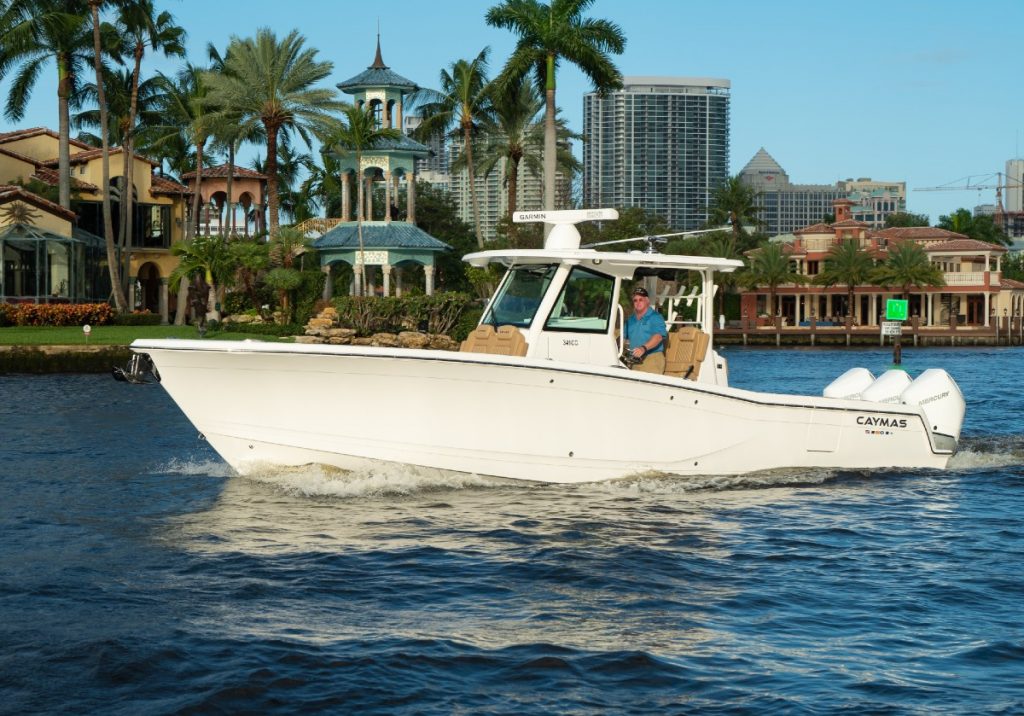 Caymas 341 CC. Image credit: Caymas
At the 2020 Miami International Boat Show, the Caymas 341 CC the latest brainchild of fishing boat legend Earl Bentz was introduced. This boat puts the "high" in the high-performance fishing machine. When we ran one rigged with 900 raging Verado horses, we zipped up to the 60 mph mark in seconds. At 4500 rpm the boat cruises in the mid-40s, atop a double-stepped Michael Peters hull form.
Once you quickly get where you're going fishing features abound. The pressurized transom livewell holds a whopping 40 gallons and is fed by a pair of variable-speed 2,500 gph hooker pumps. The forward console lounger houses a 125-gallon fish box that you can use to ice-down monster tunas and wahoo, and rod holders line the transom, gunwales, and the sides of the lounger.
One unique feature that the Caymas provides that  you won't find on other fishing boats is the type of bow seating. Sure, we're used to seeing transom seats that fold away in the aft cockpit. But in this case, the bow seats also fold up, swinging flush into the gunwales. That means you can get them out of the way entirely when you want an open, uncluttered deck space for casting and catching.
Invisible 46 Catamaran. Image credit: Invincible
Quad Yamaha F425 outboards. The Invincible 46 Catamaran is an angler's dream machine. Stadium seating for six in flip-down bolster seats. Over 1,300 gallons of insulated fish box capacity. Four individual livewells and available tuna tubes. Twin 24-inch MFDs. Air conditioning pumps cool breezes over the open helm.
Unlike most yacht-quality center console boats, the Invincible keeps fishability front and center. Stern and bow cockpits are kept open and uncluttered, and the center console cabin is just a simple head compartment. While some may find this a bit lowbrow, Invincible knows that serious fishers don't want all their fishing space eaten up by a bloated console made larger than necessary, just to house a berth and/or galley. If you're going to fish and you want to do it with speed and style, this powerful powercat will be on your 2020 must-see list.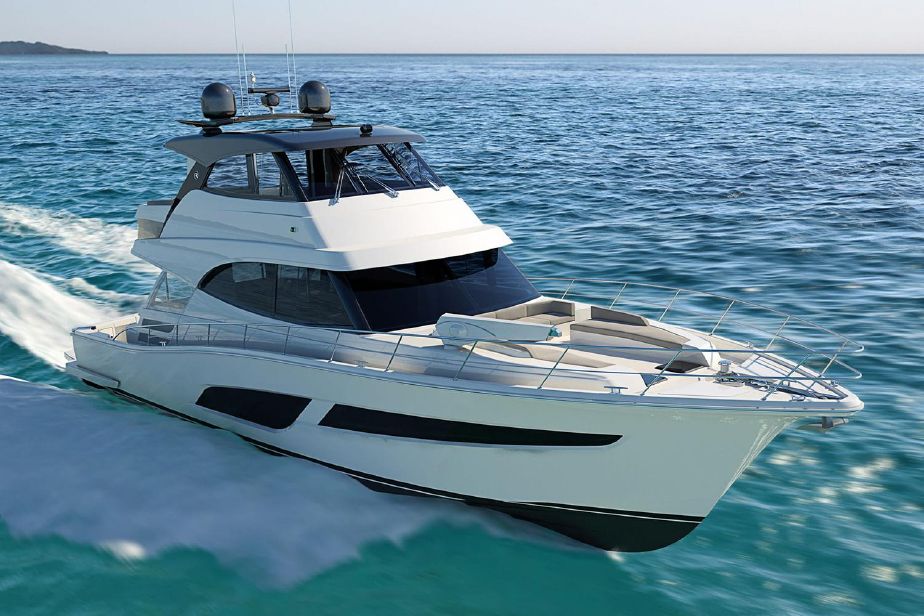 Riveria 64 Sports Motor Yacht. Image credit: Riviera
In a surprise move, Australian builder Riviera introduced a rather fishy creation this year in the form of the 64 Sports Motor Yacht. Known for building cruisers with flybridges and cockpits which may look a little like a fishing boat but aren't really designed or outfitted to be fished, this new model is the real deal with hydraulic outriggers, a livewell in the transom, and an expanded cockpit large enough for an entire crew of anglers. Of course, this is a Riviera we're talking about, so luxury touches do still abound. The interiors are set off with five-coat high-gloss varnished walnut woodwork that's book-matched; the flybridge is enclosed and really is more of an elevated saloon than a bridge-deck, with a setter, a wet bar, and a lounger; and you'll discover niceties like a dishwasher and a wine chiller in the galley. You can control the boat's systems from any of these spaces because the CZone digital switching system is designed to be interfaced with and controlled via an iPad.
The 64 Sports Motor Yacht is set up for serious cruising abilities. One of the unique features is the utility room located between the master stateroom (one of four private cabins) and the engine room. It provides bulk stowage compartments and a set of full-sized laundry machines. Just how far will you go in this yacht? The sky's the limit because with a 1,717-gallon fuel capacity you can travel a shocking 2,919 nautical miles at a slow cruise of 6.6 knots.
Solace 41CS. Image credit: Solace
Solace set the center console world aflame with its introduction of the 345
last year, but at 38'0" long, too many people, it didn't quite reach center console "yacht" status. Now the bigger, bolder, 41CS treads into yacht territory, with triple outboards slung across the transom, the option for quads, and a much roomier console cabin.
What really sets the Solace apart from wannabe center console yachts is the level of tech built into this boat. The mezzanine and its seat cushions are a great example. Rather than using clumsy snaps to secure the cushions in place, Solace laminates magnetic materials right into the mezzanine and then incorporates it into the cushions themselves. Net result? They stick securely in place magnetically, but when you want to remove one, you just lift it off, no fumbling with snaps and straps necessary.
Another example can be found in the hull design, which incorporates twin steps and has a variable-degree deadrise with a 48-degree entry, tapering back to a 23-degree transom. The most signficant tech tweak of them all is in the way this boat is built. The hull is vacuum-infused carbon and Innegra which is baked solid while still in its heated mold.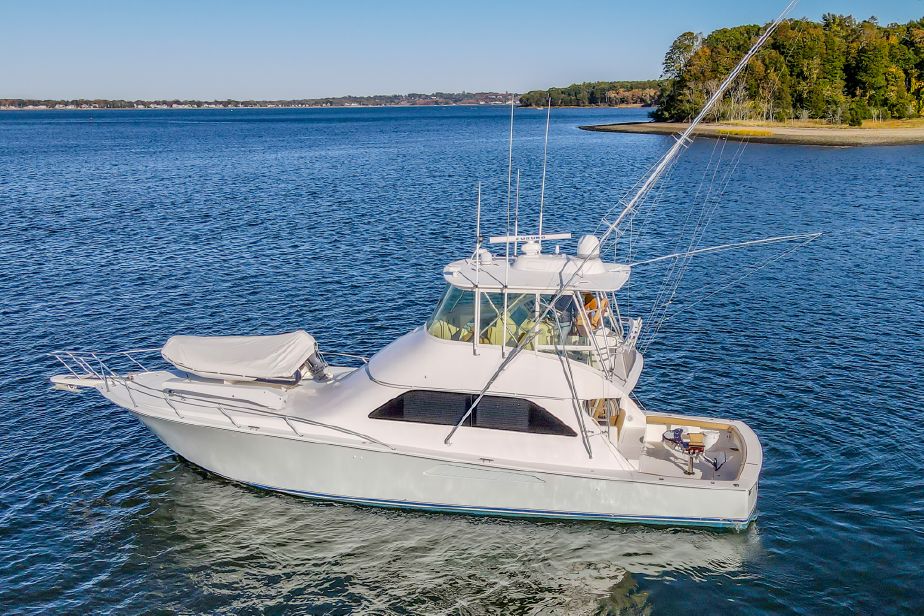 Viking 54C sports boat. Image credit: Viking
Although a 54-footer isn't exactly "big" for a Viking, the introduction of the 54C open bridge convertible set the sportfishing community abuzz. Why? Well, mostly because it's a new Viking, and one would be hard-pressed to argue that Viking hasn't dominated the world of production-built sportfishing machines for the past decade. But on top of that, it offers a slew of features and finer points which lesser convertibles can't match.
The Viking 54C features a three-stateroom/two-head layout, a vacuum-infused hull, a 154 square-foot cockpit, and of course an optional Seakeeper gyroscopic stabilization system. Luxury touches include a glossy walnut or teak interior, a galley with a peninsula countertop, and a 49-inch HDTV in the saloon (plus 32-inch HDTVs in the master and guest staterooms). One thing Viking has a well-deserved reputation for is building high-performance fishing yachts, and the 54C certainly meets the bar in this regard. Outfitted with standard twin MAN V12 1440CRM 1,400 horsepower diesel inboards, the estimated cruise is in the mid-30-knot range, and top-end breaks 40 knots. Upping the ante to twin 1,550 horse 1550CRMs is an option.
If we're mentioning Viking, we have to also mention Hatteras. As many in the marine industry know, these two names are nearly synonymous with big sportfishing yachts. In early 2020, at the Miami Yacht Show, Hatteras released their GT65 Carolina, to great fanfare. Marketed as the "sports car of the GT fleet", this is a sportfishing yacht that can top 40 knots and comes ready for fishing tournaments with all the requisite riggings while providing great comfort and a stable, safe ride in rough conditions. Hatteras utilized computational fluid dynamics to design the hull of the GT65 Carolina and incorporated an infused stringer system to reduce weight and increase the strength of the vessel. With four staterooms and three heads, this fishing boat can accomodate a whole pro team at sea for serious hardcore angling and tournament competitions, or she can also comfortably accomodate a family-friendly fishing adventure. As the video above shows, the GT series from Hatteras offers heavily-built fishing boats ideal for high levels of speed in rough water. Hatteras remains a dominant choice for many pro anglers and tournament fishing teams, as well as being a historic American brand that continues to be built in the USA.
Peruse a full set of YachtWorld's boat listings. Search for a boat by brand, condition (we sell new and old), budget, length, year and type.
Related
Catamarans Vs. Monohulls: Choosing The Right Boat
The pros and cons to catamarans and monohulls.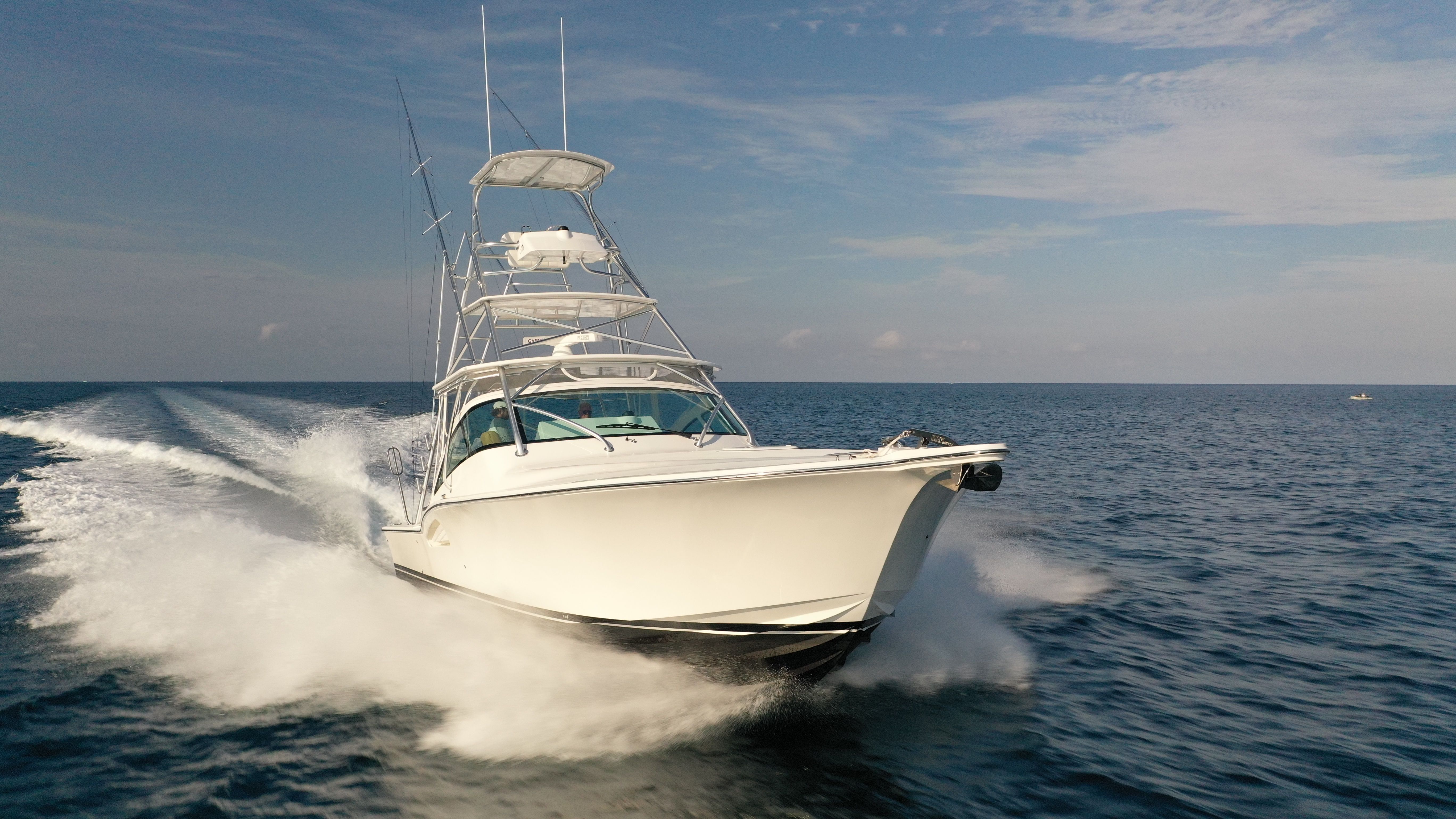 Albemarle 41 Express Boat Review
An extended sea trial and full walk-through of the 2020 Albemarle 41 Custom Carolina Express fishing...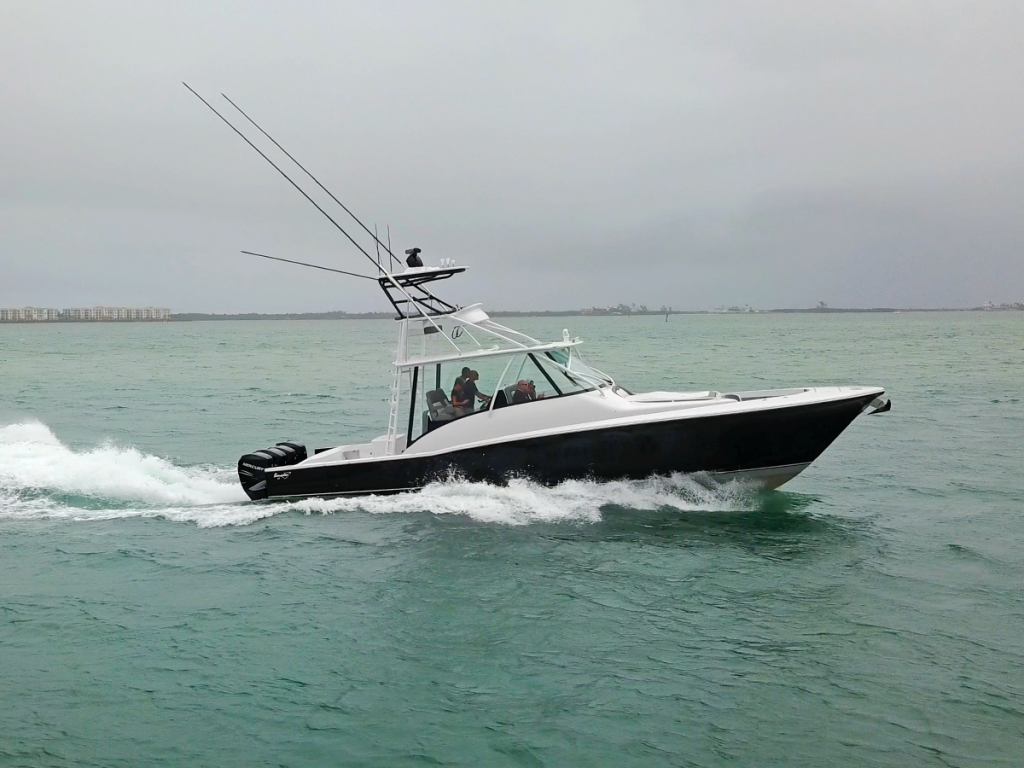 Bonadeo 45 Custom Walkaround. Photo by Nate Cantalupo. Now, 15 years later, the business and shop have grown, as has the line. From the then, cold-molded composite 31', to a cored, resin-infused and vacuum bagged 34, Bonadeo tweaked its design, but the 37' center console truly established the brand. The new 45' was developed for a buyer who was sold on the quality of the 37 but wanted a bigger boat. Bonadeo answered by going back to the drawing board, creating exactly what the owner wanted—a boat that could seriously fish, but recreationally cruise as well. It was dubbed "Final Chapter," following its smaller predecessor, "Next Chapter." The newer Bonadeo builds use epoxy vinyl resins, Kevlar, carbon fiber and fiberglass to create a lighter, sturdy boat with a smooth, reliable ride. The 45' model bridges the gap between the popular performance center consoles and traditional sportfish boats. A striking study in black and white, at the dock, the Bonadeo is a standout. The black Imron painted hull is accented by the white deck and white and gray upholstery, black T-top, with powder coated piping, black edging around the tinted glass windshield and matching black engine cowlings. Stainless inserts in the black rub rail add a gleam, as does the stainless Bonadeo logo badge. Hull #1 is 44' 11" long with a 13' 6" beam and 34" draft. Quad Mercury 400 Verado engines with joystick control, power the boat easily in the 40's and top out at just under 60 mph, even fully loaded with a 11kW generator, three HVAC systems, 100 gallons of water, 655 gallons of fuel, a full-wrap laminated glass windshield and skylight, Seakeeper 6, an HD2 4' Array Radar and pedestal. The Vetus Bow Pro brushless bow thruster leaves no carbon dust, is quiet and facilitates docking. The boat is ready to fish with a Marlin Tower by Palm Beach Towers—who got the job due to its 3D modeling system. The upper dash is identical to the main deck helm, covered by the T-top and a quick climb up the 6-step ladder, outfitted with 6 rod holders. There are 8 more rod holders in the gunwales, 4 on the bow, 6 on the flybridge and 6 more on the grill station, so bring your bait and buddies! The aft deck has a user-friendly 72-gallon live well with two doors, two 6' insulated, in-deck 70-gallon fish boxes, a flip-up grill station with a sink, refrigerator/ice box and hot water shower — and did I mention rod holders? So you can catch it, gaff it, filet and grill it in short order! Extra tackle storage is under the grill and tucked in every nook and cranny of this boat—even under the steps. A large center storage compartment is located between the fish boxes and the lazarette provides access to equipment and pumps. The shore power cord is convenient, behind its own door to port, as is a large transom rod storage locker. A dive door is at starboard, along with a raw and fresh water washdown. A three-seat mezzanine is covered by the T-top, provides comfortable seating and a great view, with ample storage and mechanical equipment access beneath. Custom curved glass wraps the entire cockpit like a car windshield and is edged with carbon fiber for additional strength. To keep the captain cool at the enclosed helm, air blows through two HVAC vents at the helm seats as well as through a long, horizontal vent in front of a forward facing, three-seater lounge. The glass insert in the T-top electrically "frosts" to provide opaque coverage when the sun is strong. The helm is "clean" per Bonadeo standards, with a portside black carbon fiber helm pod, Epson wheel and minimal instrumentation, joystick and throttles visible. Two, flush-mounted 22" Garmin screens provide the latest in navigation, fish finders and operations interface. The system and Seakeeper switches are hidden in a starboard glove box—a tidy touch. Sit or stand—your preference--as the helm seat flips up to create a bolster. A floor hatch at the console offers access to the Seakeeper equipment and extra storage. New internally rigged GemLux carbon fiber outriggers look fierce and are designed to preclude permanent gunwale halyard attachments. This prototype, including a center rod, is being tested on the Bonadeo and the captain plans to use SeaSucker attachments for the halyards, keeping the gunnel clear when the outriggers are not in use. The bow is also fishing friendly, and while it can seat eight people—two on the ergonomic sun pad (with a removable cushion for the cabin skylights), three more on the forward-facing lounge (with a 74-quart cooler beneath) and three more on the aft-facing bow seat, it also has wide gunwales where anglers can stand and fish or work their way around the spacious deck. While the cabin may not appear to be the main attraction of this boat, ladder-like steps descend from the port side door, of the main deck bow, to a surprisingly spacious and very comfortable, naturally and LED lit, dual berth cabin — each with its own TV. Stylish taupe cabinetry, matching laminate "wood" flooring, a cedar-lined hanging locker, lots of storage drawers, cabinets and a galley make this very livable space. The durable quartzite countertops look like gray-veined marble and support a refrigerator/freezer, sink, stove top and microwave above, framed by cabinets. The additional berth is tucked behind the stairs - a perfect place for kids or guests to hang out or sleep - while the bow area has lounges and a sizable table for grabbing a bite or socializing; it retracts, topped with cushions to create the primary berth. The wet head's sink is also set into a curved quartzite counter above storage cabinets and there is plenty of headroom. Rock on while your fish is on! The JL Audio entertainment system has speakers in the cockpit, T-top, cabin and on the tower, with a large subwoofer beneath the helm passenger seat. LED lights are scattered throughout every overhead space. Hull #2 of the 45 is currently under construction for a serious tournament angler from the Palm Beaches. The boat will boast a more traditional sportfish style with more bait wells, chillers, water maker and Eskimo icemaker. The model can also be modified from the express walkaround to become a center console. Final Chapter was built for a fishing enthusiast owner and is managed by Capt. Gary Picard. He will also take sales inquiries at Yachtworld.com or checkout other
Bonadeo boats for sale
on YachtWorld. Bonadeo Boatworks can also be contacted directly for new custom boat designs./>
Bonadeo Boatworks 45 Custom Express Walkaround
The Bonadeo 45' Express Walkaround bridges the gap between the popular performance center consoles...