Ryan McVinney and Colin Voreis Filming Onboard A Jupiter Center Console. Photo: Katie Flanagan, Grande Yachts International
Whether it's the lucrative jackpots of high-stakes fishing tournaments, the daring athleticism of competitive water sports or the intrigue of a high seas adventure – people are clearly hooked on reality fishing and boating shows. Fans who refuse to miss an episode of TV hits like National Geographic's "Wicked Tuna", Bravo's "Below Deck" franchise or Discovery's legendary "Deadliest Catch" series, should thank the camera crews who capture the extreme footage and keep everyone at home fictitiously sitting (and cursing) at the helm.
As fans and enthusiasts clamor for more on-the-water storytelling action, the number of future shows on yachts and boats could be as many as the number of fish in the sea. One pilot I'd like to float to the networks is a show that flips the camera around and catches the behind-the-scenes drama and skill of filming on a moving vessel. Until then, at YachtWorld, we're fortunate enough to have our own boat-savvy directors, cinematographers and producers to reveal the secrets of shooting while underway.
To dive into how professional video boat reviews and yacht footage are produced for our website, YouTube channel, Instagram and Facebook, I consulted two of my YachtWorld colleagues: Colin Voreis, social media expert and experienced photographer/videographer, and Ryan McVinney – a professional film director, writer and video producer. McVinney and Voreis are behind some of the most show-stopping, eye-popping boat videos online (such as the popular YachtWorld Legends video series on YouTube). Both are lifelong boaters who direct and film on-the-water video shoots for major boat manufacturers, yacht brokers and dealers across the country, contributing reviews to YachtWorld, boats.com and Boat Trader.
Here's our behind-the-scenes look at making killer boat movies!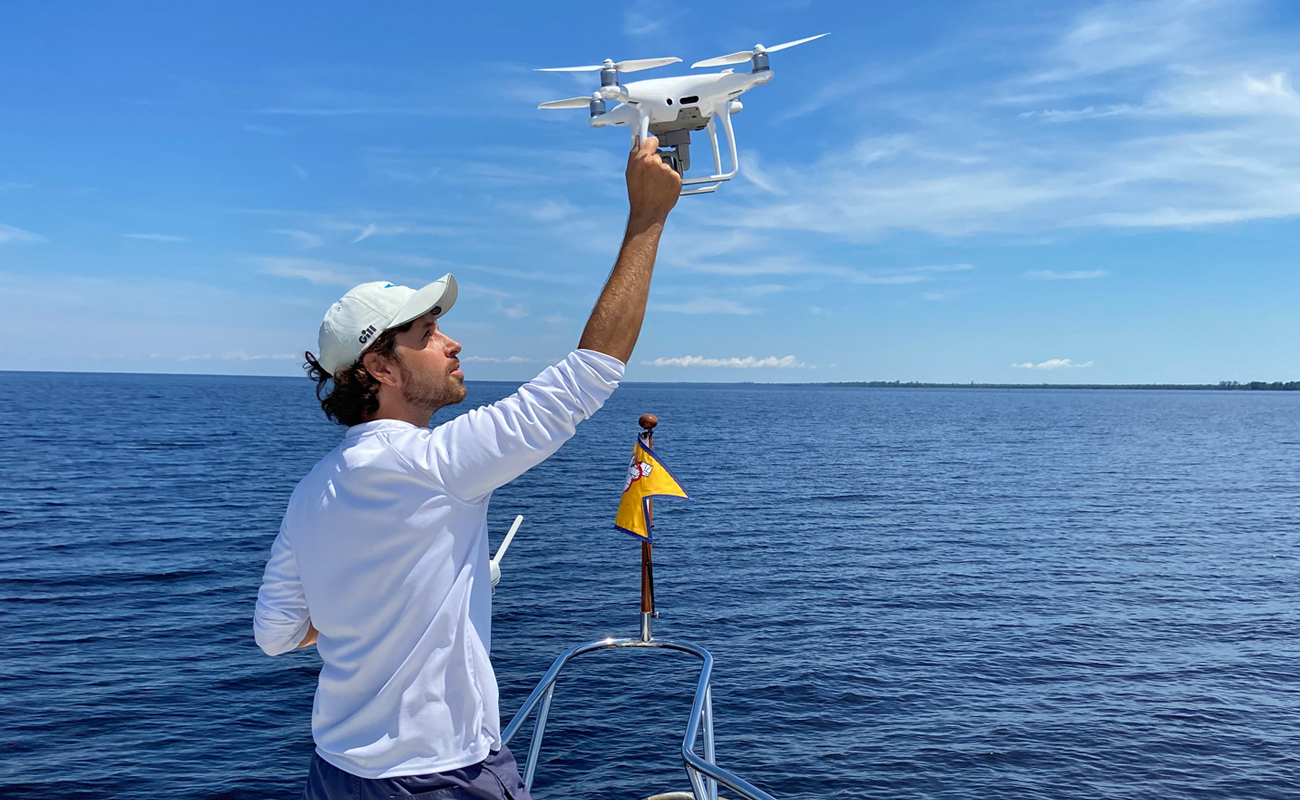 Ryan McVinney catches a Phantom 4 Pro drone onboard a yacht film shoot. Photo: YachtWorld.
Lights, Camera, Action!
JB: Ryan, what are the current content topics boaters are most interested in?
RM: "With the current pandemic, many people are flocking to boating as a safe, outdoor activity for social distancing. These new boaters want to know what type of boats are best for them and their specific location and intended use. For these reasons, we try to highlight the features of different kinds of boats for various boating activities and waterways – from lake boating on a pontoon boat to fresh water fishing, and venturing offshore to coastal cruising with the whole family (and everything in between).
"Hands-on, live-action footage that showcases boats in action is among the most-viewed content we have. These types of videos explore a wide variety of vessels and brands, explaining the features and benefits of the different designs and layouts for different niches of boating. For example, if you're considering getting into a high-performance ski, surf or wake boat then you'll definitely benefit from watching a professional competitive wakeboarder demo the features of different models, showcasing them in action. Similarly, if you're really getting into bass fishing, you'll want to see reviews of bass fishing boats – with experienced fishermen explaining the history of the sport and providing helpful background information. Of course, those are just two examples of the various types of video content we aim to provide our audiences with.
"On the entertainment side, people really want to see serious excitement and jaw-dropping innovation. For those kinds of videos, we're after that "wow-factor". Our latest YouTube video series [YachtWorld Legends] explores some of the most amazing superyachts ever built, and has a lot of people tuning in simply because it appeals to the dreamer in everyone."
JB: When planning a boat review, who reaches out to who?
RM: "It goes either way! If there's a boat that the industry is excited about, we'll reach out to the manufacturer for the chance to get onboard and review it. Or when dealers have available inventory and new models in the water, they'll often give us a call to set up a full day of sea trials. YachtWorld social media channels are where a lot of communication happens, too. People will see where we're filming based on our Instagram stories and location, and invite us to cool experiences.
"In fact, just the other day, we were heading up the ICW on an Offshore Motoryacht, when Carson from Off the Hook Yacht Sales in Wrightsville Beach, North Carolina saw our location and hashtags, messaged us from ashore as we passed his dock and said, 'Hey! I've got a boat in the water – you should come back and have lunch with us!'"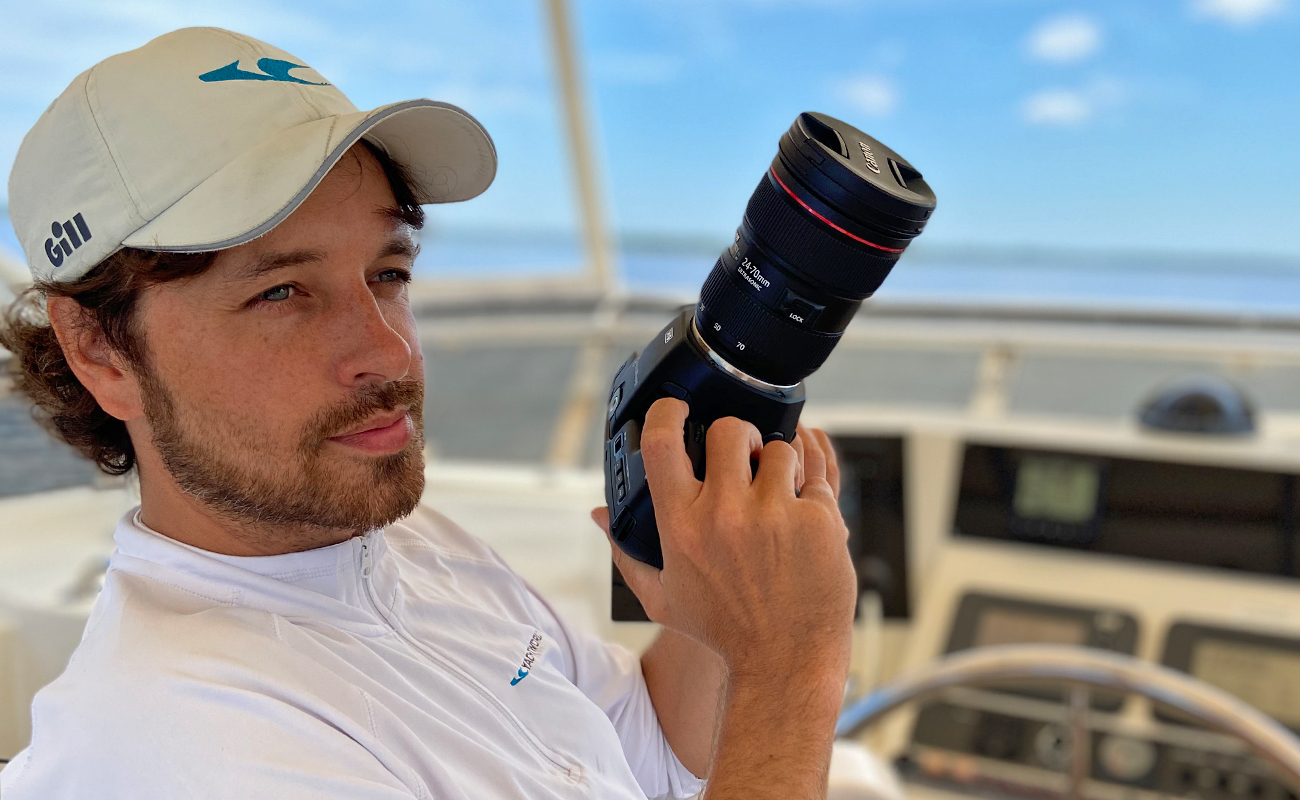 Ryan McVinney holding a Blackmagic 6K Pocket Cinema Camera onboard a yacht. Photo: YachtWorld.
Pre-Production Makes The Shoot!
JB: What goes into preparing for a day on the water for a filmed sea trial?
RM: "More than you might think! Sea trials are often rescheduled two or three times due to weather conditions. Though it's not always foul weather that delays a shoot – sometimes we actually want some chop to showcase the seakeeping ability of the vessel. Other times we require smooth sailing for the type of shot we're going for (for example, underwater passing shots). Depending on the boat, it can definitely be more fun to film when conditions are sporty – in fact, we've captured some thrilling shots this way, really showcasing the capabilities of the boat!
"Besides planning the logistics and getting to where we're going, there is a lot that goes into pre-production – from charging the camera, drone and steadicam batteries to clearing the memory cards, storyboarding and compiling detailed shot lists. We have to carefully plan to get all angles of each boat, from side profiles to overhead bird's eye view, and head-on running shots (where the drone has to match the speed of the vessel exactly so that it can hover just off the bow) to chase boat shots (filming from one boat to another).
"Onsite, further planning, flexibility and communication (via VHF radios) is the winning trifecta. Conditions change minute-to-minute on the water and sometimes inspire new ideas, so everyone has to be flexible in order to get the greatest b-roll. Now, you want someone talking? Then you have to have a lavalier microphone and a backup shotgun mic, as well as a 'dead cat' filter that goes on the mic to reduce the sound of wind. Audio is easily one of the hardest aspects of any video shoot and is often overlooked."
JB: Can you illustrate the complexity of getting those perfect, slow motion scenes?
RM: "Some of my favorite clips have been filmed from underwater, looking back up. These kinds of shots require durable, waterproof, underwater camera housings (such as Nauticam, Nexus or Aquatica housings) and specialized filters for color, reflections and glare. We put a cinematographer in the water with a professional slow motion camera (shooting 60 frames-per-second or more, often even 120 or 240) and position them with a dive flag to mark their location for safety. Then we start the engines and conduct very careful, high-speed pass-bys so they can nail the perfect shot. Some of the best slow motion imagery includes water splashing and big spray from the wake as the vessel passes by – and having someone down below at the water level really makes the shot. Plus, when we're doing a full photo shoot, we try to get as much usable footage as possible and show as many ways people use the boat. Picturing someone in dive gear showcases yet another sport."
"There are plenty of technical challenges to shooting on the water, let alone underwater. Whether we're filming in deep, dark blue water or shallow, azure green seas we have to play with filters and white balance to get the colors, vibrancy and clarity we're after. Red is affected more than any other color through water – at only 3 feet deep, the intensity of red light will be 40% less (as opposed to blue light which will only be 10% less). Then there's the issue of water droplets on the lens and strange, unexpected light refractions to deal with."
Ryan's Filmmaking Pro-tips: Always double check to make sure the camera is rolling. It may sound silly, but we've seen it many times – that perfect shot gets missed because someone thought they pressed record but the camera didn't start rolling. This goes for audio too. And, while we're at it, don't forget your mobile battery chargers and backups!
JB: Ever been seasick?
RM: "Yes! Everyone gets seasick from time to time. One time, 400-miles off the coast, after we were out for 17 hours suffering that slow relentless rolling you often get in big swells…well – I'll just say it can definitely hit your stomach! Elastic, acupressure Sea-Bands that you wear on your wrists are out there to help and can really make a difference. Dramamine is always in the first aid safety kits we bring with us too. As long as you're not the captain, you can take it for some relief (be careful because they can cause extreme drowsiness). Looking through the camera's viewfinder can be even more disorienting while moving and experiencing the motion of waves and speed of the boat."
Capturing The Decisive Moment
JB: How do you anticipate what to catch on camera?
RM: "My recent voyage up the Atlantic Seaboard along the ICW / Great Loop was unique in its spontaneity. We were passing different, unexpected things all day long and I had to be ready at a moment's notice, all day everyday. So to answer your question, you have to have the camera on, charged and ready to roll at all times! Believe me – you'll end up kicking yourself for hours if a key moment missed. Once, I was directing a shoot from aboard a Sunseeker 38 Hawk, with the cinematographers filming us from ahead, onboard a Predator 60. We sped up and jumped their wake, dove into the water and to our surprise – went almost fully submerged! Unfortunately, none of us were quite ready for that moment and had only barely hit record. That meant we caught only the tail end of the action (it still a cool shot). So, lesson learned: if you want to be a good cameraperson, have your finger ready to catch those decisive moments (as Henri Cartier-Bresson would say)! Or, alternatively, just have a huge memory card!"
Colin Voreis And A Cinematographer / Diver Filming A Sunseeker Hawk 38 Passing By. Photo: YachtWorld.
JB: Colin, you've been invited aboard and toured some of the world's largest and most exclusive yachts, what is the most outrageous thing you've filmed?
CV: "That's a good question! There are so many amazing yachts that I've been honored to board and film and superyachts are always such an extraordinary experience. I have to say, I'll never forget MINE GAMES, she's a 2010 203-foot Benetti superyacht, and as her name might suggest, she has real gold accents everywhere. Another outrageous yacht I loved was UTOPIA IV, a 200-foot-plus Rossinavi motor yacht, with ultimate spaces customized for her owner's family and incredible technology that allowed for a 33-knot top speed – which is insane!"
JB: You grew up boating, what are the boats you love to share with our audience the most? What is your preferred method of filming? Drone or handheld camera?
CV: "Growing up boating on Lake Erie, center console fishing boats are where my heart is. Regarding my preferred method of filming, no matter what, it's always a balance of both. The bigger field-of-vision that wide-angle and ultra-wide angle lenses offer is obviously what you need for interior walk-throughs and detail shots (i.e. 14mm -24mm lenses). For boat-to-boat (chase boat) shooting you'll need a 3-axis stabilization system (aka a gimbal or steadicam such as the Ronin-S) and a telephoto lens with built in stabilization. And to capture dramatic views that showcase the boat out on the water running you'll undoubtedly want a 4K drone (such as the Phantom Pro 4), able record in a high frame rate of at least 60 FPS.
"If you're shooting a big superyacht, it will likely be at the dock and there's no other way to get the entire boat in the frame but with the bird's-eye view of a drone. Drones capture vessels in all their glory – all four sides of the boat, plus a shot looking down."
The Art Of Flying Drones Over Water
JB: It seems terrifying to retrieve and catch a flying drone – especially from a moving boat! Sliced fingers or watching a drone drown are the mental pictures that come to mind. How do you line up your approach?
CV: "Everytime you fly a drone, you know that it may not come back. So, every retrieval I consider a win! And I'm sure every drone operator out there would agree with me that it is a good idea to switch out the memory card between every flight.
"I line up every drone shoot with the device's battery life in mind. In total, you have about 25 to 30 minutes of total flight time and the first five minutes are spent getting everything in order. Since it takes about another five minutes to get it back to the boat, you're looking at really only 15 minutes to capture what you want.
"My recommendation to avoid sliced fingers is the DJI Phantom 4 Pro. The blades are six inches away from where your hands are and there are two big legs to grab, as opposed to some of the smaller drones.
Colin Voreis directing a video shoot onboard a Sunseeker yacht. Photo: YachtWorld.
"Considering rough waters, wind and current can all be factors you have to deal with, it certainly takes a lot of practice to get the hang of catching these expensive machines and cameras. Every flight is a little different. I will say, having a Seakeeper stabilization system on your boat – and Yamaha engine setpoints that keep your location coordinates set – are two very helpful boat features to have while on a photo shoot. Another critical step to a successful drone retrieval experience is to make sure its settings are switched to hover, not land!
"The bottom line is, you have to come to the realization that you're shooting over water and even if you don't crash the drone, the system could get compromised by water or in some other way. No matter what, just like with batteries, mics and memory cards, have a backup plan!"
That's a wrap! The next time you watch your favorite fishing show or the latest YachtWorld segment, consider the crew who made it look easy. Yes, they may have the dream job of working on boats, doing what they love to do – all while filming other people do what they love to do (fishing and sell yachts for a living), but there's also a lot that goes into it!
Check out YachtWorld and Boat Trader on social media and YouTube for some of the most exciting boat content online.
Related
Aviara 36 AV36 Video Walkthrough Review
Join Ryan McVinney and Dave Berardinelli from MarineMax for a full walkthrough of an Aviara AV36.
Legends Episode 3: Here Comes The Sun Superyacht
Here Comes The Sun Superyacht by Amels Holland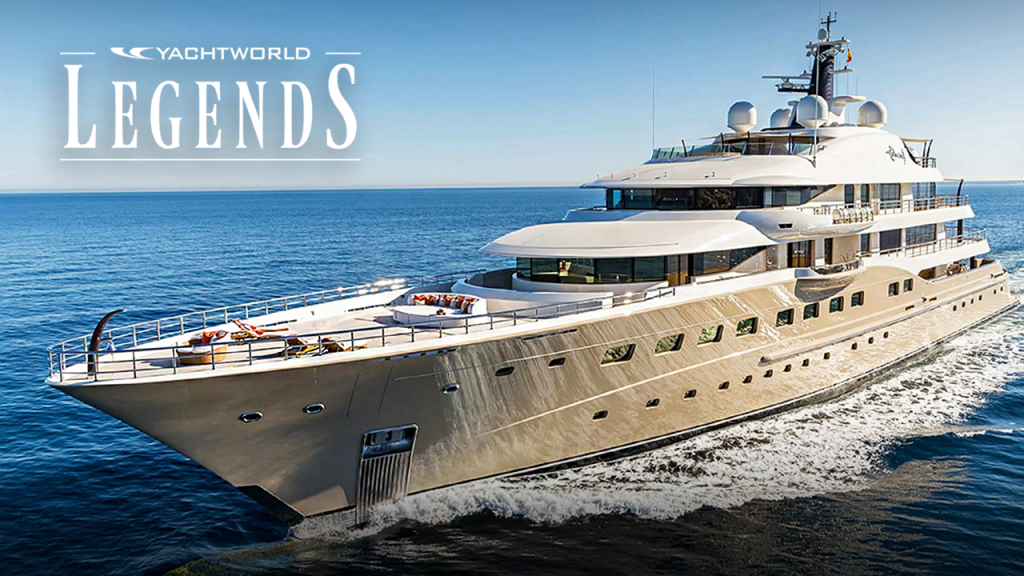 />
New Thrilling Video Series: YachtWorld Legends
Extraordinary yachts that provoke excitement, curiosity and fascination