Paragraph
Yacht owners enjoy the pursuit of exploring, preferably where no other man has ever been before. Submersibles operate like underwater balloons defying the realms of gravity and physics. YachtWorld reveals the next generation of submersibles most suited for superyachts.
Yacht owners enjoy the pursuit of exploring, preferably where no other man has ever been before. Submersibles operate like underwater balloons defying the realms of gravity and physics. YachtWorld reveals the next generation of submersibles most suited for superyachts.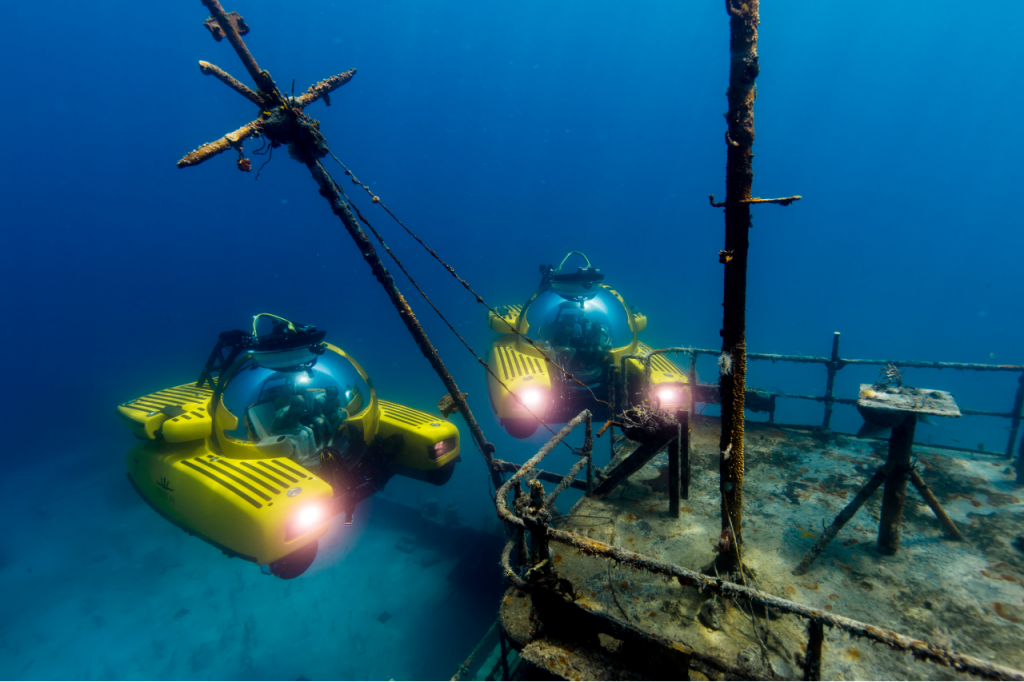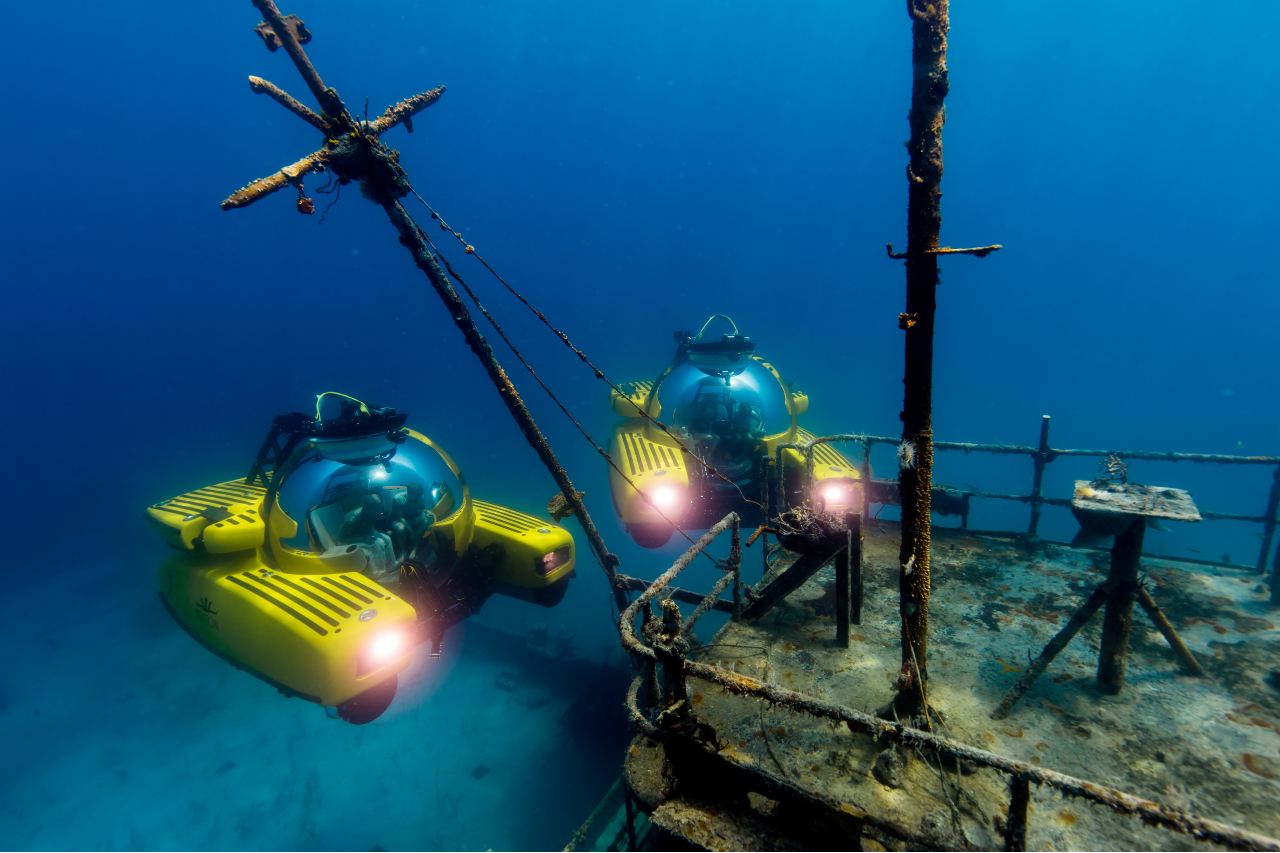 Diving in the Bahamas in a Triton submarine. Photo credit: Nick Verola
Private submarines are the ultimate toy of choice. Great underwater bubbles are the latest trend for yacht owners and explorers are busy planning their next submarine focused expedition trip to discover uncharted territories. It has been suggested that more is known about the moon than the deepest parts of the ocean.
Submarines offer complete escapism, transporting clients into an undiscovered world. Charles Kohnen, President of the SEAmagine Hydrospace Corporation comments on his client's reactions to subaquatic experiences: "There is something about being underwater that induces a hypnotic state. What surprises people the most is how incredibly quiet our submarines are. They emerge from the water with a beaming smile on their face emphatic that this was the most profound thing they've ever done. The experience is deeply bonding."
Over the last decade, the enjoyment of the sub has been extended to a broader audience, typically fitting between one to six people providing family and friends to experience the dive together. They have become increasingly prominent in the yachting world. The trend for larger superyachts has allowed owners to dedicate more real estate to submarine storage. Submarine design development has accelerated, and they are now a comfortable size while being lightweight enough for owners to dock them on and off a yacht easily. Historically, passengers boarded the sub while it was sitting on the deck and hoisted overboard. The launch and recovery of submarines required man-rated cranes and significant infrastructure aboard a ship.
Octopus, owned by the estate of the late Paul Allen utilized a submarine to unearth a long-lost WW2 shipwreck, Musashi. Octopus is currently for sale through Burgess.
A Voyage of Discovery
Superyacht owners love the concept of planning trips with their yacht to uncover treasure and secret tales which lie beneath the big-blue. Discovery expeditions use the services of the product manufacturer like SEAmagine and outside travel experts. Charles Kohnen discusses the operational organization behind exploration trips: "We work together and help the captains and the crew organize and plan a full itinerary and determine the best dive locations for the sub for a specific area. We engage with marine biologists, scientists, or archaeologists and sometimes bring the experts on board to make the trip educational."
Expedition planning is part of submarine manufacturers' bespoke service. The most popular diving locations include Costa Rica, the Galapagos and the Mediterranean. Charles from SEAmagine comments: "Yacht owners tend to have two key drivers; they are either absolutely fascinated by sea life or they want to discover shipwrecks."
Discover the Unimaginable
Charles discusses one remarkable discovery that one of his clients made: "The dive was in Costa Rica off Cocos Island. The area was unexplored and abundant in sea life. We stumbled upon a seamount underwater mountain formed by volcanic activity. It was utterly majestic, resembling a mountain from the Alps. It looked like there were waterfalls of fish streaming down its sides. There was also a large group of sharks circling the peak along with rays." This is just one example of how submarines expeditions can offer the unimaginable. The site was not identified on any nautical charts and its discovery was an unforgettable experience. "The local charts have now been updated with the discovery and location of the seamount. The owner named it Everest, which is now marked on the map.
Diving is an archaeologist's dream. One SEAmagine client went for their first dive in the Mediterranean, where they found two Roman Amphoras lying perfectly intact on the seafloor. The GPS coordinate was recorded, and the nautical archaeology community was informed of the find and provided with the coordinates.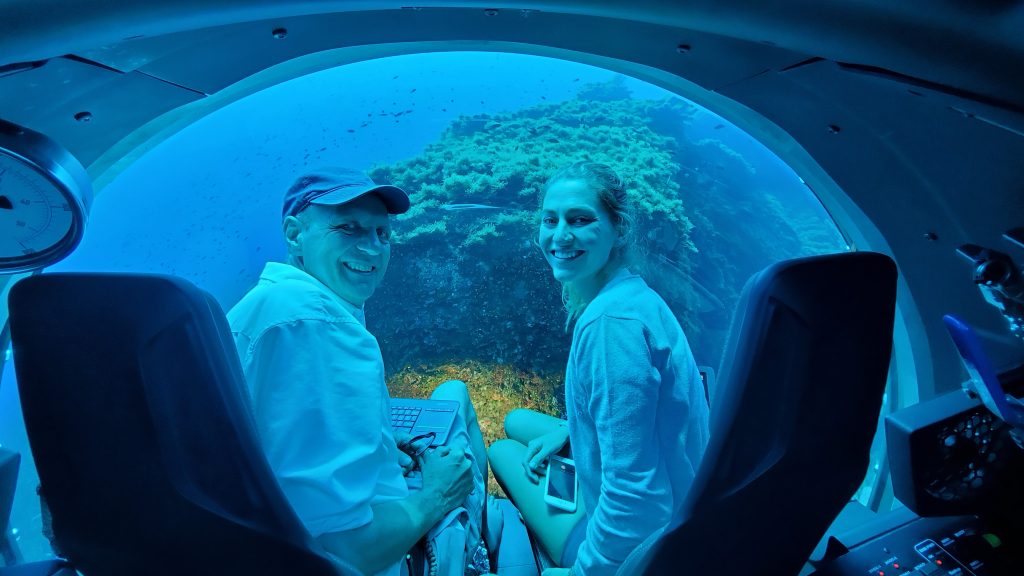 Submarine diving in the Mediterranean
Diving in the Dark, 'The Twilight Zone'
Most private submarines can reach depths of up to 6,600 feet, where passengers can explore the twilight zone. The sunlight does penetrate this deep, but the rays are very faint. Submarines use infra-red light to illuminate marine life to provide passengers with visibility of nearby marine life. Weird and incredible marine life is reliant on the perfect symbiosis, where they feed on each other. Here, you can marvel at lanternfish, which get their name from its ability to produce light. Many of the animals in the twilight zone make their light using special organs which produce light through a chemical reaction.
Triton Submarines work at the frontier of submarine design. They have successfully developed a fully-certified full ocean depth model called the Triton 36000/2 submarine which can dive between 2000 metres to 10,000 metres in the Hadal zone, the deepest part of the ocean. This sea depth level is also referred to as the midnight zone, where divers are completely engulfed in darkness.
Submarine interiors are designed for passengers to experience diving in ultra- comfort, equipped with i-pad docks, Play Beethoven the 5th sympathy while a shark scopes you out for lunch), luxury leather seats, and a high-tech friendly computer screen for passengers to stream the HD video camera feed connecting to the underwater camera. There are nine viewpoints available to provide a sense of 'peripheral vision.'
Charles Kohnen, President SEAmagine discusses optimising passengers experience: "SEAmagine championed the concept of a transparent spherical acrylic hull for passengers in order to give them an incredible 360 view as opposed to small view ports as was traditionally done. transparent spherical hull for the passengers." Submarine diving is a fully immersive experience, providing humans the opportunity of seeing the world through an amphibian lens. Charles hopes that a deeper understanding of the underworld will be the catalyst to changing any negative human behaviours that impact the ocean. A window to this unknown world can trigger a powerful eco-friendly consciousness. Whether that is eating more sustainable fish or not littering the ocean, Charles' submarine customers become more attuned to the environment, and the educational trips they embark on encourages taking a mindful approach to their surroundings.
Integrating Submarines with Yachts
Integrating a submarine with a superyacht during a new build's study is the optimum way of achieving the best results. It is harder to integrate a submersible post-build but it is still achievable. SEAmagine often makes customizations to integrate with an existing yacht. Accommodations involve either reducing the weight of the submersible, tailoring the final dimensions slightly, or changing hoist point configurations of the sub to meet specific launch and recovery systems.
Yacht owners should check with the submarine manufacturers to see what accommodations could be made directly. Charles from SEAmagine elaborates: "We have highly experienced engineers who have been doing this for over 25 years who can work hand in hand with captains, shipyards, designers to help study the best approach in accommodating our submarines for a specific existing yacht."
Eco-friendly Use
Some owners are interested in ocean life conservation or preservation research to be conducted from their submarine while they are not being used. Patrick Lahey, Co-Founder and President of Triton Submarines shares his thoughts on ocean conservation: "The most extraordinary thing about the ocean, to me, is just how unknown it is. By some estimates, 90% of the ocean floor is completely unexplored. The sea has more biomass than the rest of the world combined. Only now are we beginning to understand environmental interactions with our atmosphere. To understand the earth, one must understand the oceans and yet we have the hubris to think that it is probably all the same. To protect the health of the ocean and preserve its unique genetic reservoirs, we need first to figure out just what is down there. "
YachtWorld's Top Submarines for Yachts
Prices for submarines typically range between $1,000,000-$10,000,000. We have cherry-picked the top three best subs most suited for yachts.
1- TRITON 1650/3 LP Superyacht sub. Price starts at $3.3 million +
The TRITON 1650/3 LP will take a pilot and two passengers to 500 meters feet (1,640 feet) in total comfort. At only 5.9 feet in height (1.8 meters), with a modest crane weight of only 8,800 pounds (4,000 kilograms), this model is ideal for superyacht tender garages. The Triton facilitates up to 12 hours of endurance. The single lift point allows it to be launched using existing tender cranes, further facilitating integration onboard a superyacht. Triton also builds subs that can carry six people plus, and recently delivered a submarine to hold 24 passengers for a client in Vietnam.
2- Seamagine AURORA-3C Prices start at $3.5 million
AURORA 3C is a compact three-person model that is easier to integrate aboard a yacht as it is light and compact but with a spacious interior. This sub has a weight of only 3800 kg, it is launched from a single point hoist, and can reach speeds of over three knots. Maximum operating depth is up to 457 meters deep. The AURORA-3C will cater from eight to ten hours of diving fun. This submarine is particularly suited to those with claustrophobic tendencies due to its spacious interiors and large entry hatch. SEAmagine also builds larger models that can hold up to six people with spacious comfort.
3- U-Boat Worx The NEMO Prices start at $1.1 million
The NEMO is the smallest and lightest submersible ever produced. Built to explore the deep sea in air-conditioned comfort, it can safely dive up to 100 meters. The NEMO can be towed behind a car on a trailer for shoreside launching.
Related

Flying Fox Superyacht: A Celebrity Yacht Steeped In Mystery
Find out how much the Flying Fox superyacht costs, and whether Jeff Bezos is the owner of the luxurious...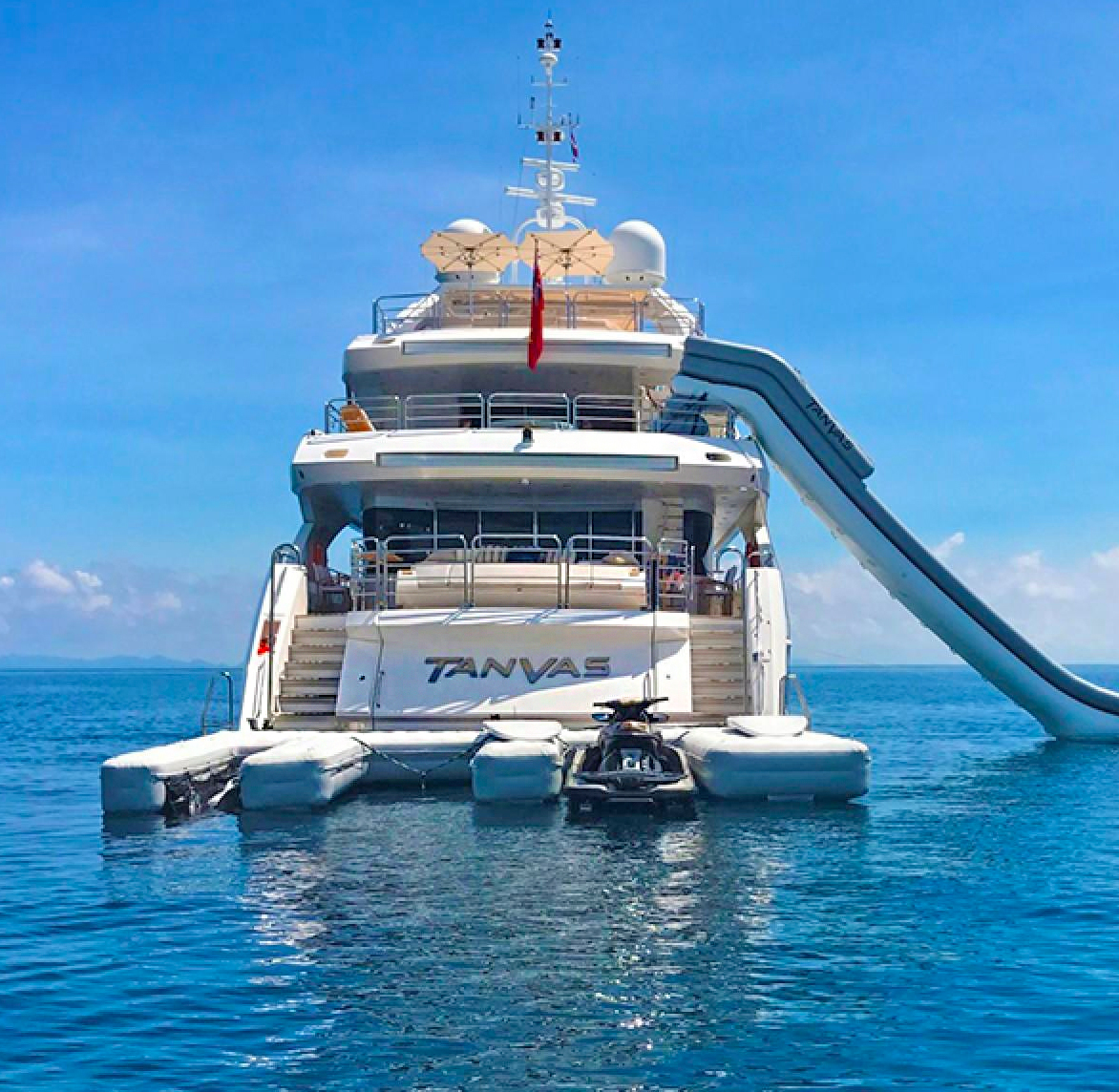 Boat Names: 101 Suggestions For Naming Your Yacht
Top tips to help boat buyers to name their yacht. 'What's in a name? That which we call a rose by any...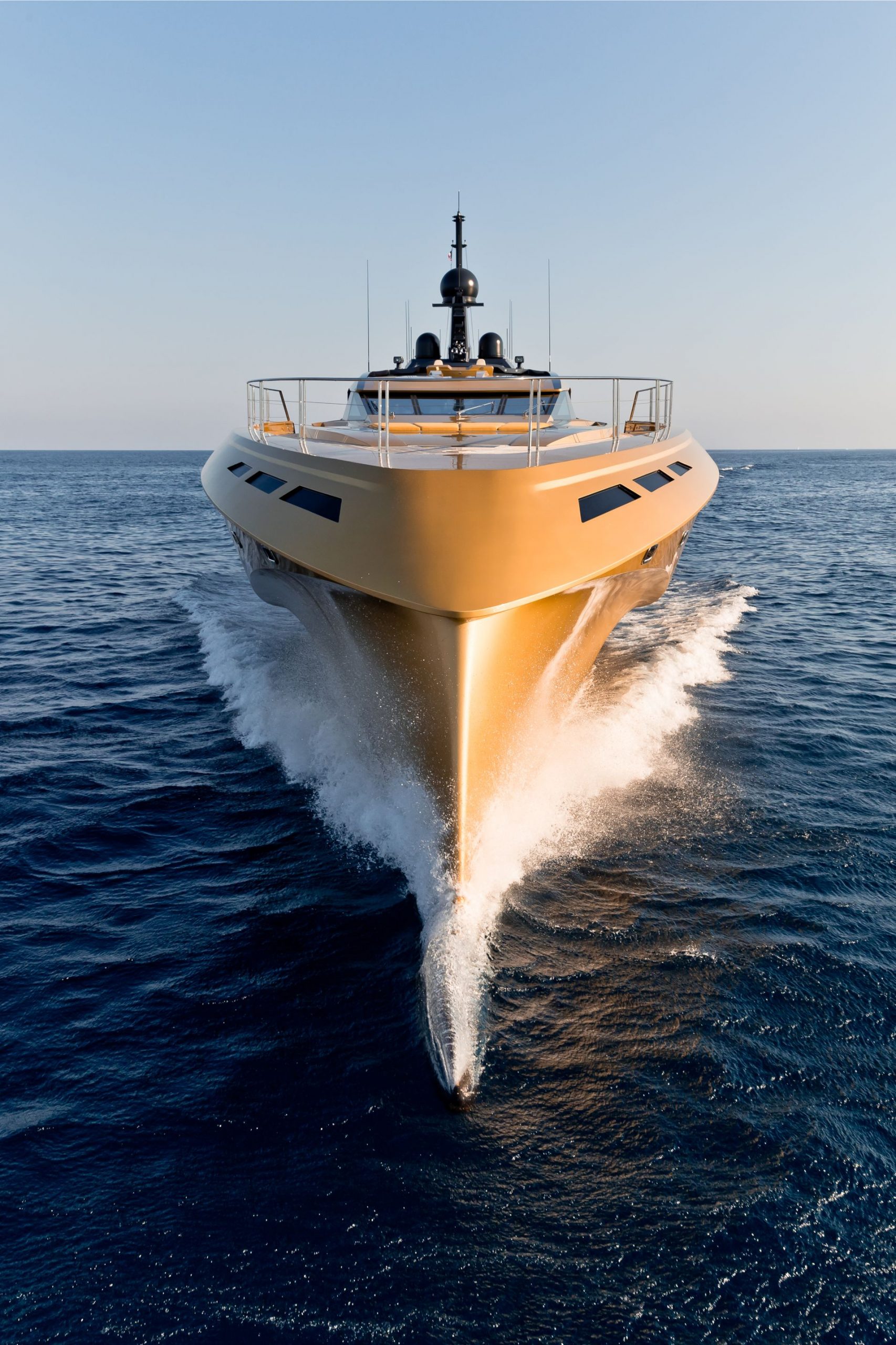 Silver And Gold Superyachts
Emma Coady takes a look at two stunning superyachts that will leave you drooling.