Fish-and-ski boats are multipurpose vessels designed for families wanting to participate in both activities, combining features that support angling and watersports. Most models are easily trailerable, which makes them popular in freshwater areas. Since most ski and fish boats are 15-30 feet long, it is easy to tow them to explore a new lake or river. Capacity-wise, they usually sit up between five and nine people, thanks to convertible seating features, making them an ideal choice for families.
Most fish-and-ski boats have a similar layout to that of a bowrider, but with the addition of fishing features that are a prerequisite for any angler, such as livewells, rod holders, and an electric trolling motor. They are also geared for watersports (tubing, water skiing, and wakeboarding) and have a ski-tow pylon and ski lockers.
Some trade-offs must be made for a boat designed for multipurpose usage (less casting room for fishing, fewer fishing features, etc.). The benefit is that the family can enjoy the versatility of switching between sports applications in an instant.
Ski and fish boats are commonly made in aluminum thanks to their lightweight and durable qualities, making them easy to tow. They require less power (which means less fuel) to operate, enabling you to reach high speeds on a lower-powered engine. Another benefit to using aluminum boats is that they are easy to repair. If they do become dented, they can be easily pounded out. A hull section can be cut out and patched up with rivets or welds for more severe damage. Moreover, the repair costs are relatively low, especially when compared with fiberglass boat repair. Larger ski and fish boats tend to be made in fiberglass and are often dual-purpose, suited to freshwater and saltwater exploration.
Fish-and-ski boats are available in a broad price range. To help you narrow your search, we have selected some of the best fish-and-ski boats on the market in 2023. Choose from basic runabout models to premium boats with a broader range of features and amenities.
1. 2023 Boston Whaler 320 Vantage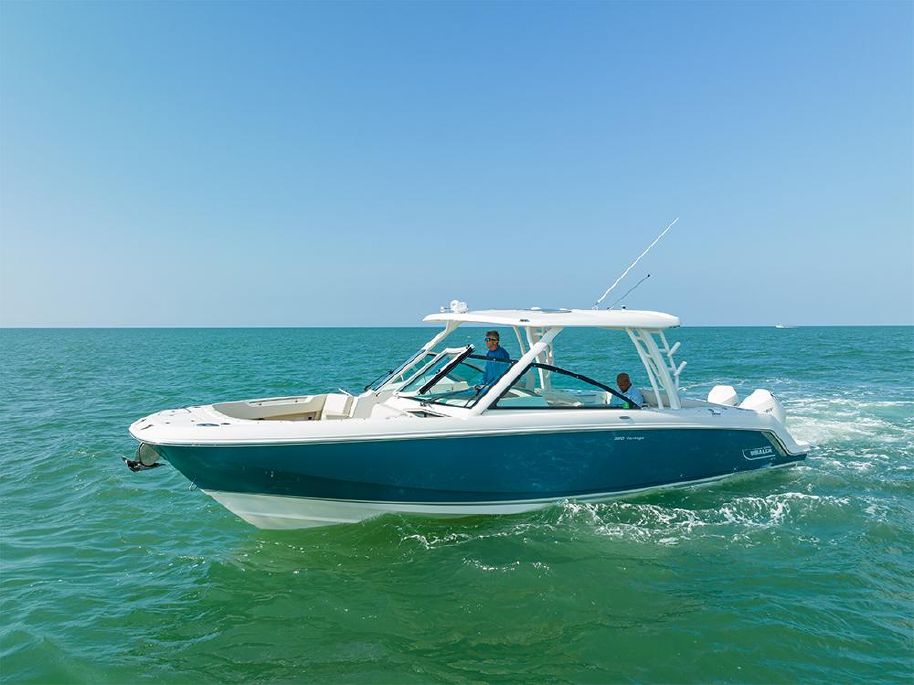 Above: The Boston Whaler 320 Vantage. Image via Boston Whaler.
When you think of wake boats you probably don't think of Boston Whaler. On the flip side, while Whalers have always been solid fishing boats, serious anglers often prefer more bare bones or fishing-centric boats. But the reality is that the Boston Whaler 320 Vantage is ideal for watersports and provides a great platform for family fishing outings as well.
Outfitted with an elevated tow pole on the hard top, you can catch serious air on a tube or even a pair of water skis. You can also add on an onboard air compressor for inflating tow-toys. While hardcore wake boarders and wake surfers would prefer a boat with some wake shaping technology, the 320 Vantage offers some good in-between features, including a bow-mounted fold-away beach boarding ladder, starboard-side dive door with a removable dive ladder, ample onboard storage and freshwater showers both forward and aft. All of those features make her ideal for watersport-crazy families who also like to fish.
This dual-console is the winner of the National Marine Manufacturers Association's Innovation Award. The ​​320 Vantage has a cabin with a settee that converts into a berth sufficient for a couple to enjoy an overnight stay. And inside the starboard-side console, there's a stand-up head compartment.
While die-hard anglers will prefer center consoles for 360-degree fishability, the aft cockpit is open and thoroughly fishable. Notable options include a raw water washdown and a deluxe prep center. Performance-wise, expect cruising speeds of 35 knots and a fuel capacity of 285 gallons.
Browse Boston Whaler 320 Vantage new and used boats for sale on YachtWorld now.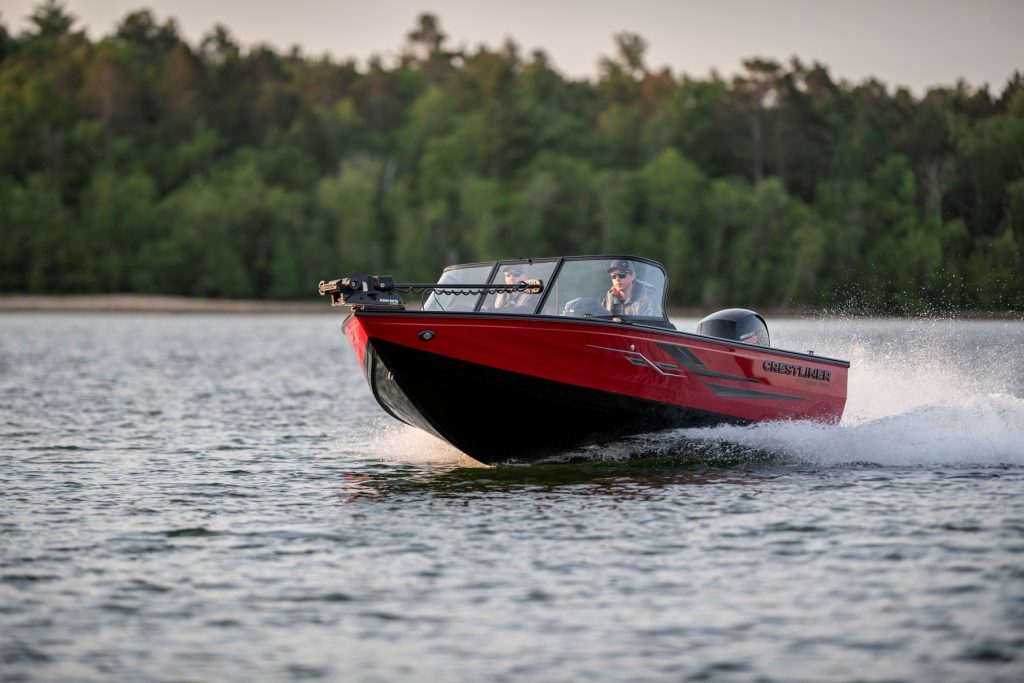 Above: Crestliner 1950 Super Hawk. image via Crestliner. 
Crestliner has produced this 19-footer aluminum fish and sport boat since 2013. It comes with a ski pylon, bow seating, cushions, and an aft bench seat.
It has enough power to run like a quick sport boat and can reach top speeds of up to 56 knots. The beauty of the 1950 Super Hawk is that you can transform it from a fishing boat to a fun family boat ready for towing or socializing in a matter of seconds thanks to the convertible bow platform, which features a snapless pad and bolsters for loungers in a matter of seconds, so if you stop for drinks and socializing, you can pull them up and use them as seating backrest cushions.
Browse Crestliner new and used boats for sale on YachtWorld now.
3. 2023 Lund 1875 Crossover XS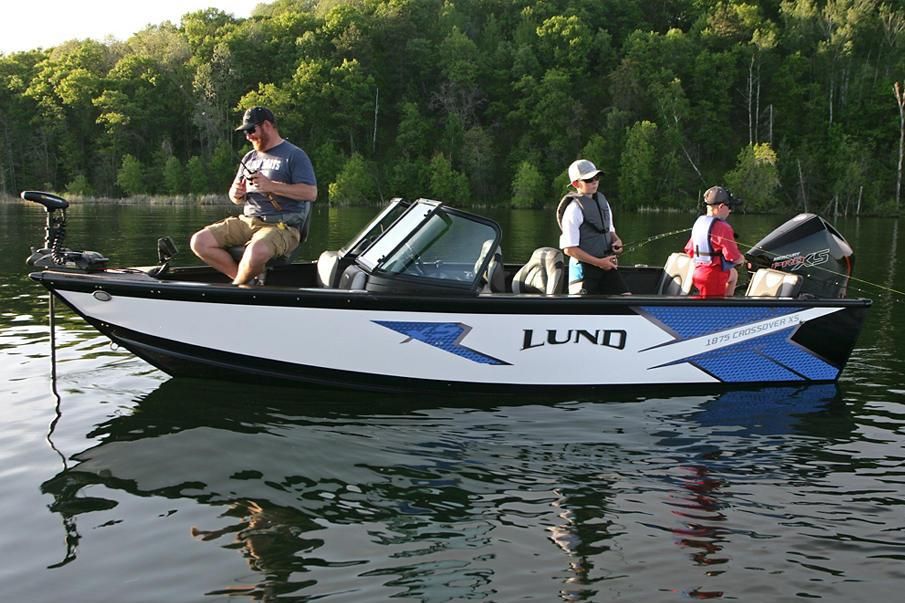 Above: 2023 Lund 1875 Crossover XS. Image via Lund. 
Lund has long been recognised for building fishing boats to a high standard, and the Crossover XS is no exception. It delivers incredible versatility providing features that cater to fishing and skiing.
There is an abundance of storage for fishing accessories and fish (rod holders, rocket launchers, tackle stations, livewells, and fish boxes). To the center is a two-tier rod locker that can store up to ten rods up to 7′ in length. Longer rods can be stored in large open-side lockers. The cockpit is wide and spacious with updated console switches and panels, with room for a Flush Mount Fish Finder Chart Plotter and a stand-alone fish finder.
Watersport enthusiasts can store life jackets, wakeboards, and skis in the center floor of the boat. Lund 1875 Crossover XS features a ski pylon to pull water skiers and wakeboarders along the water.
Browse Lund 1875 Crossover XS new and used boats for sale on YachtWorld.
4. Boston Whaler 280 Dauntless 2023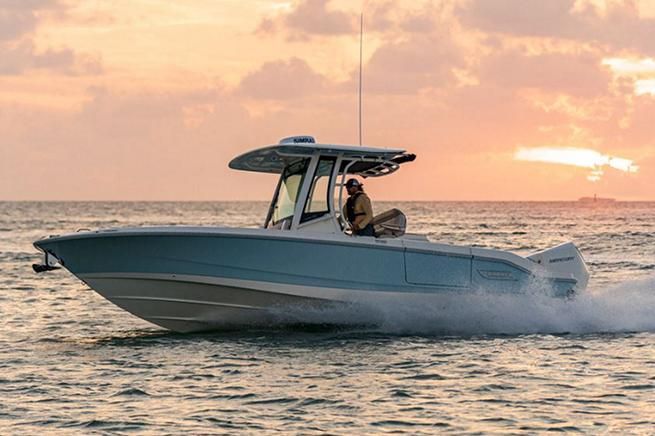 Above: 2023 Boston Whaler 280 Dauntless cruising through the open water. Image via Boston Whaler/MarineMax Palm Beach At PGA Marina. 
While most ski-and-fish boats are designed for freshwater adventure, the 280 Dauntless can handle coastal and offshore conditions. Firstly, it's made from fiberglass rather than aluminum, but because the hull and deck are constructed from separated molds, it creates a solid hull construction with no creaking or flexing when impacted by strong waves.
The 280 Dauntless is intended to be used for all kinds of watersports, not just fishing. There's a swim patio, and the 280 Dauntless still has aft swim platforms with a reboarding ladder to starboard, ideal for watersports and swimming.
The helm seat easily transitions from forward-facing to aft-facing at the touch of a button. When the bench seat is deployed, the backrest flips up on the aft, which is pretty neat. However, with the aft seat stowed, there's a sizable aft casting deck.
Browse Boston Whaler 28 Dauntless 2023 new and used boats for sale on YachtWorld.
5. 2023 Monterey 275 SS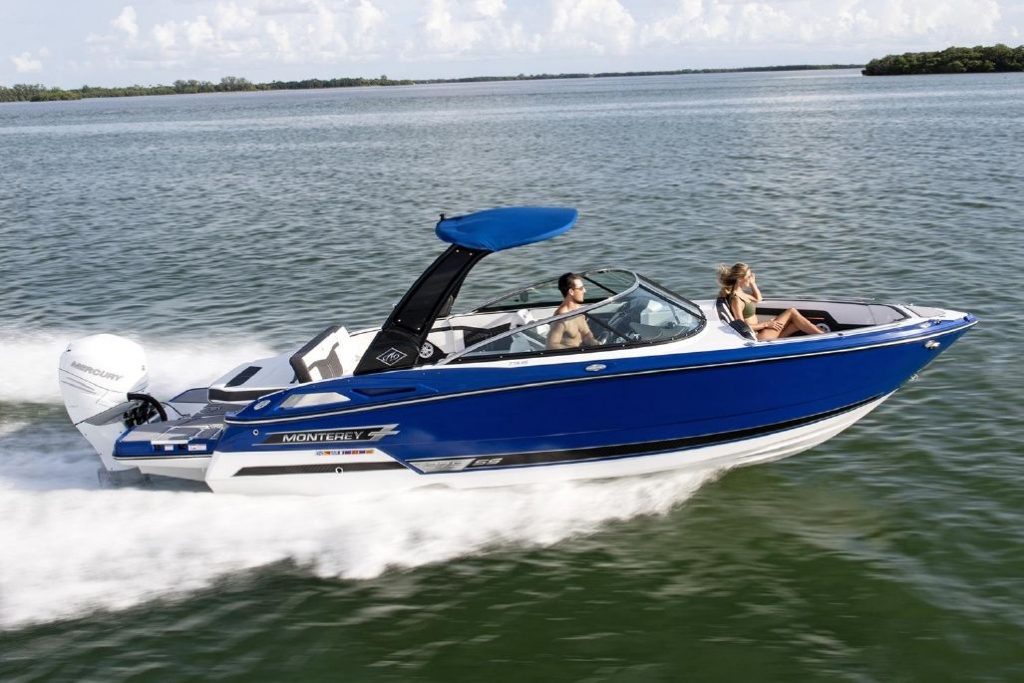 Above: 2023 Monterey 275 Super Sport bowrider carving through the water.
If you want a ski-and-fish boat that stands out for its sleek looks, this sporty bowrider turns heads. Powered by Mercury's 400 HP Verado motor and has power steering, electronic throttle and shift.
The 275SS is typically used for day cruising, watersports, and saltwater fishing. A luxuriously appointed cabin with molded insteps in the door opens onto a large sunpad on deck. There is a compromise to be made regarding fishability, but if you want a spacious speedy family boat with an abundance of social areas and a vast amount of seating options, this boat is a great choice. It has a cruising speed of 25 knots and can reach a top speed of 48 knots.
Browse Monterey 275 SS new and used boats for sale on YachtWorld.
Browse our full selection of fish and ski boats new and used boats for sale.
Related
The All-Electric Veer X13: Merging The Boundaries Between Kayak And Boat
Read about the all-new electric nifty runaround with plenty of attitude.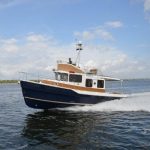 Cabin Cruisers: Coastal Cruising Island Hoppers
Forget renting Airbnb cabins or condos and get away in style on a cabin cruiser.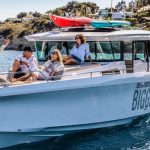 Axopar 45 XC Cross Cabin Review: On The Water 365 Days A Year
Are you looking for a sporty 45-footer to take you boating all year round?