Veer is a new boat brand offering affordable electric boat options to boaters who want a 'no strings attached' launch-and-go option. Another brand in Brunswick Corporation's portfolio of recreational boat brands (the Godfather of boat builders has over 18 household names in its portfolio). The first model to be released in the Veer series is the X13. Last week it made its grand debut at the Consumer Electronics Show (CES) in Las Vegas, a teaser before it hits the market in Spring 2023, where it will be available to purchase online.
The X13 is powered by Mercury Avator electric propulsion systems and Mercury FourStroke outboards, including the Avator 7.5e electric outboard – the first product in the Avator lineup also unveiled at CES 2023.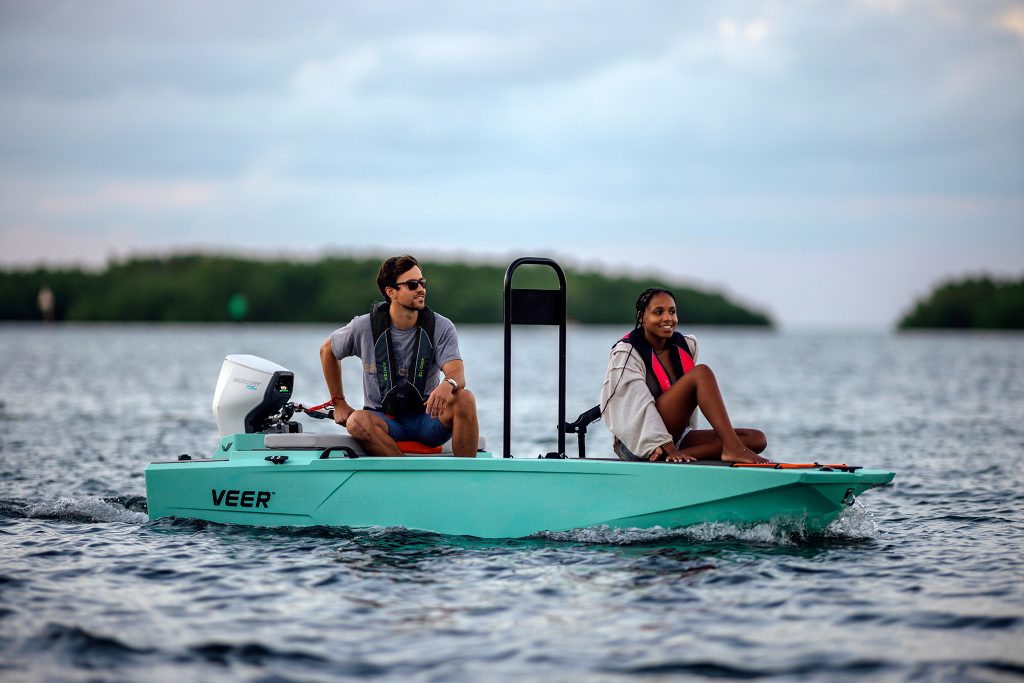 Above: Veer X13 in seafoam fitted with a Mercury Avator 7.5e electric outboard. Image credit: Veer Boats.
An Affordable Electric Day Boat
Prices start at $11,995* (with a standard Mercury 9.9hp engine). And although we are waiting for the final cost of the Avatar motor, one would estimate that the final package will not exceed more than $20,000. Luxury models with high price tags, such as Candela C-8, Navier N30 for $300,000, and X Shore Eelex 8000 at $329,000. And while the Veer X13 isn't a 30-foot luxury speedboat like other household boat names on the market, it offers a more affordable option for eco-conscious boaters.
A cross between a kayak and a boat, the Veer X13 bridges a gap in the market between a kayak and a boat, and it feels like an entirely new application. Measuring only 13 feet, with 2 person capacity. Veer expects to generate interest in the electric fishing tournament market. Unlike a kayak, which is unstable as you walk around the boat, the Veer X13 is sturdy, partly due to its wider foam filled beam. "A trend we've seen growing is electric-only bass circuits. We are providing young anglers with another affordable option, as the cost is a big barrier to entry." Serious anglers will find there is little room for casting. However, what it lacks in space, it makes up for in stealth. The whisper-quiet Avatar engine mode is ideal for targeting fish that are elusive by nature, such as carp. Fish can get spooked by combustion engines before they even get a chance to see the bait.
Taking design cues from Lund (a subsidiary of Brunswick), you won't be surprised to learn that Brunswick deployed its engineering team to craft the X13 concept. And with 75 years of experience in boat building for anglers, Lund knows the recreational fishing boat market consumer. Unlike Lund, though, the X13 was conceived for a casual boater that wants to go fishing on the weekends without scaring off the fish.
A Low Maintenance Vessel
The hull's bold styling and seamless appearance give observers the impression that it is constructed from fiberglass. Instead, the X13 is built from durable rotomolded polyethylene. Never heard of it? Nor had I, but apparently, it's synonymous with kayak manufacturers. "We wanted something durable and forgiving so that young people don't want to worry about returning to their parents with a crack in the boat. But the advantage of rotomolded polyethylene is that it's less maintenance. It won't crack, allowing boaters to experience the outdoors confidently," says Mathew Atilano, Director of Strategy for Veer.
X13 Standard Key Features Include:
Galvanized Trailer
Portable navigation light kit
MarineMat
Add On Features Include:
Standing bar
Shallow water anchor
Mooring cover
SportTrak accessories
Young & Fresh: A New Boat Buyers Market
Available in seafoam or gray, the Veer X13 is sporty and fun and aimed at targeting a younger audience, particularly the millennial segment. Atilano comments, "What we're seeing from a consumer standpoint is that most buying boats are in their 50s, due their life stage and income range. We want to democratize boating by eliminating some of the barriers of entry preventing young people from boating. For example, costs associated with marina fees and maintenance costs."
Performance-wise, Brunswick has yet to disclose any performance statistics, given that the nature of electric propulsion is often a range Vs performance Vs. conditions scenario. However, the X13 will not break any speed or range records and should only be used for short distances. Power wise, when fitted with a Avator 7.5e electric outboard the X13 allows you to slowly pootle away with the equivalent of 1hp. It is intended for smaller bodies of water and calmer areas due to the shallow draft, and is very capable for its size. One of the limitations is that it's not going to run long distances or at high speeds, however you can troll all day.
Specifications:
Length Overall: 13 ft.
Max Draft: 6.3 inches
Beam: 48 inches
Dry Weight (boat only): 382 lbs
Engines: Available with Mercury 4-stroke 9.9hp or Mercury Avatar 7.5e electric outboard.
Are you looking for a freshwater fishing boat? If you want some pointers on the choices, and challenges you might face when selecting a freshwater fishing boat, read our guide on Freshwater Fishing Boats.
Or perhaps you are in the market for an electric day boat? Check out some electric day boats for sale on YachtWorld today:
Browse X Shore new and used boats for sale.
Browse Candela new and used boats for sale.
Related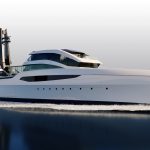 The Superyacht Explorer With A Glass Midriff: Feadship's 87m EXPV
The 285" foot Feadship EXPV concept by Harrison Eidsgaard: an unconventional explorer yacht.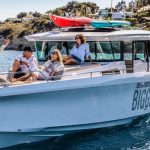 Axopar 45 XC Cross Cabin Review: On The Water 365 Days A Year
Are you looking for a sporty 45-footer to take you boating all year round?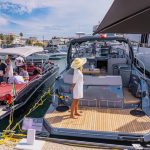 Cannes Yachting Festival 2022: 6 Dreamy Debuts
Meet the major boat builders in the motorboat industry who made their public debuts at the festival.