Tenders are purely functional items for some yacht owners, while more extravagant superyacht owners view tenders as the ultimate accessory. Luxury tenders are often styled in matching color schemes, taking cues from the mothership so that they don't look out of place in the deck. Take Khalilah, for example; when she debuted, her matching 23-foot gold tender turned more heads speeding through the water like a gold bullet, lapping the mothership itself.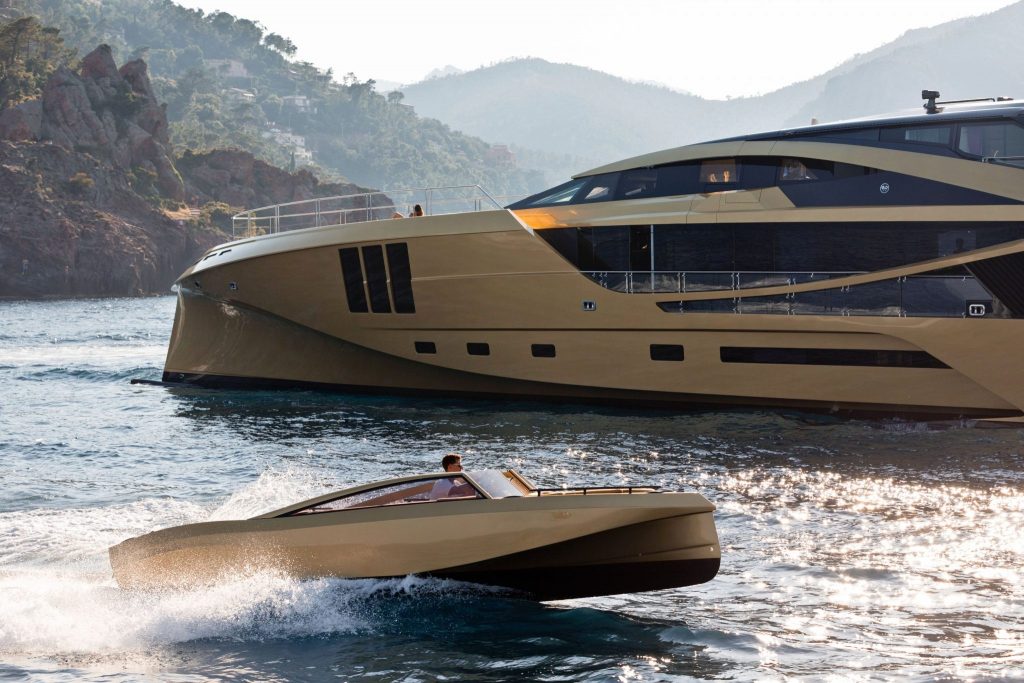 Choosing The Perfect Yacht Tender
There are swaths of different types of water-based yacht tenders, but they generally fall into the following tender boat categories:
Chase Tenders / Chase Boats
Limousine-Style Tenders
Mini Jets And Jet-Powered Tenders
Amphibious Tenders
Basic Dinghies
Marina Launch Boats
Classic Runabout Boat Tenders
Yacht Tenders Overview
Tender boats support the needs of the larger craft, aka the "mothership", performing tasks that the bigger boat cannot. Hence the name "tender". For instance, they are often used to ferry passengers back and forth from the yacht. While tenders are functional, they are also often designed to entertain and exhilarate (except for life safety boats). Many tenders are highly customized to suit their owner's needs.
Unlike a superyacht or large motor yacht, tenders can squeeze into tight spaces and harbors, transversing shallow waters and enabling passengers to explore atolls, or remote volcanic islands, on day trips to the land.
Tenders are also used as water toys to allow guests to have fun on the water. A high towing tower as well as a specialized watersports equipment can sometimes be equipped to a yacht tender. In fact sometimes large superyachts will carry a dedicated wake boat onboard that can be used as a tender or as a watersports machine for recreation. Younger guests aboard the boat may enjoy inflatable towable toys on such a vessel, and there is a plethora of choices available, from bananas, to tubes, doughnuts and jumbo dogs (a silly barbeque-inspired hot dog tube, a personal favorite of mine).
When considering tender capacity, you will need to bear in mind that passengers are often (if not always) escorted by at least two crew members (especially for superyachts), and you'll need adequate stowage to carry equipment too.
Co-ordinating tender movements and storage isn't straightforward; how they are stored and used needs to be carefully considered. Launching heavy tenders from three decks above the waterline is not an easy feat and requires a davit or specialized hoists and lifts. These launching environments require careful consideration and proper crew training to ensure a safe launching and retrieval.
Sometimes a superyacht owner may choose to have a shadow vessel (known as a superyacht support vessel) dedicated to carrying toys and tender. Damen and Amels are some builders of superyacht support vessels, while catamarans are becoming increasingly popular in this market segment as well, due to their large deck spaces and great seakeeping ability.
Chase Boats
Chase boats, or chase tenders, are not stored on the mothership, but rather are driven separately, or towed via a tow line. They are designed for boats that do not have a tender garage space and are built to have everything aboard that is required for some light coastal cruising, including some small overnight berths, navigation, GPS/chartplotter and some fishing features to boot.
A chase boat will serve as a multi-use vessel to support the mothership. Therefore, it should have good sea-keeping ability, a wider range than a small tender and the ability to keep up with the mothership at cruising speed.
Chase boats are often deployed to collect a guest arriving late or to pick up and shuttle provisions needed back onboard the mother yacht. A standard chase boat generally sits between 30 and 45 feet long. Chase boats can often have a dedicated crew of their own and can be towed, driven separately or berthed in a convenient nearby location.
These vessels can even be equipped with luxury accommodations and every creature comfort imaginable, including dining facilities, champagne coolers, i-Pad docks and TV and AV systems.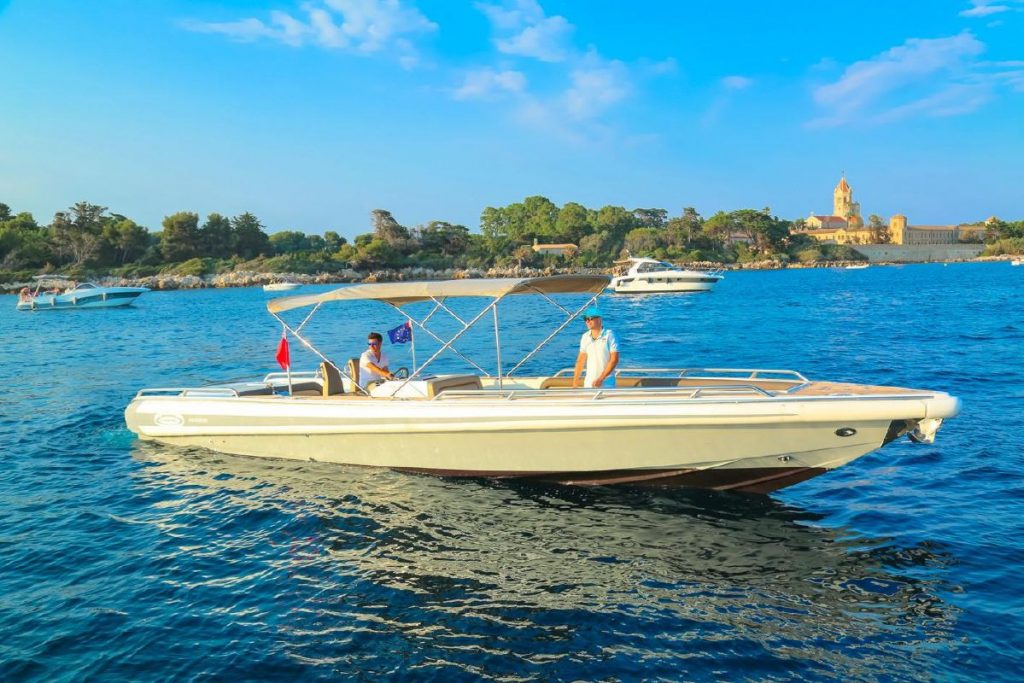 RIBs
Rigid inflatable boats (RIBs) are popular due to their functionality, durability and seaworthiness. The sea-keeping abilities of a good RIB are significantly better than those of an equivalent size utility boat or limousine style tender. In fact, RIBS can often double as life boats for certain vessels.
RIBs can also be deflated for storage which makes them exceptionally practical. RIBs are more stable than dinghies and generally lighter weight as well, due to their inflatable nature, whereas dinghies have a hard hull and set weight and size.
Shop for new or used RIBs for sale on Yachtworld.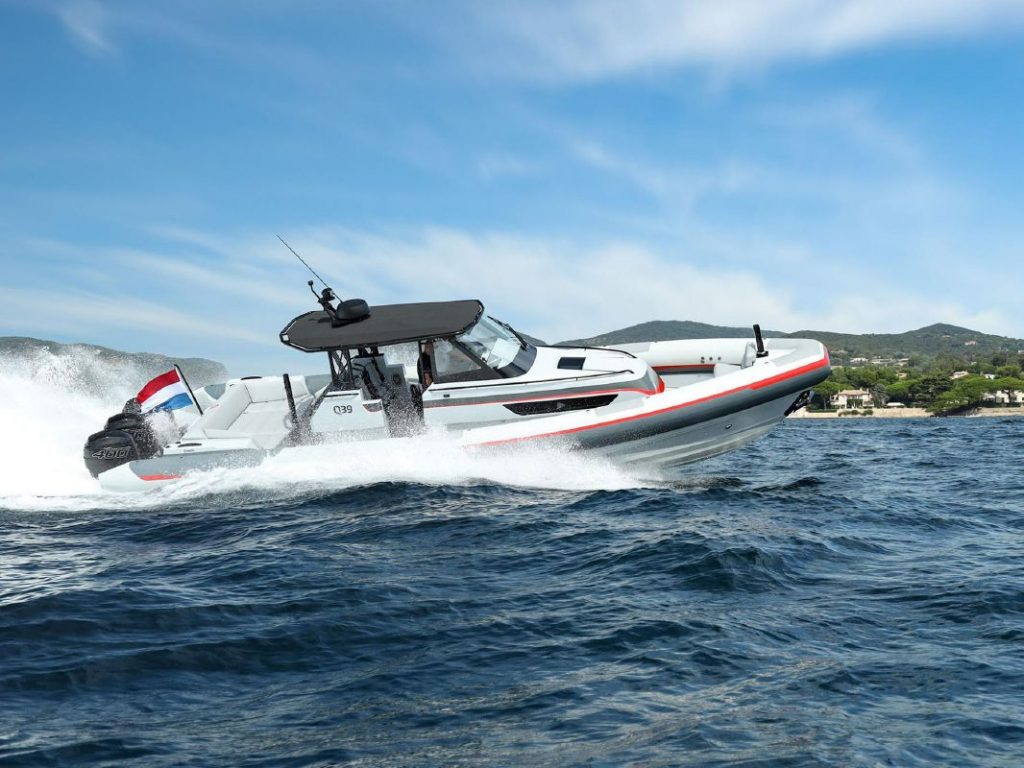 Limousine Tenders
Limousine style tenders biggest attribute is providing passengers with complete privacy and protection from the elements thanks to enclosed inside spaces. Seating is also available outside on the foredeck. Some limo-style tenders offer retractable glass roofs that lift up and provide guests with 360-degree visibility.
Guests also have the option to sit outside on the tender. The latest limousine models are constructed using carbon fiber, kevlar, fiberglass composite and e-glass. They are an elegant way for guests to be shuttled to and from the mothership in style and comfort. Seakeeping and stability are important for limousine style tenders to ensure that guest have flexibility to cruise wherever they desire, at a just moments notice.
Mini Jets And Jet-Powered Tenders
Mini jets are generally bought by the owners of small cruisers thanks to the compact garage-friendly dimensions. Most mini jets weigh less than 200kg which makes them easily transportable. Despite its size, it can reach speeds over 30 knots. A wide draft means they can transverse shallow waters without fear of grounding. Williams Jet Tenders are the de facto boat manufacturer for mini jets.
Jet-powered tenders utilize water jet drives that give them a unique set of benefits. They have a very shallow draft thanks in part to the fact they do not have a moving propeller beneath the waterline, making them easy to beach, as well as a breeze for crossing bars and marshes. Jet Tenders lack exposed rotating parts below the keel and are thus safe for people in the water around them, making them ideal boats for safely cruising to and from the shore at night. They are also fun water toys that can be used for towing tubes, with superb maneuverability and low speed handling.
Shop for used or new jet tenders by Williams on YachtWorld.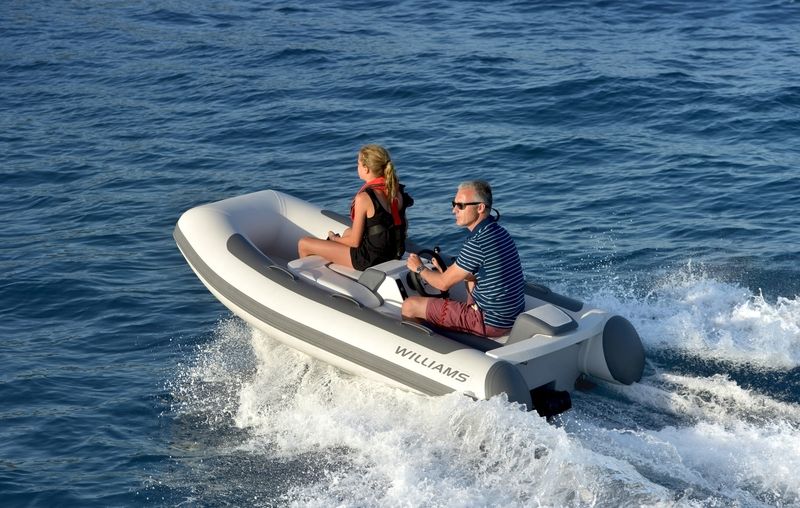 Center Console Tenders
Open cockpit boats such as center consoles and side consoles are a popular choice for tenders due to their simplicity and versatile layout. The open layout is designed for greater freedom of movement with easy access to the bow and along the side gunnels making them easy to come up alongside or behind the mothership and tie off. One of the drawbacks of open boats is the lack of protection from the elements; however, you can buy models with a hardtop or a retractable or pop-up Bimini top to help protect you from sun rays and inclement weather. To find out more about center consoles, read our guide Center Consoles: Versatile Day Boats And Fishing Machines.
Shop for new or used center consoles on YachtWorld today.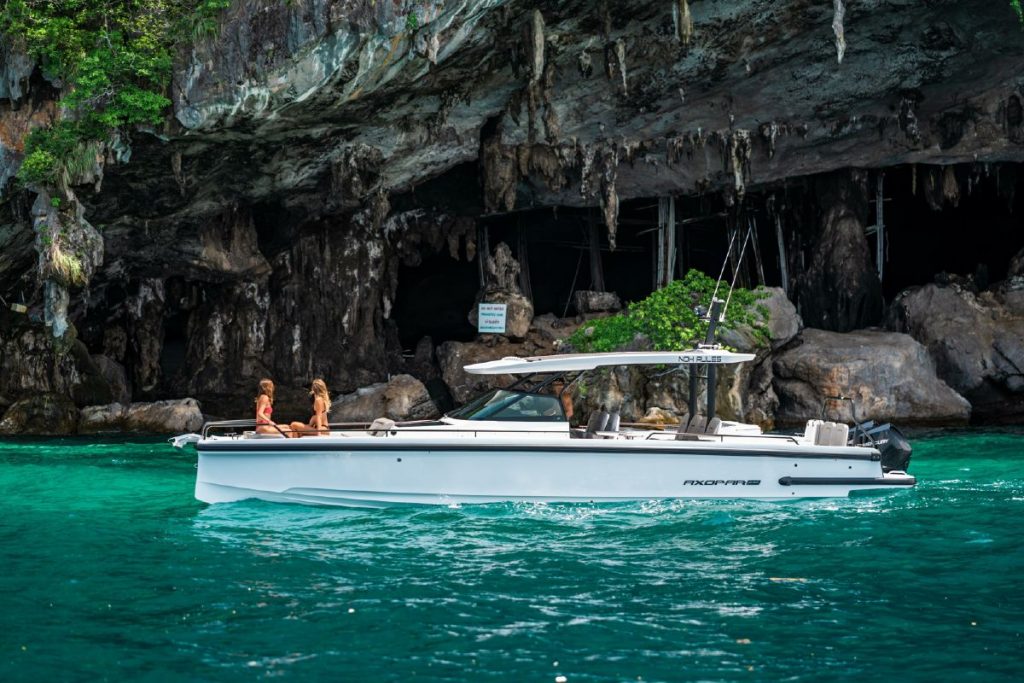 Amphibious Tenders
Amphibious tenders offer the best possible scenario onboard a superyacht – imagine going to the stern of the boat, boarding an IGUANA PRO RIDER (the world's fastest amphibious boat) and hopping onboard to race off to shore at speeds of up to 70 MPH, thanks to twin 350 HP Mercury Racing outboards – and when you arrive you can simply drive up onto land! No more docking, no more expensive berths. Instead, take your tender on the road, literally (ok we're exaggerating here as most of these boats are not exactly street legal). These boats really can give owners access to many previously inaccessible shores and landings, extending explorations onto land in many hard to reach, remote locations.
Certain innovative superyacht tenders are amphibious in nature, meaning they've been designed to transition between water and land effortlessly, serving as a shuttle from the yacht to the shore and beyond, transporting items such as quad bikes, motorbikes, BBQs, provisions, and rubbish. The amphibious tender market is in its infancy, and although the latest designs are fanciful, they are full of utility. The Iguana 29 has two caterpillar tracks that can deploy from either side of the hull in seconds.
Dinghies
Let's talk about no-thrills tenders. Perhaps the most boring on our list, but nonetheless utilitarian and still useful, a basic dinghy is a small simple boat, often carried onboard a larger vessel for use as a bare bones tender to get to shore. Since dinghies are compact, they suit owners of cruisers as small as 38 feet with limited storage space on board. This is the simplest form of a tender for a yacht there is, and they can be anything from wood to fiberglass to inflatable. Small to midsize days boats on a mooring may even have their own small dinghy for reaching the boat from land.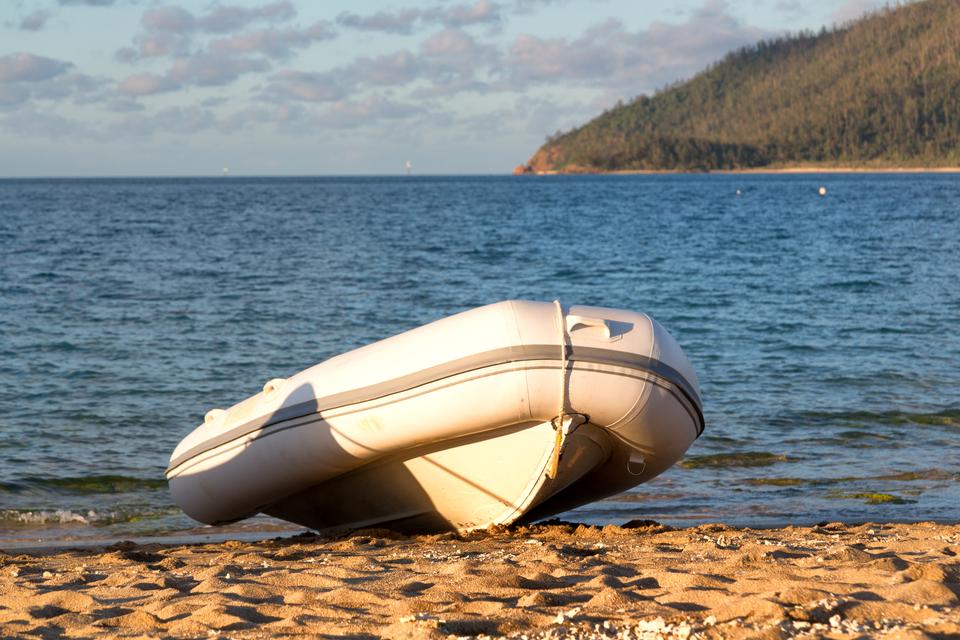 Marina Launch Boats
Oftentimes a tender boat is operated by the marina or harbor. These types of boats are usually referred to as "launches" or even "gun boats". Launches at high-end marinas are usually more akin to the limousine-style boats mentioned above, or they can also be large open cockpit utility skiffs with custom hard tops for protection from the elements. This enables them to bring passengers, provisions and supplies to boats out on the hook no matter the weather.
Classic Boats
Vintage runabout day boats are popular with many superyacht and large motoryacht owners for their pleasing aesthetics and nimble performance handling. This type of tender encompasses some of the more elegant yacht tenders on the market, and includes such names as Riva, Graf and Gar Wood, to name a few.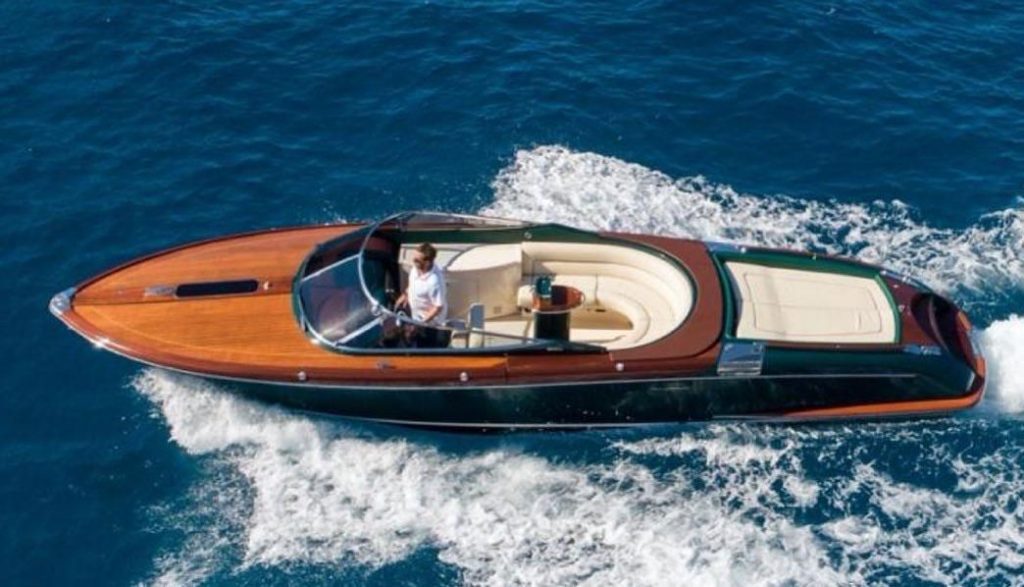 These classic runabouts were initially conceived for scenic travel around the Italian Lakes and along the Italian Riviera (or Ligurian Riviera) between the Ligurian Sea and the mountain chain formed by the Maritime Alps and the Apennines, extending over to the French Riviera (Côte d'Azur). Nowadays, design and engineering development has led to newer runabout models built in the same classic style but capable of modern performance enabling them to plane better, run faster, handle better and provide more utility as yacht tenders.
Classic boats can also be used for watersports or for coastal explorations. These glamorous boats are rich in heritage and tradition and blend style with functionality. A high level of craftsmanship goes into making every vessel. Boesch ,Riva, Chris-Craft, and the Seven Seas are leading brands in the classic boat arena. Although classic boats maneuver well, they are unsuitable for rough sea states. To find out more, read our guide on classic boats.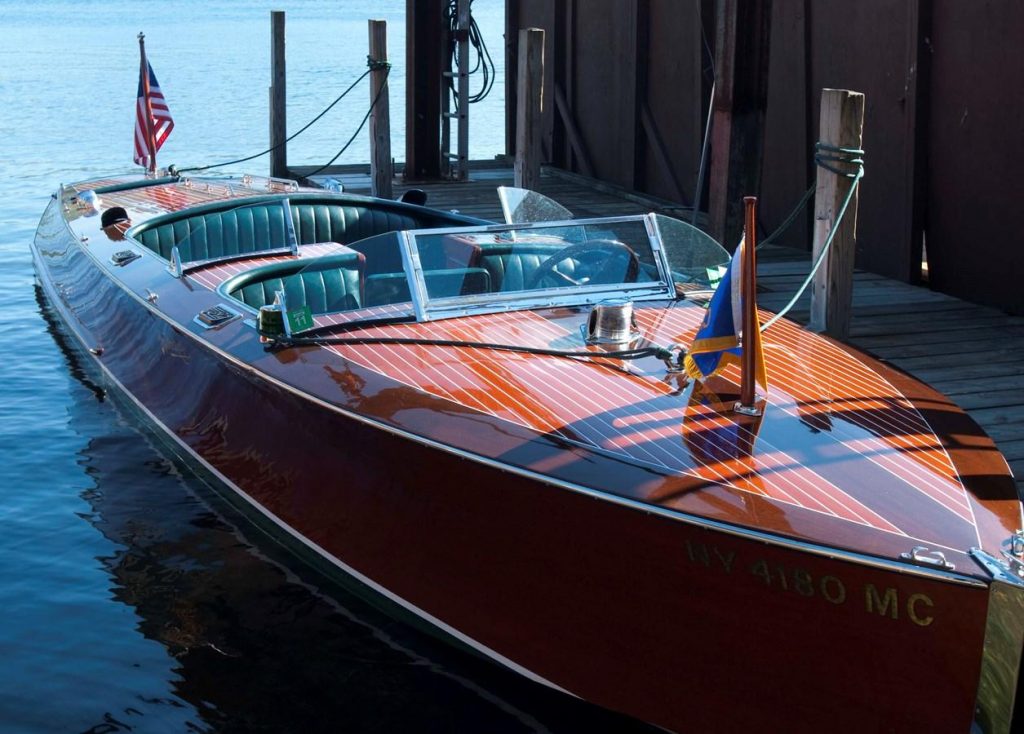 Shop for new or used classic boats on YachtWorld today.
Related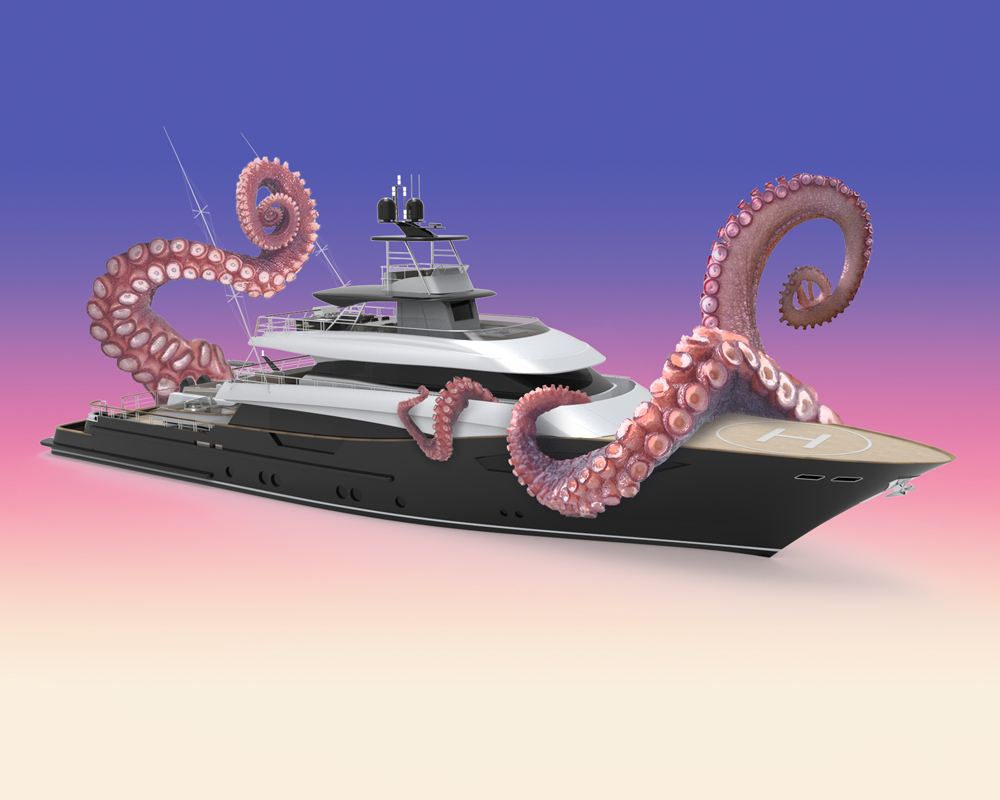 Cloud Yachts: A Digital Superyacht Gallery
Find out why NFTs superyachts in 3d reality are becoming hot property in the marine industry.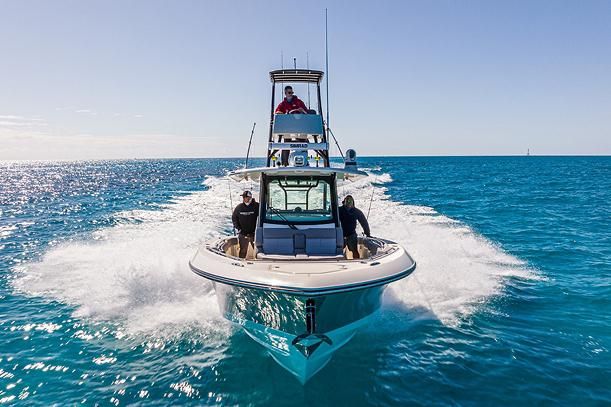 10 Best Center Console Boats Of 2022
The best center consoles to take angling in saltwater.
Scott Martin's 42 Freeman Power Catamaran Fishing Machine
A full walkthrough of pro angler Scott Martin's 42 Freeman Power Cat.