The Electra Glide tender certainly looks unusual. In fact, at first glance  it seems to be an attempt to crowbar together the esoteric beauty of a gentleman's launch with the seating capacity of a city bus, the fast and stable dynamics of a SWATH boat, and the sustainability of a windmill farm. It's a peculiar concoction of ambitions, and while the slightly cumbersome and over-stretched aesthetics give it a very strange look, this eco-friendly 'limousine tender' seems to be at the forefront of marine design trends.
Despite the SWATH Electra Glide's claims of being "the world's first carbon-neutral, solar hybrid megayacht tender," it's just one example of a design concept that seems to be gaining favor. In fact, in Britain, a couple of extremely well regarded UK builders already offer "limousine" models. Southampton-based Compass Boats and Pascoe International both offer boats with gobs of luxury seating in a relatively limited waterline length, so it makes sense that this concept in the world of high-end tenders should get the full eco-friendly, carbon-neutral treatment.
Designed by SCOD (Sauter Carbon Offset Design) and built by NEDSHIP, the SWATH (Small Waterplane Area Twin Hull), Electra Glide Limousine Tender combines the environmental benefits of solar electric sustainability with the anti-roll comfort of a SWATH vessel. Propelled by a pair of 300 HP Regen electric outboards for a predicted maximum speed of 45 knots, the Electra Glide is designed to be extremely efficient and virtually silent. At eight knots, the 50kwh Li Po Batteries give the tender a zero carbon range of up to 40 nautical miles. In typical ship-to-shore megayacht tender situations, that's plenty of distance. And if you need more, there's a choice of diesel Gensets of up to 85-kw, which will radically extend the tender's range by recharging the batteries in less than an hour.
The Electra Glide carries up to a dozen passengers and includes a full galley and bar, plus a climate control to make day trips comfortable. But while that SWATH catamaran design will certainly makes things stable, the extended forward hull sections do look as though they'd make it very difficult if not impossible to beach the boat, or drop passengers ashore.
Additional creature comforts include a surround-sound entertainment system with includes two flat-screen TVs, and electric, side-opening gull-wing windows. However,  the greatest asset of the limo tender is probably its space. With a beam of 11'2" and a generous 6'6" of headroom throughout, the boat takes full advantage of its twin-hulled design to offer a much more spacious cabin than any comparable monohull can hope for. It's a shame, however, that there's little external lounging space.
If you've bought a megayacht, getting a carbon-neutral tender is sort of like detonating a nuclear bomb and then cleaning up with a dustpan and brush. But if you're feeling a touch guilty about the carbon footprint of your 200-footer, a SWATH limo or two on the aft deck might be just what you need.
For more information, visit Sauter Carbon Offset Design
Related
World's Best Superyacht Builders
A roundup of some of the top superyacht and megayacht builders in the world.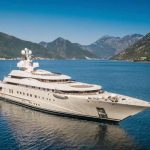 Astonishing 377-Foot Apex Superyacht Pelorus For Sale
Step aboard the magnificent 377-foot Pelorus superyacht, built by Lurssen.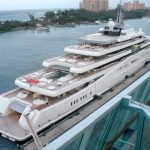 Roman Abramovich's Celebrity Yacht Eclipse: Fit For An Oligarch
Find out more about the iconic $600 million superyacht.