The 2015 Sunseeker Predator 57 was three years in development, and now Alex Smith takes us for a tour the Predator 57′s key features.
Down below there is accommodation for six guests and a galley that is bathed in natural light from the open stairwell up into the saloon. The focus aboard this 40-knot luxury cruising machine is, as you would expect, on the social areas: the saloon area behind the helm station and back into the cockpit.
The enormous sliding hard top on the Sunseeker Predator 57 allows copious amounts of natural light in without compromising on the shelter and warmth available when the weather closes in. But the highlight, in terms of design ingenuity is the sliding patio doors. These are built to not only slide out of the way but also drop below deck to create an inside-outside area over 30ft long.
View listings of several Sunseeker Predators on YachtWorld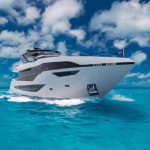 Whether you're heading off on a world-girdling cruise or want to island-hop across the Bahamas,...
Just why are cats are winning the hearts of so many loyal monohull enthusiasts?