Before minimalist designs, before tiny homes, before Marie Kondo taught us how to declutter, sailors have always known that storage space is limited on a boat. Hence the old adage, "Everything on a boat should have two uses."
Whether you have a 16-footer or 60-footer, are a weekend warrior or a fulltime live aboard you are probably facing the same obstacles when it comes to stowing your boat. Odd shaped compartments, hard to reach holds and a seemingly endless list of "necessary items" to put away. Here are a few tried and tested Space Saving Storage Solutions to make stowing your boat a pleasure rather than a chore.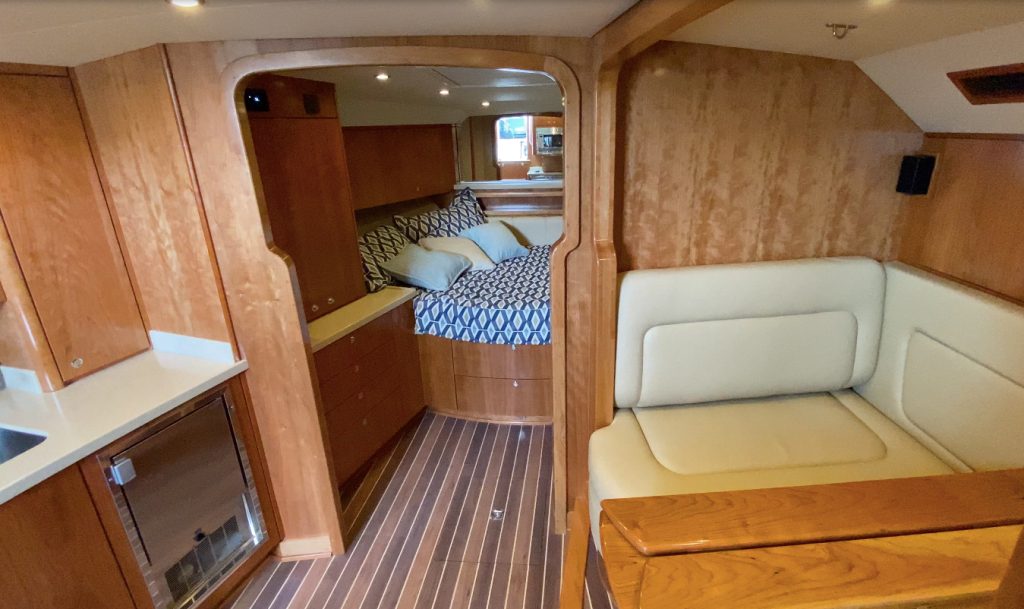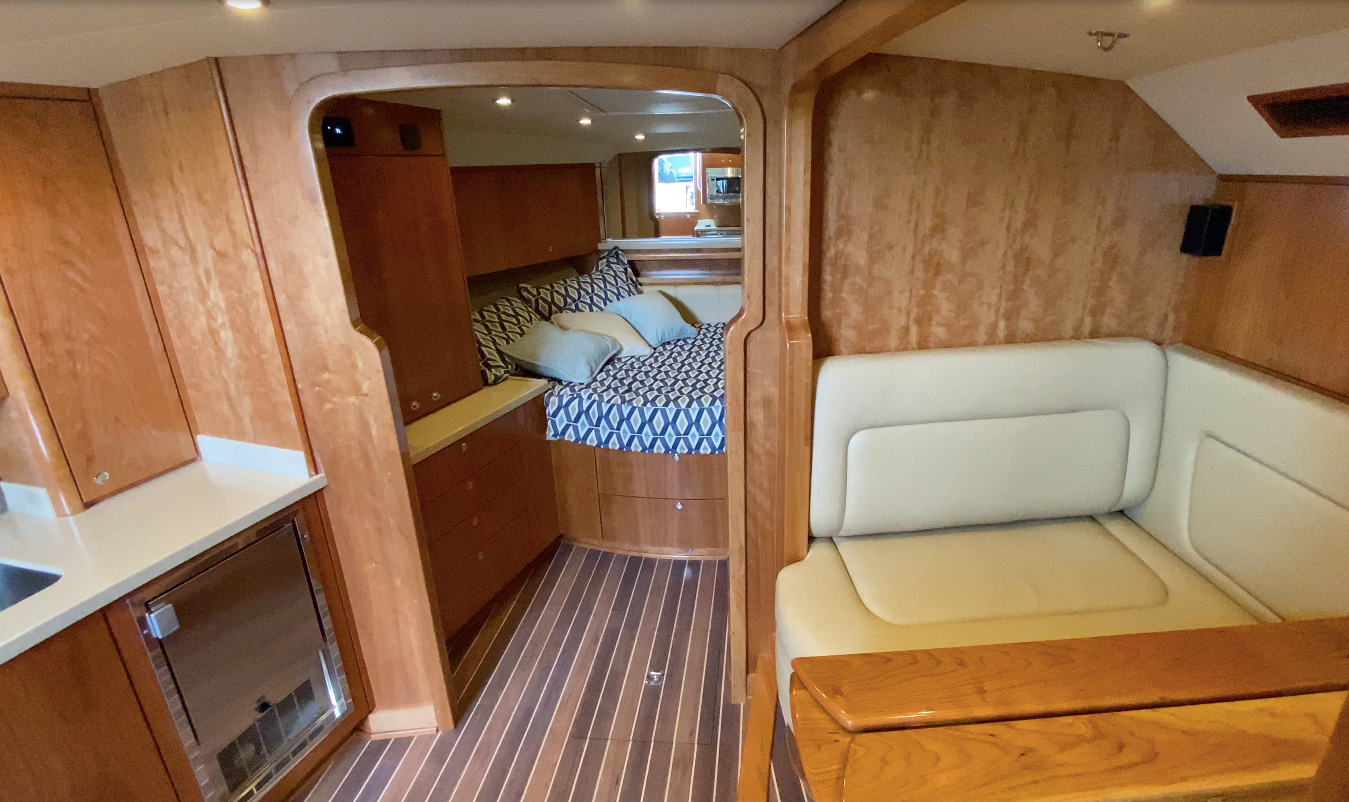 Soft Storage Sacks
Boat design is all about the carefully conceived curves, so rarely will you find nice, neat square storage space. Using a container that has hard, angular edges can further reduce the volume of an already tight storage area. Opting for a soft sided bin or basket means the container can conform to the odd shape of the hold. In dry compartments, try a soft canvas or mesh bag. For potentially wet storage areas a sturdy roll-top, waterproof gear sack will keep goodies safe.
Collapsible Containers
With the advent of silicon there are now a variety of collapsible storage bins on the market. These pieces are a handy addition, allowing the convenience of having many luxury items onboard without cluttering up cupboards. Full-sized bowls, measuring cups, salad spinners and washtubs all accordion down flat and can be stacked and stowed in small spaces when not in use.
Folding Tables and Chairs
Often times common areas on a boat are multi-use. The cockpit, for instance, needs to be a functional space while underway but it is a favorite hangout spot when on anchor. Having a folding table, whether it is a built in or completely removable, allows you to enjoy a meal under the stars as well as make room for crew to work while the boat is moving. Folding chairs stow easily but accommodate extra guests around the table. The salty, marine environment is harsh, quickly corroding items that may last years on dry land. When buying folding tables and chairs check that the hinges are durable, and the item is made out of high quality stainless, aluminum or plastic.
Hooks
There is always a spot on the wall, a strange-shaped nook or a cupboard door that could be utilized for storage simply by adding a hook. Hang keys, bags, hats and other everyday items on a hook for quick access. Adding a few hooks in the head makes for a spot to hang a dry towel, and a hook by each bunk is a great spot for an in case of emergency, easy to reach flashlight. If permanently affixing a hook with screws is undesirable, look for heavy duty 3M removable hooks that don't require tools and won't damage surfaces.
Hammocks
Popular on boats since boats started floating, small hammocks are a terrific way to store items such as clothing and blankets when not in use. Usually made out of netting these hammocks make the most out of empty spaces. Taking up very little room when not in use they expand and accommodate any shaped items, stowing them safely in a conveniently reached spot. Many people also use net hammocks in the galley to store fresh fruit and vegetables instead of taking up precious fridge space. Net hammocks do allow for more airflow around your produce but softer fruit such as peaches, pears and summer squash may be cut or damaged by the thin net strings.
Hanging Organizers
Usually partitioned and designed for use in a closet to store items such as shoes these handy organizers are great on a boat. Pretty enough to be hung within sight they make a great spot to store towels in the head, a place to stow soft toys in a kid's cabin or hung in a closet to keep clothing tidy. Hanging organizers are also a neat way to keep the crew items corralled while underway. Simply colour cod or number each nook and every crew person can have a place to put small items when not in use.
Overhead Bags
Trying to maximize storage space means making use of every available nook and cranny, including the ones directly overhead. There are purpose-made bags on the market like the "T-Bag" that are designed to attach to the underside of a t-top or bimini. Large enough to store items like life jackets and safety equipment that are needed in the cockpit, they provide a spot to stow gear out of the weather but within easy reach. If there is head room down below utilizing overhead nets or bags is also a cleaver way to stow light weight items like bed linens or clothing.
Hanging Pockets
Whether it's on a rail, the wall or over a door, a hanging pocket is a handy way to keep things tidy. Used to keep lines in the cockpit from being dangerously underfoot, the anchor rode from becoming tangled on the bow or a pair of binoculars within reach of the helmsman. Made out of canvas or a weatherized mesh, hanging pockets come in a variety of colors and sizes. Turn the back of a sliding door into a wall of pockets to store shoes, sunscreen, gloves, even fishing lures. Placed in the head, pockets can instantly organize crew toiletries and be a spot to hold precious jewelry items while showering or swimming. Use a hanging pocket in the galley to make frequently reached for condiments, snacks or coffee mugs easily accessible. There are never too many hanging pockets on a boat.
Pillows
At first glance a pillow doesn't seem like it belongs in this list, after all pillows can take up a lot of space. However, making a pillow do double duty turns it into a super space saver. Stuff pillow cases with extra or unused bedding, clothes or towels to keep the cabin tidy and give people a soft spot to lean. Choosing pillow cases that accent the décor of the boat will ensure that even the most discerning guest won't guess your secret storage solution.
Velcro
Heavy duty or industrial Velcro is an easy way to keep small items from sliding around while underway. Self-adhesive and customizable to any shape Velcro pads can be stuck by the helm to keep small gadgets within sight of the captain or used to secure delicate items down below. Velcro can also be used on vertical surfaces, keeping décor items like photos firmly in place. Strong enough to keep overhead panels stuck in place or chair backs in proper position Velcro is a heavy hitter when it comes to storage solutions onboard.
Vacuum Bags
Need to compress large items like bedding or store seasonal clothes? Vacuum bags to the rescue. Buying provisions in bulk but want to preserve the freshness of half your order? Vacuum bags to the rescue. Need to ensure that items like flares and the emergency medical kit in the ditch bag are waterproof? Vacuum bags to the rescue. Available in sizes ranging from 8" x 10" to suitcase-sized, vacuum bags are an amazing, and extremely versatile, storage solution. Vacuum bags not only compress items by removing air but also seals them in a heavy-duty air-tight, and waterproof, bag. When opened the items like clothes and bedding are dryer-fresh. Foodstuffs that are vacuum packed are not only free of bugs and moisture but removing air prevents spoilage and extends potential shelf time. For the avid fishermen a vacuum packer is the quickest and easiest way to portion and preserve the days catch. Items frozen in vacuum packed bags are less prone to freezer burn.
Magnetic Strips
Perhaps one of the best storage solutions for the galley a magnetic strip is both handy and unobtrusive. Mounted on a bulkhead a magnetic strip is the best way to keep knives out of harms way. Strong enough to keep items secure in a rough seaway magnetic strips are also a convenient place to stow a pair of scissors or a bottle opener. Mount one in the cockpit and keep fishing lures from becoming tangled or falling underfoot, not to mention keep the fileting knife ready for action. Some magnetics strips are sold with a selection of metal canisters which provide a convenient way to sort spices in the galley or keep small items like nuts and bolts tidy in the tool kit.
Bungee Cords
Used to gather and hang lines in a storage hold, tie down odd shaped equipment or keep canvas from flapping in a breeze bungee cords, or shock cords, are indispensable on a boat. One stretched around a storage bin or long a wall makes a spot to tuck flip flops. Use a bungee to hang a roll of paper towel or create a spot to hang sunglasses so they won't get scratched. Stretch a bungee cord overhead to make an instant clothes line to dry a wet towel after a swim. Fasten a length of shock cord along a wall at regular intervals to create a custom storage solution for hand tools like screwdrivers or a spatula in the galley. A bungee cord never stays idle on a boat.
Hanging Glass Racks & Cup Hooks
Once only found in your favorite local pub, hanging racks are now common place on boats. Used to store drinking glasses these simple metal racks install under cabinets or overheads and add a touch of class to any boat. Hanging stemware not only frees up precious cupboard space but delicate glassware is stored safely in an easy to reach spot. Cup hooks are traditionally mounted on the underside of a shelf or cupboard and are a way to store more durable items like coffee mugs.
Nesting Pots and Dishes
Cupboard space in the galley can quickly get taken over by dishes and cookware. One easy way to maximize galley storage is to invest in dishes that neatly stack and pots that nest inside one another. No need to break the bank at the chandlery, although there are lots of thoughtful products available there. Simply keep storage in mind when you are choosing pots and pans – make sure they stack together neatly, avoid long handles on pans and lids, look for a pot and pan that are the same diameter so one lid can be used on two items. For dishes choose low profile plates and make sure they are small enough to fit inside the cupboard, many galley storage areas are narrower than a typical dinner plate.
Charging Stations
It seems impossible to live without handheld gadgets these days, and it doesn't take long before there is a tangle of cords clogging up the counter next to the nearest outlet. To avoid an unsightly mess, and to charge as many devices as possible at once consider installing a dedicated charging station. Designed to hold multiple devices while tastefully hiding all those USB cords, charging stations are a cleaver way to stay charged up and clutter free. For an even more boat friendly solution, turn a drawer into a charging station. The stack of devices will be out of sight and won't fall off the counter while the boat is in motion.
Custom Built Options
Sometimes the best option is one that is tailored to your specific needs, especially when it comes to getting the most out of storage space on a boat. Tables that fold against a bulkhead walls, a sofa that conceals a built-in fridge, a lift away counter top that hides the onboard bar. If you are in the market for a new boat, then exploring what custom storage options each design offer could buy you a few more square feet of usable space. And, for those who are already boat owners, custom modifications can mean the difference between boating in chaos or living clutter-free.
Think Outside the Boat
There has been a trend in recent years to downsize and declutter, to live with less and do more. With an increasing number of people choosing to live in small spaces there are more products and storage ideas for those spaces. Yes, there are a few more obstacles on a boat- items have to be secured for sea and often need to be waterproof – but don't get stuck at the local marine store. Many of the storage ideas used by RV-ers and Tiny Home owners are perfect fits for boat storage as well, you just have to think outside the boat.
Related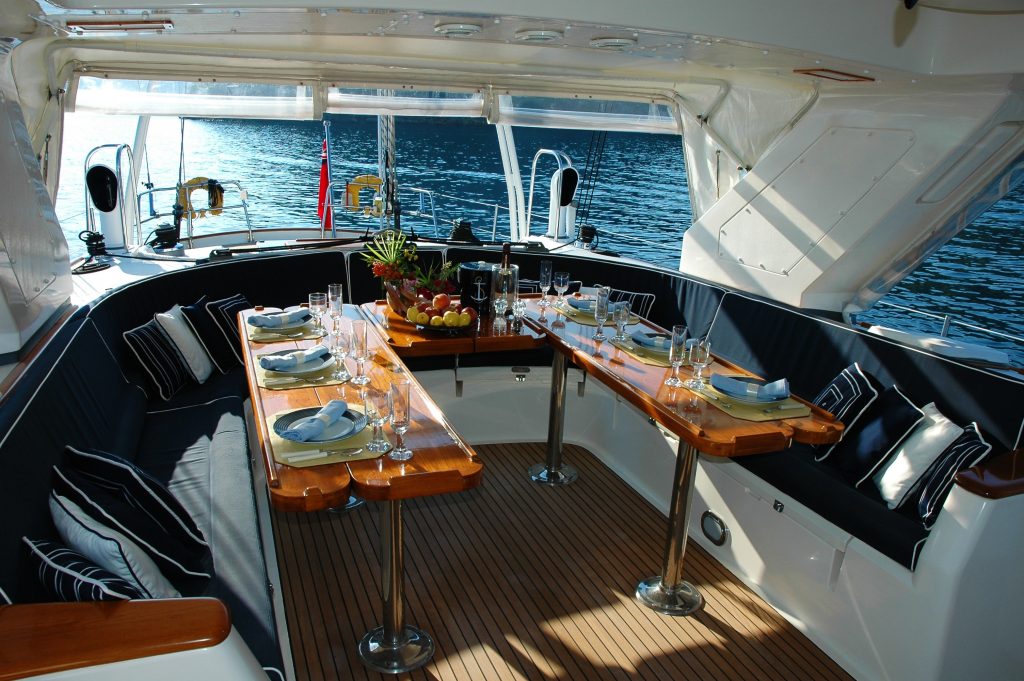 Stocking Up: Provisioning Shopping List
Long-range provisioning ideas to spice up the flavor department in your galley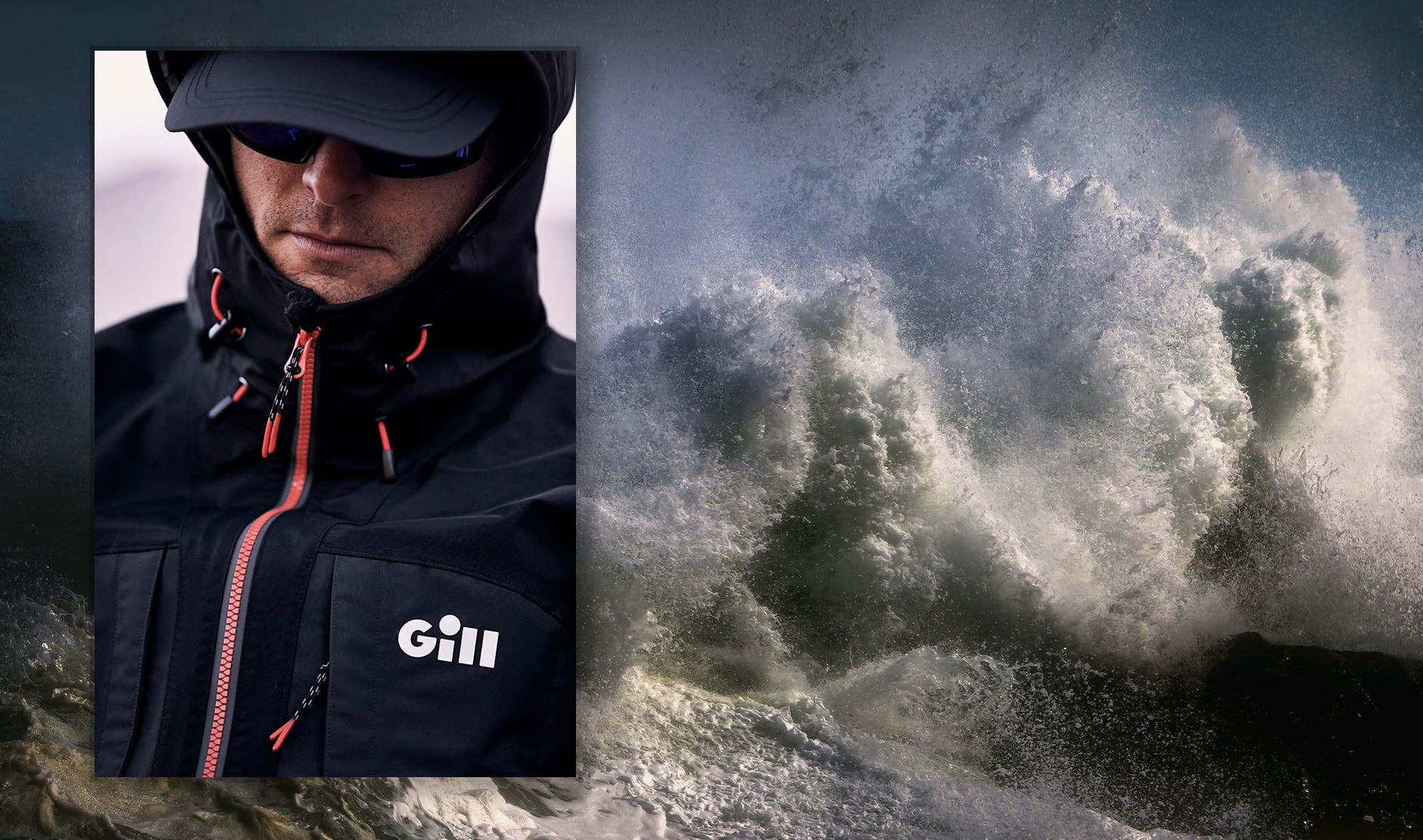 Best Waterproof Fishing Jackets
A roundup of some of the best fishing jackets for winter yachting days.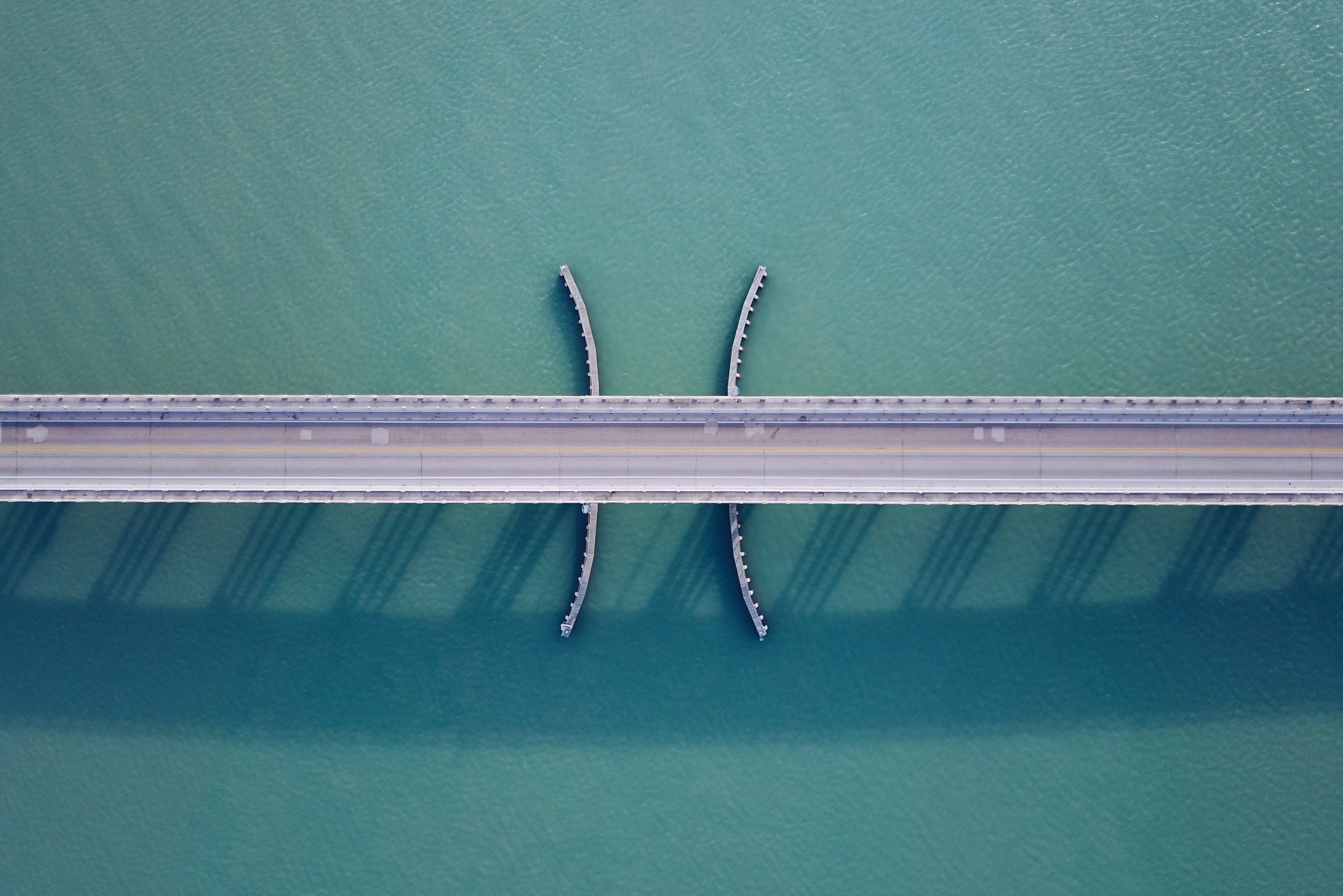 Photo by Josh Sorenson from Pexels
Types of Locks and Bridges
A lock is used to raise or lower boats and ships between bodies of water like canals or rivers that lie at different levels. They enable boats to cross uneven terrain and avoid fast-moving or rocky rivers. Locks may be manned by a steward, operated by an electronic remote or managed by the boater manually. There are many types of bridges including fixed under which you may be able to navigate if the center (or side) span is high enough, swing bridges that pivot horizontally, or draw bridges that open by separating vertically at the center point. Moveable bridges are usually manned by a bridge tender with whom you may communicate via a designated VHF radio channel or by cellphone.
Passing Through Locks
Locks have been built for centuries and function like marine elevators taking vessels up or down a river or canal. The Great Lakes, the Mississippi basin, and the Columbia River in Oregon and Washington states frequently used locks for both commercial and recreational traffic. Europe is full of locks so you may even encounter one during a river charter. Navigation charts should alert you to the location of a lock and what kind it is, which will determine how and when you approach it. Some locks have set schedules while others accommodate traffic on demand.
15 tips to manage locks safely and easily
1. When approaching a lock, you will see either a red or green light. Green means it is safe to enter the lock while red means you must wait. A flashing red light may mean the lock is being operated or is about to open so keep clear. 2. Inform the lockmaster ahead of time your intention to lock through via VHF radio or a cellphone. The channel or number may be listed in a guide for the region. In some cases, you can use the Morse code horn blast to signal the lockmaster. The signal for a lock is the same as that for operating a bridge with one prolonged blast followed by one short blast: –. 3. Once at the lock, moor your vessel or keep station (perhaps with the help of a dynamic positioning system) in the designated waiting area, sufficiently away from the lock opening. Boats already locking through will need space to maneuver out of the gates. There may be current in the immediate vicinity of the gate so keep clear. 4. Wait your turn in the queue. If there are vessels ahead of you, don't drift about in the way. Follow the lockmaster's directions or just keep clear until allowed to approach. Commercial vessels usually take priority but the lockmaster may load up a large lock for maximum efficiency and will let you know where and when to go. 5. Hang fenders on both sides of your vessel and prepare lines the length of which will depend on the size of the lock and your boat but usually at least 50 feet. 6. Enter the lock slowly, avoiding creating a wake. Position yourself well forward in the lock or wherever the steward designates. 7. Secure the vessel with lines to bollards, hooks or cleats in or on the lock walls. Actively man each line, loosening the lines when locking down and tightening them when locking up. Never cleat a line and leave it unattended or you risk capsizing or a tearing out a ship's cleat. Best practices include cleating the line to the vessel, draping it around a bollard or ring and manning the loose or bitter end. 8. Turn engine(s) off. 9. Do not smoke. 10. Use the designated ladders on the lock walls if you need to operate the lock yourself, converse with the steward or hook your lines over cleats at the top of the wall. These ladders spend half their time underwater and they are usually slick or covered with marine growth so mind your hands and feet when using them. Gloves may help. 11. As the lock fills or drains, a current will move the boat about. Take care not to cause damage by hitting other vessels or the walls of the lock. 12. You may want to keep a boathook handy to help push away from the wall or other boats as the water level changes or to help a line go over a hard-to-reach bollard. 13. Once the gates open and you get the signal from either a green light in the lock or the steward, you may proceed out of the lock. 14. Motor slowly. Don't engage your prop(s) until your lines are clear of the water. 15. Anticipate waiting traffic on the other side and maneuver carefully.
Navigating Under Bridges
Bridges are common on both coasts and on inland waterways such as the ICW. Information regarding bridge location, type, schedules and communication preferences can usually be found on navigation charts or in piloting and cruising guidebooks. Check the USCG Local Notice to Mariners for changes, construction or temporary bridge inoperability. For moveable bridges, know that it's illegal to cause an unnecessary bridge opening per the US Code, Title 33. Penalties can be high. Some bridges open automatically on schedule while others are manned and open on request as terrestrial traffic allows. Your chart should provide information on how to communicate with the bridge tender if there is one.
15 tips to navigate bridges safely and easily
1. Know the name of the bridge you're approaching and hail it on the proper VHF channel. In certain areas, multiple bridges may be within hailing distance on the same channel so address the bridge by name. 2. Check schedules in a guidebook or by calling the bridge ahead of time. This may impact how fast you travel. There's no need to hurry just to wait for opening times but you shouldn't dawdle if the bridge only opens hourly and you have the ability and speed to make the schedule. 3. If it is a fixed bridge, know your own air draft or vertical clearance including various high-mounted antennas. Check the tide. At high tide, you may not be able to pass under a fixed bridge. At low tide, you may not be able to clear your waterline draft. Tide boards near the bridge indicate bridge clearance for a given state of tide. 4. Fixed bridges may have markings as to which span you must pass under. These may be color markings on the bridge itself during the day or red/green lights at night. Smaller vessels may be able to pass under lower spans but beware of submerged obstacles or pilings anywhere outside of the designated span. 5. Inform the bridge tender ahead of time of your intention to pass a moveable bridge. Use VHF radio (usually channel 9, 13 or the hailing channel 16). In some cases you may also use a cellphone or horn blasts: –. 6. Moor your vessel or keep station (perhaps with the help of a dynamic positioning system) in the designated waiting area, sufficiently away from the bridge. Some bridges will have red and green lights signaling whether or not they are ready for through traffic. 7. Wait your turn in the queue. If there are vessels ahead of you, don't drift about in the way. Notify the tender of your intent to pass even if other boats are waiting so the bridge doesn't close on you unexpectedly. 8. Anticipate eddies or currents around a bridge especially in a restricted channel. Keep in mind your windage and what affect it will have when passing a bridge in gusty conditions. Also watch for small boat traffic coming from the opposing side or vessels fishing near pilings. 9. When clear, navigate with acceptable speed – slow enough to be safe but fast enough to avoid making road traffic above wait unnecessarily. 10. Rules of the Road are important. Give way to oncoming traffic that is moving down river/current. Those vessels have less control than the ones moving up current. Also give way to vessels restricted in their ability to maneuver either due to size, draft or other circumstances such as a tug and tow. 11. Sailboats should motor through under auxiliary power if so equipped. Sails can obstruct the view of the bridge and oncoming traffic and wind shifts and calms can be unpredictable under a bridge. 12. Do not proceed until a bridge is completely opened. 13. Do not overtake other boats while passing under a bridge. Pass in a single file line, especially if there is oncoming traffic or boats on the other side, which you can't see. 14. Five short blasts signal a problem, danger or emergency. This may include a boat losing power while passing or the bridge tender needing to close the bridge for emergency or rescue traffic above. This signal may be sounded by the bridgeman or the passing boats. 15. After passing under a bridge, navigate to starboard if there is sufficient room and water depth and pass other vessels port-to-port as is customary. Bridges and locks can be a welcome diversion and good teaching moment for everyone aboard. Learn the proper etiquette for passing through or under each and then enjoy the journey./>
Navigating Bridges and Locks
Bridges and locks assist in moving vessel traffic efficiently and can even be a fun distraction during...