Coastal Cruise Highlights for Boaters
SoCal boaters usually make a beeline for Catalina Island given a free week. But if you're a new boater and a shakedown cruise across 30 miles of open Pacific doesn't sound enticing, consider coastal hopping and checking out several highlight harbors in relatively compact cruising grounds.
People Watch At Venice Beach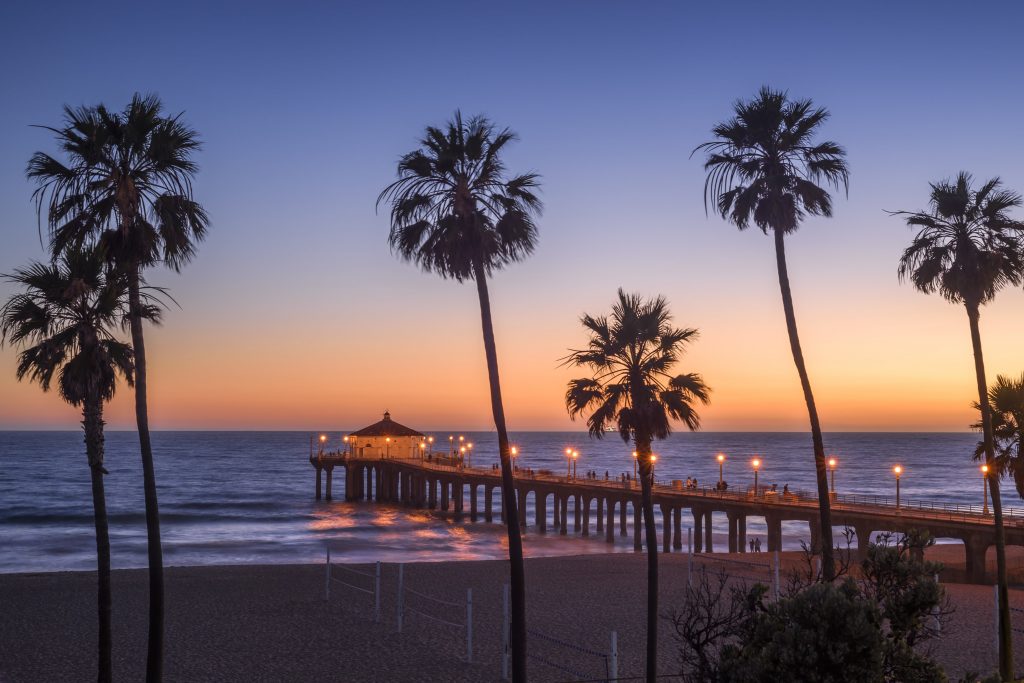 Manhattan Beach Pier at sunset, Los Angeles, California. Image credit: Luxury Liners
Let's start in Marina Del Rey which has been Los Angeles' major boating hub since 1965 and has over 6,000 slips. There are plenty of yacht clubs here that offer reciprocals. Once you've secured a transient slip, rent bicycles and peddle over to Venice Beach for great restaurants, iconic building murals, the Muscle Beach gym, and possibly the best people-watching in Southern California.
The next day, hop around Points Vicente and Fermin to Long Beach Harbor. That's means heading south, so with the prevailing wind and swell. The key is to find the right line around Palos Verdes. Go too close to shore, and you'll find prop-eating kelp, but stay too far out, and you'll end up in the shipping lanes. The Long Beach/Los Angeles harbor complex is the busiest port on the West Coast, and there's lots of shipping traffic, so follow your charts, stay out of the lanes, and keep a good watch. Those freighters sneak up on you at 25 knots, and they're attitude is that tonnage has the right of way.
Enter the outer Long Beach/San Pedro area via Queens Gate to get out of the swell. Pull into Cabrillo Way Marina at the end of what's known as "Hurricane Gulch" due to the winds that wrap around the point. Once in the marina, the winds are calm, and the friendly staffers are happy to find you a transient slip for the night.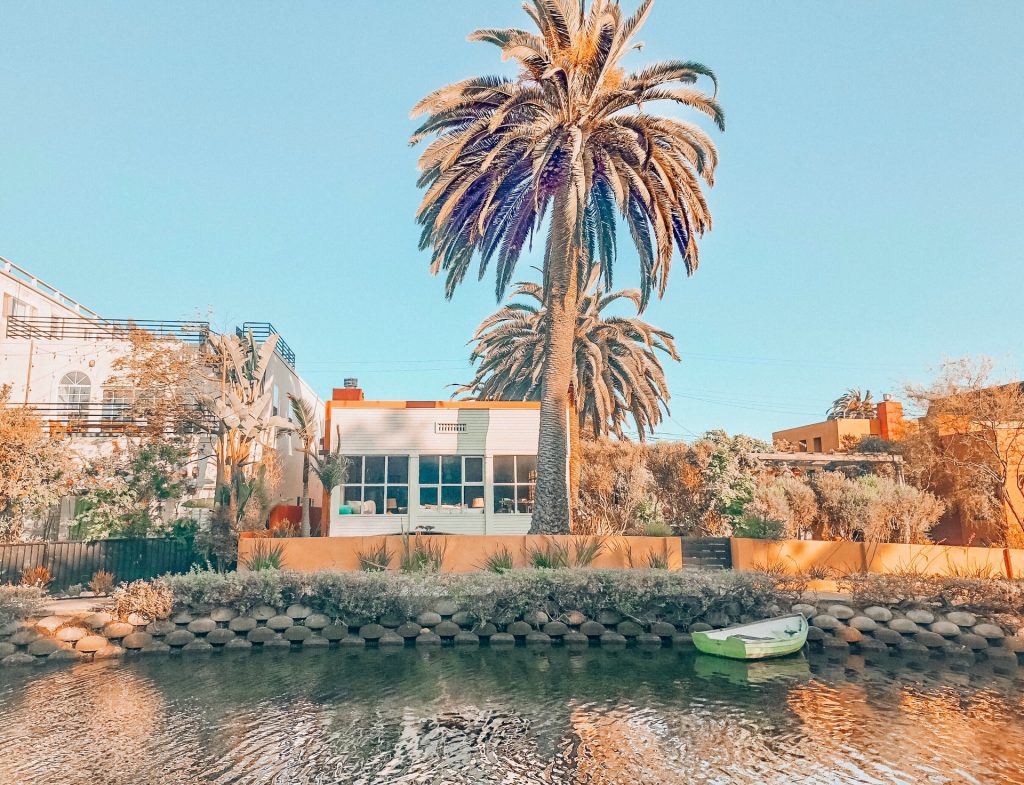 Venice Canals, Los Angeles. Image credit: Viviana Rishe, Unsplash
Find Out About LA's Fishing And Cannery Heritage
Visit the Los Angeles Maritime Museum where exhibits include the history of commercial diving and the area's fishing and cannery heritage. The museum is near the restaurants of Ports O' Call Village so grab some lunch. Also, check out the USS Iowa, a 1940 battleship that's become a museum with interactive exhibits. Drinks and dinner at the 22nd Street Bar & Grill are just a short walk away, and most days, you'll be rewarded with a great sunset view from their large windows.
For a change of pace, motor south through Long Beach Harbor (still behind the jetty protection) down to Shoreline Marina and ask for dockage at one of their 1,800 slips. This downtown marina is convenient to many attractions. Hence, if you're up for a good walk or a short bicycle ride, explore the kitschy shops at Rainbow Harbor, discover Shoreline Aquatic Park around Lions Lighthouse. Or take in the winners' names embedded into the Transpac Walk of Fame's sidewalk that honors the famous race from Southern California to Hawaii. (Fun fact: In the movie Jaws, Hooper claims to have crewed three Transpacs to establish his seagoing credentials before getting on Quint's Orca.) For the evening, head up to Pike Street for a bit of nightlife and discover the local restaurants and hipster lounges.
The next morning, pack in the tourist attractions, including the Aquarium of the Pacific where you can view 11,000 animals in 50 exhibits, and get a taste for California's underwater world without ever donning a SCUBA mask. In the afternoon, head over to the historic Queen Mary. She sailed between 1936 and 1967 until she became a museum and hotel here, thousands of miles from her birthplace in Southampton, England. For more nautical history, go next door to visit the Russian Scorpion submarine, unchanged since the Cold War.
Still within the protection of Long Beach Harbor, motor south and head for the Los Alamitos Harbor jetty. Alamitos Bay is very protected and mostly taken up with the municipal marina, the private docks of the homes that line the harbor, and three yacht clubs including Long Beach, Los Alamitos, and Seal Beach. Here's a fun fact: The dock where you tie up to check in at Alamitos Bay Marina to request transient dockage, was the shooting location for multiple episodes of the Showtime series Dexter, which was supposedly set in Miami.
Los Alamitos is a perfect place to stretch your legs and take a long walk around Naples, a quaint Venice-like residential area with an intricate maze of canals bordered by affluent homes and attractive gardens. For sunset cocktails, walk over the bridge to the River's End Café on the beach.
Pick Up Some Local Artisan Goodies
On Sundays, there is also a great farmers market right in the marina parking lot from 9 a.m. until 2 p.m. This is a great way to stock up on the week's groceries with fresh produce, nuts, pastries, smoked meats, and all kinds of artisanal honey and bread. Adjacent to the food stalls is an arts and crafts area where you can try on bohemian clothing or pick out handmade jewelry. Stop in at Schooner or Later for lunch before getting underway to Newport Harbor.
Take a straight shot of 18 nautical miles, past the Huntington Beach pier, down to the very scenic Newport Harbor. The harbor's long entrance will take you past a small lagoon on the right where some of the beach cave scenes for Gilligan's Island was filmed back in the 1960s. Limited transient dockage for boats up to 40 feet is available at the harbor patrol building just ahead, or you can make reservations at one of the many private marinas or yacht clubs. In a pinch, you can also anchor in this impressive harbor, lined with homes of the rich and famous like Nicholas Cage and John Wayne.
Cruise Newport Harbour Before Dusk
Newport Harbor is approximately three miles long and is so picturesque that it has no fewer than a dozen commercial party yachts that conduct four-hour weddings and corporate parties without ever leaving protected waters. A cruise on your boat is a must-do before settling in for the night.
There are numerous "dock 'n' dine" restaurants that offer temporary dockage if you come in for dinner before berthing for the night. The docks are usually only available for diners and not for overnight stays. Check out Woody's Wharf, Billy's (with live music), The Rusty Pelican, The Cannery, or Bluewater Grill. You can find waterfront dining can be found at the Lido Village with Nobu, Lido Bottle Works, Malibu Farm and Zinque. You'll have to dinghy to these because most of the harbor party boats leave from Lido Village and there's no place to tie up your big boat.
Getting around Newport Harbor isn't easy. There are no water taxis and no real bus service. If you want to go shopping up to Fashion Island, which is a swanky mall about four miles away, you'll need to call an Uber or rent a bike near the Fun Zone where you'll also find a boardwalk complete with a Ferris wheel.
Check out the black and white photos at the Balboa Pavilion that show the early development of Newport Beach. Grab an ice cream and walk across the street to visit the beach and Newport pier. The afternoon is a perfect time to rent a SUP or a kayak and get some exercise in the Back Bay, an estuary where the bird watching is great.
Christmas Boat Parade Is A Must-See
Balboa Island is a show-stopper if only for the three-mile walk around its perimeter. In the summer, you can tie your dinghy to one of the public docks (maximum stay is two hours, but they're not that strict) and stroll up Marine Street with its galleries, boutiques, museum and tiny restaurants. This is also a great island to watch the annual Christmas Boat Parade which has made the New York Times' list of "Top 100 Things to See." The parade of lights usually has over 200 boats and runs for five nights before Christmas.
Next up, head to Dana Point Harbor, about 14 nautical miles to the south. Dana Point and Dana West yacht clubs, as well as the numerous marinas, offer transient dockage. There's also a small, but very calm, anchorage at the harbour's northwestern end in front of the Ocean Institute. The harbor is the SUP Mecca of SoCal, so beware when motoring around. You're likely to run into a SUP yoga class right in the middle of the harbor.
Dana Point is compact and easy to get around. A brisk one-hour walk around the harbor perimeter will take you past the statue of Richard Henry Dana Jr., the city's namesake and author of the seafarer's tale Two Years Before the Mast. Be sure to visit Turk's for a fish-and-chip dinner. This wharf restaurant walls are lined with photos of Turk Varteresian, a strongman and movie extra who starred in 60 films and TV shows.
You can do all of the above and cover no more than 80 miles one way, so this is a fun-filled cruise that isn't too demanding for new boaters. From Dana Point, you could continue south to Oceanside and San Diego, but that's a long stretch along the open coast so perhaps it's best to leave that for another time when you have more experience under your belt.
Getting around SoCal harbors is best done via boat or dinghy. Bikes will serve you well if you have them. As soon as you exit a harbor, you're out in the Pacific, so check the weather and sea conditions frequently, and be prepared to sit out a day in case it's just too lumpy out there to be comfortable. Even if you've visited these towns before by car, arriving by water will provide a whole new dimension when seen from the helm and through a new boater's eyes.
California Dreamin: Finding The Ideal  Cruiser
For cruising around California, you will want a boat that has outdoor social areas, the flexibility of sleeping onboard and al fresco dining areas on the boat for those long sunny afternoons. We're itching to mention our sweet spot- the Galeon 325 GTO , which has recently debuted and made a big splash on the cruiser scene. Her sleeping berth makes her the perfect candidate for a weekend tour. Not to mention all of her creature comforts, from an icemaker, retractable 32-inch TV screen, armrest, multi-colored deck lighting, underwater lights to the crystal clear  sound system. The list goes on- but see for yourself by checking out our Galeon yachts listings page here. 
2021 Galeon 325 GTO. Image credit: Galeon
Rather predictably we have to mention the Italian dream, the Azimut 39, she is large enough to host a party but small enough that the captain can feel part of the action. Guests tend to gravitate towards the back at the start of the trip and filter around the boat. It's a very social, open layout.
Other popular choices include the Aquila 36, Back Cove 340, and the Hinckley 35.
 If we were going away this weekend, we would recommend cruising on the Jeanneau NC 795 Series 2. She is large enough that you can sleep comfortably and catch a good nights sleep before a day on the water. It has noticeably increased visibility compared with other cruisers- which is exactly what you're after when you're cruising along the Venice Canals, people watching and soaking up the rays. Bon Voyage! 
Related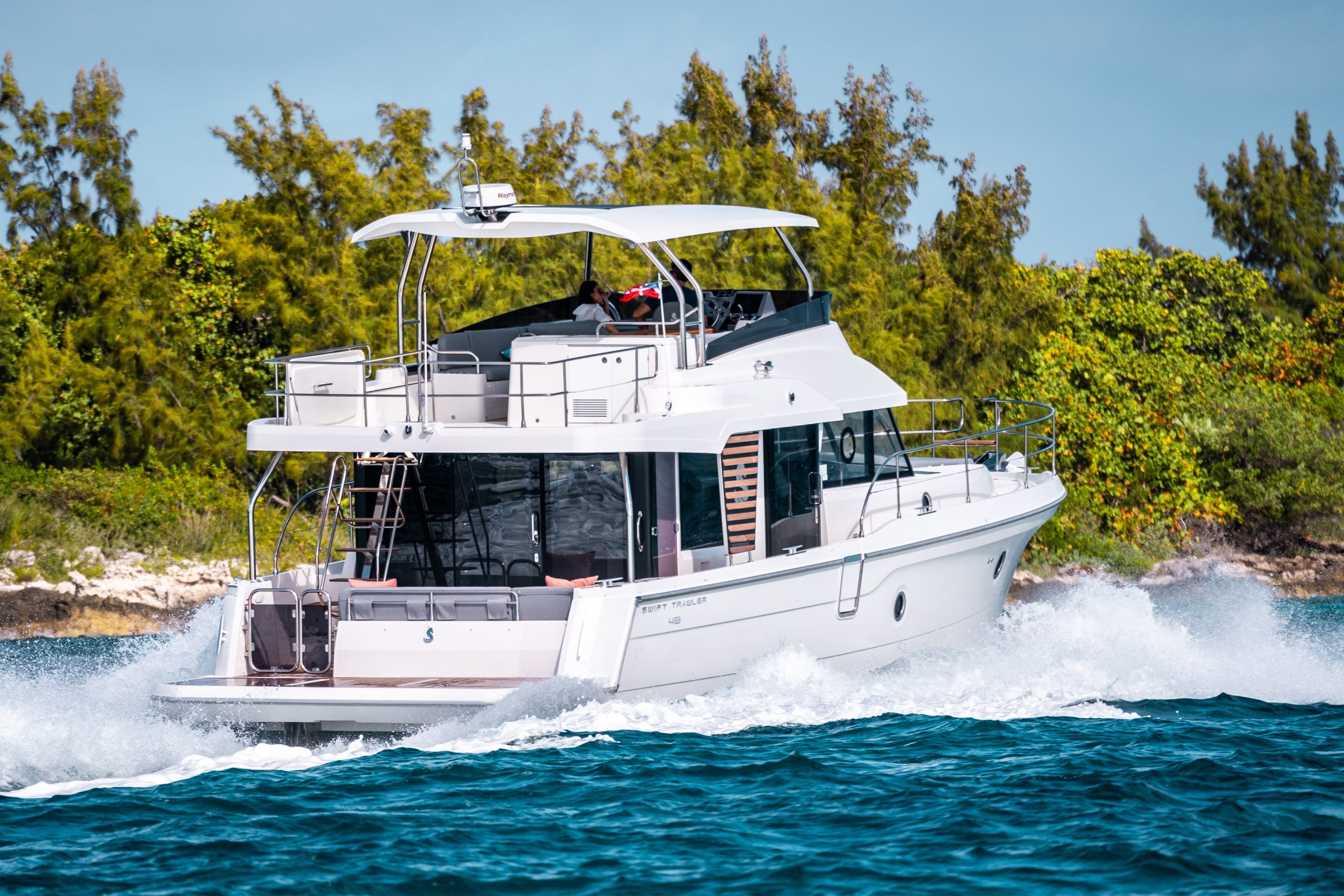 5 Best Trawlers of 2022
Zuzana Prochazka shares her top five new trawlers for 2022.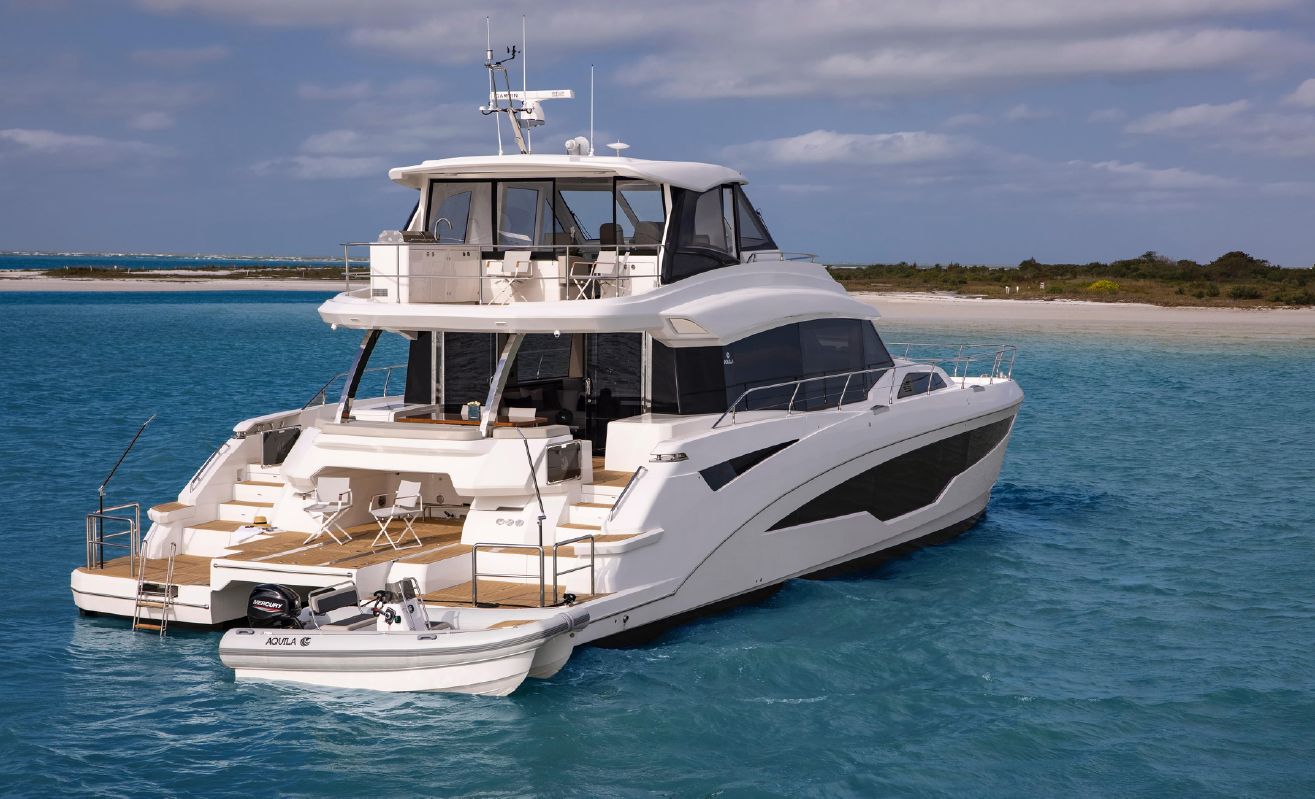 Top 5 Power Yachts of 2022
Zuzana Prochazka shares her top 5 picks for the best power yachts of 2022.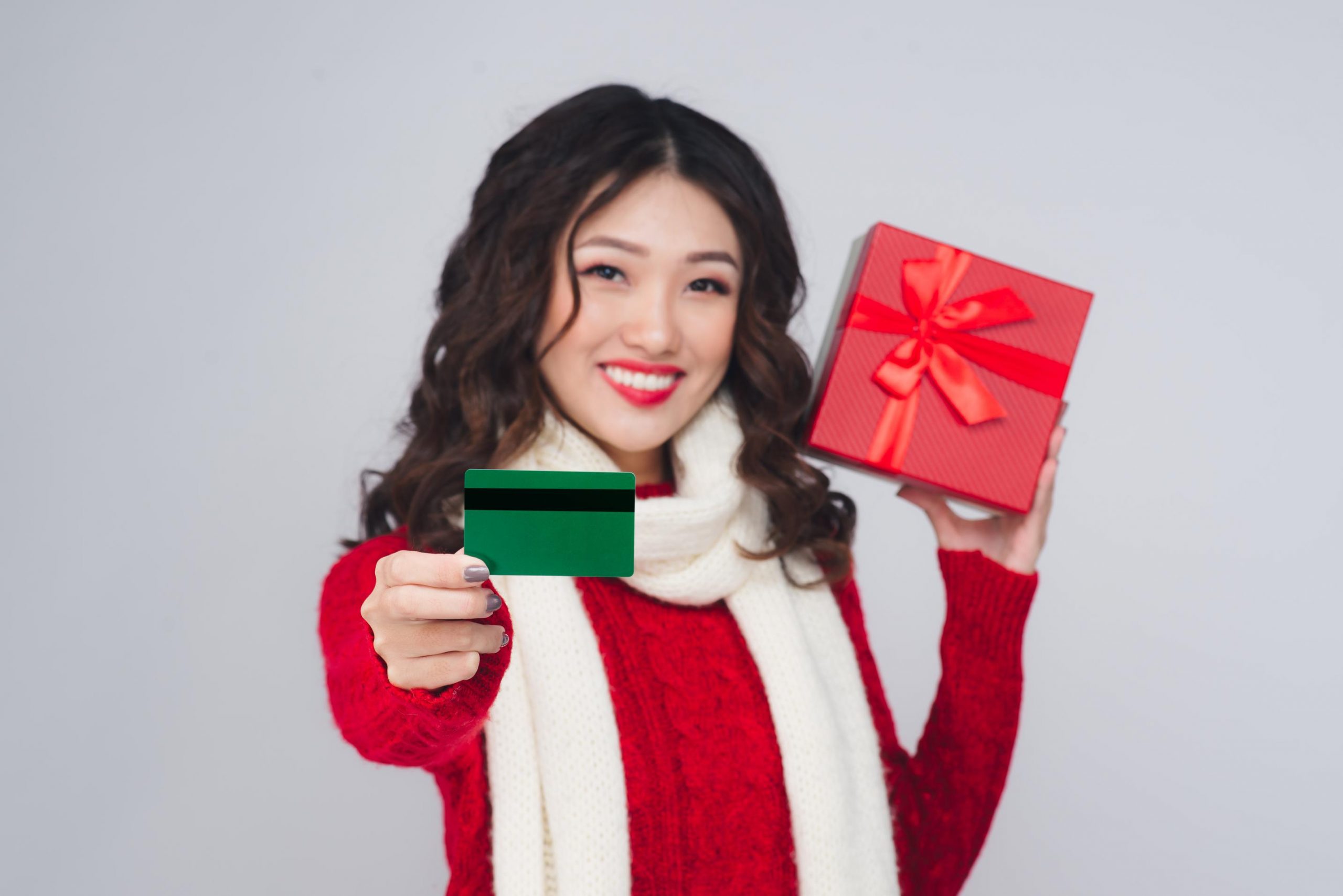 Online Gift Cards And Last Minute Gift Ideas For Boaters
A few quick, last minute ideas for the boater or boat owner in your life.