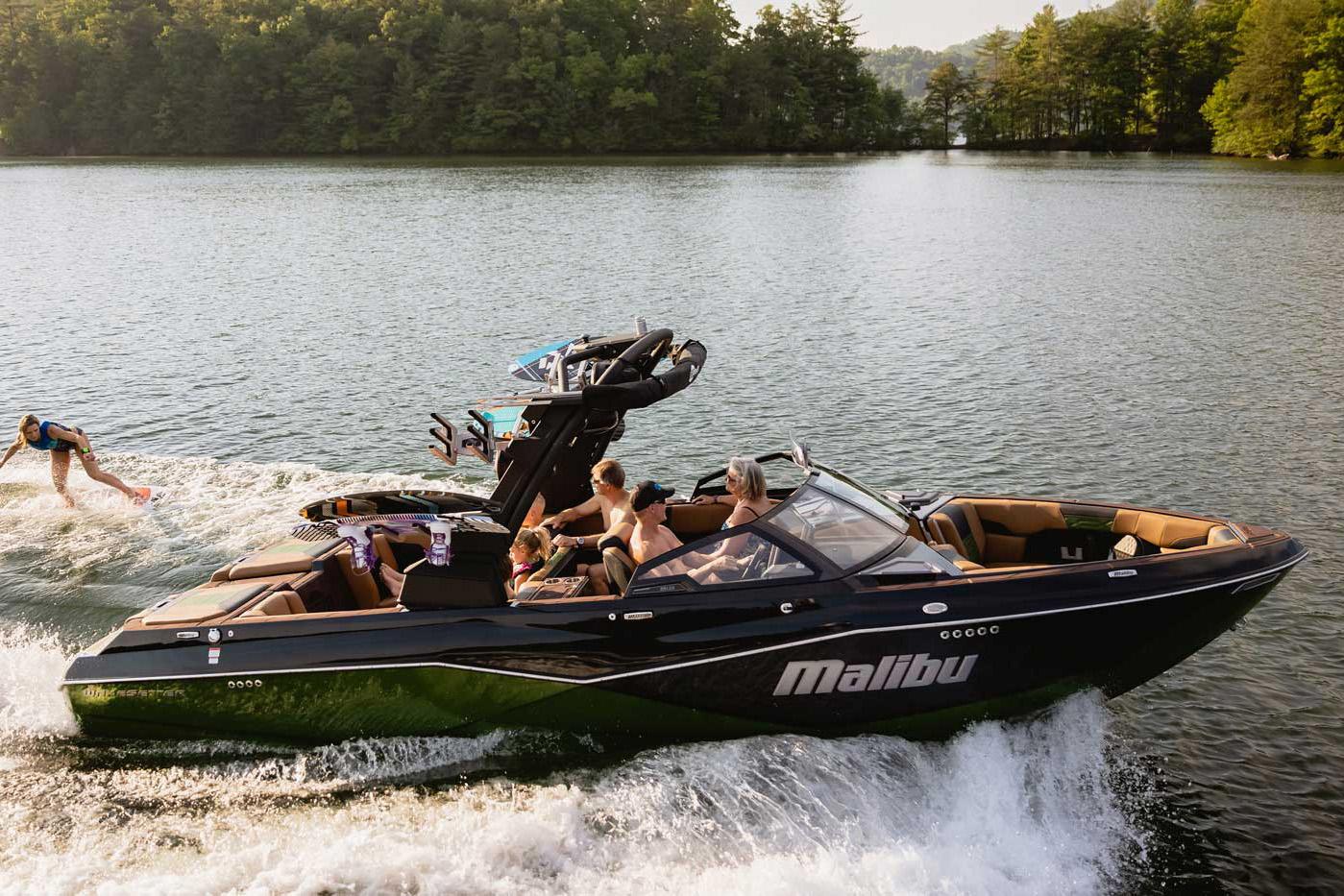 2022 Malibu Wakesetter 25 LSV 25′. Image credit: Malibu Boats
Boats Dedicated To Watersports
Few activities compare to riding the wave. Whether you prefer wakeboarding, wake surfing, water skiing or tubing, taking part in watersports makes for a lively, fun-filled day on the water. Wake surfing, in particular, attracts people in their 40s, 50s and 60s because it doesn't tend to cause as many injuries. Unlike sailing or surfing, you don't have to rely on optimal weather conditions to get out on your board. All you need is a body of water and a wake boat. But what features make a great wake boat? Let's take a brief look at the three main types of models on the market available in this segment:
Jet boats
Specialized boats
Sterndrive sports boats
Jet Boats
For the last decade, jet boats have been growing in popularity. They are celebrated for getting on a plane faster than virtually any other boat in the same size range. They tend to produce a large wake, particularly if the stern is heavily loaded, attracting wake boarders, wake surfers and tubers. Conversely, that big wake can make them less popular with certain types of water skiers.
A jet boat is exactly how it sounds. It is a boat propelled by a jet of water that is ejected from the back of the vessel. Unlike a powerboat or motorboat that uses an external propeller in the water, a jet boat draws the water from under the boat through an intake and into a pump-jet inside the boat before spitting it through a nozzle stern.
One might refer to jet boats as "big Jet Skis" since they are powered by the same type of jet drives that propel WaveRunners, Sea-Doos and other popular PWCs. Some advanced competitive water skiers – especially slalom water skiing that involves skiers maneuvering between floating buoys along the water course – prefer not to use jet boats due to their larger wake.
Another great advantage of jet boats is that they do not have a moving propeller below the water line, so they pose less risk of injury to those in the water around the vessel. For this reason they are considered safer than other types of wake boats and are great for family wake sports and beginners learning how to water ski or wake surf. 
Specialized Boats
There are six to eight top boat builders who have specialized in ski and wake boats for decades, and most of them are inboard powered. Malibu is the de facto all-American watersports boat builder, and everything about a Malibu boat is geared towards surfing or skiing. Other popular specialist boat builders include Nautique, Mastercraft, Tige, Chaparral and Sea Ray. Of course there are many other brands in the game now, but these are some of the best boat brands recognized in the world of wake sports.
Specialist ski and wake boats (often called surf boats) are medium-sized trailerable vessels designed for watersports and cruising. Many cruising motorboats are capable of traveling at speeds of up to 50 MPH, and can cruise comfortable at 25-30 MPH, however specialized ski and wake boats are not intended for high speeds, but more for wake shaping. These types of boats tend to top out around 30 MPH, but are generally designed for speeds between 10-20 MPH as their sweet spot. Most wake surfers and wake boarders prefer to surf the wake at speeds between 10-15 MPH, as this is the best speed for wake surfing conditions. The slower the boat goes (above 5MPH) the shorter and steeper the face of the wake will be. Faster speeds make the wave longer but can take away from the overall wake height. 
The best speed for water skiing depends on the style of skiing, but is often between 25-35 MPH. Water skiing tends to be a faster paced sport than wake surfing, thus wake boats with higher top speeds may be desirable. Some water skiers may prefer as small a wake as possible and faster speeds.
Both skiers and surfers can utilize specialized wake-shaping technology and tow towers that pull them along the water at rate. In terms of size, modern ski and wake boats typically fit approximately 10-16 passengers onboard. They are designed to be enjoyed by groups of friends and family enjoying a day of watersports together on the water. 
Wake boats are typically v-drive vessels with systems to enhance the shape of wakes, making them more prominent and more suited for wake surfing, wakeboarding, jumping, and aerial tricks.
These systems build the perfect wake using hydraulic metal plates, wedges or hydrofoils that the driver can adjust at the helm. Ski boats fall into three water skiing competition categories: slalom, trick and jump, using direct-drive inboard propulsion that creates smaller flatter wakes, ideal for water skiers.
Water ballast systems displace water around the boat to create smaller and bigger wakes as needed by adjusting the weight of the boat. Ballast systems are water tanks with pumps that are integrated within the hull.
Sterndrive Sports Boats
A sterndrive is a vessel with a propeller at the stern (back) of the boat. This is achieved by mounting the engine at the rear and having a gearbox to transmit the power through the back and into the water. Sterndrive units typically have single or twin propeller configurations and can be found in several different brands.
A sterndrive or outboard engine powers most general-purpose sport boats or runabouts, and people started skiing behind them and using them for cruising, swimming, fishing, and just hanging out. As a result, traditional builders of sterndrive sport boats are increasingly delivering the same amenities as specialized ski and wake builders.
Taking Part In Watersports: Mental And Physical Benefits
Being outside and actively partaking in watersports has significant mental health benefits from being in the sea. Firstly, the mineral-rich seawater acts as a natural tonic for the body and mind. Wake surfing and skiing burns hundreds of calories and is excellent for toning and balancing on the water is a perfect workout for your core. Additionally, because watersports are all-encompassing, you are forced to ditch the phone and can enjoy living in the present. Watersports can also help with team bonding.
Wake Boats and Ski Boats Power
V-drive systems power most wake boats, and ski boats are powered by direct-drive propulsion. Outboard engines are not used since they would get in the way of tow ropes and prevent riders from having easy access to loading and unloading on and off the boat. The draft of wake and ski boats will have around 3 feet as a minimum due to rudder propellers and drive shafts along the bottom of the hull, which means they are not used for fishing. However, some wake boats are jet boats, such as the Yamaha 242X are more suited to shallower water.
Board Sports Performance: Finding The Right Wave
A professional-level wakesurf wake makes surfing easier because the more power a wave generates, the easier it is to ride the lock without the rope. Additionally, a more prolonged surf wave allows surfers to make more mistakes while learning and still keep the tide from passing them by and falling. A long wave with thrust is the best way to learn surfing. A prolonged wave allows you to make more mistakes while learning. Without a sound quality surf wave, it makes surfing much harder.
Optional Equipment For Wake Boats And Ski Boats
Advanced touchscreen controls are used for controlling hydraulic wake-shaping plates. You can also invest in powered wakeboard tow towers mounted onto your boat to make water sports easier. Apart from skiing and boarding, they can also be used for kneeboarding. Although they are a significant investment to add to your boat, they give you a high towing point. The towing point sits approximately six to eight feet above the height of the boat deck.
Other add-on equipment you can invest in includes custom stereo systems and soundbars, LED and underwater lights, large swim platforms, loungers and rear-facing observer seats, surf rope and premium towing accessories, and surfboard mounting systems.
Ski and Wake Boats Pricing
Ski and Wakeboard boats for sale on YachtWorld are listed for different prices and range from $50,000 to $500,000 for brand new specialist boats. However, boats priced around $100,000 are the most common.
Keep in mind the cost of ownership when considering your budget and consider that fuel costs can be higher because of the amount of power required to push a boat that is weighed down with a water ballast on board.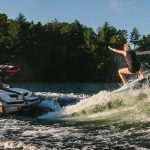 These wake boats are more than just boats- they are a lifestyle choice. Read about the game-changing...
Six contenders for the greatest sportfishing yachts in 2021 and beyond.