There are lots of amazing things released in silver and gold. Silver & Gold by Neil Young. Silver And Gold by U2. But most notably, silver and gold are the striking colors used on two of the most amazing superyachts listed for sale on YachtWorld right now.
Khalilah: Supersport All Carbon-Fiber Yacht
Khalilah is a superyacht for sale on YachtWorld right now, listed by SuperYachtsMonaco. Image credit: SuperYachtsMonaco
Supersonic Performance
Everything Palmer Johnson touches turns to gold; and this certainly was the case when they designed Khalaliah. Debuting the first supersport yacht they have created a masterful blend of design, technology and performance. Khalilah accommodates up to 11 guests in 5 guest cabins (2 are master suites, 2 are VIP staterooms and there is also a twin room).
Khalilah embodies a bond girl. She's sexy, strong, athletic and daring. This 161-foot (49m) golden glider shimmers when she carves through the water. Efficiency underpins Khalilah's design. From her wave-piercing hull to her carbon-fiber body, she has been carefully designed to offer a serious cruising experience with minimal fuel consumption. Palmer Johnson cleverly managed to contour her structure without using a single flat surface. Khalilah is popular for two reasons, the first is that she looks striking, and second, and her size layout make her a bit of a chameleon.
The outside deck is furnished by sunpads and offers plenty of leisure space to unwind and socialise. Located on the aft deck is an outdoor lounge/dining area, a beach club and a bathing platform.
Guests tend to gravitate to the all-glass salon and sky lounge, where there is a sense of integrating 'the outside in'. Views are maximised by use of extra wide beams which allow for extra wide views all around the vessel. Sea air and natural light floods inside. Her interiors have a distinct Asian influence, incorporating playfulness through contemporary design.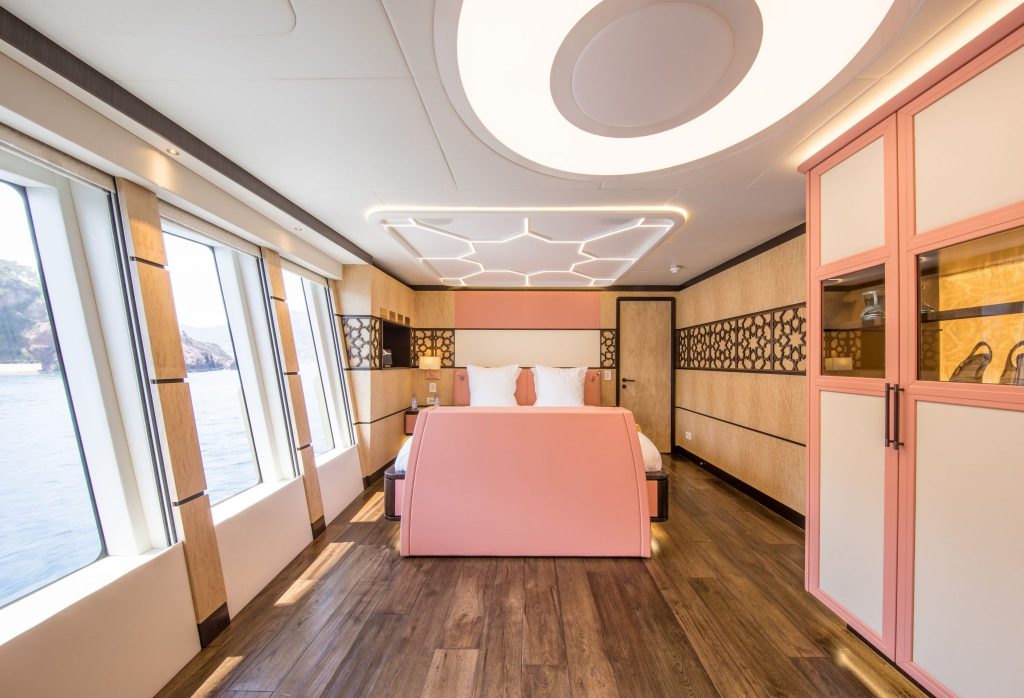 The master stateroom. Image credit: Image credit: SuperYachtsMonaco.
Image credit: SuperYachtsMonaco.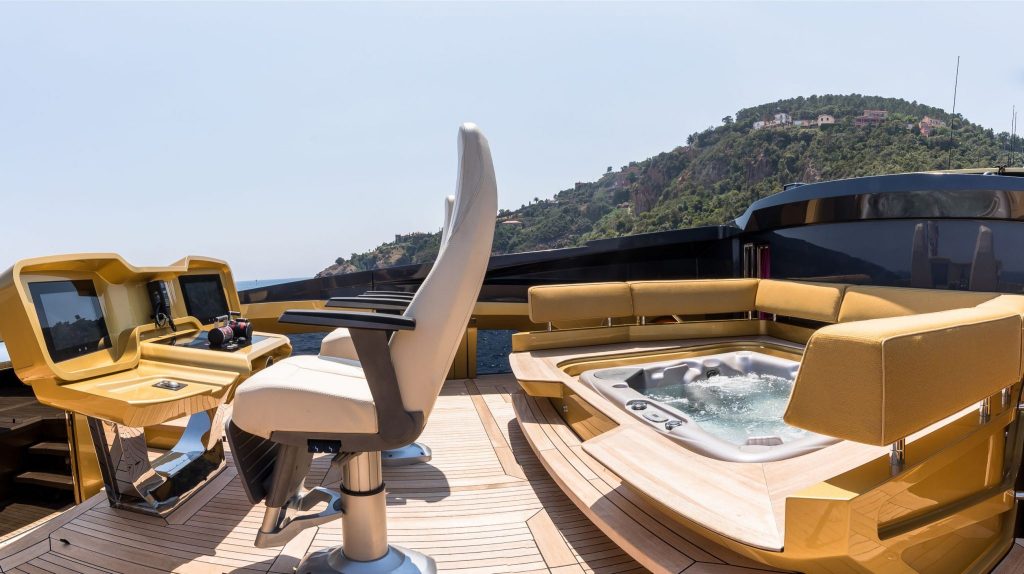 A special highlight is the master suite which features skylights and private use of the jacuzzi on the sky bridge. Image credit: SuperYachtsMonaco.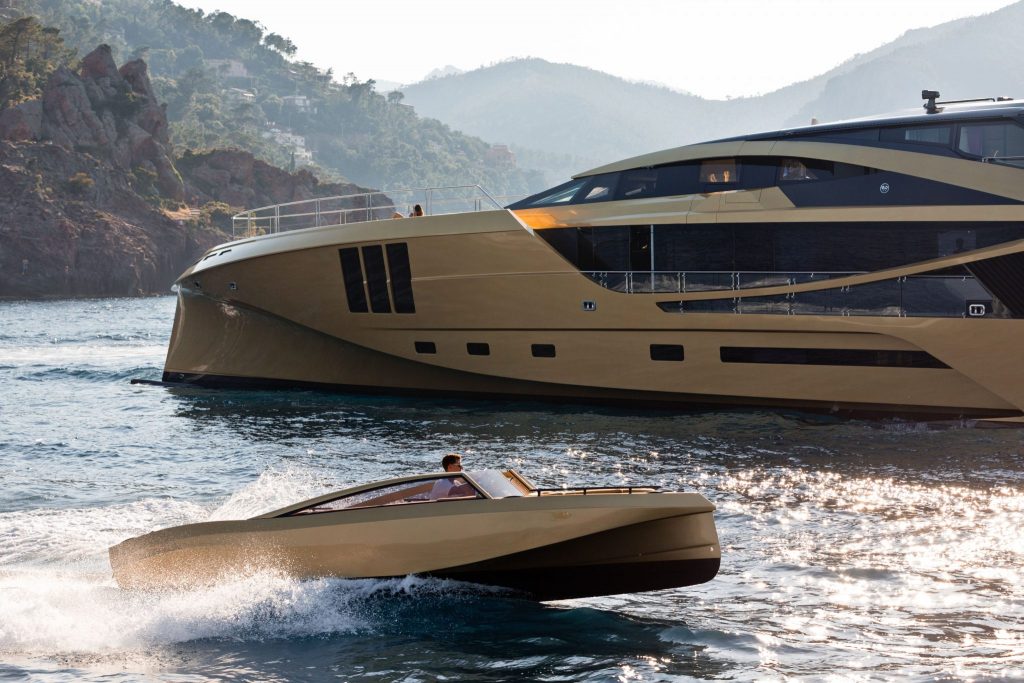 A matching 7m gold tender speeding through the water. Image credit: SuperYachtsMonaco
A state-of-the-art toy selection is available, including a jetpack, hoverboard, wakeboard, jet skis, kayaks, paddleboards, and inflatables. She includes a custom 7m gold tender.
Silver Wind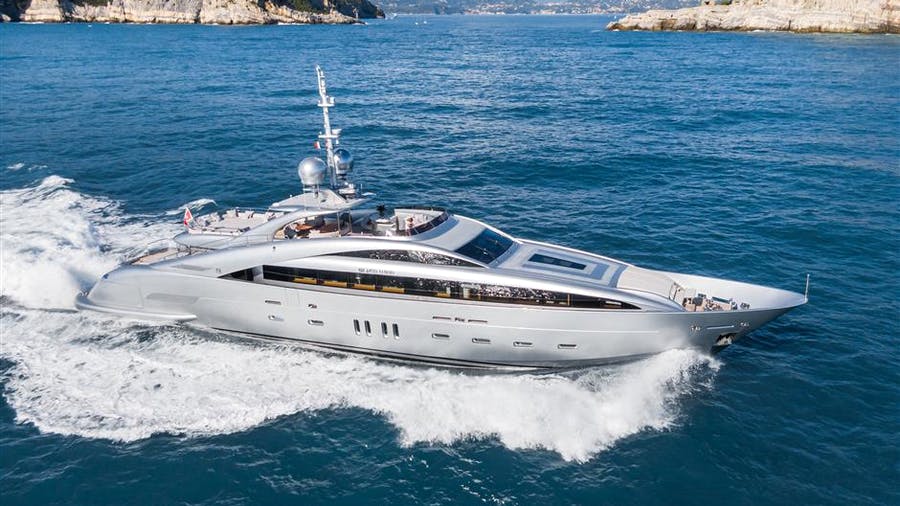 Carving through the water like a silver bullet. Image credit: ISA Yachts
Silver Wind is dedicated to entertaining guests, and her 143′-foot (44m) structure provides an abundance of leisure facilities to entertain up to ten guests. She is large enough to provide an abundance of outside space for entertaining. Most crucially, she is easy to run, manoeuvre and get around in. Silver Wind is luxurious without being ostentatious or over the top.
Main deck. Interior Designer: Nuvolari Lenard. Image credit: Jeff Brown Breed Media
Silver Wind comprises four cabins in total. She features a spacious split level master suite, 2 VIP double cabins and 1 twin cabin. Standing at 44 meters, she is the perfect size for cruising with family and close friends.
ISA Yachts, a global luxury superyacht and megayacht builder based in Ancona, Italy, is responsible for her naval architecture and build, which dovetails perfectly with her interiors styled by Nuvolari & Lenard. ISA is dedicated to producing forward-thinking superyachts, uniquely designed to their owner's preferences built using the highest technology, best quality materials and the finest furnishings and finishes available. This vessel's luxurious interiors – styled in Hermes silk, high gloss ebony, and walnut – look and feel sumptuous.
VIP Cabin. Interior Designer: Nuvolari Lenard. Image credit: Jeff Brown Breed Media
Powered by MTU engines she has a cruising speed of 26 knots and a top speed of 32 knots. She speeds through the water like a silver bullet, and her unmistakable ISA dramatic lines turn heads wherever she is.
The sun deck has a private bar, seating, and sunpads-ideal for guests to enjoy canapes and cocktails outside on those balmy evenings. The swimming platform is the perfect springboard for enjoying watersports and water toys.
Khalilah and Silver Wind are both for sale through YachtWorld's superyacht listings.
Related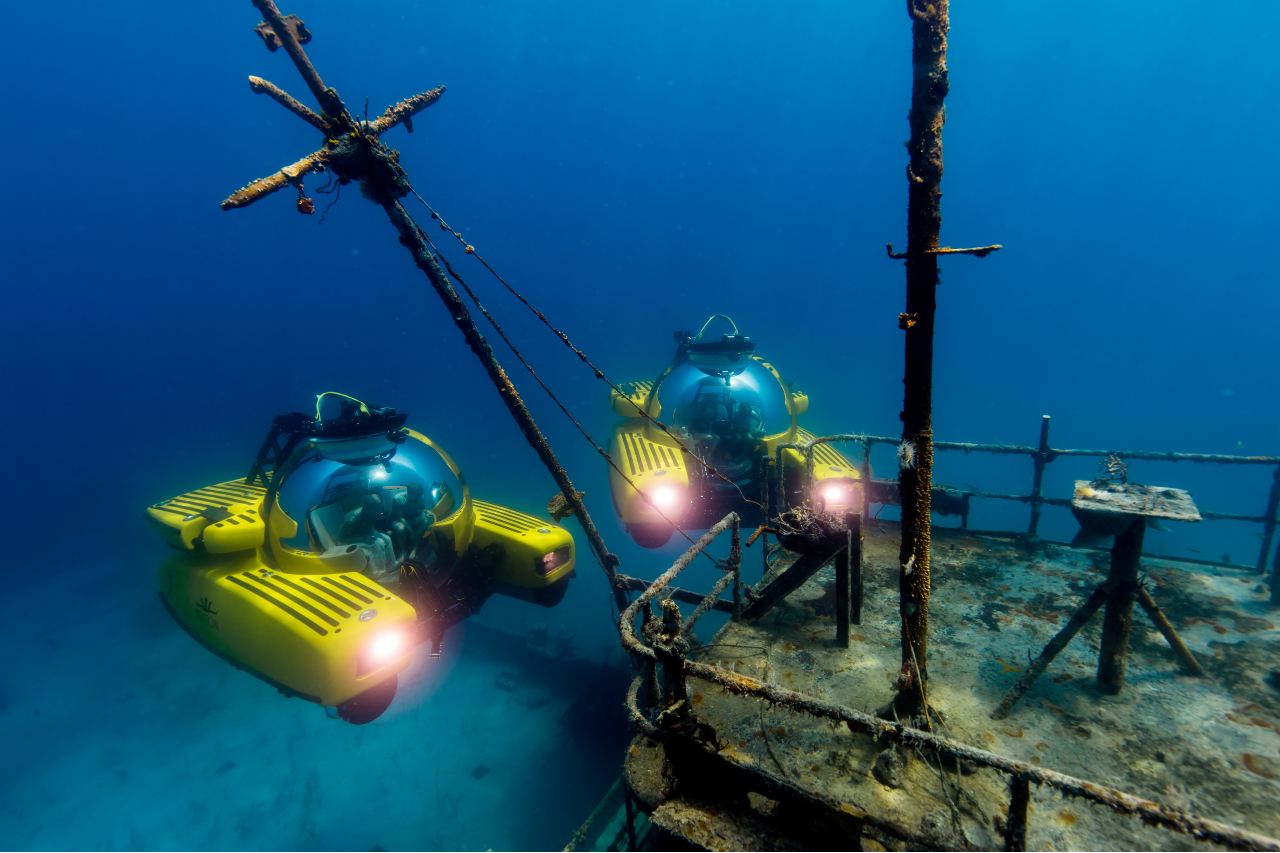 The Best Submarines for Superyachts
Yachtworld cherry picks the best submarines most suited to yachts.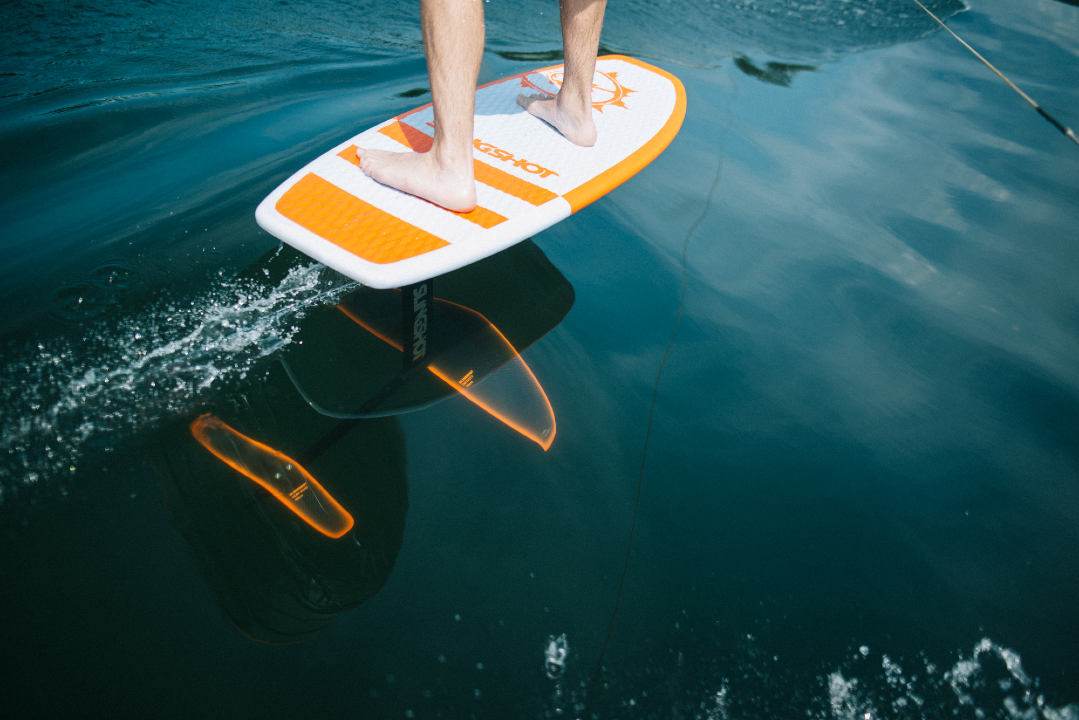 Eco-friendly Toys for Boats
Emma Coady discusses the best eco-toys and tenders to thrash around the ocean.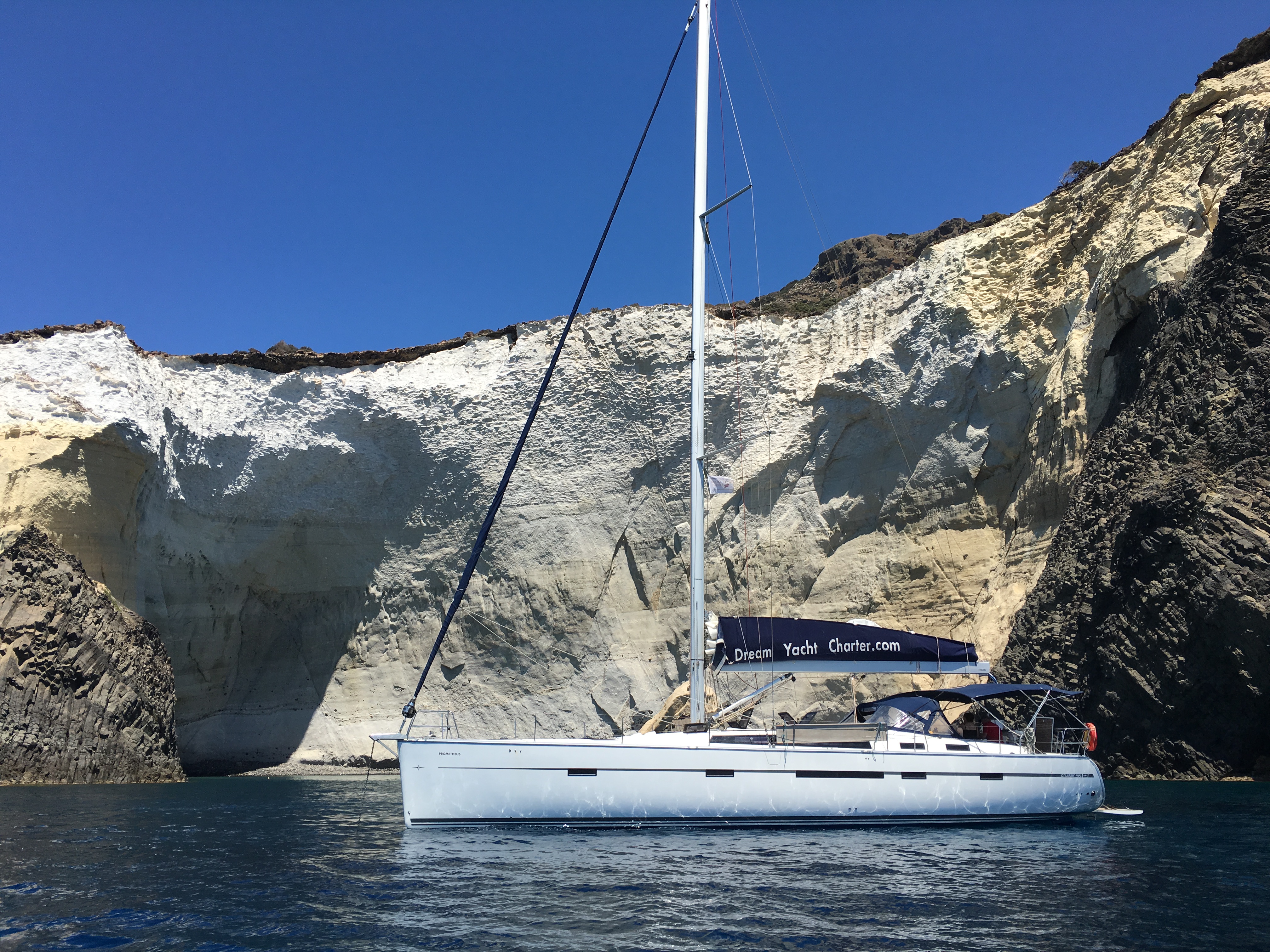 Cruising Focus: Milos Island
Zuzana Prochazka reports on her cruise around the Greek Islands, namely Milos Island, a Greek gem set...