If you're going to spend serious money to buy your dream boat, you surely want a professional surveyor to take a look (see 10 Things You Need to Know About a Marine Survey). But hiring a surveyor represents an investment in itself, and there's a lot you can learn about a yacht by performing a self survey, first. To avoid surprises, you can start by doing some homework—reading boat reviews, extracting information from website chat rooms, and talking to knowledgeable boating friends. Your research should, however, also include a thorough dockside inspection and a sea trial of the boat or boats you're considering. You need to be the toughest critic. Trust your eyes, your instincts and your experience. When in doubt, ask questions, dig deeper and don't leave things to chance.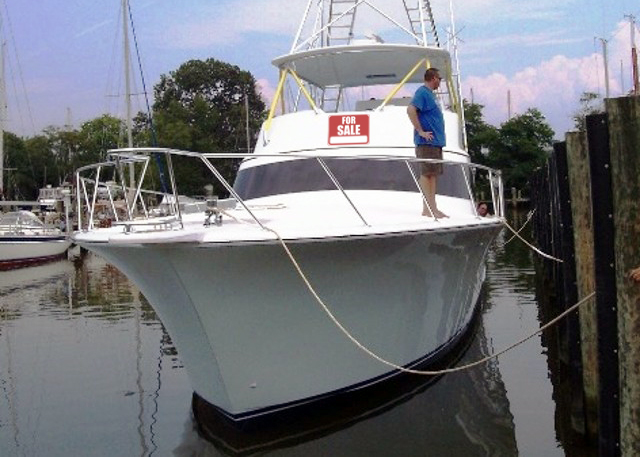 I've tested boats for more than 10 years, so I've done my share of stem-to-stern inspections. I'll outline the areas, equipment and components that need your attention, such as the characteristics of properly designed anchor lockers and swim platforms, helm visibility, engine accessibility and more. Then I'll take you out on the water and identify the traits I look for in a seaworthy, thoughtfully designed and functional yacht.
Depending on the size and style of the boat, the examination and sea trial should take three to five hours. Bring along a small flashlight, a tape measure and a way to document your work (notebook, voice recorder, camera, etc.). Boats with engines manufactured from 2000 on should be equipped with a helm gauge that indicates fuel-burn rates in gallons per hour. Engine systems linked to a GPS can provide mileage data. In my experience, this computer-generated information has proved accurate when matched with auxiliary fuel meters, such as FloScan units.
After completing your evaluation, you should hire a qualified surveyor to thoroughly go over the boat. The surveyor, among other things, can check the hull for structural integrity, identify electrical issues and make sure the boat complies with industry standards and Coast Guard specifications. I recommend that used-boat buyers also hire a technician to inspect and run the engine(s) and check compression.
BOW
I like to start at the bow and work aft. I check the anchor locker first. It should be large enough to hold the appropriate-sized hook and enough rode to safely anchor. When open, the hatch should not interfere with access to the ground tackle. And the locker should drain directly overboard. Extra credit goes to the presence of a washdown in the locker, so you don't have to haul around a muddy anchor.
Toekicks, handrails, deck rails and bow rails greatly improve balance and overall safety. Many boats incorporate a raised foredeck and/or some bow seating. Foredeck and helm deck steps can be tripping hazards, so it's wise to note areas such as this. Look for stumbling points, and make sure they're properly accessorized with handholds.
On cruising boats with forward cabins, look for relatively wide side decks (eight inches or more), a highbow rail (the American Boat and Yacht Council recommends 24 inches minimum), and handrails along the hardtop or superstructure. If access forward is via a centerline windshield walkthrough, the passage should have large steps covered with non-skid and a handrail to help you through. You want a sturdy bow rail with little flex and it should be inboard of the rubrail to avoid damage from dock pilings or other solid structures.
STERN
The depth of the cockpit will vary depending on the boat's design and purpose. Lower sides (24 inches or less) allow anglers to more easily board their catch, and boats with higher sides do a better job of preventing you from falling overboard.
Most boats are built with self-bailing cockpits, but make sure it works as advertised. I used to intentionally flood the deck to check a boat's drainage capabilities, and in the case of sportfishing boats which commonly back into the seas while chasing pelagic fish, by backing down hard until water came over the transom — a bit extreme but effective.
With the scuppers, bigger is better and location makes a difference. Some vertically mounted scuppers are placed an inch or so above the deck's draining surface or gutter level, allowing water to puddle. There are no puddling issues with scuppers that are horizontally mounted and are flush with the draining surface.
Swim and boarding platforms should be free of protruding cleats and hardware that could injure feet, shins and so on. On sterndrive boats, the platform should extend beyond the drive and prop — even when the lower unit is trimmed up — to prevent injury. Also in the interest of safety, the ladder design should allow a swimmer to deploy it from the water. And you want the ladder to be as far outboard and away from the prop as possible. Ladders that extend so that at least two steps are in the water are easier to climb than those with one rung submerged. And some ladders are too narrow, making them awkward to climb. Is there a handrail near the swim ladder? Is the swim platform coated with non-skid? The answer to both of these questions should be yes.
ENGINE AND SYSTEMS ACCESS
Hatches to access the engine or other mechanical equipment should be watertight. If water gets to these components, they can corrode. Hatches should be large enough to access fuel/water separators, engine oil and fuel filters, bilge pumps and pump switches, seacocks and batteries. Make sure the batteries are secured and installed high and away from bilge water. Battery boxes need to be properly ventilated and the positive terminals should be covered. It's helpful when hoses, valves and seacocks are labeled, and when the bilge is painted white to brighten the area for better visibility.
Components that ought to be accessible on in-board and larger boats include raw-water strainers, inverters and generators, as well as the engine's oil fill, filter, dipstick, spark plugs, etc. There should be a ladder or step to access the engine room and a flat platform with traction to stand on while you work. The engine room should be well lit. Larger boats may also have day hatches for quick maintenance jobs, such as fluid-level top-offs and oil-level checks.
Make sure the fuel tank fittings are accessible. Ask the broker whether the deck or hull would have to be cut if the tank had to be removed for repair or replacement.
HELM
When I was writing boat reviews, I encountered one of the worst helm blunders I've ever seen. The boat was a walkaround with a hardtop and a starboard-side helm. When I stood at the wheel, a stowage box molded into the hardtop was staring me in the face, inches from my nose. No one taller than 5 feet could pilot this boat while standing. You should be able to drive a boat comfortably while standing or seated. In fact, standing may be necessary while driving some boats in rough seas.
On your sea trial, try both positions at various speeds. Ask yourself the following: Are sightlines clear in all directions? Are the engine gauges, GPS, radar and other navigation displays readable? Is anything blocking the view of the compass? Does windshield glare impede visibility? (A dark helm background limits glare.) Is the horn separate from the other switches and buttons for quick identification and use? Is there enough or too much space between the helm seat and the wheel? Is the seat adjustable (up and down, fore and aft)? Do the windshield wipers work and do they cover the areas you'll be looking through at various speeds? Is the second mate going to be able to drive the boat in an emergency?
Boatbuilders have improved helm design and ergonomics during the last decade or so. For example, sightlines are better. In the past, many builders of express cruisers used a clear plastic insert (attached via snaps and zippers) to fill the gap between the windshield and the hardtop. The plastic eventually discolored and became creased, hindering visibility.
Remember to check the access to helm wiring and controls. Look for tinned (or tin-coated) wiring, which resists corrosion. The installation should be organized and neat. Any electrical terminals should be covered. Also, find out whether there are built-in wiring chases for auxiliary equipment you might add, such as a depth sounder or a windlass.
CABIN
On cruising boats, think about how you and your family will use the cabin. Play house. If you plan to cook a lot, examine the galley closely. Is there enough counter space to make sandwiches? Are there countertop fiddles and stovetop gimbals? Are the cabinet door latches positive-locking? Is the sink big enough? Is there enough stowage? Is there enough space between the dinette and the settee to accommodate your largest crewmember?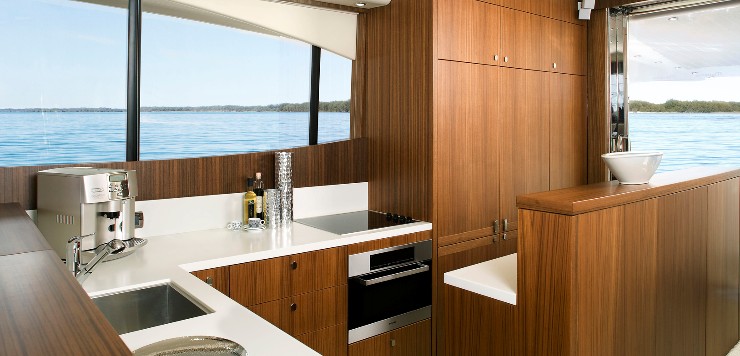 There should be handrails along the companionway steps. Check the amount of headroom below deck — in the cabin, at the galley, in the head. Make sure the berths are large enough to sleep comfortably and can be accessed without a struggle.
With little natural light, cabins can feel like caves, so make sure there are enough portlights and hatches. And they should have screens for ventilation. The electrical distribution panel should be enclosed so children will not be able to play with the switches. The panel needs to be easily accessible from the helm deck, as well as the cabin.
If you're eyeing a boat with lots of wood below, check the joinery and overall workmanship.
CONSTRUCTION
Find out what materials and methods were used to build the boat. Are the hull and the decks solid glass or cored? Is the coring material hand-laid or does the builder use a more advanced process, such as resin infusion or vacuum bagging? There's more room for error in the bond between core and fiberglass skins in a hand-layup process, according to the experts.
Also, ask whether the core material is backed away in through-hull areas and replaced with fiberglass or some other type of composite material. You don't want screws or bolts penetrating the core — a wet core leads to problems.
A vinylester skin coat will protect against blistering better than polyester, although polyester resins are of high quality these days. High-end builders often use epoxy resin.
Other construction questions: Is the hull-to-deck joint bonded and/or through-bolted for maximum strength and durability? Is the hardware through-bolted? If wood is used structurally, is it fully encapsulated?
SEA TRIAL
With the inspection completed, the next step is to put the boat through its paces on the water.
The first thing I do is check for excessive bow rise upon acceleration. While sitting at the helm, and with the trim tabs fully recessed and the drives down, punch the throttles. The bow should never block the view of the horizon, even if you're seated.
Find a comfortable cruising speed and check the sightlines. On a center console, the hardtop framing may hinder your view. On an express cruiser, the radar arch may obstruct visibility. On a pilothouse boat, the windows may be too small or the mullions too wide.
Pick a day for your sea trial when seas are a bit rough— not unsafe, but challenging for the boat. I run the boat at cruising speeds in all directions to see how it behaves. Make sure the trim tabs are large enough to do their job. In the down position, the tabs should push the stern up and the bow down. This helps soften the ride in a head sea. With one tab up and the other down, the boat should heel to port or starboard. This compensates for unequal weight distribution.
Find out how fast the boat can be run before it starts to pound and the ride becomes uncomfortable. Can the boat maintain a low planing speed, so that in rough seas you can slow down, but also make decent time?
I use the engine gauges to determine the most economical speed. Modern engines may provide miles-per-gallon readouts. If not, they usually calculate fuel use in gallons per hour. Divide your speed by the gph number to come up with mileage.
There's a lot to remember during a sea trial, so when I'm about halfway through I'll put the engines in neutral and jot down some notes. The wind can be loud on the water, so I don't recommend using a voice recorder once you leave the dock. While you're still adrift, gauge the stability of the boat. Is it tender? Do you feel safe moving around on deck?
To gauge steering response, I count the number of turns it takes to spin the wheel from lock to lock. Three or four turns indicates a steering system that provides quick helm response and course correction, which is important in collision-avoidance situations. And it's easier to maneuver a boat with efficient steering in close quarters.
FINAL THOUGHTS
No boat can satisfy all of the criteria set forth here— some of it's pretty particular. So there's no need to wave goodbye to a boat if the bilge isn't bright white or the hatches lack rubber gaskets. Try to think ahead and envision how you and your family will use the boat. The overall results of your inspection and sea trial should help you determine whether the vessel's design, equipment and performance meet your needs.
Chris Landry is a staff writer for Soundings Magazine. An earlier version of this article originally appeared in the October 2010 issue.
Related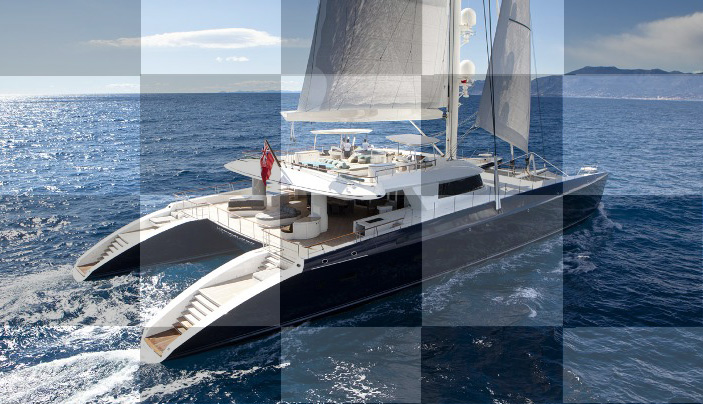 Fractional Yacht Ownership: Pros and Cons
Fractional ownership has become a popular option for yacht buyers, but is it right for you?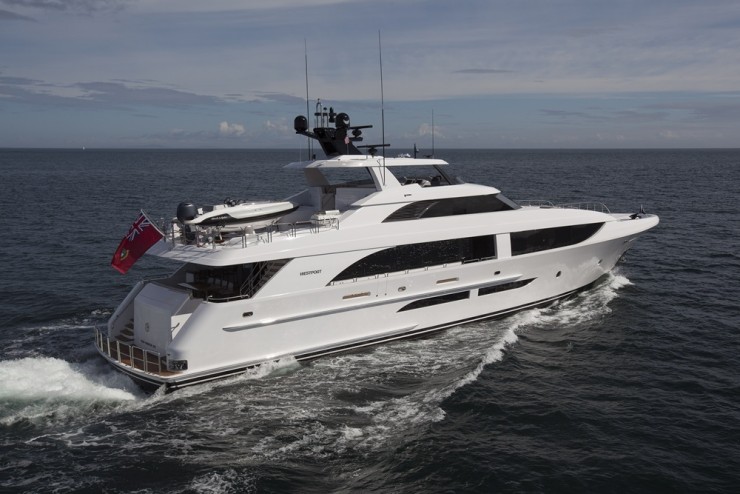 Westport 125 Review
Is Westport crazy for creating a model five feet smaller than another long-successful model? Crazy...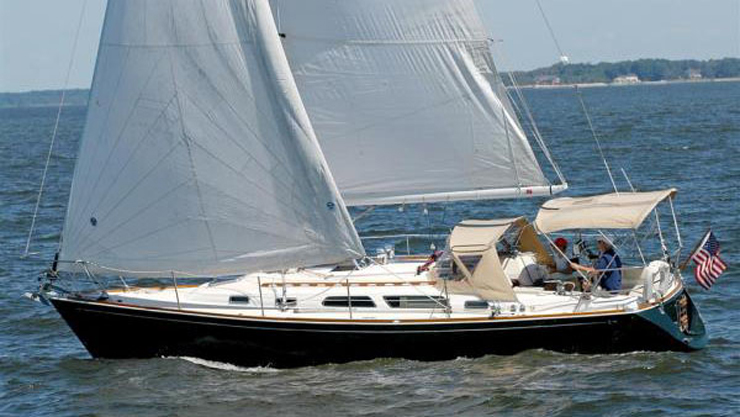 Sabre 362: Pocket Yacht for Extended Sailing
This Maine-built performance sailing cruiser may be small, but fulfills offshore aspirations.