Boat builders current challenge is satisfying customers increasing requirements. Hulls and motors' size and shapes have changed to suit larger families and the higher standards expected from a boating lifestyle. Manufacturers are stretching their boundaries to satisfy the market, whose expectations for convenience, performance, functionality and comfort are higher than ever before.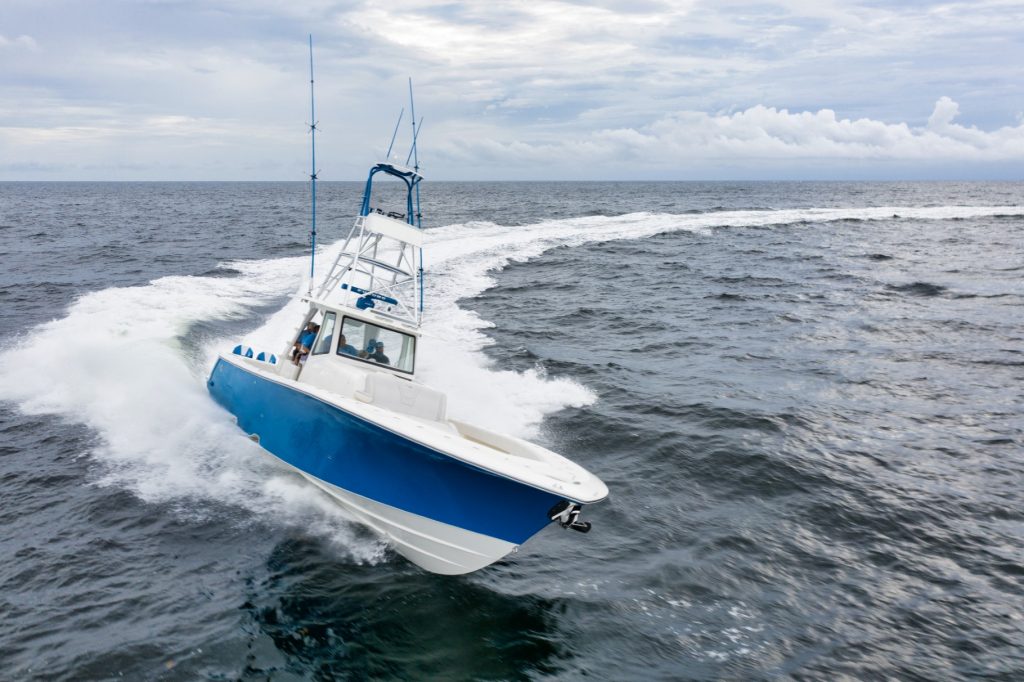 SeaVee Boats History
SeaVee Boats is the flagship high-performance fishing boats, re-created its long-standing brand, founded in the 1970s by avid Miami fisherman, Capt. Don McGee. Ariel Pared bought a SeaVee in 1993 and McGee involved him in the build, captivating him in the process. Ariel took so much joy from boat designing that he decided to embark on a new venture, and he made the bold decision to buy the company, with two other partners. They were keen to embrace the integrity and existing culture of the company. Still, they have a clear mission to expand their offering, which eventually led to SeaVee debuting its largest boat to date, the 450Z.
The SeaVee Z models are the stepped hull, performance sector of its line. The 450Z was initially conceived as Pared's boat, pulling together all the components that define SeaVee, a customized fishing vessel, utilizing all the brand's innovations and craftsmanship, in a boat with the versatility to satisfy anglers and families alike. Since Pared is an ardent tournament fisherman who also appreciates luxury, the SeaVee 450Z also reflects his priorities.
The plan for the boat began three years ago; however, the SeaVee was simultaneously building a new factory to consolidate its construction, delaying its production. Formerly spread out across various Miami sites, SeaVee built 180,000 sq. ft and 40,000 sq. ft facilities in Medley, Florida, just outside the more expensive city limits. The company employs 350 people intending to build 250 boats per year. Before the 450Z, the largest SeaVee was 39'. The new model is an entirely new design. The customer's needs are the nucleus of the design operation, which is why this model's conception began with conducting focus groups to gain customer insights into what they want from their vessels. SeaVee focused on creating a one-piece close-molded, cored console at the center of the boat. Their vision was to create a boat without a single pipe, seam, or fitting. "It was a huge sigh of relief when the top and bottom fused," shared Caidy, noting that the ladder that extends to the gap tower is also part of that single console unit. The design is attributed to Naval architect Rob Caidy, SeaVee's VP of Engineering, whose innovative engineering made the seamless aesthetic possible. The ladder is a design feat, as it stacks wide, sturdy stairs, with integrated and ergonomic handholds, so that climbing up and down is a breeze.
SeaVee's 450Z Interiors
The console also features a seamless molded safety glass windshield which is not tempered, and visual acuity through polarized sunglasses is not sacrificed. A billet aluminum rearview mirror is a common-sense surprise. "It's easier than a camera!" says Pared, "Every inch of this boat is used," he adds. The raised helm is a captain's dream, which Pared calls "the heart of the boat" with all equipment laid out in easy reach, with a clear view over the bow. Above is a hatch for handy kite or safety gear storage The helm has three Furuno screens, two 24" framing a 16," and controls for Mercury VesselView, bow thruster, joystick, a custom designed JL Audio system, autopilot, air conditioning, hydraulic trim tabs and a Seakeeper 6. Backlit button controls have a larger typeface, which Caidy considered a nice touch to facilitate the captain's vision (so many can now forgo "readers" at the dash). Tucked behind the screens is a recessed area to hold necessary items like phones, Bluetooth devices, sunscreen and keys, out of sight, yet within reach. The tower dash is similar but downsized, and the T-top features Lumitec LED lighting for the helm and forward and aft-facing flood and searchlight bars on the top. Custom 30' Marsh Tacky Carbon outriggers feature on this boat which is replete with rod holders.
The teak captain helm chairs are luxurious, and the center seat swivels. Automotive Alcantara upholstery, an upscale speciality suede that resists fading, heat, and moisture tested on this model for durability in extreme marine conditions. The second row of seats—also air-conditioned–is optional, with Release bolster chairs or a bench. A mezzanine includes an aft-facing automated bench with armrests and dual coolers beneath. The backrest tucks away to reveal an impressive tackle station with multiple drawers and space for 12 Plano boxes.
The spacious aft deck has high gunnels, room for a battle station, dual corner livewells, three below deck storage areas that can become optional, additional baitwells, salt and freshwater washes and two 200-gallon insulated fish boxes with overboard drainage. Center hatches provide access to the bilge, Seakeeper and generator. While one open-in dive door is standard, this model featured two, providing port and starboard ingress and egress—or the opportunity to haul in a huge catch!
The bow is likewise open and sizable with dual rod storage floor compartments on each side, another insulated/freezer, draining fish box—where Pared likes to keep chum—or ice cream—and two optional insulated livewells or storage compartments.
A sizable padded lounge can seat two comfortably and is low, below the gunnels, providing safety and visibility of the helm. There is no storage beneath, which offers headroom for the cabin, but a forward coffin box is optional, as is bow seating. The SeaVee anchor (optional windlass) is tucked into the bow to prevent fish line tangling.
Entry to the cabin features a flush, electric sliding fiberglass doors that protect the boat from green water. The galley is lit naturally with privacy screened windows and equipped for basic meal prep and cooking with a microwave, and refrigerator/freezer, encased in wood veneer cabinetry. A Bluewater wood table has recessed cup holders, folds down for dining and electrically lowers to create a full berth. The spacious enclosed standup head fits the customer profile—or as Pared says, makes "Mamma happy" and accommodates the "big boys" who can still comfortably access the head and standup shower. While he considers the 450Z a dayboat, it is still comfortable for an overnight stay.
SeaVee 450Z Sea Trial
On our sea trial, we felt the rush of power from the quad Mercury Racing 450R outboards which seem to lift the 22,000-pound boat effortlessly on plane, carrying it to 65 mph top speed in seconds and cruising comfortably at 42 mph–even in 3-5' seas. Speed is in the terminology and the blood of this hull; the boat cut through chop easily, thanks to SeaVee's "SpeedRail" technology which features a cross-ventilated twin-stepped hull provides extra lift, greater speeds and fuel efficiency. This patented hull design, incorporating an array of "speed rails" also provides excellent handling and counterforce for hard maneuvering. "It's easy to go fast. The attitude of the boat stays the same at 30, 40 or 50, but it's harder to stay on the plane at 20 knots and still have visibility—this stepped hull does that," Pared states. In low or high-speed turns, we felt the boat's grip, saw little bow rise and we sliced through bigger waves with ease as we sped out to open water, leaving a wake and worries behind.
SeaVee 450Z Specs:
LOA: 45'
Beam: 12' 6"
Draft: 27"
Deadrise: 22"
Fuel Capacity: 778 gallons (3 tanks)
Water: 100 gallons
Related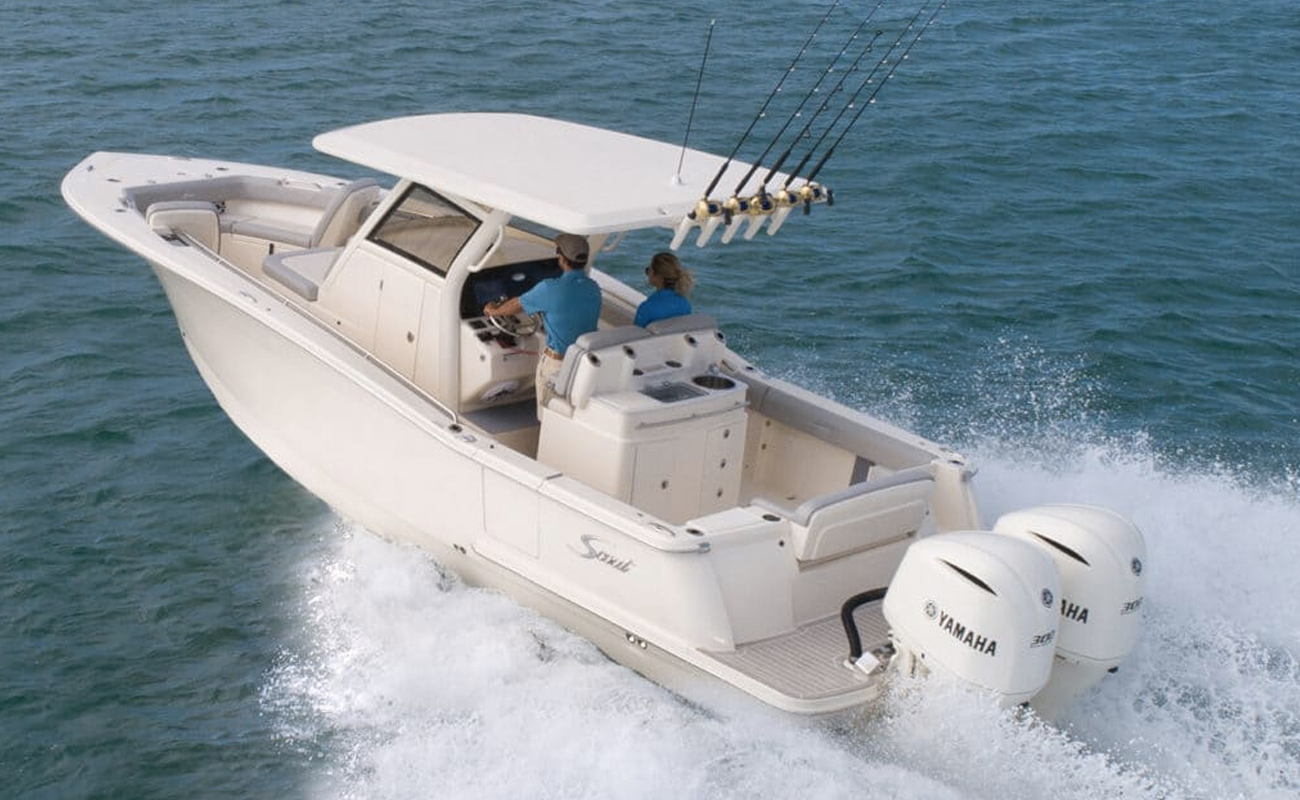 Scout 305 LXF Video Boat Review
If luxury fishing is your thing, the new 305 LXF from Scout Boats might be your bag!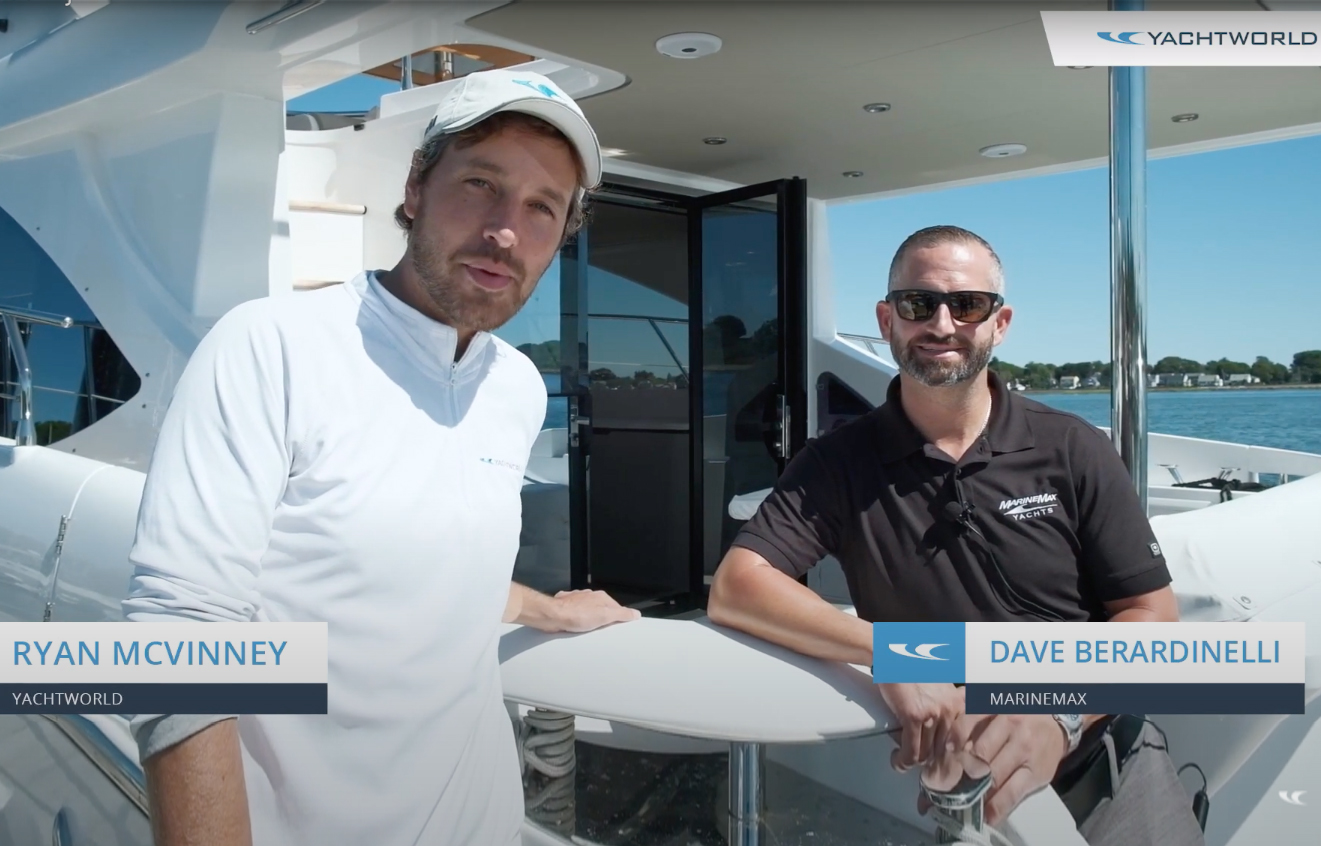 Azimut 55 Fly Full Video Walkthrough Review
Join Ryan McVinney and Dave Berardinelli from MarineMax for a full video walkthrough of Azimut Yacht's...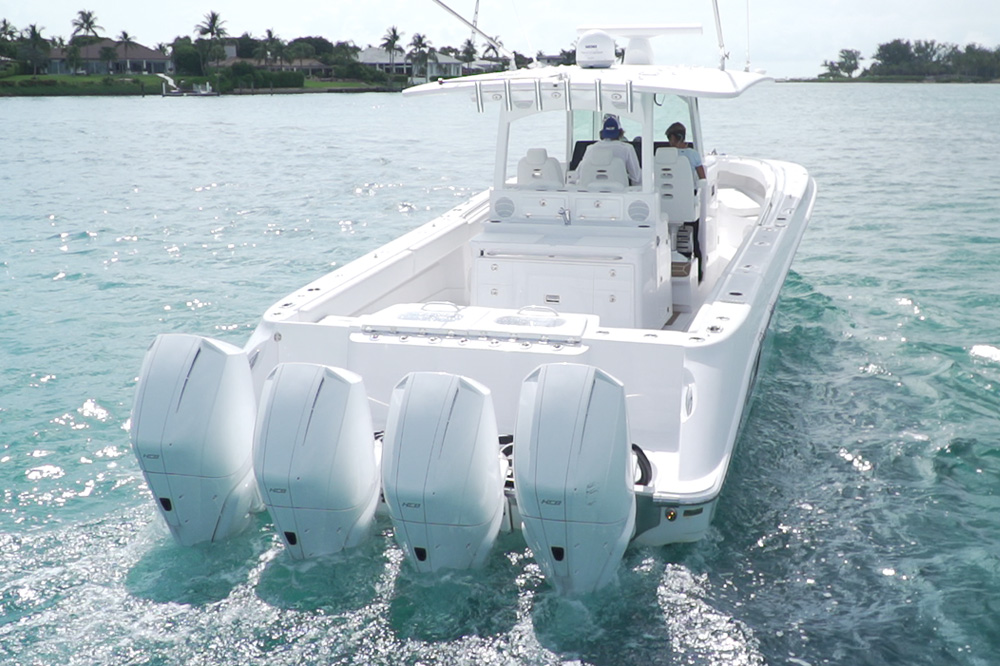 HCB 42 Siesta Video Walkthrough
Marilyn DeMartini and Anthony Paglia from HCB sea trial an HCB Siesta 42.