Production began in 1998 on the Sea Ray 480 Sedan Bridge, and it continued through 2004. This was the time in Sea Ray history when the prolific builder was starting to branch out into the larger-boat market, marketing models up to about 65 feet length overall, which remains the size of their biggest offering available today, the Sea Ray L650). The 480 Sedan Bridge was a midrange model as other designs came in and out of the lineup—which Sea Ray created for boaters who wanted the style and performance of a convertible, but with more of a cruising feel than a fishing vibe on board.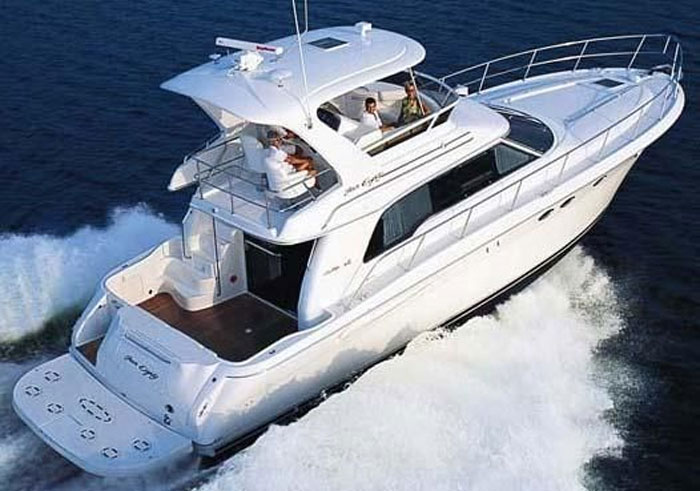 Generally speaking, the major differentiator among 480 Sedan Bridge models from year to year was the engine package that each owner chose. Options included Detroit Diesel, CAT, Cummins and MAN.
"When you bought this boat direct from Sea Ray, you had an option on engines, and the most expensive engines, the best engines that Sea Ray offered, were MAN engines," says Herb Sternberg, a broker with Edwards Yacht Sales in Clearwater, Florida, who has listed the 2004 model-year Sea Ray 480 Sedan Bridge Vortex at $396,000. "That was about a $100,000 upgrade from the regular engines, and this boat has that—plus just about every option that Sea Ray offered in 2004, all the upgrades, the fabrics, everything at the premium level."
The Sedan Bridge line was a winner for Sea Ray, Sternberg says, not only because of the boat's features, but also because of its marketing. Essentially, the design is a motoryacht with a cockpit—the type of boat that builders called sportfishers until they realized that women preferred terms such as convertibles and, well, sedan bridges.
Once the builder could get the whole family aboard for a look around, the 480 Sedan Bridge had features to please moms and dads alike. The length overall of 51 feet made the boat feel bigger than her official size designation, and the enclosable bridge (with isinglass) was air-conditioned and outfitted like a mini-salon. Vortex, Sternberg says, has a television, icemaker and wet bar up top, along with seating for about eight people.
"When you add the sunpad on deck, that holds another four people," he says. "This boat entertains 12 people."
Aside from engine packages, shoppers on the brokerage market should look at maintenance and updates when sea-trialing Sea Ray 480 Sport Bridge yachts. Vortex is a two-owner boat with a professional captain and, Sternberg says, a highly protective owner. "This is a specimen—this is what being Bristol means," he says. "She was consistently maintained."
See all Sea Ray 480 Sedan Bridge listings.
Related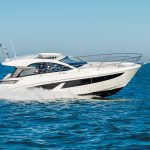 Best New Cabin Cruiser Boats For 2022
These stand-out cabin cruisers will be top picks.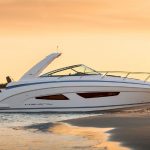 8 Best Express Boats of 2022
Category:
Express Cruisers
8 pedigree express cruising yachts that stand out from the crowd.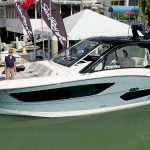 Sundancer 370 Outboard Introduced: Full Video Walkthrough
Marilyn DeMartini and Ryan McVinney explore the new Sea Ray Sundancer 370 hybrid boat.