Saltwater fishing boats come in various shapes, sizes, and designs, making it a challenging task for newcomers to select the right fishing vessel. If you're currently in the research phase, we're glad you've landed on the pages of YachtWorld because we are here to assist you in making the right choice when it comes to purchasing a new boat.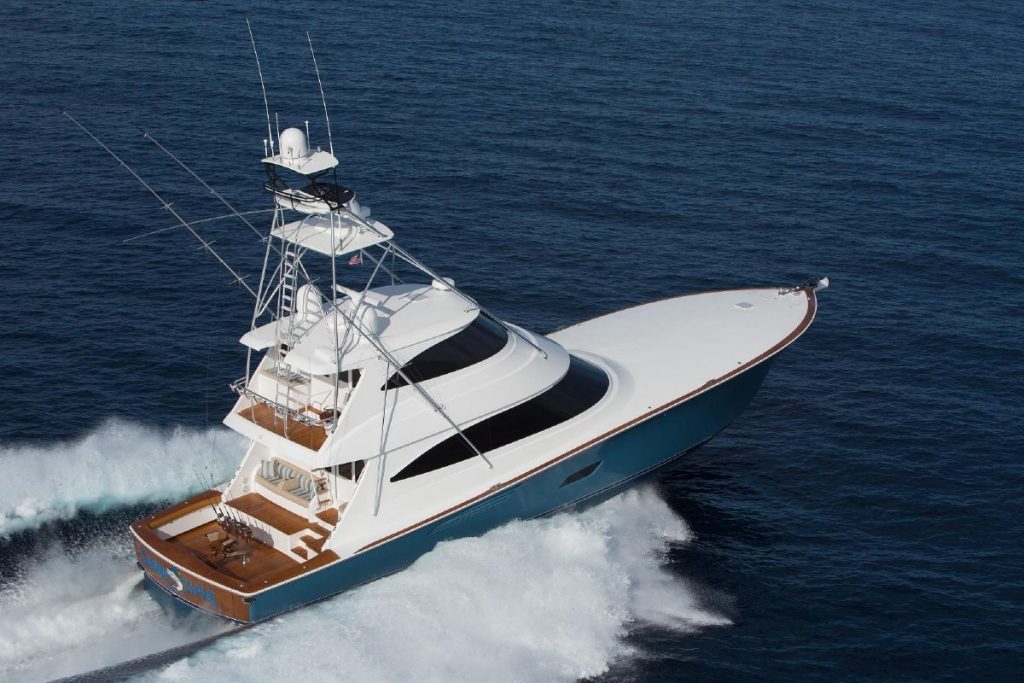 Saltwater fishing boats come in a huge range of shapes, sizes, and designs. Whatever type of fishing you enjoy, the right boat for you is out there, somewhere. The 2023 Viking 80 Enclosed Bridge is designed for sportfishing. Image credit: Viking Yachts.
Basic Saltwater Fishing Boat Types
Virtually all saltwater fishing boats can be broken down into two major categories: those specifically built for inshore fishing and those designed for offshore fishing. However, there is a significant overlap, as many boats are created to serve both purposes. Here is an overview of the primary types of boats, arranged from the largest vessels for deep-sea expeditions to the smallest ones for exploring narrow backcountry waterways:
Convertibles – These are the gold-standard for serious offshore anglers. Almost all are over 30' in length and many are 40' or larger. They're generally designed and equipped for long runs through open water, and have substantial cabins with multiple staterooms, a saloon, and a galley. A few small models can be purchased with gasoline engines but the vast majority of the convertibles out there are powered by twin diesels. Naturally, as you may guess, the cost of a big new convertible is often measured in the millions. That said, older models can be found for far, far less. In fact, check out the listings for used convertibles from $50,000 to $100,000 on YachtWorld and you'll discover over 128 to choose from, and there are over 120 more listed at under $50,000.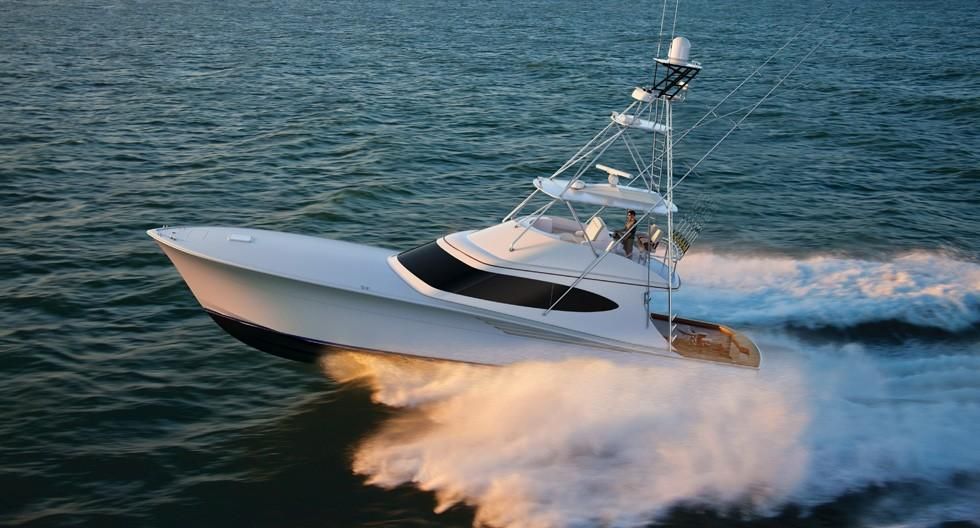 2022 Hatteras GT 65 Carolina's express design keeps the captain and crew on the same bridge deck, so everyone is part of the social mix.
Expresses – Express fishing boats range from 20-somethings all the way up into the 50-foot-plus range, and many (depending on size) are appropriate for offshore, inshore, or both. Some anglers prefer them to convertibles because they allow the captain to remain a part of the action, both socially and when fishing. While someone running a convertible is often a bit isolated up on the flybridge, on an express, the entire crew shares the helm-deck during long runs. And once at the fishing grounds, it's easier for someone running an express to dart back into the cockpit to grab a rod or deploy a bait. Additionally, many people feel that the express design looks sleeker and sportier. On the down-side, since much of the midsection of the boat is dedicated to the helm-deck, expresses have notably smaller cabins than convertibles.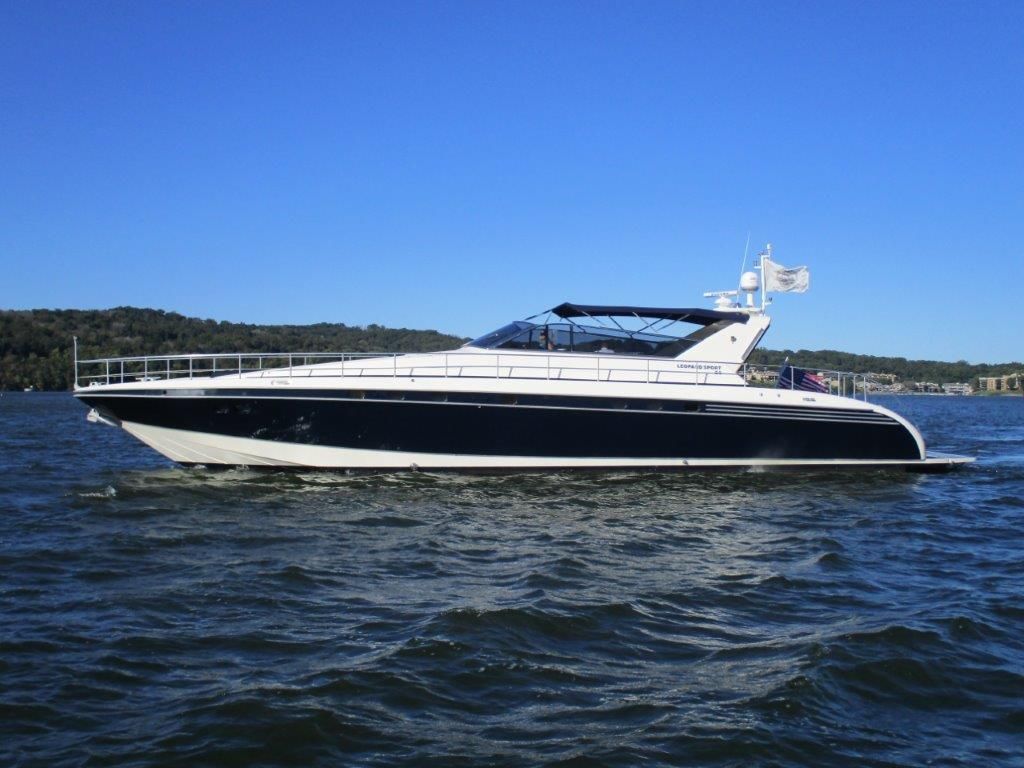 Leopard 23M Express  layout means that the captain and crew on the same bridge deck, so everyone is part of the social mix. Image credit: Leopard
For a more in-depth comparison between convertible and express fishing boats, read Convertible vs. Express: Which is Best for Bluewater Fishing?
Center Consoles – Of all the different varieties out there, center consoles are the number-one choice of most die-hard anglers. They're so popular that if you do a search for all center consoles on YachtWorld, you'll discover a whopping 7,000-plus currently for sale. And don't think for a moment that all center consoles are smaller and less capable for bluewater fishing than convertibles and expresses. In fact, we've recently seen the introduction of four monstrous models that are designed specifically for big-game fishing far from shore. These new "center console yachts" include:
These are serious offshore boats with cabins inside the consoles, gobs of raw horsepower, and an endless list of fishing accoutrements. How have such ginormous center consoles come into being? A big part of the reason is outboard engine developments. Virtually all center consoles built today are powered by outboards, and a few years ago, this meant a limitation of 600 or so horsepower for most boats. But today, we have more potent powerplants and the ability to stack more of them on the transom. These large center consoles often have two, three, or even four uber-potent outboards. You can learn more about this high-tech horsepower by reading:
All center consoles are not, of course, offshore fishing yachts. You can find plenty of models in the 30-something range that can get the offshore job done. There are countless options in the 20-something class, which are appropriate for inshore fishing and may be just fine in offshore waters on good weather days. And there's a slew of smaller models that are ideal for fishing in bays and backwaters.
Regardless of size, the main drawback to fishing on a center console is exposure. It isn't a big deal on those big center console yachts, but on an averaged sized boat, life on deck can be cold, wet, and raw, as there's little protection from salt spray, wind, rain, and the sun. Many boaters, of course, enjoy this aspect of fishing on a center console.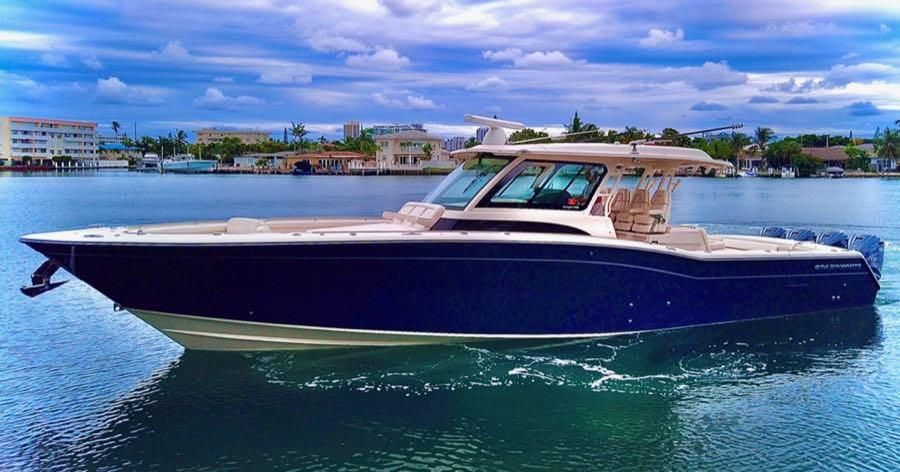 Grady White Canyon 456. It's no wonder that center consoles are so popular – their 360-degree fishability cannot be beaten. Image credit: YachtWorld/Grady White
Learn more about the center console design by reading Center Console Boats: Fish, Cruise, or Just Have Fun.
Cuddy Cabin and Walkaround Boats – Many anglers who need to ensure a certain level of comfort aboard for family and friends choose cuddy cabin or walkaround boats. These are very similar designs, the main difference being that walkarounds have a recessed side-deck ringing the cabin to make bow access easier. Cuddy boats have flush side-decks, in order to maximize cabin space. Either way, the basic advantage of these designs is obvious: While life on a center console is open and exposed, a cabin means you or your loved-ones always have a place to get out of the elements. Most models in the mid-20s and over are offshore-capable to one degree or another, and they also offer perks like a galley and an enclosed head compartment. The larger the boat, the more comfort you can expect—and, of course, the higher the price tag will be. But if your budget is limited don't worry. There are plenty of small and relatively inexpensive models appropriate for inshore use, which usually feature just a V-berth and a portable head in the cabin.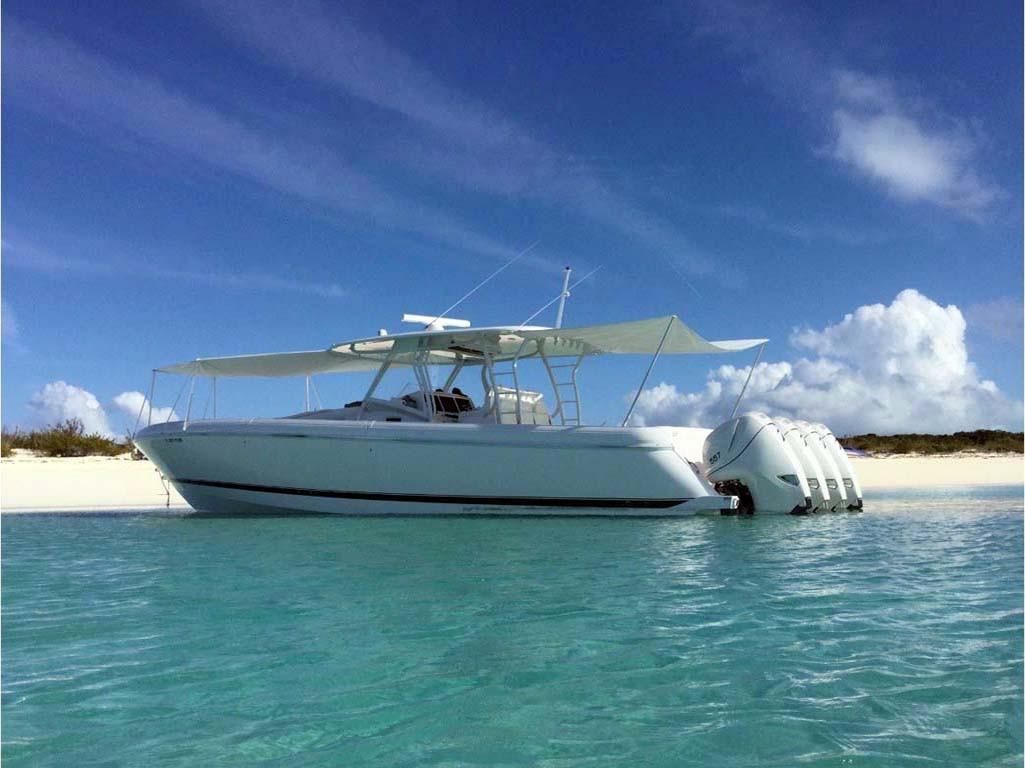 This custom built Intrepid 2015 475 Panacea is known for its smooth ride with its Deep V Traverse Stepped Hull. The 475 is comfortable yet elegant with custom creature comforts giving you the best amenities.Walk-around and cuddy cabin boats are a great choice for family anglers. Image credit: Intrepid
When it comes to boats, just about everything is a trade-off, and yes, there's a trade-off required to get that cabin in the bow. For starters, there's a huge loss of fishing space up forward since there's no bow cockpit. If trolling is your game this may not be a big deal—bow cockpits are more useful for drift fishing, bottom fishing, and the like—but you also have to remember that cabin boats have more windage at the bow and may drift faster as a result. The cabin also adds weight, and as a general rule of thumb, boats with cabins are a hair slower than those of the same size without a cabin.
For a more in-depth look at the pros and cons of choosing a cuddy cabin or walkaround saltwater fishing boat, read Cuddy Cabin Boats: Family Friendly Fun. If it's time to check out some cuddy cabin and walkaround boats, we've got that covered, too.
Dual Console Boats – The dual console design (usually simply called a "DC,") is mostly applied to inshore fishing boats, and has seen its popularity ebb and flow through time. Currently, this style of boat is in a renaissance. And, like center consoles, their size has grown (albeit not quite as radically) in the recent past. A decade ago you'd have been hard-pressed to find a dual console that grew beyond the 20-something range, yet in the past few years we've seen larger DC boats like the Pursuit DC 325 and the Grady-White Freedom 335 hit the water.
This increase in size has led to some interesting design developments, like dual cabins with separate compartments inside each console. Or in some cases, a passageway connecting the two compartments beneath the deck. Even in the case of smaller DC's, like the Cobia 22 Dual Console or the Striper 200 Dual Console, you can at least find a dedicated head compartment built into the passenger's side console.
These are some great features, and when paired with the bowrider-like forward seating commonly found on a DC, they make the design a top choice for people looking for a do-everything boat. But remember, these generally are designed to be multipurpose—watersports and toy-towing, sun worship, and sometimes even sleeping aboard are all part of the plan. Thus, you have to give up some of the dedication to fishing when you choose a DC. Most still have a livewell and a built-in fishbox or two, but don't expect to find the same number of rodholders, integrated tackleboxes, and other fishing features a center console is likely to offer.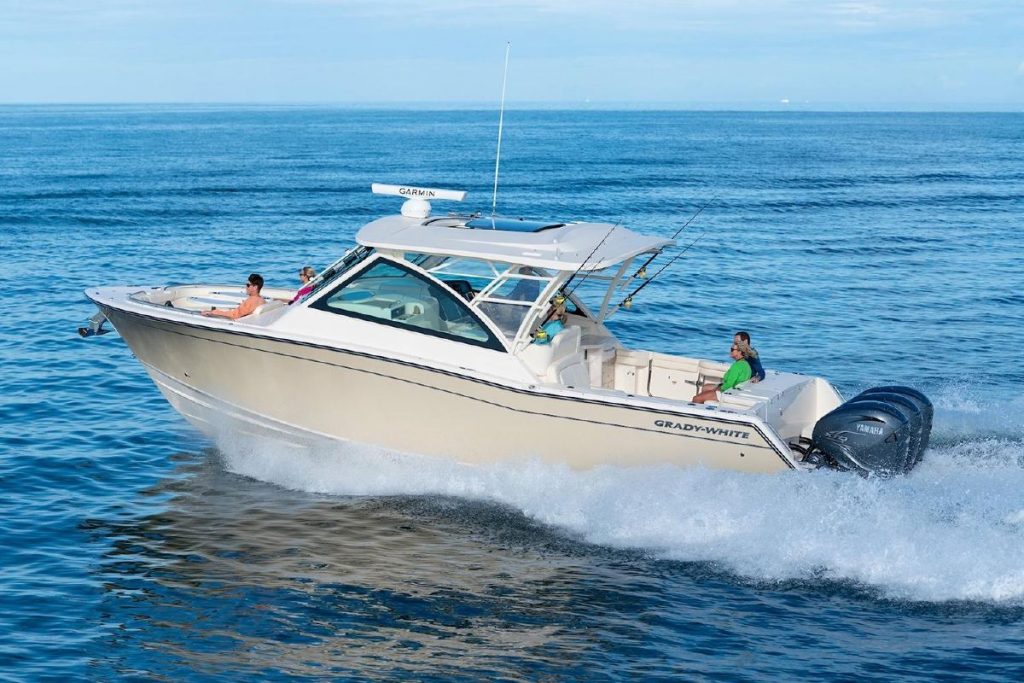 The dual console design may not be completely dedicated to fishing, but it still makes for a good fishing boat with additional recreational flexibility. The 2021 Grady-White Freedom 375 is now available for sale through YachtWorld. Image credit: Grady White.
There will be some other trade-offs and some other advantages, too, so before settling on a DC we'd suggest you check out Dual Console Boats: the Good, the Bad, and the Ugly. 
Bay Boats – This variety of boat has become extremely popular during the past decade. With their shallow draft, bay boats are designed to run fast and let you into backwater fishing spots. They also have low gunwales to reduce windage and make it easier to land fish, and they have raised fore and aft casting decks for light-tackle angling. By design, virtually all bay boats are a sub-category of center consoles. And because of the similarities between many techniques used by light tackle anglers and by bass anglers, bay boats also have a lot in common with freshwater bass boats (you can learn more about this genre by reading all about Freshwater Fishing Boats).
Due to their svelte nature and limited size, however, one should be aware that bay boats don't have a slew of creature comforts onboard. A 26-footer is considered huge, and other than potentially having a head compartment in the console, there's little aboard a bay boat that would be counted as "family friendly." Plus, you may have guessed by now that if offshore angling is in your plan, a bay boat probably isn't the best pick. Yes, many are large enough and well built enough to go through the inlet on a nice day, but few are designed for this sort of use, and aside from how comfortable you may or may not find a bay boat in open waters, expect fuel capacity and range to be additional limiting factors.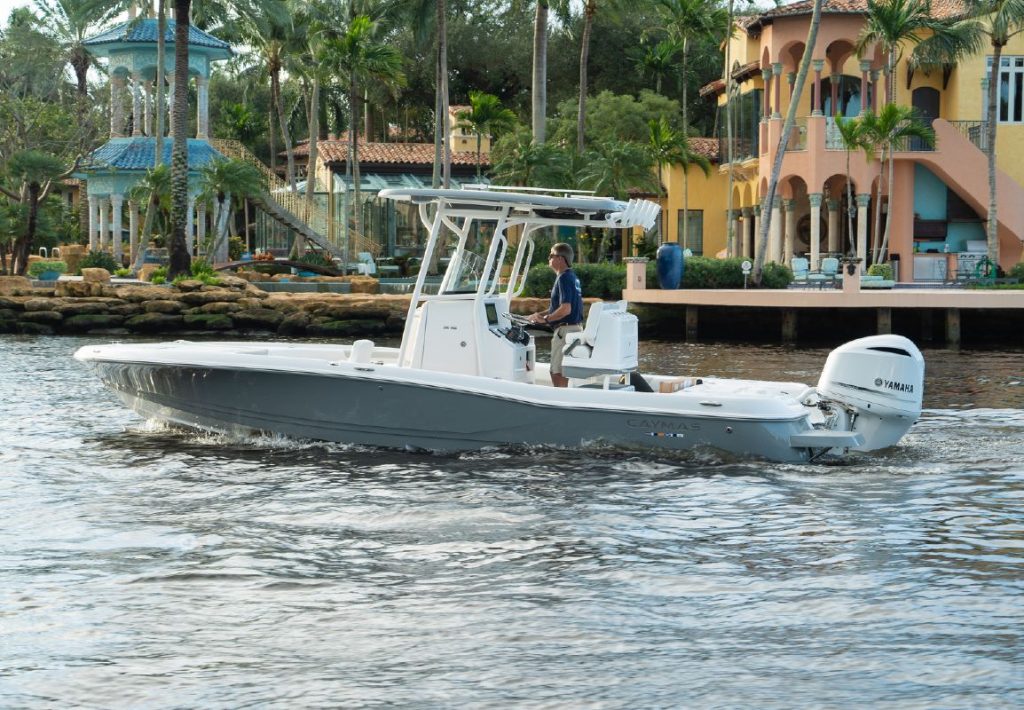 Bay boats have become one of the most popular options for inshore and backwater anglers. The Caymas 26 HB  is ideal for the serious fisherman and family fun. Image credit: Caymas
 is ideal for anglers who prefer casting over lounging or watersports. Image credit: YachtWorld
Be sure to check out Bay Boat Battles: What Makes One Better Than Another, to get an in-depth look at the nitty-gritty details that separate the wheat from the chaff in this type of saltwater fishing boat.
Pontoon Boats – Though the majority of pontoon boats are designed and built for freshwater use, they're popular enough in the brine that no conversation about saltwater fishing boats would be complete without including them. Pontoons have awesome stability, they're very comfortable to spend a day on, and some of today's modern designs offer eye-opening performance. And when we say eye-opening, we mean it—stop scoffing, and watch our Performance Pontoon Boats Video: The Need for Speed, if you don't believe it. Hint: Yeah, we do break 60 mph.
Due to the tendency of large waves to roll over the deck of most pontoon designs, however, when used as saltwater fishing boats they're usually limited to shallow coastal bays and/or tributary waters. In a short, tight chop, these boats do great. But when and where waves roll… not so much.
If it seems to you like a pontoon boat may be what you need, remember that most are more focused on fluffy seats and cup-holders than they are on livewells and rodholders. You'll be best served by looking to builders that make fishing pontoons specifically designed for saltwater use; you can get a better handle on what's what by reading Can a Pontoon Boat Be a Serious Fishing Boat?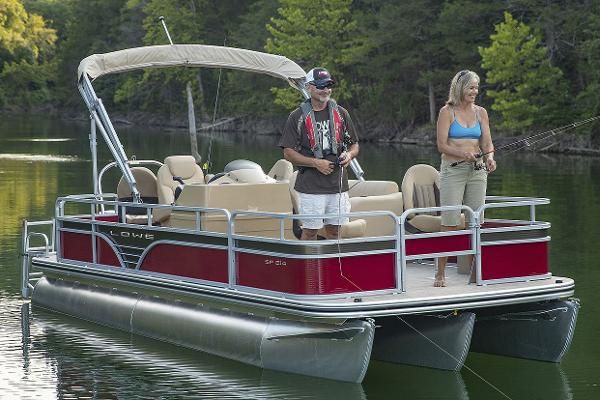 Some pontoon boats are surprisingly well designed for fishing. This 2022 Lowe SF 214V is designed for comfort. It is designed for fishability, with swivelling pedestal fishing seats, an aerated livewell, drink and rod holders, and storage beneath are just some of the amenities designed with fishing in mind. See some pontoon boats, to peruse thousands of pontoon boat listings online. Image credit: Lowe Boats
Hull Design
Setting aside those pontoon boats we were just talking about, most saltwater fishing boats are going to have flat-bottom, semi-V, or deep-V hull designs. There are also a few builders of powercat fishing boats, as well as some specialty designs. Here are the basic attributes of each:
Flat Bottom: This hull design is just what it sounds like—the bottom of the boat is flat. This design has good stability and weight-bearing abilities. But it also tends to pound in any sort of waves, and many flat-bottom boats are very wet. As a result, most of the boats you see using this design are on the small side, and are intended for use in protected waters.
Semi-V: With a little bit of deadrise ("deadrise" is the word you use to describe the angle of the "V" in a hull bottom), semi-V boats aren't quite as stable as flat bottom boats but they're still quite stable and they usually ride well in a chop. They're also fairly efficient, and low in draft. Most bay boats, small center consoles, and small DC's have semi-V hull bottoms.
Deep-V: With a serious amount of deadrise (usually 20 to 24 degrees measured at the transom), deep-V hulls have reduced stability and aren't quite as efficient as the aforementioned designs, but they're the best monohulls made when it comes to slicing through big waves. As a result, the vast majority of large center consoles, walkarounds, and other outboard-powered boats designed for offshore use have a deep-V.
Powercats and Specialty Hulls: Powercats have a small but dedicated following, because when properly designed and built, some ride smoother than any of the monohull designs. Their down-sides may include a fast "snap" roll, sneezing (blowing a fine mist out of the tunnel), and unusual looks. Tunnel boats share some of these characteristics and are designed to minimize draft by allowing the outboard to be raised to the tunnel's height. Scooters go one better, feeding water up to the propeller so they can "scoot" through areas with as little as an inch or two of water. If you want to learn more about some of these specialized, unusual hull designs, read:
Or, watch our short and simple video on Boat Hull Basics.
Power Choices: Outboards, Inboards, Stern Drives, and Pod Drives
The majority of the saltwater fishing boats on the market these days are powered by outboards. As we mentioned earlier, there's no shortage in the horsepower department. Today's modern outboards are also amazingly reliable, smooth, quiet, and efficient.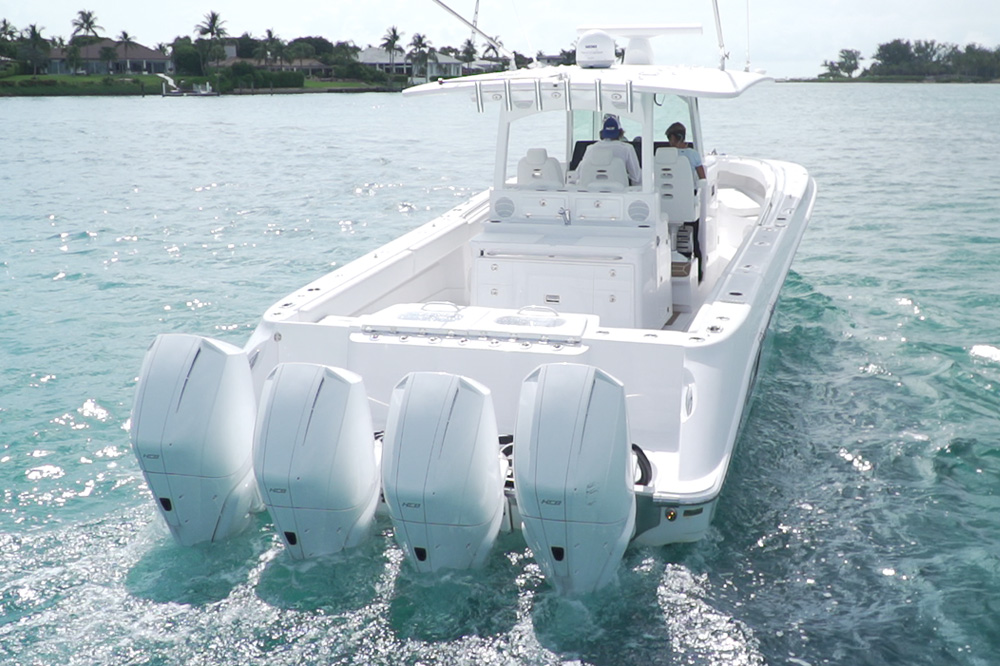 Stern drives are only seen on a handful of new fishing boats, and are usually chosen by anglers who are very familiar with automotive engines. The similarities between automotive engines and stern drive engines (most are merely automotive powerplants that have been marinized) mean it's possible for the mechanically inclined to work on these engines themselves.
Large convertibles and expresses, however, are almost always powered by either inboards or pod drives. Inboards may be the traditional choice, but pod drives hold a lot of advantages and have been steadily eating into the market. Efficiency, maneuverability, and a reduced footprint (leaving more room inside the hull for cabin space) are a few of the major cards they hold. If you're faced with an inboard-versus-pod drive decision, be sure to take a look at All About Pod Drives: Volvo Penta IPS, MerCruiser Cummins Zeus, and ZF Marine. And if you want to look at these power systems as well as a few others in comparison, read Outboards, Inboards, Pod Drives, Stern Drives, and Jets: Which is the Best?
A pod drive manufactured by Candela. Pod drives offer a number of advantages, and if they're available on the fishing boat you're looking at, should definitely be considered. Image credit: Candela
Choosing the power system for a new boat can be challenging, and you'll have to make a lot of choices relating to initial cost, fuel efficiency, maintenance costs, and reliability. But regardless of what type of power system you pick, remember to consider these important factors—they apply to all types of marine power systems, across the board.
It's usually wise to opt for as powerful an engine as you can, even if you don't need the extra speed. A larger engine won't work as hard to maintain a particular cruising speed, and boats with maximum power are much easier to resell later on.
Remember that a power system which appears more expensive at first glance may not be, upon further examination. Consider a boat available with either pod drives, or inboards and a bow thruster. The pods may cost a bit more than inboards, but with pods, you have no need of the bow thruster—and may be able to lower the cost of the boat by eliminating it from the optional equipment list.
Diesels have a significantly longer lifespan than gasoline engines. If you're looking at a small convertible or express that's available in gasoline or diesel models, in the long run with diesels you'll almost certainly end up spending less per hour of use over the lifespan of the boat—even though the initial cost is significantly higher.
Consider one of the new joystick control systems if you're looking at a relatively large outboard boat. While these aren't quite as impressive as pod drives when it comes to dockside maneuverability, joystick controls are still a huge leap forward. (The Happy Stick: Joystick Controls for Outboard Boats explains the ins and outs of some of the different systems out there, like the Yamaha Helm Master, and Verado Joystick Control).
After reading through this article, following all the pertinent links, and thoroughly researching your options, will you be ready to sign on the dotted line for your ideal saltwater fishing boat? Probably not. You still need to go for some sea trials, take a few test-casts, and try out the different styles and designs for yourself. Fortunately, among the plethora of listings on YachtWorld we almost certainly have some strong candidates for you to check out. And remember: truth be told, there really is no such thing as the "ideal" boat. Every different make and model has its own high points and low points, and what you find ideal today may not prove to be ideal tomorrow. But that's one of the joys of being a boat-owning angler—the only way you can make the right choice in the future is by going fishing as often as possible in the present.
Editors note: This article was originally published in September 2017 and was last updated on May 12, 2023.
Related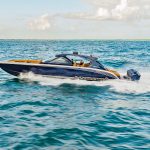 Mystic Powerboats M5200 Walkthrough Boat Review
Full walkthrough video review of a Mystic M5200 Powerboat with John Kosker.
Blackfin 400CC Walkthrough Review – New Flagship Center Console
YachtWorld takes an in-depth look at the new 400CC from Blackfin.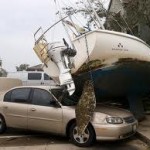 Boat Insurance: An Essential Guide
A comprehensive guide covering everything you need to know about boat insurance.