The CNB 76 is a sailing yacht that offers the comforts and amenities that would be expected from a small superyacht—but it does so at a far more attractive price. Coming from a division of the Beneteau Group, the 76 is the largest yacht CNB builds on a production basis.
Take a look on board, with this First Look Video filmed at the Southampton Boat Show.
The 76 follows suit with CNB's earlier models, including the CNB 64 and Bordeaux 60, as a competitively priced large racer/cruiser that offers both luxury accommodation and impressive sailing performance. Naval architecture comes courtesy of Philippe Briand, while Jean-Marc Piaton
 handled interior design.
The flush foredeck, combined with a low-profile deck saloon coachroof, the ends of which are extended aft to form the coamings and seating of the guest cockpit, gives the yacht clean and crisp lines with acres of deck space. The layout on deck has been designed to minimize the effort needed to handle the craft while providing separate areas for relaxation, sun bathing, and watersports.
 Below Decks
The centrepiece of the accommodation is a full-width saloon with a panoramic all-round view. The owner's and guest cabins also benefit from an enormous amount of space and stowage. The owners' cabin is in the forward part of the yacht, where it's quiet in harbour and there's excellent privacy. It's also  brightly lighted, both from overhead hatches and horizontal hull windows that provide views of the outside word. The en suite facilities are spacious and fitted out to a sufficiently high standard that they wouldn't look out of place in a high-end hotel.
Two main guest cabins are also forward of the deck saloon. Both can be converted between double and twin formats and each has en suite facilities. The after end of the boat is focused on the galley–this is a large and superbly organized workspace that facilitates catering to the highest standards. Next to this is a double/twin crew cabin; there's also an option for a smaller crew cabin forward, in a space that would otherwise be used for stowing sails.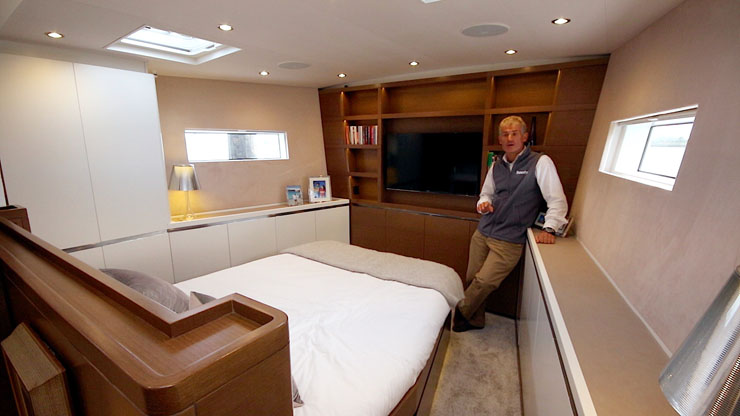 On Deck and Performance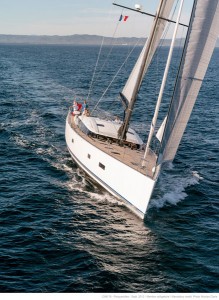 The hull shape reflects the latest thinking in sailboat design, with an almost plumb bow and shallow forefoot, plus a broad transom with chines and twin rudders. The CNB 76 also has a significantly lower beam-to-length ratio than smaller cruising yachts. It's therefore easily driven, but the boat still has a powerful rig that has the potential to get to double-digit speeds. However, the deck layout is configured such that the power is easily tamed. While the halyards and reefing lines are handled at the mast, everything else is carried out next to the two wheels.
The guest cockpit, under the protection of a combined sprayhood and Bimini, keeps guests well clear of the action and offers lots of space. There are also comfortable cushions and a table that's easily swapped between dining table and coffee table functions. There's a huge fold-down bathing platform, which comes down from the transom to reveal a tender garage with the capacity to house a 12′ Williams RIB. There's also ample sunbathing space, particularly on the large expanses of deck forward.
Equipment and Options
A big engine room under the saloon houses the main engine, generator and ancillary equipment. While this lacks standing headroom, and a certain amount of disruption will be inevitable during servicing procedures, it's a good compromise that doesn't take a chunk out of the boat's living space.
Perhaps surprisingly for a sailing yacht of this size, of first 10 boats ordered, most have left the factory with a similar layout and options. However, a much higher degree of customization is available for those who want a boat tailored to their individual requirements. For instance, one owner specified a fully fitted office on board his boat and many other requirements can be accommodated. Hydraulic furlers enabling the headsails to be controlled from the cockpit is a common option, as is air conditioning, which is supplied with an upgraded generator.
A number of keel options are offered, including a 9'8″ draft, 26,000-pound iron keel as standard. There are also two lead keels, one with 9'8″ draft that saves around 3,300 pounds of weight, and an 11'6″ deep option. The final option is a lifting keel that gives a massive 12'8″ draught when sailing, but which can be reduced to only 6'8″ in harbour. There's also an optional all-carbon performance rig that sets an additional eight to 10 percent of sail area.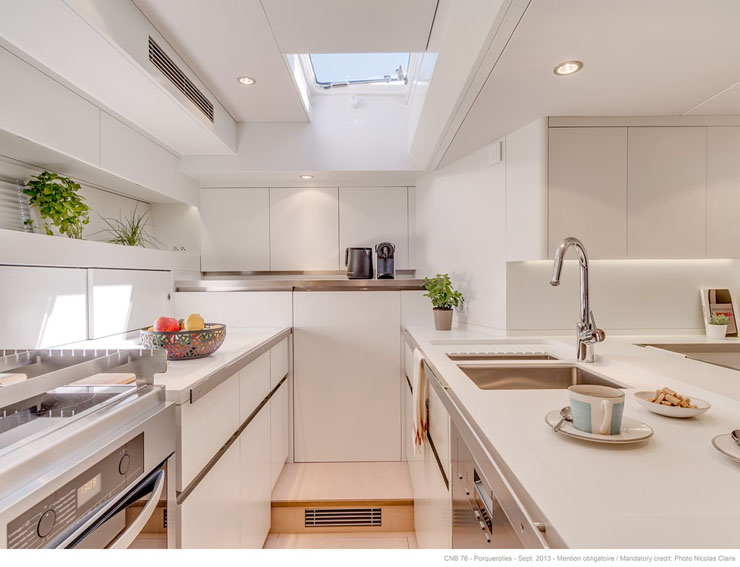 What it does best
The CNB 76 brings the advantages of production boat building to the edges of the superyacht sector, resulting in a great looking boat at a very attractive price.
Compromises
The downside of production building is that making changes can be expensive, so if a potential owner wants significant changes to the standard layouts that may push the price up considerably.
Other models in the range
The CNB 76 follows in the wake of a number of other successful large yachts from the same yard, including the Bruce Farr designed CNB 64 and the later and more performance-oriented Bordeaux 60, with the latter remaining in production. The yard also produces larger superyachts on a one-off basis.
Specifications
LOA: 76'0″ * Beam: 20'0″ * Displacement: 99,208 lbs. * Draft: 9'8″/11'6″/12'8″ * Sail Area: 1,722 sq. ft * Fuel Capacity:  660 gal. * Water Capacity: 396 gal.
Visit CNB for more information.
View current CNB listings.
Related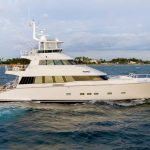 Supersized Sportfish: A 110-footer Built For Entertaining Guests
Take a look at a rare sportfish, built by a Royal Shipyard.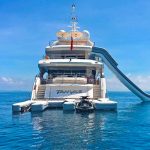 Boat Names: 101 Suggestions For Naming Your Yacht
Top tips to help boat buyers to name their yacht. 'What's in a name? That which we call a rose by any...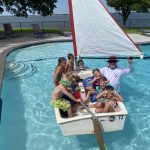 How to Get Children Into Sailing: From Signet To Swan
15 top tips and advice on how to make sailing fun for your children.