The Republic of the Philippines are a scattering of islands in the north Pacific Ocean often said to resemble a man kneeling in prayer. South of Taiwan, north of Indonesia and east of Vietnam they have been a popular stopping point for boats and yachts sailing to and from mainland Asia for many decades. A great destination for long distance bluewater cruisers to come explore and spend time island hopping, the Philippine Islands occupy approximately 116,000 square miles ranking the small country the 72nd largest in the world. However, the nation boasts over 7,100 islands, making it a diverse and exciting destination.
Getting To The Philippines Via Yacht
We arrived, via 5-day passage from Palau to the east, at the small south eastern town of Dapa, in the Siargao Islands. I admit we both had some trepidation about sailing to the Philippines. In recent years the large island of Mindanao, which Dapa is only a stone's throw from, has been the sight of several violent clashes. Including the kidnapping and killing of foreign sailors from a marina further south in Davao. And the Sulu Sea, which fills the gap between the Philippines and Indonesia, has been a no-go zone for sailors due to piracy concerns for years. Dapa was as far south as we dared to go.
Navigating Carefully To Dapa
As is always our habit when arriving somewhere new, we approached the long entrance to the harbor cautiously. Although we consult several navigation programs and run a stand alone chartplotter, the accuracy of the charting is never something we take for granted. Until we have first hand experience in an area we always keep a keen eye looking out over the bow. Thankfully, our charts were fairly accurate, and we anchored off the bustling town without problem.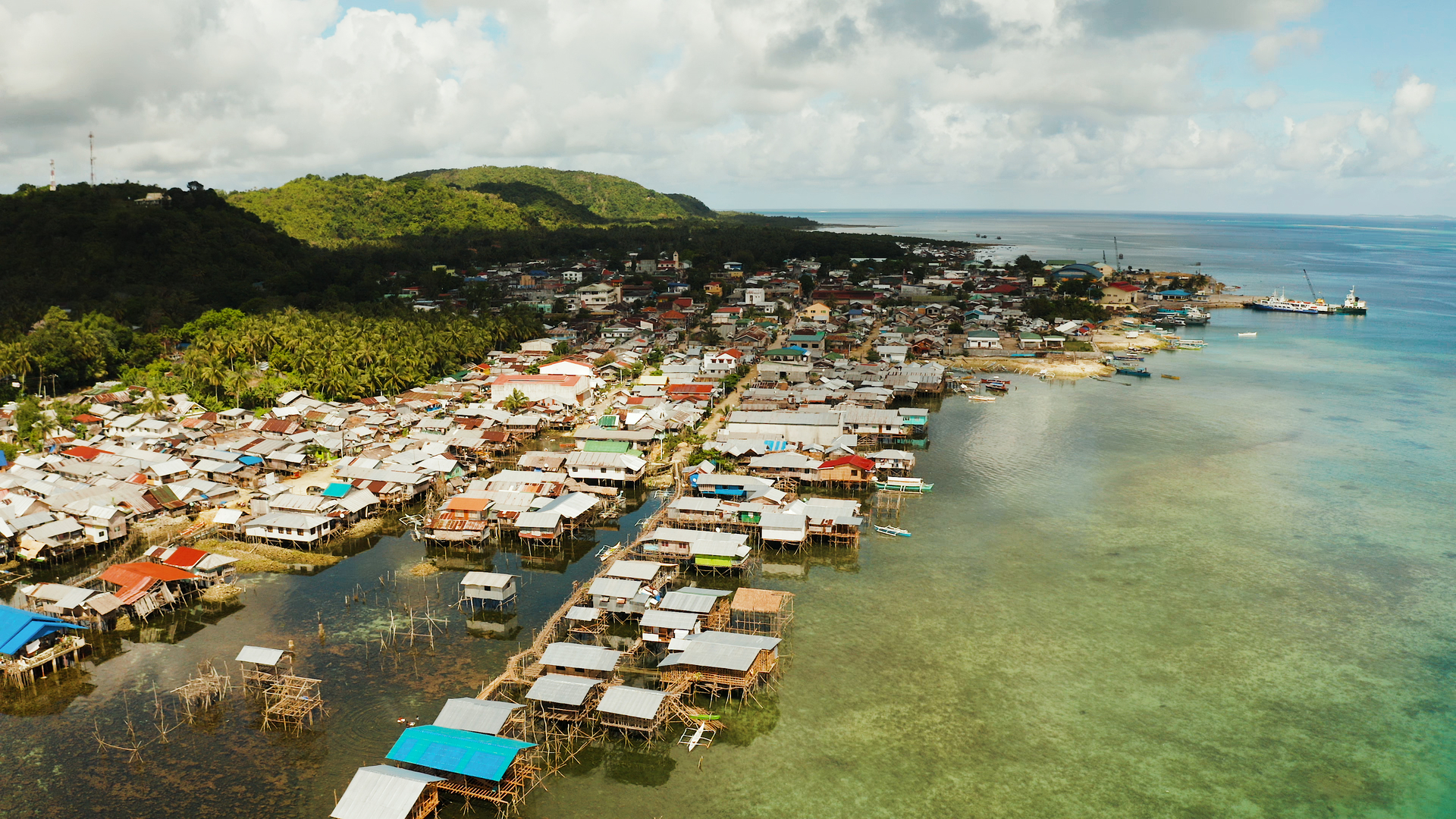 Above: Fishing Village And Houses On Stilts. Dapa City, Siargao, Philippines. Photo by Alexpunker on Pond5.
Known for it's surf breaks Dapa had a lively but laid-back feel to it. Tourism in the Philippines is a mix of locals from the major urban hubs escaping to "the provinces" and travelers from all four corners of the globe. This makes for an eclectic crowd. It also makes finding a SIM card and figuring out the local mobile network an easy task. And, after long days and nights at sea we were happy to find cold beer and hot food readily available, delicious and well priced. Stopping in touristy spots does have some advantages.
Sailing From Dapa To Cebu
After Dapa we sailed north and west toward Cebu, the second largest city in the country. Although we had to pass through the Hinatuan Passage, a shipping channel that is renown for strong currents and heavy traffic, the trip was less difficult than we expected. Somehow, we managed to avoid both hazards.
We opted to navigate our trip through the Philippines islands only during daylight hours. This meant planning our course carefully so that we could make a safe anchorage by dark. It also meant allowing enough time to make it to our second pick anchorage in case our first stop was unsafe or untenable.
A Daylight Only Approach Minimizes Risk
This daylight only approach is common tactic of visiting sailors to the Philippines. With such a dense population – 110 million – and many people relying on subsistence fishing, it is easy to get into trouble after dark. The small, local boats called bangkas are motorized trimarans ranging from 10 – 40 foot. These boats do not always use running lights, or when lit, they do not follow international port, starboard, stern light etiquette and color coding. This can make identification very confusing. As well, many fishers do not adequately mark their fishing nets, long lines and traps. Getting snagged and damaging fishing gear or wrapping your propeller and causing damage to your vessel isn't worth the risk.
Exploring And Provisioning In Cebu City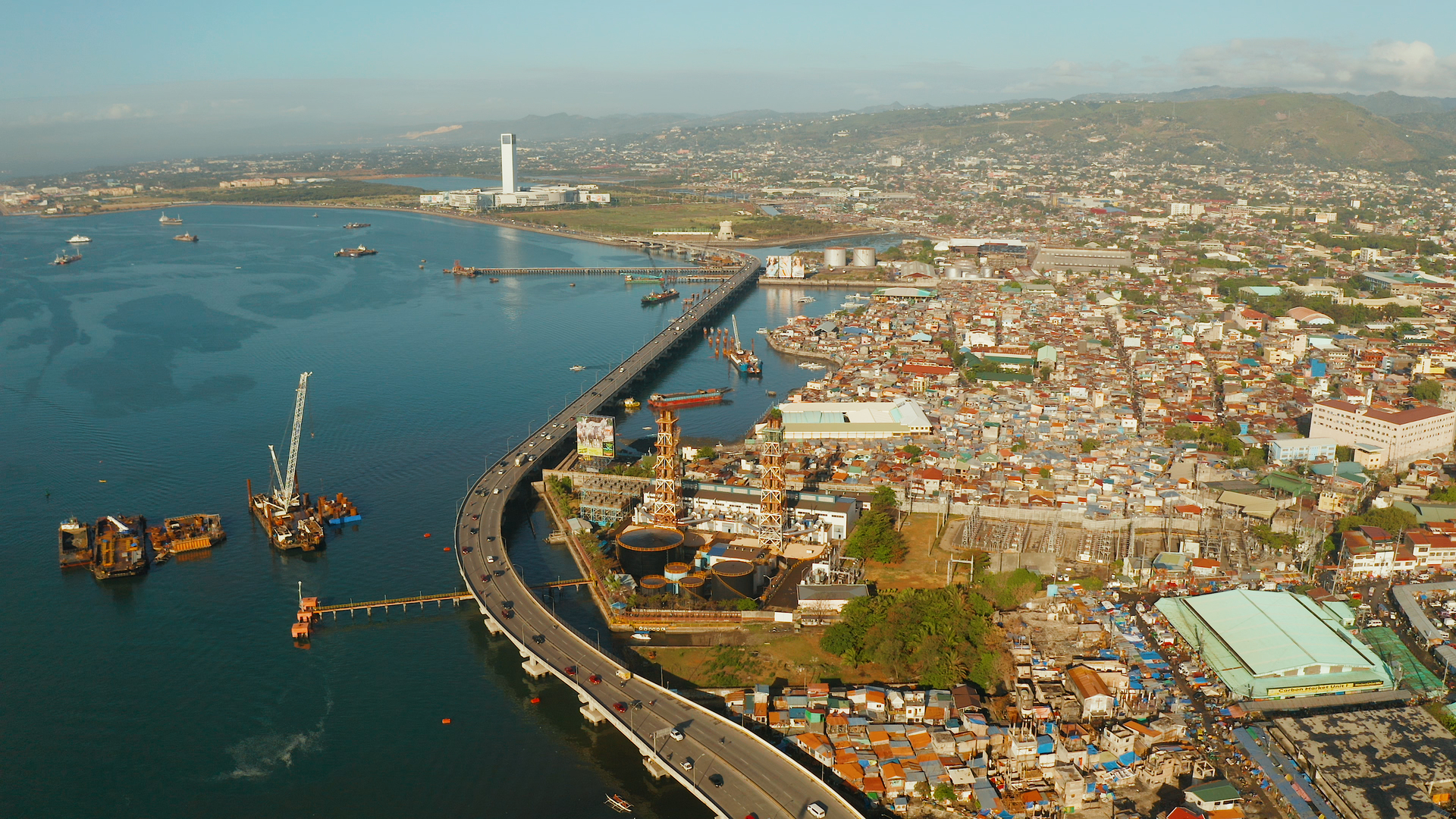 Above: The modern City Of Cebu with skyscrapers and buildings, Philippines. Photo by Alexpunker on Pond5.
Cebu was what we expected of any huge sprawling urban centre; loud, dirty and hectic. The Cebu Yacht Club, located on Mactan Island, across the harbor from Cebu city, was full of local boats, but a little run down, nonetheless. Although friendly, their dingy dock fees were what you'd expect to pay Stateside, but without any of the perks such as potable water, access to showers or laundry. We anchored outside the yacht club in the main channel, which was awash with boat wake from the ships, ferries and local boats that seemed to be ever present. The daily rushing tides kept us dancing around on anchor and carried a small island of floating plastic and Styrofoam debris with it. On a slack tide it almost seemed like we could have walked ashore.
The Island Of Malapascua
After 5 days exploring the busy city and stocking up on provisions we decided a little R&R was in order. We meandered north to the small island of Malapascua, just off the north east corner of Cebu Island. This quaint, white sand island is only 5 miles long and is surrounded with crystal clear water. A favorite spot for divers, Malapascua is famed for its thresher shark dive excursions. These large sharks have long tail bent at a 90° that can be as long as their body and is used like a whip. Impressive looking, they are docile and therefore make great dive buddies. They are also on the international species endangered list, so the dive operators in the area are also keen conservationists.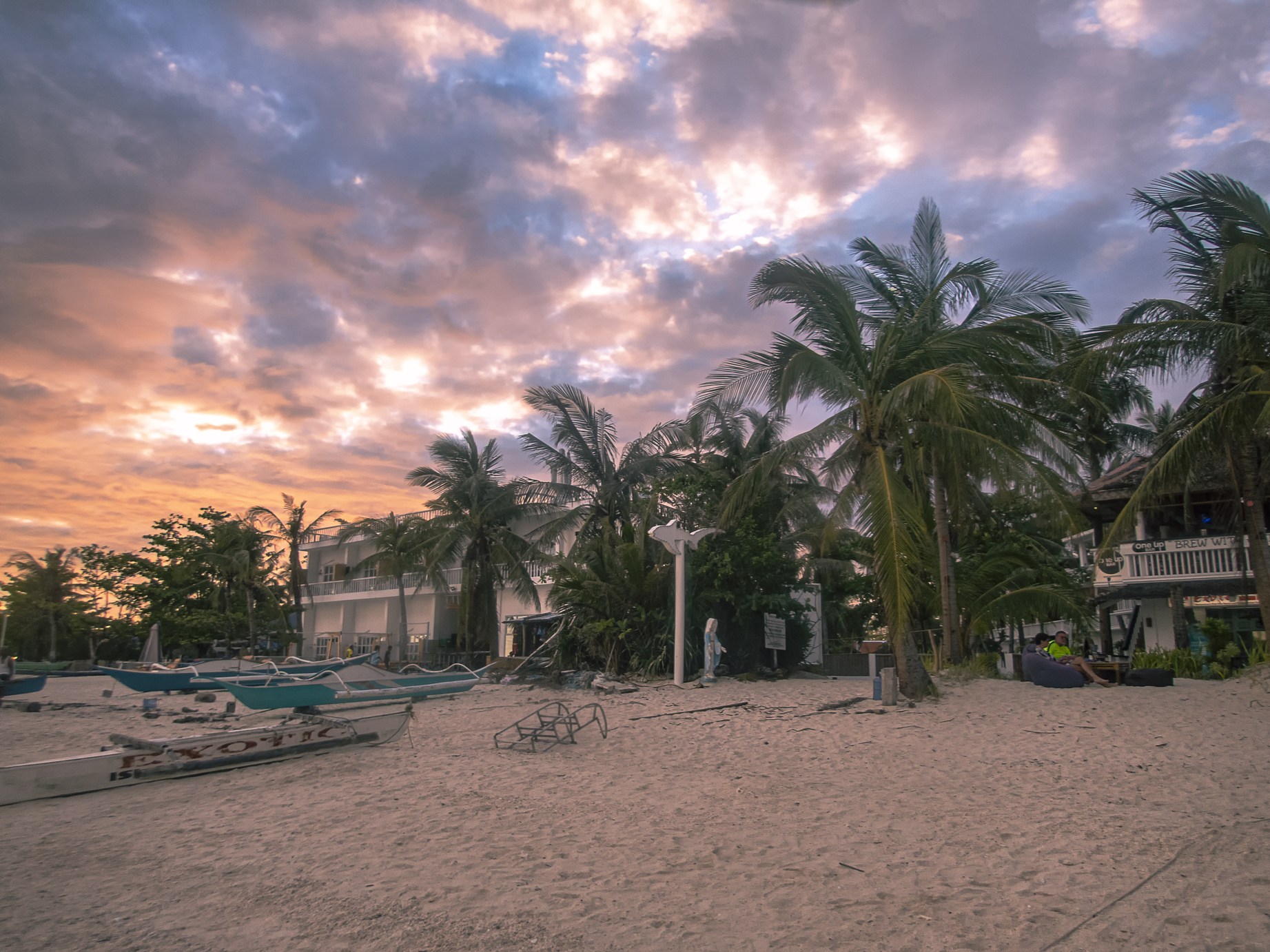 Above: A Stunning Sunset Sky Over Malapascua Island In The Philippines. Photo by robath on Pond5.
Malapascua is usually a quiet spot but we happened to arrive during the local fiesta and weekenders from the mainland arrived in droves to celebrate. Each community in the Philippines has an annual fiesta, usually involving a patron saint, a huge parade and several days of carnival type activities. These are great events to take part in as the mood is always welcoming, the pop-up stalls plentiful and the food delicious. Cebu is famed for it's lechon, a whole, young pig spit roasted over coals, and there was plenty being served on Malapascua that weekend.
Boracay Island: A Top White Sand Beach Destination For Relaxation
Malapascua put us in a party mood, so we decided to stop at an island often found on the world's best beach vacation lists; Boracay. Famed for its soft, white sand beaches, clear, blue water and pumping night life Boracay is the Saint Tropez of the Philippines. Postcard views, beautiful people and a seemingly unlimited choice of places to eat and drink it is easy to lose a couple days chilling out in Boracay. However, it also known as one of the worlds best kiteboarding destinations, is home to several dive operations, offers daily sails on razor thin traditional sailing boats and has one of the few Broadwater Marine stores, the national chandlery.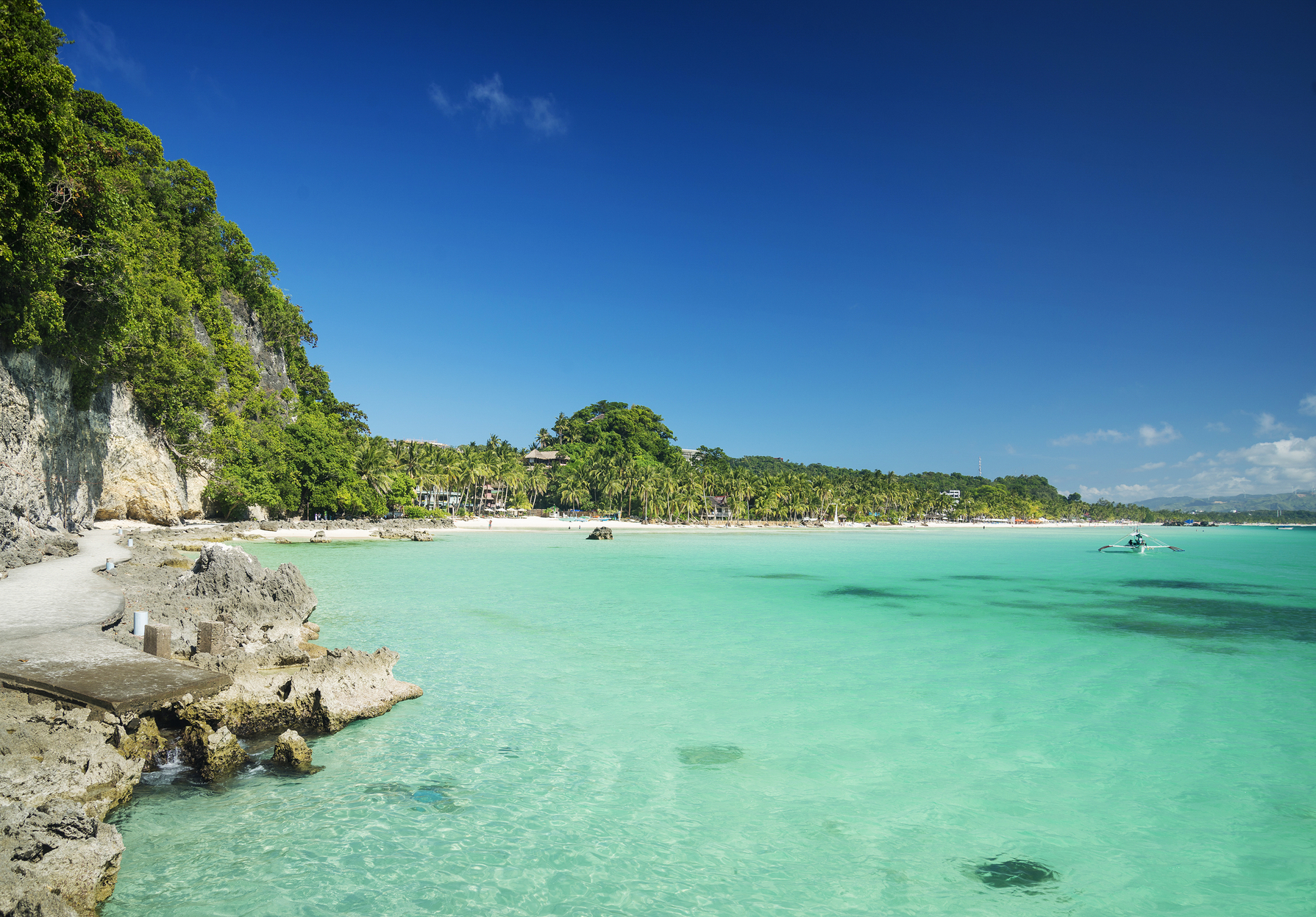 Above: Diniwid Beach on Boracay island in the Philippines with a view towards the mainland. Photo by jackmalipan on Pond5.
Boracay was everything we expected it to be; indulgent, entertaining and nonstop. It was both a chance to blend in with the crowd, which can be difficult when we usually sail to more remote destinations, and a reminder of why we like those out of the way places. Despite it being such a popular spot where there was a steady stream of international tourist day and night, it was still a place we felt safe. We didn't lock up our dinghy on the beach or find it filled with sand and tiny footprints at the end of the day. Like everywhere we visited in the Philippines people were helpful, polite and friendly.
Romblon Island: Home To The Famous Bonbon Beach
After a few nights in quiet anchorages surrounded by rolling hills and no internet connection, a much-needed break, we stopped at Romblon Island. Known as the marble capital of the Philippines, Romblon offers sailors a deep, well protected harbor. Located at the very head of the long bay is the charming Romblon Yacht Club, a small building that offers casual beers and maintains a couple of moorings in the harbor available for daily rental.
Part of the local sail boat racing circuit Romblon can be busy with boats during high season but otherwise is a quiet harbor to relax in. With mostly paved roads all the way around the island and enough altitude to make things interesting, we rented a motorbike in town and set off to explore.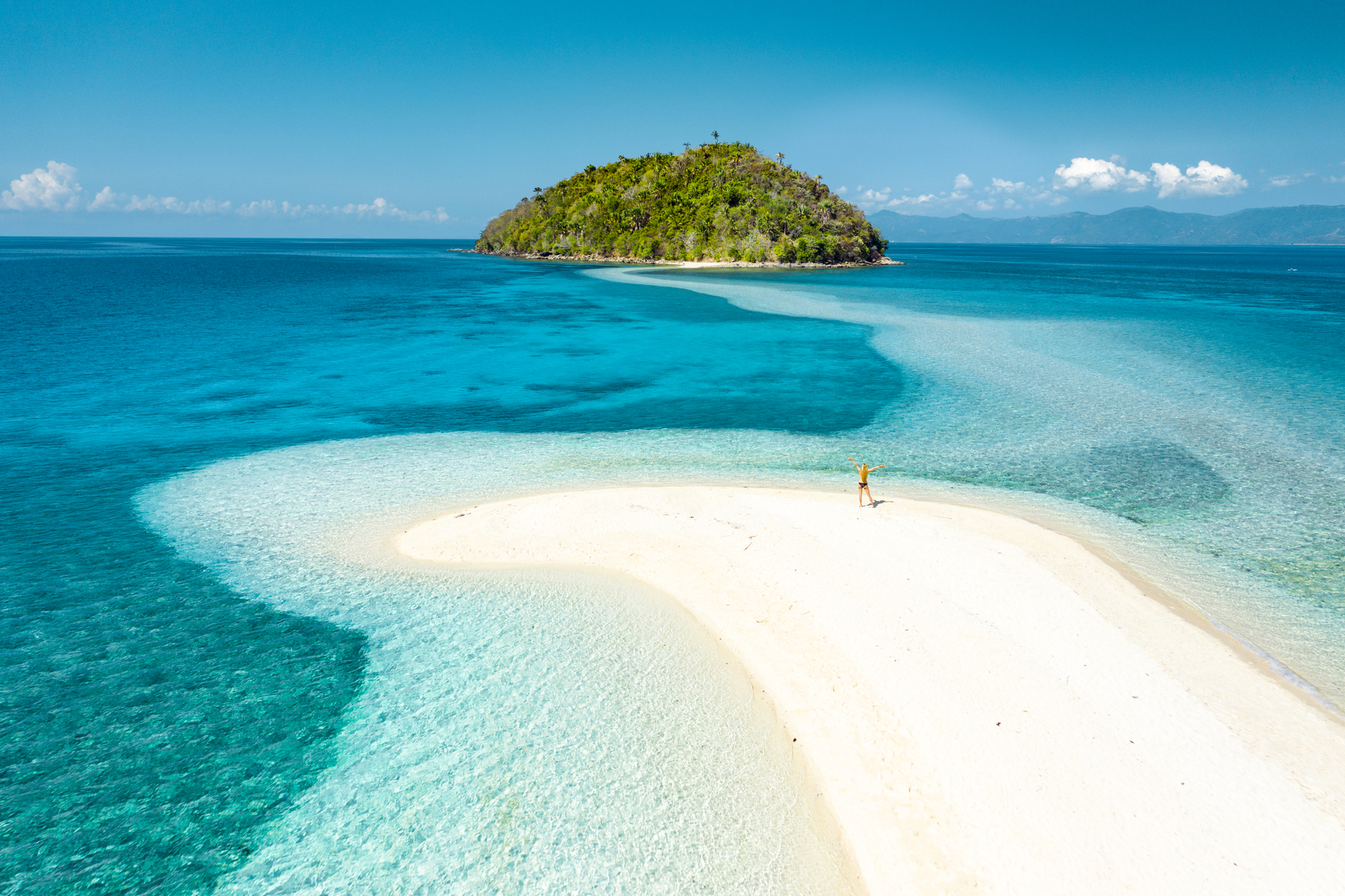 Above: Romblon Island In The Philippines. Photo by KBarzycki on Pond5.
Romblon did not disappoint. With just the right mix of local scenery and small resorts we were able to find shelter from the midday sun, a cool drink and a postcard worthy lookout to enjoy. Bonbon beach is simply one of the most picturesque stretches of sand in the world. Back in town by late afternoon we hung about the town square and watched the night unfold. The evening sea breeze cooled off the day and the town came alive. Hawker stands were busy until sunset selling skewers of pork, whole chickens were roasted on a hand turned spit over charcoal and ladies set up tables to sell candy, snacks and boiled quail eggs.
Keeping An Eye On The Typhoon Weather Forecast
The weather forecast was still light and favorable to be sailing north, but our luck wouldn't hold out for much longer. The rainy season was hovering on the horizon, and once upon us we would have to keep a keen eye on the forecast to avoid being caught in a typhoon, called a hurricane in the USA. Widely touted as one of the most active places in the world for tropical revolving storms, the Philippines averages 20 named storms during the rainy season. However, historically they have had a named storm in every month of the year, so taking advantage of the conditions was important.
Puerto Galera: The Sailing Hub Of The Phillippines
Our ultimate destination was a boatyard just south of Manila as our engine needed some attention after we blew a head gasket back in Palau. It was time to sail on, we headed for the yard via a stop over in Puerto Galera.
Puerto Galera is the sailing hub of the Philippines and home to the Puerto Galera Yacht Club which was founded in 1991. Located on the north coast of Mindoro, the third largest island in the country, it has a very well protected harbor that is a popular hiding spot for boats during the typhoon season. The PGYC hosts several large regattas and races throughout the year which not only draw local sailors but also boats from Singapore, Hong Kong and Malaysia.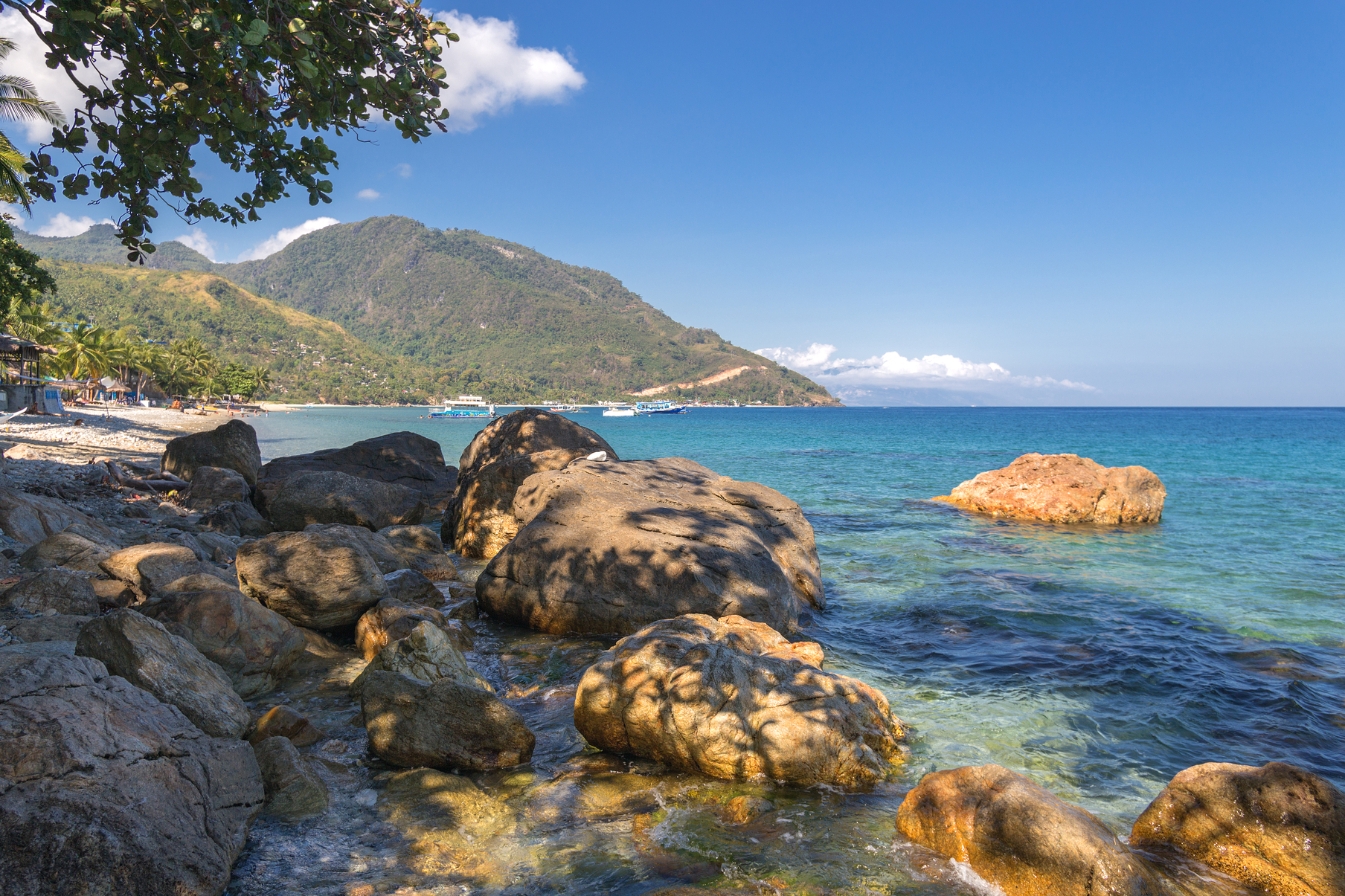 Above: The stunning coastline of White Beach with blue sky above near a marina in Sabang, Puerto Galera, Philippines. Photo by Aldarinho on Pond5.
We picked up one of the many moorings owned by the yacht club and were happy that they offer a complimentary shuttle service to and from shore. This meant we didn't have to unpack the dinghy or worry about finding a safe spot on the dock to park amidst the inter-island ferries that ran all day, every day. Although the yacht club itself was quiet the staff were friendly and the general atmosphere convivial to sailors. You get a sense of a sailing community here, which isn't something we've experienced often in the Philippines.
Hamilo Cove
A two-day sail from Puerto Galera along the south west coast of the "big island" of Luzon and we finally pulled into the wide and inviting Hamilo Cove. Another natural hurricane hole we immediately felt at ease. The boatyard, Papaya Yacht Charters & Services, is nestled among the small barangay, or community, of Papaya and is one of three places in the country that have a marine travel lift for hauling out boats. It would be a few days before we hauled out, so we took the opportunity to explore the bay via dinghy and soon found out why most of the shoreline is forested. Most of the area is privately owned and sign posted "No Trespassing." Our hopes of a private beach picnic were squashed.
Our haul out went smoothly, the staff at the yard were friendly and although the general area was clean, the facilities were very basic. Water delivered in 44gl drums, basic household power hook ups, shared bathroom facilities with a typical seat less toilet and bucket flush system, as is the norm in the Philippines. However, the yard was gated and watched by a round the clock security guard, a bit of reassurance as we were also planning on leaving the boat to ride out the typhoon season on the hard without us.
Cruising The Philippines Offers A Little Something For Everyone
As we began the various tasks to prepare the boat for hard storage I thought back on the past several months sailing in the Philippines and smiled. All the worry and trepidation I had before arriving had vanished as soon as we stepped ashore way back in Dapa. Yes, the area has a history marred with some violence and continues to have serious piracy problems, but those areas are well known and can generally be easily avoided. The rest of the islands, or at least the handful that we had a chance to visit, were simply amazing. It wasn't an easy place to reach, and the inter-island sailing requires sharp attention to local traffic and the weather, but with 7100+ islands there is definitely a little something for everyone.
Related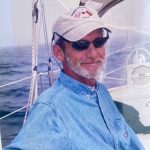 Seamanship: 7 Lessons From Old Salt Captain Andy Mason
Andy demonstrates that a career path in sailing is not always a straight line.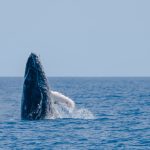 Sailing For Science: Freeing A Humpback Whale
Category:
Cruising Under Sail
Boats are more than just vehicles of leisure, they can also be used for an ocean clean-up.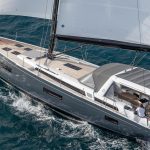 Beneteau Oceanis Yacht 60 Boat Review
French builder Beneteau introduces new flagship in their premium Oceanis line.