Safehaven Marine designs and builds boats to operate effectively, even in high sea states, which is why they are the preferred choice for the ports and operators in exposed Atlantic coastlines. SHM (Safehaven Marine) diverse portfolio of boats includes FRP Pilot boats, patrol boats, crew transfer vessels, and hydrographic survey catamarans. SHM boats are regarded as the pinnacle seakeeping boats, marked by their agility and endurance. These boats are designed to operate in very rough conditions, and robust enough to shoulder breaking seas and colossal 10-meter waves. High standards of strength and engineering ensure they have the capability to navigate the waves effectively in adverse weather conditions.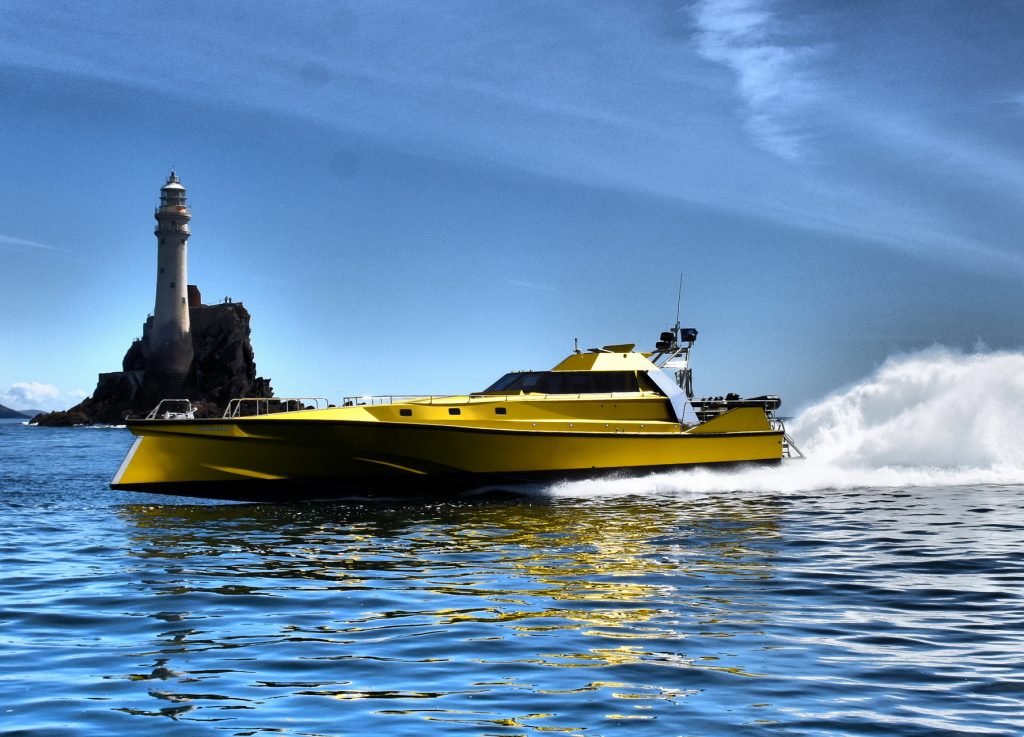 Thunderchild II passing the lighthouse 
'Lambo on Water'
Frank Kowalski has brought a touch of F1 racing to the boat industry. Renowned for piloting a portfolio of design of monohull designs, which are produced in a range of six different sizes from 11m up to 21m. Thunderchild II (XSV 20) is Safehaven Marine's fastest boat model, averaging 44.6kts during their UIM Cork-Fastnet-Cork record attempt in 2020, and recording a maximum speed of 53kts. Reminiscent of a floating supercar, she shimmers in her satin gold exterior. Her clear contours, and precise lines are as slick as a Lamborghini. Her low-lying structure provides a low centre of gravity and increases her aerodynamic capabilities. The hull design seamlessly fuses a twin stepped asymmetrical catamaran hull form with a wave piercing monohull, to create a hybrid design that delivers the rough weather and high-speed dynamic transverse stability of a catamaran, with the steep head sea capabilities of a deep-V monohull. seamlessly transitions into the catamaran sections, very effectively pushes through and splits waves, dampening motions and preventing the flat surface of the bridge deck from ever directly impacting the water surface.
Integral to the design is the incorporation of a hydrofoil system. installed between the asymmetrical catamaran hull, A hydrofoil lifts the hull above the surface of the water, decreasing drag and allowing greater speeds. The hull remains mostly dry and clear of water.
Unlike most catamaran hull designs, this model is able to carry heavier loads due to the virtue of its steep deadrise (the angle measurement between the boat bottom and a horizontal plane on either side of the center), buoyancy rises exponentially supporting increases in displacement. Bystanders admire her shimmering gold silhouette effortlessly carving across colossal waves.
The distinctive deep-v bow points above the water when she reaches at high speeds so that she can slice through water without jumping or slamming. Frank named her Thunderchild after the fictional boat from H.G. Wells' 1898 novel The War of the Worlds where it is eventually destroyed. The name resonated with Frank, and he earmarked it for his favourite project.
SHM ran a Cork World record run in Thunder Child II last year. Click here to watch footage of their record run in the over 50ft class for the Cork to the Fastnet Rock and back UIM World powerboat record. They completed it in two hours and 36 minutes, averaging 44.6 kts, phenomenal for a 23 metre boat, recording a maximum speed of 53 kts on the run.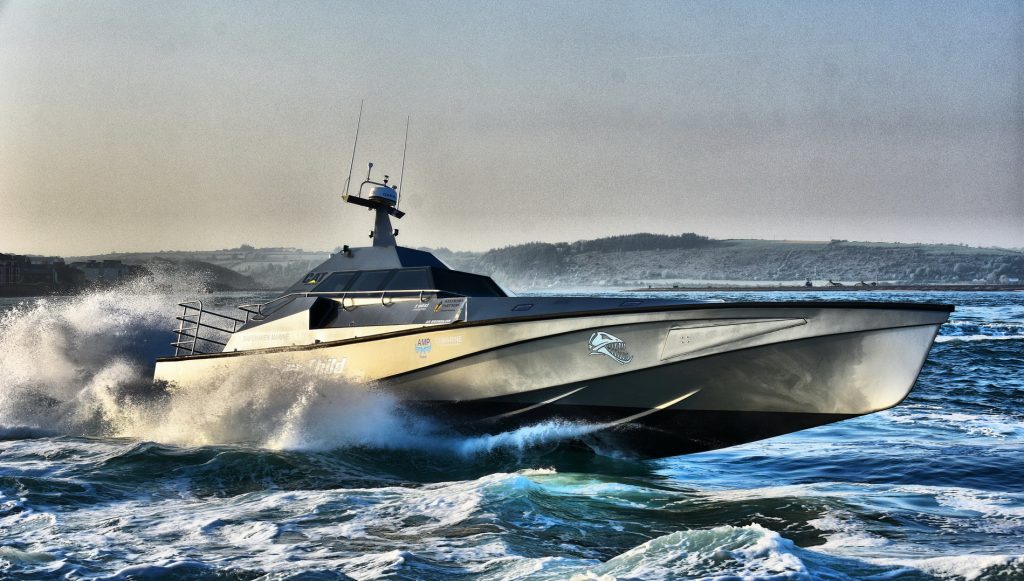 Thunderchild I carving through the water
The Man At The Helm
Frank Kowalski is the pioneer behind the design and naval architecture of SHM's vessels and is often found at the helm of the boat. Frank has been involved in the marine sector for over 25 years, starting his career in the commercial charter boat industry, where he gained understanding of seakeeping offshore. His early years involved skippering his own small commercial vessels offshore. After being caught out many times in poor weather at the helm of vessels possessing poor sea keeping abilities this led to an interest and ultimately an intimate understanding of what constituted 'good seakeeping abilities'. Naturally his background offshore influenced his ability to design and construct boats of substance.
Frank comments on why he gets enjoyment from creating innovative designs, "The most satisfying aspect of my job is realizing a new design idea from concept through development and finally sea trialing the craft at sea a year or two later, pushing its operational envelope to the limit and, with a bit of luck, seeing its full potential achieved."
Frank is not a man who never sits still, a common trait in a leader in innovation. He comments on SHM's plans for the future: "Currently we see our future at least in the short term in focusing on our niche market of building specialized all weather Pilot and Patrol craft and a few very unique and bespoke vessels such as XSV20 in the private yacht market."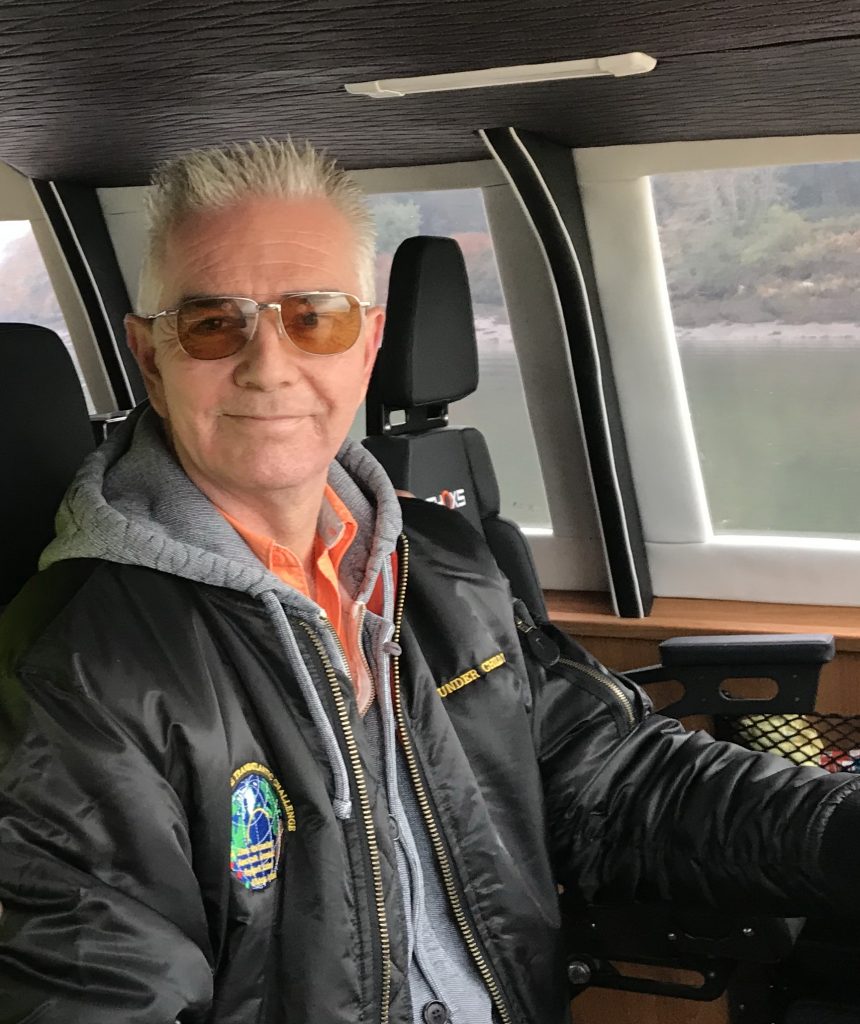 Frank Kowalski ready to set sail
Stormy Sea Trials
SHM is based in Youghal, Co Cork Ireland where Frank and his crew take the boats for sea trials. Situated on the south coast of Ireland, it produces some of the most extreme sea states in the world- the perfect environment to test out the boats to see whether their seakeeping capabilities pass the SHM's mark of approval.
The enduring sea state of Cork marine is volatile, and pushes boats to the seakeeping limits. Influenced by the ebbing tide at the mouth of the entrance and the shoaling water over the harbour deck. Between the eastern and western channel entrances, is the perfect storm. In the midst of an ebb during a storm the entrance can become unnavigable. Crashing vertical waves threaten to gobble up the boats which become dwarfed in waves reaching up to ten metres. Unlike most people, Frank has an appetite for stormy weather out at the sea and thrives on adrenaline, seeking out a diet of serotonin and dopamine. Frank describes some of the most volatile storms in Cork, "The waves are violent and crash down heavily. The crests swell vertically and plunge at the boat. At that moment I feel both vulnerable and awoken."
A wall of water. A storm at sea, taken on a GoPro
Sensibly, SHM often has two crafts at sea during heavy weather sea trials, the second 'all weather' vessel acts as a safety boat, and if they were to experience any issues they are safeguarded. It is not just the construction and the design that ensure the safety of the passengers, Frank and his team seafaring skills are world-class. While the nature of the sea is unpredictable, Frank's experience as a fisherman has provided him with navigational skills, predicting and mapping the sea like the palm of his hand, using cues from and the surrounding forces.
YachtWorld plans to visit Frank at Seahaven in the Port of Cork in Ireland later this year to sea trial Thundercat II as part of our YachtWorld Legends video series.
Related
Dinghy Safety And Etiquette
Heather Francis provides some simple tips on how to keep safe on the water, and how to uphold good etiquette...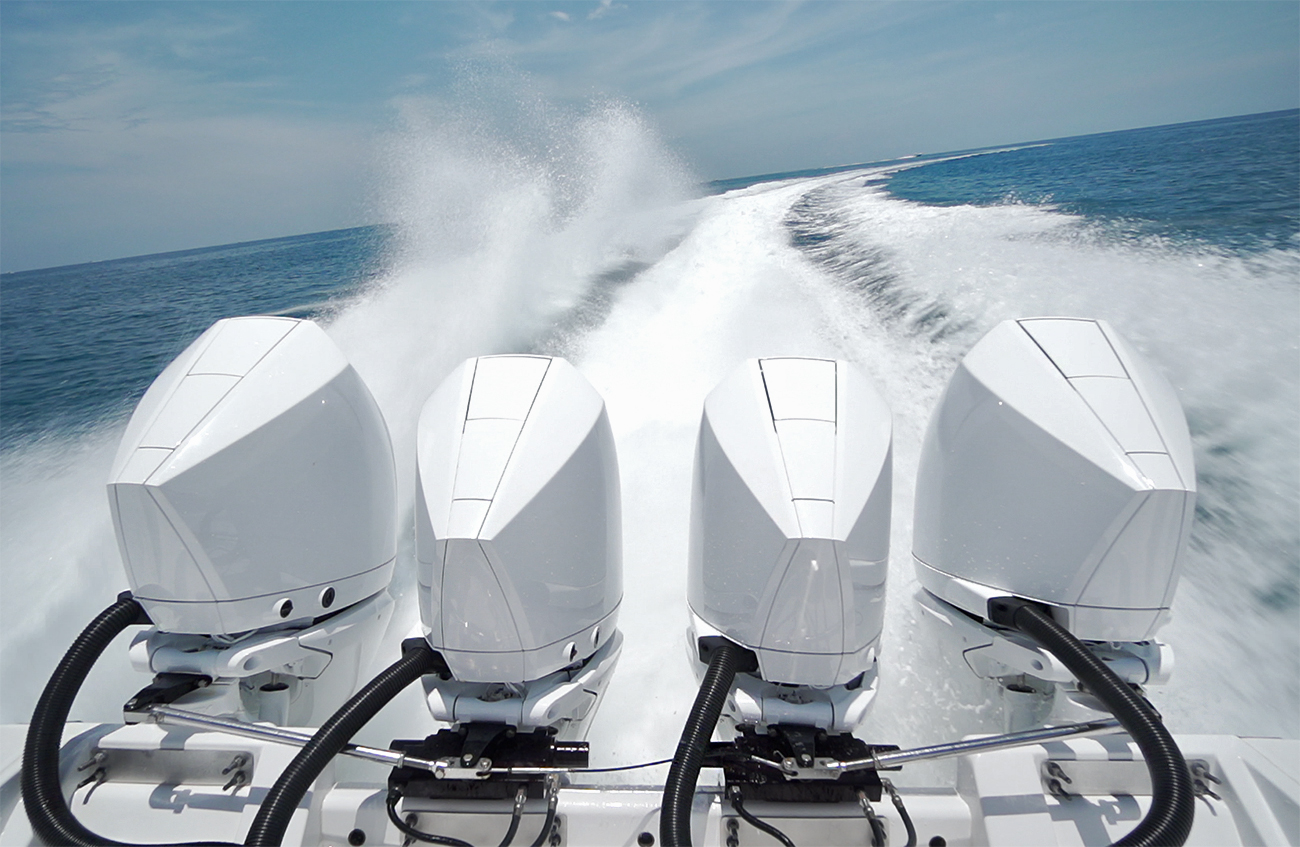 Mercury Racing 450R Outboards: Big, Fast And Powerful
Marilyn DeMartini delves into Mercury Racing's new V-8 450R outboard engines.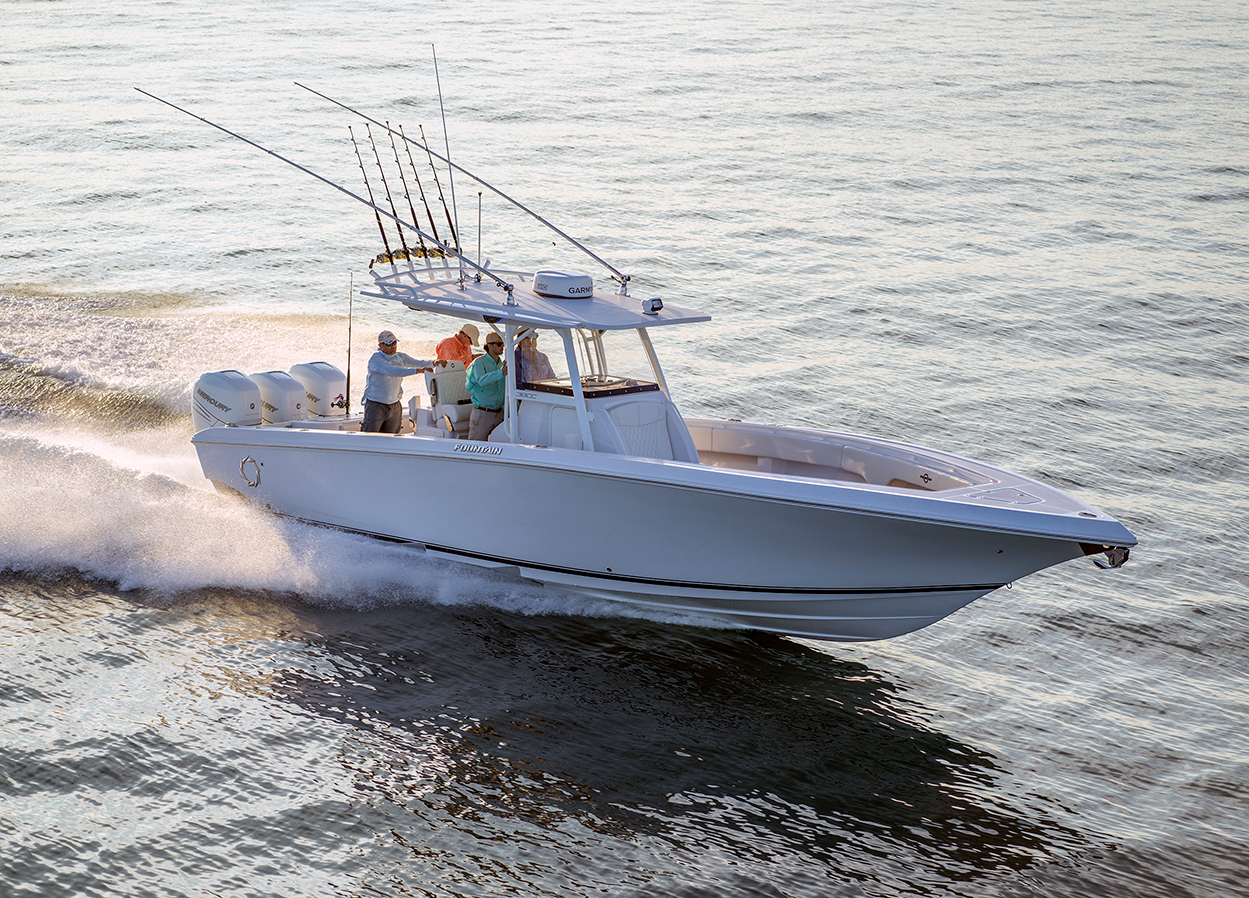 Fast Center Console Boats: Part One
Part One of an in-depth round-up of some of the fastest performance center consoles on the market.