Before Maine-based Sabre Yachts built high quality Downeast-style power yachts like the much-lauded Sabre 48 Salon Express, they produced equally high-end performance cruising sailboats. These racer/cruisers were known for good speed, head-turning styling, and quality joinery work in spacious and comfortable accommodations. One of the latest designs was the Sabre 362, a size that fit many slips and budgets and of which 120 hulls were launched starting in 1993 and continuing for the next decade or so.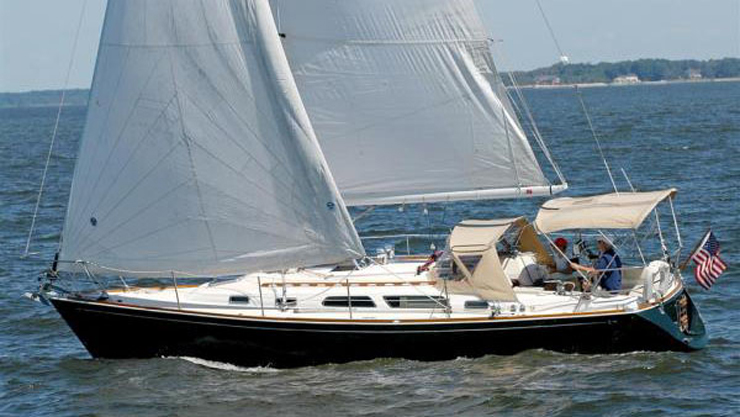 Though the 362 is a relatively small sailing yacht, it was able to reach remote anchorages quickly and cruise self-sufficiently for a couple weeks or more, especially if a watermaker was added. The sleek profile is a mix of traditional lines (with a curvy, almost IOR shape) and a somewhat contemporary look with a small swim step wedged into the transom. The ends are short, the sheer is flat and the 12' beam is carried well aft to create volume inside. The cabin trunk adds headroom below but blends nicely into the forward deck while the reverse transom gives her a more classically inspired look.
The construction is hand-laid glass with balsa coring and all boats were built in the U.S. Contrary to many production builders, Sabre used no pans or pre-molded liners. Flooring, bulkheads, and stringers were laminated to the hull, which added stiffness to the overall structure.
The cockpit is compact but deep for safe offshore work. Primary and secondary winches are within reach of the 40" wheel and aft is a contoured elevated seat for the helmsman to have good visibility without needing to stand. The mainsheet traveler is on the cabin-top ahead of the companionway, which puts it fairly far forward, and that translates into less-than-optimal mid-boom sheeting for the main. However, it's a fairly standard arrangement for aft-cockpit models that want to keep the track out of the cockpit.
The 362 had a choice of two keels: shoal draft with a winged blub at 4' 8" and a deep fin with 6' 8". A third version, with a centerboard, was optional but is hard to find on the pre-owned market today. With all the options, the ballast-to-displacement ratio is 40 percent so she's no pushover.
The Hall aluminum mast is keel-stepped with double aft-swept spreaders, and with an air draft just over 53 feet, she's an ICW-friendly vessel. The big chocks and cleats are befitting of an offshore boat, although the lifelines could be higher. The side decks are wide and clear and the geona tracks on deck are long, for versatile adjustment of the headsail.
True to the Sabre brand the 362 was built to sail fast. In a good blow of 20 knots, she can do seven to eight knots under full main and 120-percent genoa. Auxiliary power was provided by a 32 HP Westerbeke diesel with a fixed two-blade propeller. For serious passagemaking, it would be best to enhance the tankage since the original included only 30 gallons of fuel and 78 gallons of water. Standard battery power offered 220 Ah which would also be good to upgrade if you plan on being away from shore power for any length of time.
Sabre used a restrained hand when designing the interior and that's a good thing. The layout includes two cabins and only one head with a spacious shower stall. That's a perfect arrangement for a couple with occasional guests or maybe a child or two. Cramming any more into a 36-foot hull just isn't necessary and this way, it also leaves room for a nice nav station to port with space to mount numerous electronics.
The 362 has a proper galley where you'll find twin sinks on the centerline, a two-burner gimbaled stove, and a Sea Frost refrigerator with an optional front-loading door. Louvered lockers abound and stowage space is good for a vessel of this size. Corian countertops and a cherry wood finish combine for a rich, nicely crafted finish.
The saloon has seating for six on an L-shaped settee to starboard and a straight one to port that could double as a sea berth. A table drops down from the forward bulkhead and opens to join the two sides. When not in use, it stows away neatly, giving the main cabin an open feel. Four Lewmar hatches and stainless-steel opening ports bring in lots of air and light. Overall, the 362 has a very livable interior, which is why these models have been cruised extensively.
For coastal hopping or club-racing, the 362 has the perfect mix of amenities, easy sail handling and speedy performance to appeal to a wide variety of sailors. Because so many were built, there are quite a few in good shape for sale, mostly along the Eastern seaboard.
See Sabre 362 listings.
Specifications: LOA: 36' 2" * Beam: 12' 0" * Draft: 4' 6" * Displacement: 13,800 lbs. * Sail Area: 364 sq. ft. * Fuel: 30 gal. * Water: 78 gal.
Related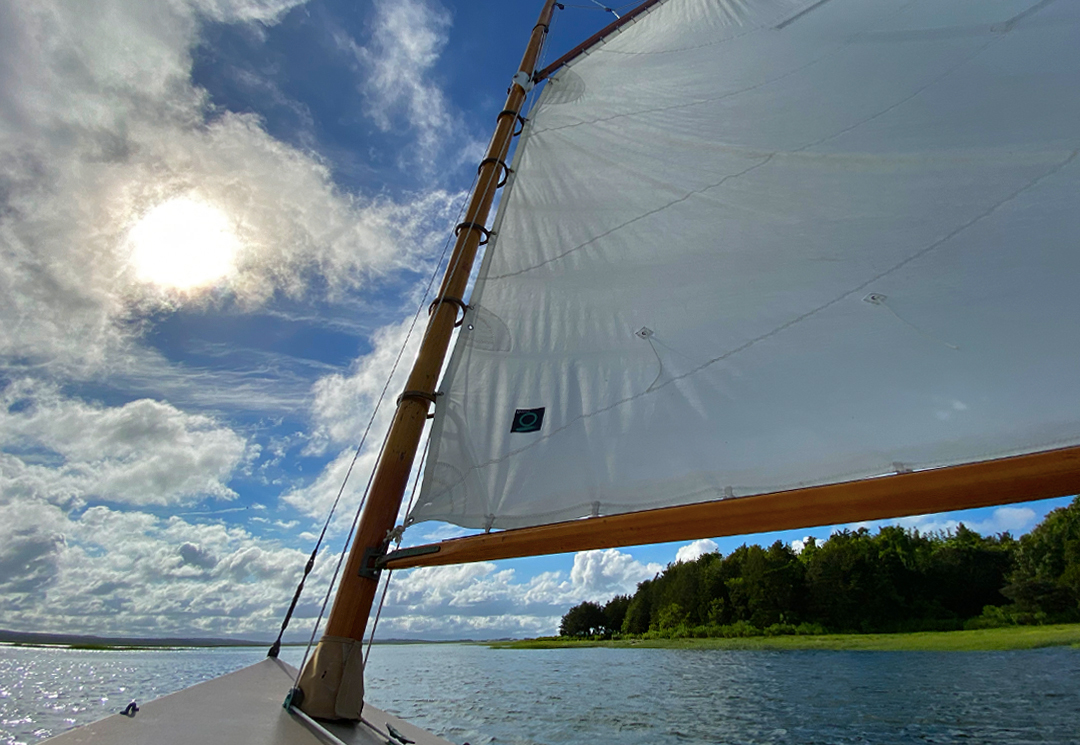 How To Sail A Boat: Learning The Ropes
Like many skills, learning to sail is a hands-on activity that requires practice and patience.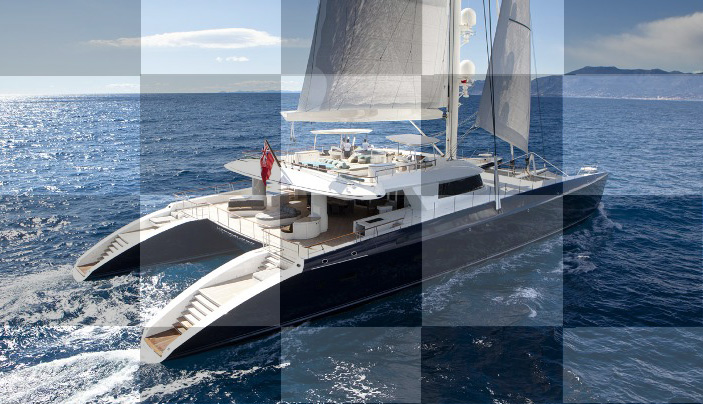 Fractional Yacht Ownership: Pros and Cons
Fractional ownership has become a popular option for yacht buyers, but is it right for you?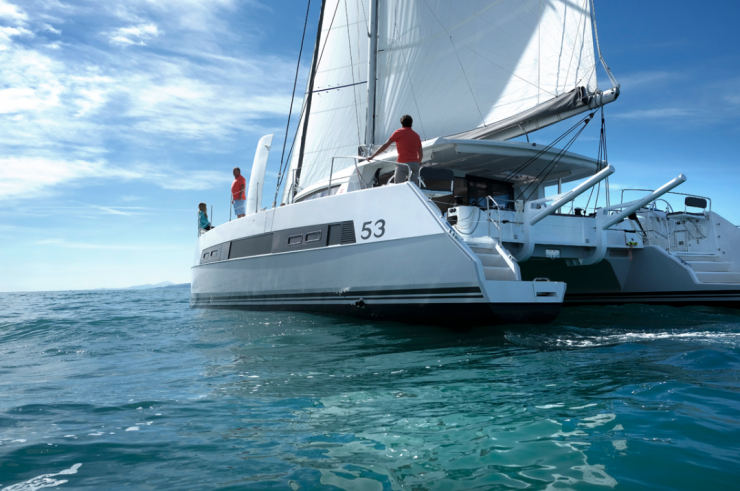 Catana 53 Review
The Catana 53 is a bluewater catamaran that ticks all the boxes.