The hottest new model debut ingat Boot Düsseldorf this week is Azimut Yachts S7, a 71-foot (21.6-meter) sports coupe designed for fast navigation. The sporty new model joins the S6, S8, and Grande S10 as part of Azimut's S series collection. S7 guarantees a reduction in fuel consumption as part of Azimut's low-emission yacht category. At medium and high speeds, emissions can be as much as -30% while guaranteeing unparalleled performance. 
Solutions to reduce fuel consumption and cut emissions first include extensive carbon fiber to reduce the yacht's overall weight, increase volume, and use a more compact and highly efficient propulsion system powered by three Volvo IPS engines. Thirdly, the optimized hull lines designed by P.L. Ausonio Naval Architecture ensure the boat is as hydrodynamic as possible.
Design-wise, Italian houses were the natural choice for the interior and exterior. The eye-catching sleek, dynamic profile, penned by Alberto Mancini looks so cutting-edge and modern that it makes other yachts at Dusseldorf look somewhat passe. Yachtique, an Italian creative boutique, styled the interiors in its signature simple chic style, luxury fabrics, and neutral color palette.
Image above: Panoramic views from the salon. Image via Azimut.
Layout
On the main deck, indoor and outdoor zones are flush and connected by sliding doors to allow guests to wander from the cockpit to the salon freely. The galley is situated in the bow section.
Descending onto the lower deck are four staterooms and a two-berth crew cabin. Abaft is the master stateroom with a separate dressing room and ensuite bathroom. Unlike poky circular cabin windows often seen in traditional boats, amidships are large glass windows that fill the living area with natural daylight. There is also a generous, tender garage with room for two water toys: a custom version of the Pirelli J33 tender made for Azimut and a jet ski.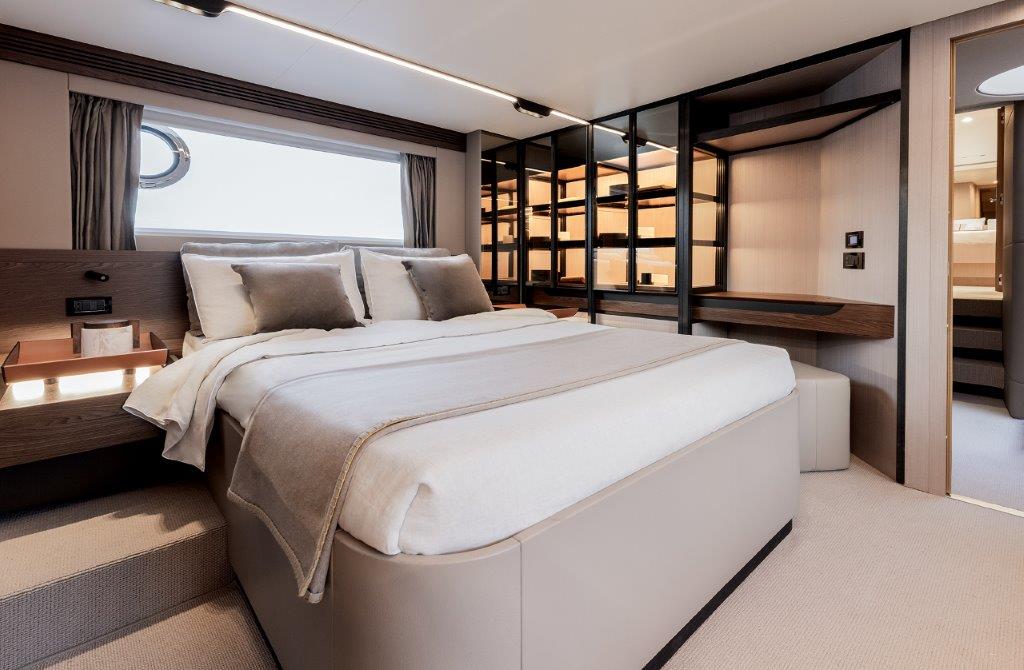 Above: The master stateroom styled by Yachtique. Image via Azimut.
Exterior
On the foredeck, there is a terrace to seat eight. The sea deck is a new concept Azimut designed to bring an opening stern beach area to smaller boats.
The sport fly level features a large terrace providing extra space for sunbathing relaxation, with large sunbeds, an alfresco dining area, and a wet bar.
Power and Performance
Volvo Penta triple VOLVO Penta IPS engines each generate 800 hp, pushing top speeds of 35 knots (40 mph/65 kph), and delivering a cruising speed of 27 knots.
No More Trimming Up Or Down!
Technical wizardry can be seen from stern to bow, from advanced joystick control, an integrated control and monitoring system, and an active trim control that optimizes the trim at all speeds.
Check out Azimut's used and new yachts for sale on YachtWorld.
Specifications:
LOA: 71 ft 2in 
Beam: 16 ft 11 in 
Draft: 5′ ft 7″ in
Engines: Triple 800 hp Volvo Penta D13 IPS1050s
Fuel tank capacity: 1004 gallons
Top speed: 35 knots
If you want to read more about how you can reduce your environmental footprint while boating, read our guide for valuable tips and advice. Or, you can find out more about How Yacht Owners Can Participate In Environmental Schemes. 
Related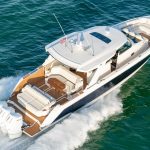 Tiara Yachts 48 LS Boat Review
Ryan McVinney reviews the 48 LS, the biggest outboard powered boat Tiara has ever built.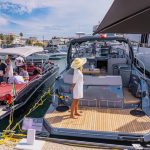 Cannes Yachting Festival 2022: 6 Dreamy Debuts
Meet the major boat builders in the motorboat industry who made their public debuts at the festival.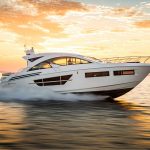 2023 Cruisers Yachts 60 Cantius Walkthrough Boat Review
Ryan McVinney reviews the 2023 Cruisers Yachts 60 Cantius, with a video tour.