I met a new 50-foot express cruiser on the dock the other day. It had bold, sweeping lines, uninterrupted saloon windows, and a pugnacious reverse sheer line; the profile suggested speed, power, and seaworthiness. "Different but familiar" was my first thought. The yacht didn't quite look American nor did it look European, yet it clearly signaled it was part of the modern mainstream of coupe design. I looked closer and saw it was the new Riviera 4800 Sport Yacht, designed and built in Australia.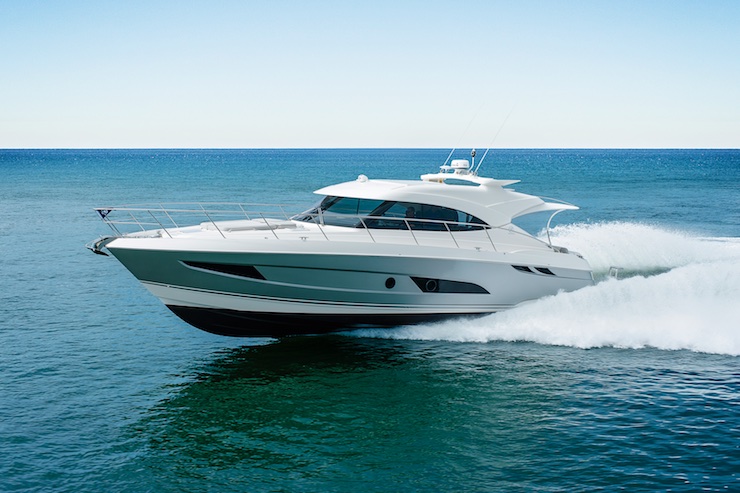 Riviera yachts are no stranger to American shores—you can find about 100 for sale on YachtWorld right now. Many are offshore fishing boats, but the company builds boats for everyone else, too. It launched the Sport Yacht range with coupe styling back in 2007, and a second generation of the range began to appear late in 2015. Following the 5400 and 6000, the 4800 is the third in this newest line of sport yachts all featuring Volvo-Penta IPS power.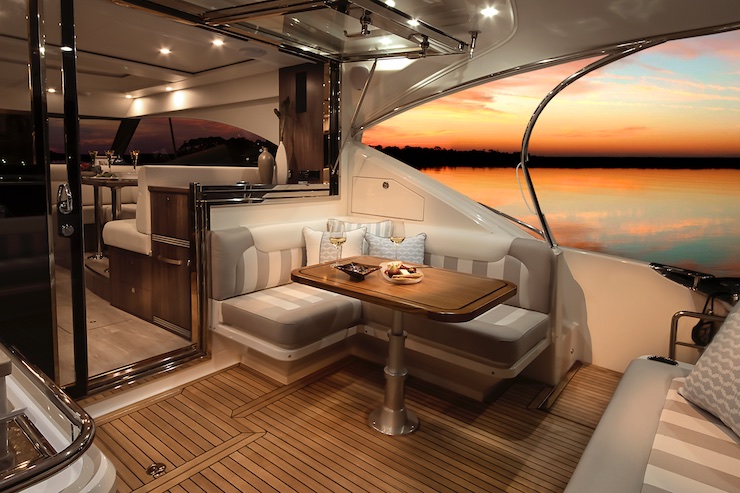 Main deck
The aft deck features a garage that fits a small, 8'8" tender and a barbecue that's accessible when you close the garage door. The aft cockpit is modest in size and well protected from the elements and the sun by the coupe roof and triangular Strataglass inserts, port and starboard. Walk forward on the side decks to operate the anchor windlass or stretch out on the sun pad, and you'll find sturdy chrome rails to make the fore-and-aft passage safer.
Between the aft cockpit and the main saloon, there's a solid sliding door and what Riviera calls a "hopper" window that brings the outdoors inside, as does the retractable coupe roof up forward by the helm station. Take one small step up from the cockpit and you're in the galley, which commands the port side of the saloon. It's substantial and U-shaped, a real family-style kitchen with workspace and stowage to feed a substantial crew.  A stowage cabinet and dining area are to starboard, overlapping with the port-side dual helm station. Wood finish throughout the interior is walnut, which can be ordered either in satin or high gloss.
For a unique 360-degree visual of the saloon, have a look at this image we took on our inspection and posted on the YachtWorld Facebook page.
Belowdecks
Descending the centerline stairwell, you'll find an L-shaped settee to starboard for the crew member who wants a quiet place to read or have a conversation. Just forward is the master stateroom with island berth, modest hull windows, and a private head. A second head immediately aft of the first serves as the day head and any guests staying in the mid-cabin. Being under the main saloon deck area, the mid-cabin has less headroom, but it also has a starboard settee with extra headroom under the cleverly elevated dining area in the saloon. Mirrors and hull windows make this a bright and attractive cabin, albeit one with a low ceiling.
Depending on sleeping arrangements, the two port-side single beds can slide together as a double, and the settee can also serve as a third single berth.
Performance
The Riviera 4800 we saw came equipped with a pair of Volvo-Penta D8-IPS800 600 HP engines with IPS15 pod drives, which provide joystick maneuvering from a helm station that centers around two Glass Bridge multi-function displays. Alternately, it can be purchased with the 550 HP IPS700 engines.
According to company test data, at 2700 RPM, the boat cruises at 28.2 knots and burns 52.3 GPH for 0.5 nautical miles per gallon (NMPG) for a range of 269 nautical miles. At wide open throttle, it moves at 34.5 knots and burns 65.8 gal/hr., also 0.5 NMPG.
The fiberglass laminate plan for the 4800 features solid fiberglass below the waterline and cored construction for lighter weight above. Vinylester resin is specified for outer layers to better withstand water absorption, sub-floor compartments in accommodation areas are foam-filled to reduce noise and increase rigidity.
Landed in the U.S., the 4800 sells for $1.25 million. Based on my introduction, I'd certainly recommend that anyone in the market for a stylish, seaworthy 50-foot coupe should arrange a test ride.
Other Choices: Comparable 50-foot coupe designs  you might also consider include the Sea Ray 510 Sundancer and the Cantius 48 Sports Coupe.
Specifications: LOA: 50' 0″ * Beam: 15'1" * Draft: 3'10" * Displacement: 42,000 lbs. * Fuel Capacity: 555 gal. * Water Capacity: 106 gal.
Related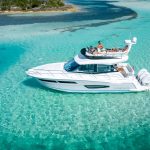 Yacht Designs And Boat Hull Types
A deep dive into all the different types of yachts, from pocket yachts to superyachts and everything...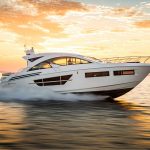 2023 Cruisers Yachts 60 Cantius Walkthrough Boat Review
Ryan McVinney reviews the 2023 Cruisers Yachts 60 Cantius, with a video tour.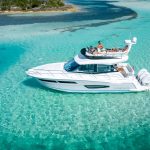 Top 5 Motor Yachts Under 50 Feet
Check out our top five motor yachts under fifty feet.