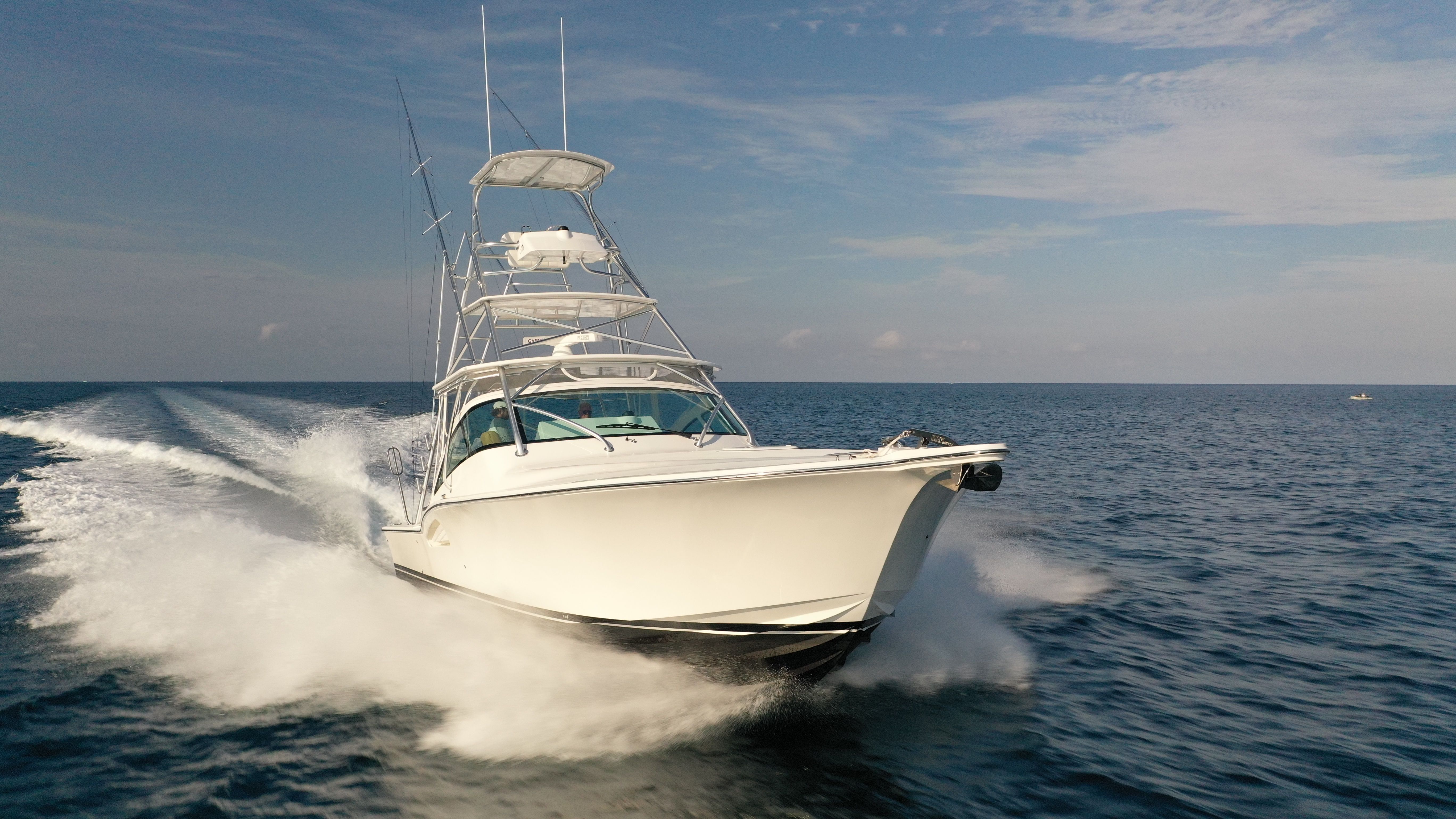 An extended sea trial and full walk-through of the 2020 Albemarle 41 Custom Carolina Express fishing...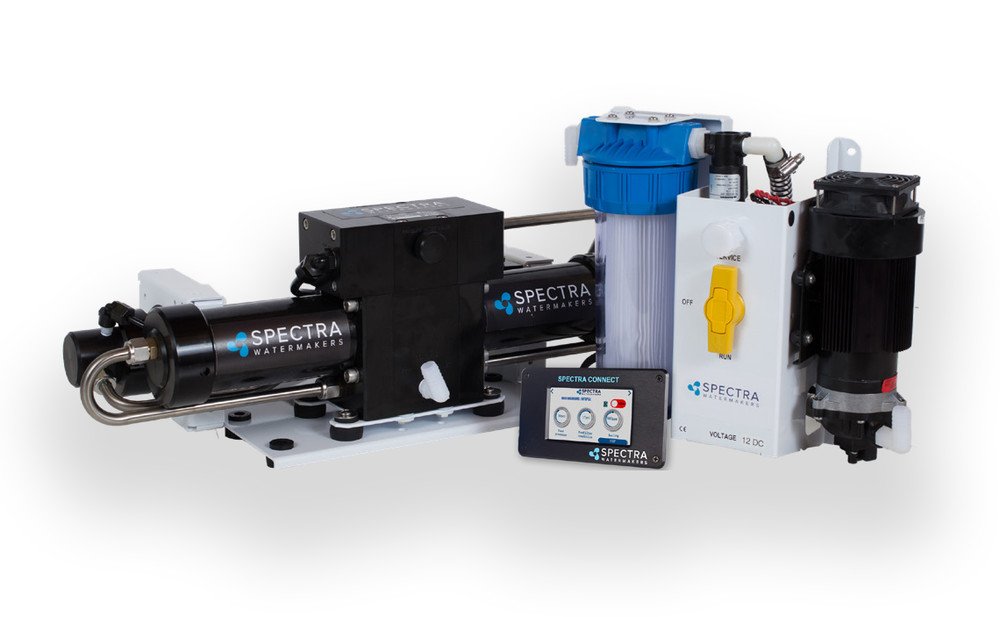 Ventura 150c and 200c watermakers. Photo by Ventura and Katadyn Group. Perhaps you are planning to stay close to docks, water lines, and shore power throughout your journey, but wouldn't it be nice to have the added security of knowing you can make your own freshwater if necessary? Especially if you are interested in exploring areas that are a little more off the grid. Luckily, recent advancements in ever-evolving technology give you plenty of affordable options to outfit your boat with a watermaker that best suits your level of adventure. Here we'll review the basics of how these systems work and take a look at some of the best products on the market right now.
The Basics of Marine Watermakers
Marine watermakers use the process of reverse osmosis to intake seawater and output clean, potable water suitable for any of your live-aboard needs. The newly made freshwater is then pumped into your vessel's current water tank, while the leftover "brine" is thrown overboard. Most marine watermakers differ with regards to the method in which the water is pumped. Typically, the water can be either electrically driven (either AC or DC) or powered by your boat's engine. Note that the colder and saltier the initial seawater is, the slower the purification process will be - so you hardy nor'east sailors may need to invest in a more high-powered system than those of us trawling down in the Carribean. Watermakers also come in all shapes and sizes, with modular options best suited for smaller boats, as the parts can be "stashed" in whatever precious extra cargo space is available.
Best Marine Watermakers
Let's take a look at a roundup of some of the best boat watermakers on the market right now for your vessel.
The Ultra Whisper
The Ultra Whisper by Sea Recovery is best for small boats and sailboats, this super low power machine is specifically engineered for boaters with limited electrical options and can run on either AC or DC power, boasting a 75% reduction in power consumption over other models. It's also very quiet (hence its name)so it won't compete with your epic sound system, and operation is completely automatic with it's simple start and stop controls. Sea Recovery also has another line with a wide variety of size and capacity options called Aqua Whisper - including a miniature version that measures only a mere 2-3 cubic feet, perfect for your day tripper vessel.
Village Marine - Little Wonder series
Village Marine also has a great line of watermakers targeted especially for trawlers and small sailboats, some with very impressive capacity, as well as considerable options for the mega-est of the mega yachts. The Little Wonder series weighs only 69 pounds yet has the ability to manufacture up to 180 gallons of freshwater per day. It also has a low RPM high pressure pump which is both economical and efficient, with the convenient modular design so you can store it in separate compartments if necessary - no "wonder" it's so popular, right? We actually had the pleasure of adding one of these to our 38 foot family yacht on a journey down the ICW for the winter and it made such a difference for us because we had 5 people aboard and a limited freshwater supply. The installation was quick and painless, much to the relief of my father. Also, as it was peak tourist season over the holidays, there were definitely some times when it was difficult to find (or too expensive to stomach) an open slip for the night, and having the Little Wonder aboard enabled us to anchor where we pleased without having to worry.
Village Marine - LW Watermaker Series
Village Marine also has something for the big dogs - the LW Watermaker Series can accommodate boats up to 100 feet in length. A practical and reliable source for long fishing voyages or ocean charters, this feat of engineering can provide you with absolute water independence. Would you believe this series possess the capability to produce up to 1800 gallons of freshwater per day? It has a manual operating system that is both durable and fail safe, and also has a modular design which still gives you some flexibility in terms of installation options. This line is perfect for that person we know that always seems to be island hopping in Greece on their 96 foot super yacht yet never seems to invite us.
Spectra Katadyn PowerSurvivor
Titan of the industry Spectra Watermakers has a variety of great options ranging from a small hand powered pump, to commercial grade hi tech gear. The Katadyn PowerSurvivor 40E/12 V is one of the smallest marine watermakers out there. It runs on a mere 4 amps at 12 volts DC, and is the only machine of its kind that can revert to manual power if necessary - making this one a great model to have aboard in case of emergencies. The PowerSurvivor pumps 1.5 gallons an hour, weighs in at only 25 pounds, and with it's space saving design, can fit in even the tiniest of compartments.
Ventura 150 Watermaker
The Ventura 150 is one of the most versatile and popular watermakers on the market. Not only is it rigged for low power consumption, but it can also run on solar or wind power if you have the capability on your vessel. Like it's name, this system can deliver up to 150 gallons of purified water per day, and possesses analog controls with an instrument panel containing a feed water pressure gauge and a product flow meter. This watermaker runs quiet, and is surprisingly compact and modular given it's capacity. There's also the Ventura 200T, which is the same size and configuration as the Ventura 150, but uses a higher displacement Clark Pump to produce more water, allowing it to operate in warm waters above 50F (wimps).
Conclusion
With all of the recent trends in boating leaning toward self sufficiency and sustainability, it's easy to see why adding a marine watermaker is an intelligent investment for your vessel. Modern advancements in technology and modular parts have made these systems easy to install and incorporate into any on board setup - it's all about deciding what is right for you and your particular boat. Consider how much time you spend on your live-aboard, where you spend your time, and where you wish you spent more time. Working to create a completely independent boat system will ultimately give you more freedom. Additionally, when coupled with solar panels or power, you have the ability to not only reduce your carbon footprint, but also to remain off the grid indefinitely - no longer having to rely on shore power or water. Imagine the possibilities./>
A detailed look at onboard watermaking, water filtration and desalination systems for live-aboard boats...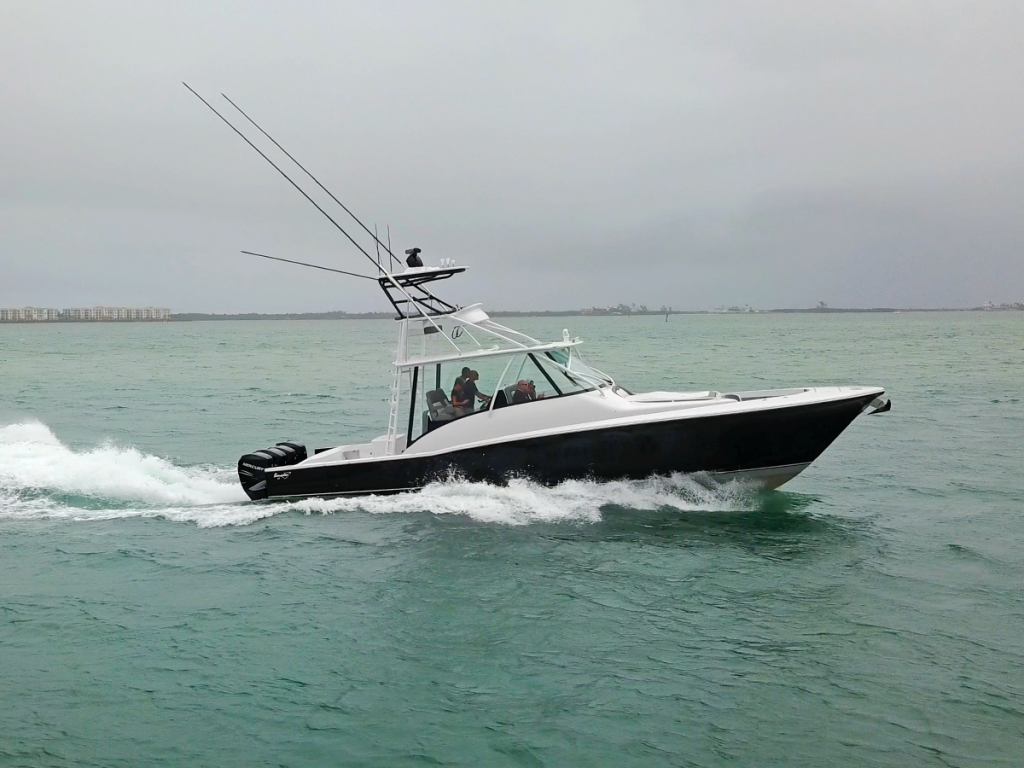 Bonadeo 45 Custom Walkaround. Photo by Nate Cantalupo. Now, 15 years later, the business and shop have grown, as has the line. From the then, cold-molded composite 31', to a cored, resin-infused and vacuum bagged 34, Bonadeo tweaked its design, but the 37' center console truly established the brand. The new 45' was developed for a buyer who was sold on the quality of the 37 but wanted a bigger boat. Bonadeo answered by going back to the drawing board, creating exactly what the owner wanted—a boat that could seriously fish, but recreationally cruise as well. It was dubbed "Final Chapter," following its smaller predecessor, "Next Chapter." The newer Bonadeo builds use epoxy vinyl resins, Kevlar, carbon fiber and fiberglass to create a lighter, sturdy boat with a smooth, reliable ride. The 45' model bridges the gap between the popular performance center consoles and traditional sportfish boats. A striking study in black and white, at the dock, the Bonadeo is a standout. The black Imron painted hull is accented by the white deck and white and gray upholstery, black T-top, with powder coated piping, black edging around the tinted glass windshield and matching black engine cowlings. Stainless inserts in the black rub rail add a gleam, as does the stainless Bonadeo logo badge. Hull #1 is 44' 11" long with a 13' 6" beam and 34" draft. Quad Mercury 400 Verado engines with joystick control, power the boat easily in the 40's and top out at just under 60 mph, even fully loaded with a 11kW generator, three HVAC systems, 100 gallons of water, 655 gallons of fuel, a full-wrap laminated glass windshield and skylight, Seakeeper 6, an HD2 4' Array Radar and pedestal. The Vetus Bow Pro brushless bow thruster leaves no carbon dust, is quiet and facilitates docking. The boat is ready to fish with a Marlin Tower by Palm Beach Towers—who got the job due to its 3D modeling system. The upper dash is identical to the main deck helm, covered by the T-top and a quick climb up the 6-step ladder, outfitted with 6 rod holders. There are 8 more rod holders in the gunwales, 4 on the bow, 6 on the flybridge and 6 more on the grill station, so bring your bait and buddies! The aft deck has a user-friendly 72-gallon live well with two doors, two 6' insulated, in-deck 70-gallon fish boxes, a flip-up grill station with a sink, refrigerator/ice box and hot water shower — and did I mention rod holders? So you can catch it, gaff it, filet and grill it in short order! Extra tackle storage is under the grill and tucked in every nook and cranny of this boat—even under the steps. A large center storage compartment is located between the fish boxes and the lazarette provides access to equipment and pumps. The shore power cord is convenient, behind its own door to port, as is a large transom rod storage locker. A dive door is at starboard, along with a raw and fresh water washdown. A three-seat mezzanine is covered by the T-top, provides comfortable seating and a great view, with ample storage and mechanical equipment access beneath. Custom curved glass wraps the entire cockpit like a car windshield and is edged with carbon fiber for additional strength. To keep the captain cool at the enclosed helm, air blows through two HVAC vents at the helm seats as well as through a long, horizontal vent in front of a forward facing, three-seater lounge. The glass insert in the T-top electrically "frosts" to provide opaque coverage when the sun is strong. The helm is "clean" per Bonadeo standards, with a portside black carbon fiber helm pod, Epson wheel and minimal instrumentation, joystick and throttles visible. Two, flush-mounted 22" Garmin screens provide the latest in navigation, fish finders and operations interface. The system and Seakeeper switches are hidden in a starboard glove box—a tidy touch. Sit or stand—your preference--as the helm seat flips up to create a bolster. A floor hatch at the console offers access to the Seakeeper equipment and extra storage. New internally rigged GemLux carbon fiber outriggers look fierce and are designed to preclude permanent gunwale halyard attachments. This prototype, including a center rod, is being tested on the Bonadeo and the captain plans to use SeaSucker attachments for the halyards, keeping the gunnel clear when the outriggers are not in use. The bow is also fishing friendly, and while it can seat eight people—two on the ergonomic sun pad (with a removable cushion for the cabin skylights), three more on the forward-facing lounge (with a 74-quart cooler beneath) and three more on the aft-facing bow seat, it also has wide gunwales where anglers can stand and fish or work their way around the spacious deck. While the cabin may not appear to be the main attraction of this boat, ladder-like steps descend from the port side door, of the main deck bow, to a surprisingly spacious and very comfortable, naturally and LED lit, dual berth cabin — each with its own TV. Stylish taupe cabinetry, matching laminate "wood" flooring, a cedar-lined hanging locker, lots of storage drawers, cabinets and a galley make this very livable space. The durable quartzite countertops look like gray-veined marble and support a refrigerator/freezer, sink, stove top and microwave above, framed by cabinets. The additional berth is tucked behind the stairs - a perfect place for kids or guests to hang out or sleep - while the bow area has lounges and a sizable table for grabbing a bite or socializing; it retracts, topped with cushions to create the primary berth. The wet head's sink is also set into a curved quartzite counter above storage cabinets and there is plenty of headroom. Rock on while your fish is on! The JL Audio entertainment system has speakers in the cockpit, T-top, cabin and on the tower, with a large subwoofer beneath the helm passenger seat. LED lights are scattered throughout every overhead space. Hull #2 of the 45 is currently under construction for a serious tournament angler from the Palm Beaches. The boat will boast a more traditional sportfish style with more bait wells, chillers, water maker and Eskimo icemaker. The model can also be modified from the express walkaround to become a center console. Final Chapter was built for a fishing enthusiast owner and is managed by Capt. Gary Picard. He will also take sales inquiries at Yachtworld.com or checkout other
Bonadeo boats for sale
on YachtWorld. Bonadeo Boatworks can also be contacted directly for new custom boat designs./>
The Bonadeo 45' Express Walkaround bridges the gap between the popular performance center consoles...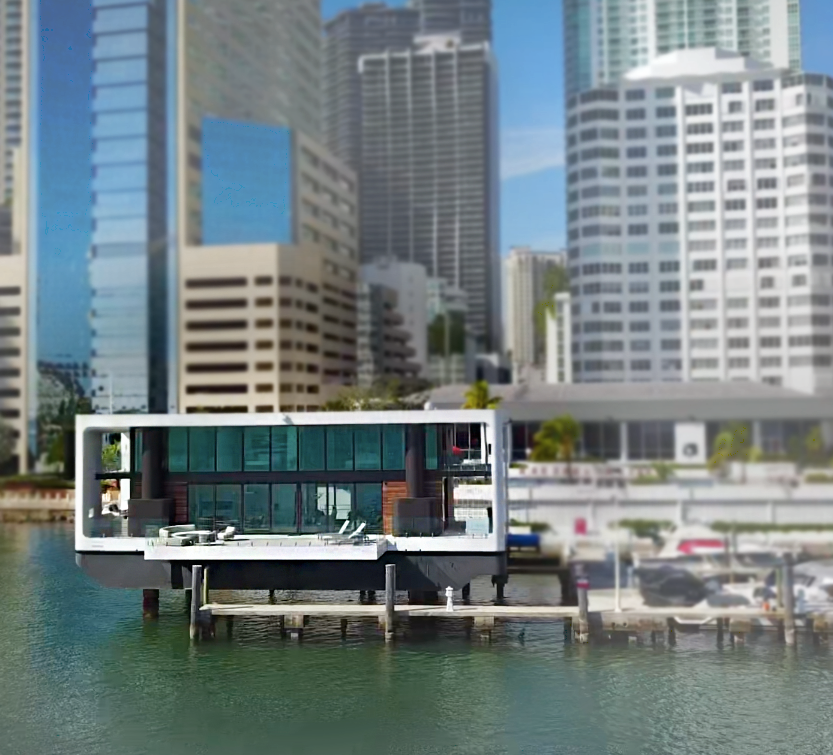 Arkup 75. Photo by Nate Cantalupo
A Fully Solar-Powered Yacht
Is this a house? Yes. Is this a yacht? Yes. "It's the world's first fully solar-powered livable yacht," Marius tells us. Quite remarkable, the Arkup 75 is fully self-sustaining for both power and water - a truly off-grid paradise. Arkup's founders were motivated by a concern for the environment, climate change and sea-level rise around the world. They felt Miami would be an ideal place to launch an innovative new platform for sustainable living. So they founded the Arkup company with the belief that this visionary product, designed with renewable tech, would be an inspiration to future generations. The Arkup 75 showcases how to live with the water while being independent with drinking water and energy. Imagine an immense two story penthouse with stunning horizon views from every room that can also motor itself around to new locations whenever your heart desires. Robustly built, this floating villa plants itself wherever it's parked. "[It has] four 40 ft-long steel spuds and hydraulic jack-up system that allow the vessel to be anchored and completely stable in up to 20-25ft of water." - ARKUP It's this transformational function that allows the House Yacht to be worry free when it comes to storms. The biggest worry for waterfront property owners is usually flooding from hurricanes and sea level surge. The Arkup House Yacht quite literally rises above that challenge so that flooding is not a concern, able to raise itself high above the water. It also features floor-to-ceiling stackable impact windows (by PGTi) which provide stunning panoramic views and simultaneously protect against high winds and hurricane conditions.
/>
Hop aboard the Arkup 75 - a next generation, fully solar-electric, sustainable house yacht.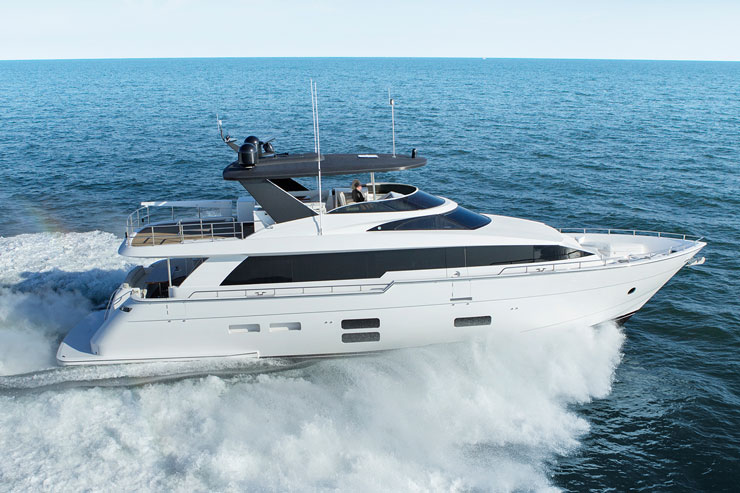 You can find Hatteras 70 Motor Yachts and Hatteras 70-something Cockpit Motor Yachts on the broker market,...
The Rampage 38 Express offshore fishing boat, widely available on the brokerage market today, represents...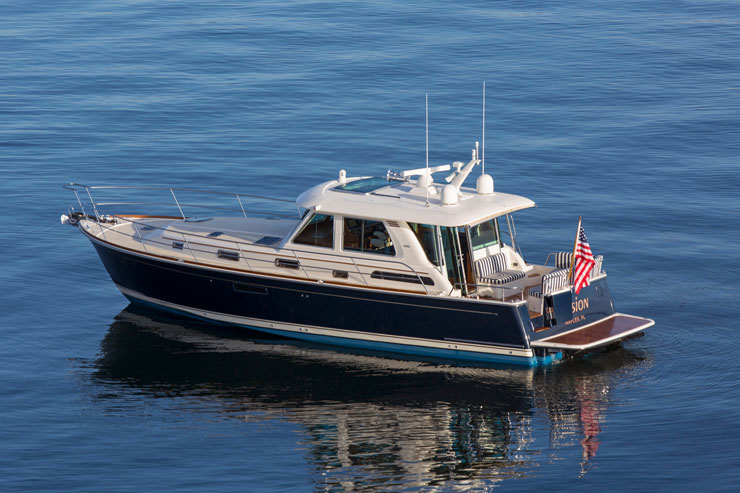 The Sabre 48 Salon Express is one of this builder's most popular models, and they're available all...
The Catalina 350 sailboat is in high demand on the brokerage market, but fortunately there are plenty...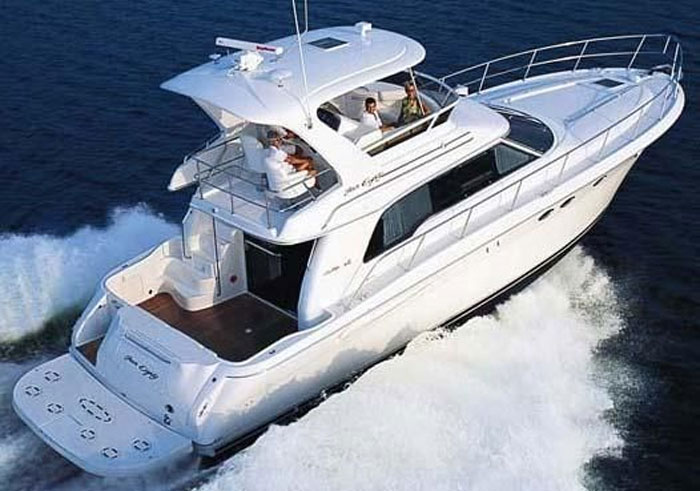 This convertible had a long production run at Sea Ray, and remains quite popular on the brokerage market...