We live in ground breaking times, to be sure. To that point, tonight's eye-popping, record-breaking, enormous Powerball jackpot has us yet again navigating in some uncharted territory, even by today's standards. After no one won this past Saturday's 1.6 billion dollar jackpot, the new grand prize jackpot for tonight stands at a mind blowing $1.9 billion. If you chose to go with the cash payout, that would be $929.1 million, just shy of 1 billion dollars. You guessed it – that's the largest payout in the history of the U.S. lottery, if one person wins it. The previous record was split between three winners, and was a paltry $1.586 billion in comparison. Poor souls.
Above: The winning powerball lottery winners will be announced on Nov. 7, 2022. Image via Pond5.
For those who are dreaming of what kind of yacht (or superyacht, megayacht or gigayacht) they may be able to afford if they are lucky enough to win the whole jackpot, let's take a look at the many options out there.
What Can You Not Afford?
A better question may actually be: what can you not afford? First off, you will be pleased to learn, should you be faced with some tough boat-buying decisions, that none of the most expensive yachts in the world for sale on YachtWorld currently top a billion dollars. In other words, we think you'll be in pretty good shape.
On the other hand, the most expensive private yacht ever sold (by far) was the unbelievable gold and platinum-coated HISTORY SUPREME that reportedly sold for $4.8 billion USD. No, that isn't a typo. $4.8 billion dollars! So even with your new found fortune, you still couldn't afford this over-the-top, gold-encrusted, extreme machine encased in 220,462 pounds of precious metals. Did we mention the boat has an actual T-Rex dinosaur skeleton onboard? That's just silly.
What Can You Afford? A Gigayacht!
So, now that we've established what you won't be able to afford, even with the largest winnings in U.S. history, let's take a look at what you can afford. Yes, back to reality folks. Fortunately, your new reality with nearly a billion dollars cash will be anything but spartan. Things are looking up! On our current list of the world's most expensive yachts, you should have no problem making a deal for the number one position.
KISMET by Lürssen
Above: Kismet superyacht. Photo: Diego F. Parra from Pexels
Sitting at the current number one for expensive vessels over 300 feet on YachtWorld, is the grand and marvelous, 312-foot gigayacht KISMET built by Lürssen. This award-winning vessel features a gorgeous exterior design by Espen Espen Oeino and a decadent interior by the world-renowned Reymond Langton Design. Currently for sale with Moran Yacht and Ship, she can accommodate 16 guests in 8 opulent staterooms, with the master stateroom featuring a private deck complete with a Jacuzzi and access to the yacht's helipad.
If luxury is your thing, check out her other features including a spacious sundeck complete with a swimming pool, full-service spa, and a one-of-a-kind retractable outdoor fireplace. A highly successful charter yacht, KISMET represents the highest quality yacht available for sale in the world today.
View the KISMET gigayacht for sale on YachtWorld now.
What About A Megayacht Instead?
If gigayachts over 300 feet long seem just a little too big for you, you could consider instead the far more modest (not really) megayacht category by adjusting your search filters to just below 300 feet. Here you'll find the exquisite megayacht VICTORIOUS topping the list.
VICTORIOUS Megayacht by AKYACHT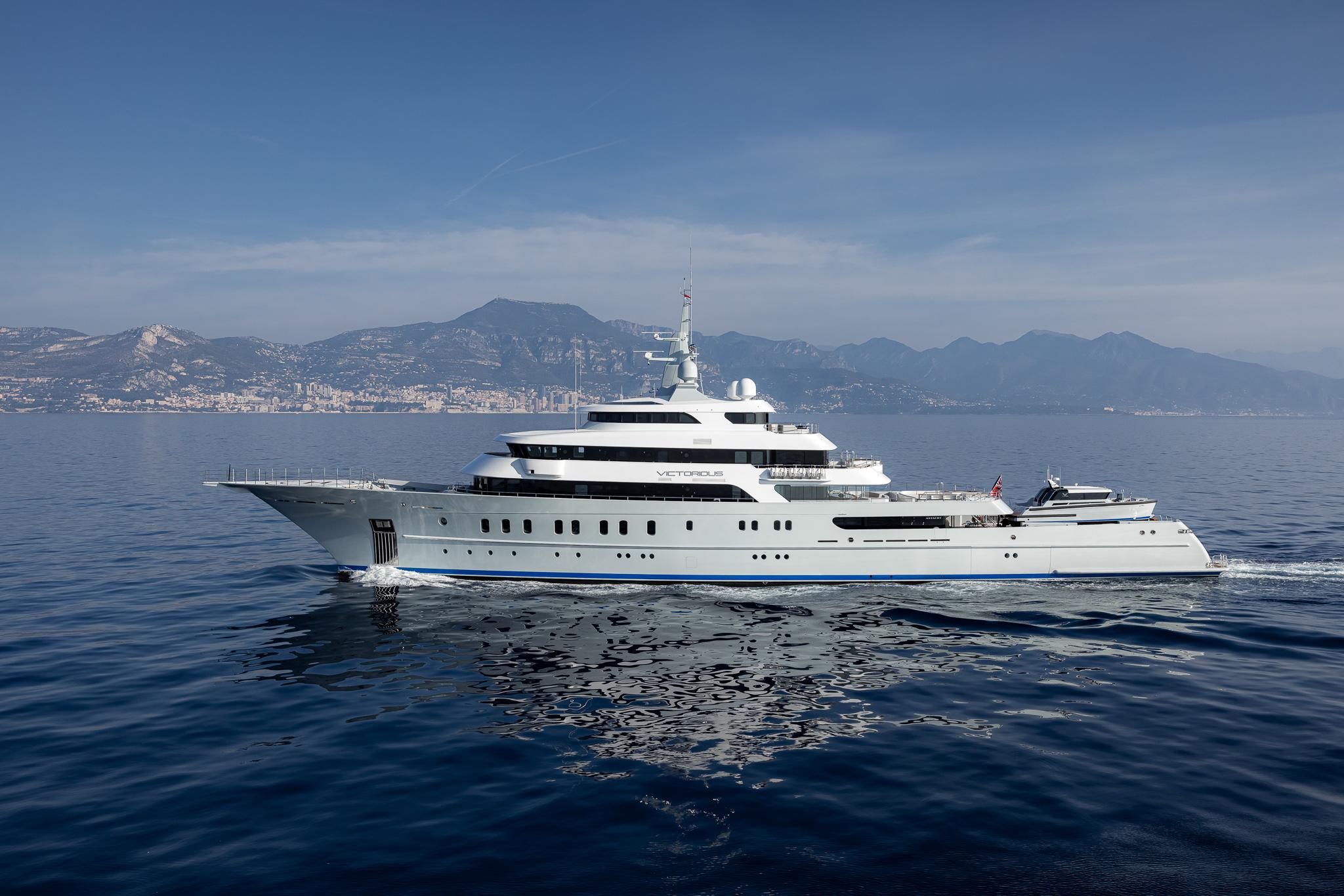 Above: The VICTORIOUS megayacht currently listed for sale on YachtWorld is one of the world's most expensive yachts. Photo via Fraser Yachts in Monaco.
Built by Turkish shipyard AKYACHT, this award-winning 279-foot explorer yacht was originally delivered in 2021 and packed with exceptional features. She features a 2,153 square-foot beach club, wellness center with a pool, two lounge and bar areas, sea terraces, gym, massage, and treatment rooms, hammam and of course, a beauty salon. VICTORIOUS also boasts a children's playroom, cinema, and considerable storage space for tenders. We think you'll find yourself quite comfortably at home on this ship.
View the VICTORIOUS megayacht for sale on YachtWorld now.
What About A Superyacht?
If instead you choose to be a bit more responsible with your vast sum of money and prefer to sit on at least a few of your many stacks of cash, squirreling away some away for a rainy day, you could instead opt to go with a superyacht – aka a vessel over 130 feet but under 200. Boats in this category are still sure to wow your new friends – and you're sure to have a lot of those! Let's take a look at a slightly smaller alternative here that still puts things into perspective.
LA FAMILIA Superyacht By Burgess
Above: The La Familia superyacht by Burgess. Photo via Burgess London.
Again using our search filters, we set the max length to 199 feet and here, atop the list of superyachts currently for sale on YachtWorld, we find the gorgeous 35 million dollar LA FAMILIA, built by Dutch superyacht builder Amels in 2015. With an exterior by Tim Heywood Design and a bespoke interior by acclaimed London studio Lambert & Thurnherr, this ship is magnificent in every way, from her deep blue hull to her four-deck layout she boasts a distinguished appearance and immaculately finished interior that reflects a stylish modern take on traditional interior design.
But those aren't the only elements that make the LA FAMILIA superyacht unique. There's also the raised lounge area on the strengthened sun deck that also serves as a touch-and-go helipad, and the large folding balcony in the full-beam master suite that creates an intimate al fresco space in the privacy of the main deck suite. On the lower deck, three double cabins and a twin cabin with pullman berth complete versatile accommodation for 11 guests, looked after by up to 14 crew. LA FAMILIA is clearly a cherished yacht that has also been tirelessly maintained inside and out without compromise by the current owner.
View the La Familia superyacht for sale on YachtWorld now.
Another Option: Share The Wealth!
Perhaps the superyacht lifestyle isn't your thing. Instead you could consider buying a multiple boats as gifts for your friends and family, spreading the wealth around. But what kind of boats would the people in your life like to own and operate, and how much do they cost? Let's take a look at some popular options to see what you could afford.
First off, Sea Ray Boats builds some of the most popular trailerable boats on the market today. The builder's SLX 400 models are versatile, all-purpose cruisers that offer a hybrid layout between an overnight cabin cruiser and a bowrider day boat design that is very popular with many types of boaters. There are currently 47 listings available on Boat Trader by both private sellers and professional boat dealers, including both new boats and used boats. The starting price is $499,000, with the most expensive coming in at $1,179,000 and an average price of $669,995. If you divide your lump sum option of roughly 930 million by roughly 700K, you'd be able to afford about 1,329 Sea Ray SLX 400s. That's a lot of Sea Rays!
Another one of the most popular boat types in America are pontoon boats. In fact data at Boat Trader shows pontoons have been growing in popularity inland for years. Bennington is a popular manufacturer of pontoon boats, and it's no secret that lake lovers swoon over these types of vessels. With shallow drafts and wide stable decks, pontoons are also perfect for navigating rivers, swamps, marshes and reservoirs. So, taking one of Bennington's most popular pontoon boat models, the Bennington QX model line, that has a current average price of around $159,900, you could actually afford to purchase about 5,813 of these boats. That's the population of many small towns in America. Imagine giving everyone in your hometown a boat for the holidays this year!
Being David Bowie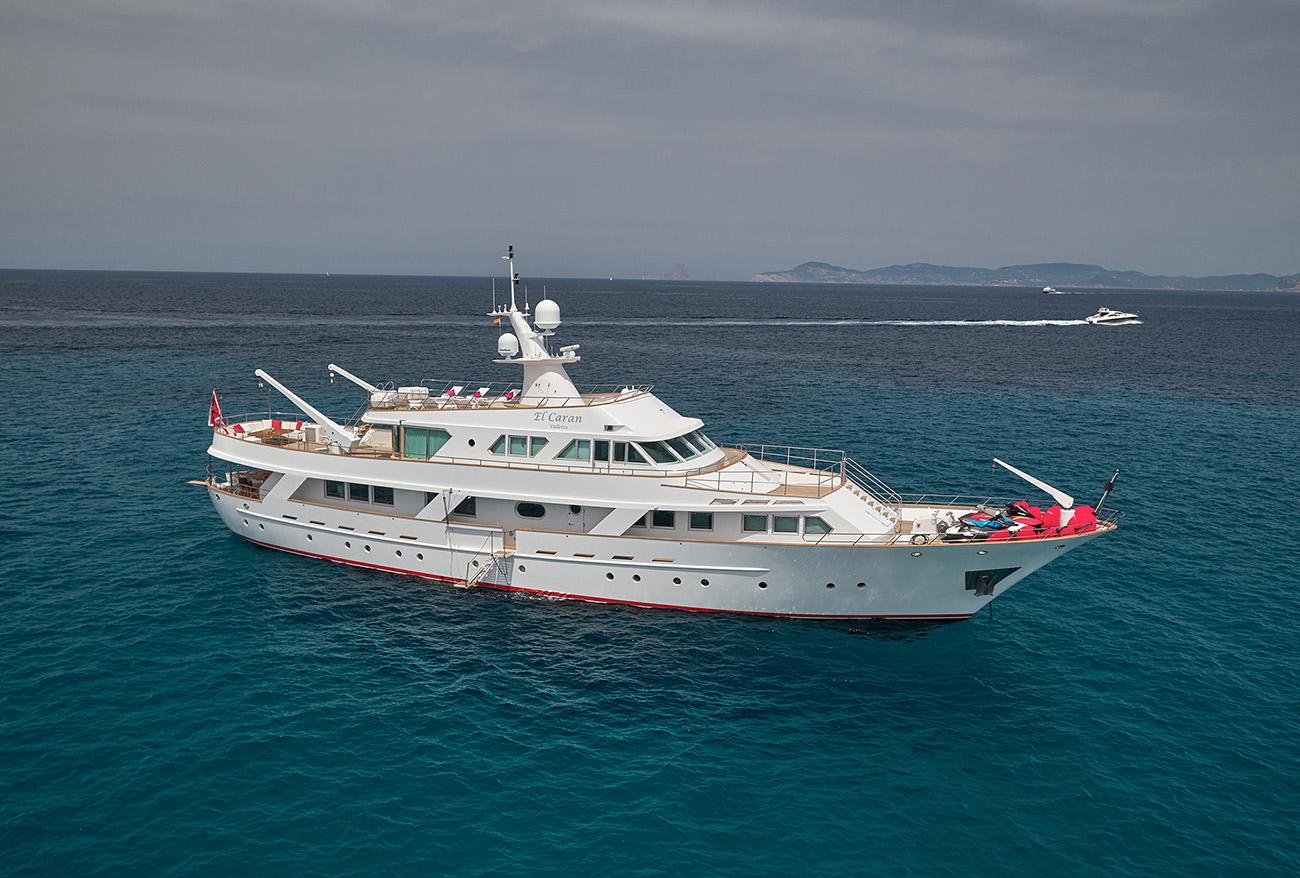 Above: David Bowie's former yacht, the EL CARAN, a 1977 Benetti, is currently offered for sale on YachtWorld by Fraser Yachts in Spain. Photo via Fraser Yachts.
For any fans of the late, great David Bowie, you could take a step into the famous musician's shoes and purchase his former superyacht to live aboard in style, all for the cool price of 4.5 million USD. That would leave you about 925 million to spare, which should be enough for some gas to power her (for at least a few years).
Mr. Bowie's 128-foot 1977 Benetti superyacht the EL CARAN is currently listed on YachtWorld, offered by Fraser Yachts. Beyond the boats storied past and celebrity owner, she features elegant classic lines with an elegant Italian interior that can accommodate up to 12 guests in six charming cabins complete with fresh new interiors.
In Conclusion
To wrap up, if you choose to buy a lottery ticket today, we wish you the best of luck on the drawing, and even if you don't walk away the big winner – YachtWorld always encourages you to keep your boating and yachting dreams alive!
Related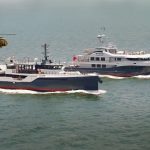 Gene Machine & Gene Chaser Superyachts: YW LEGENDS EP. 6
LEGENDS Ep. 6 features billionaire Jonathan Rothberg's superyachts Gene Machine & Gene Chaser.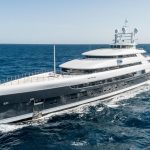 Most Expensive Yachts In The World: Top Contenders In 2022
The top 10 most expensive yachts for sale in the world today.
Monaco Yacht Show 2022: Five Big Bruisers
If you couldn't be at MYS22 in person cast your eyes on these supersized yachts.