Although once considered somewhat exotic, catamarans have been globetrotting blue water cruisers for many years now. But just as they've become mainstream, trimaranas are starting to come on strong. Three-hulled tris (both sail and power) are making a splash even among shorthanded cruisers. Take for example the Rapido 60, which has been touted as a couple's boat for people who want to sail fast but still want to be comfortable and safe even when sailing with fewer crew aboard.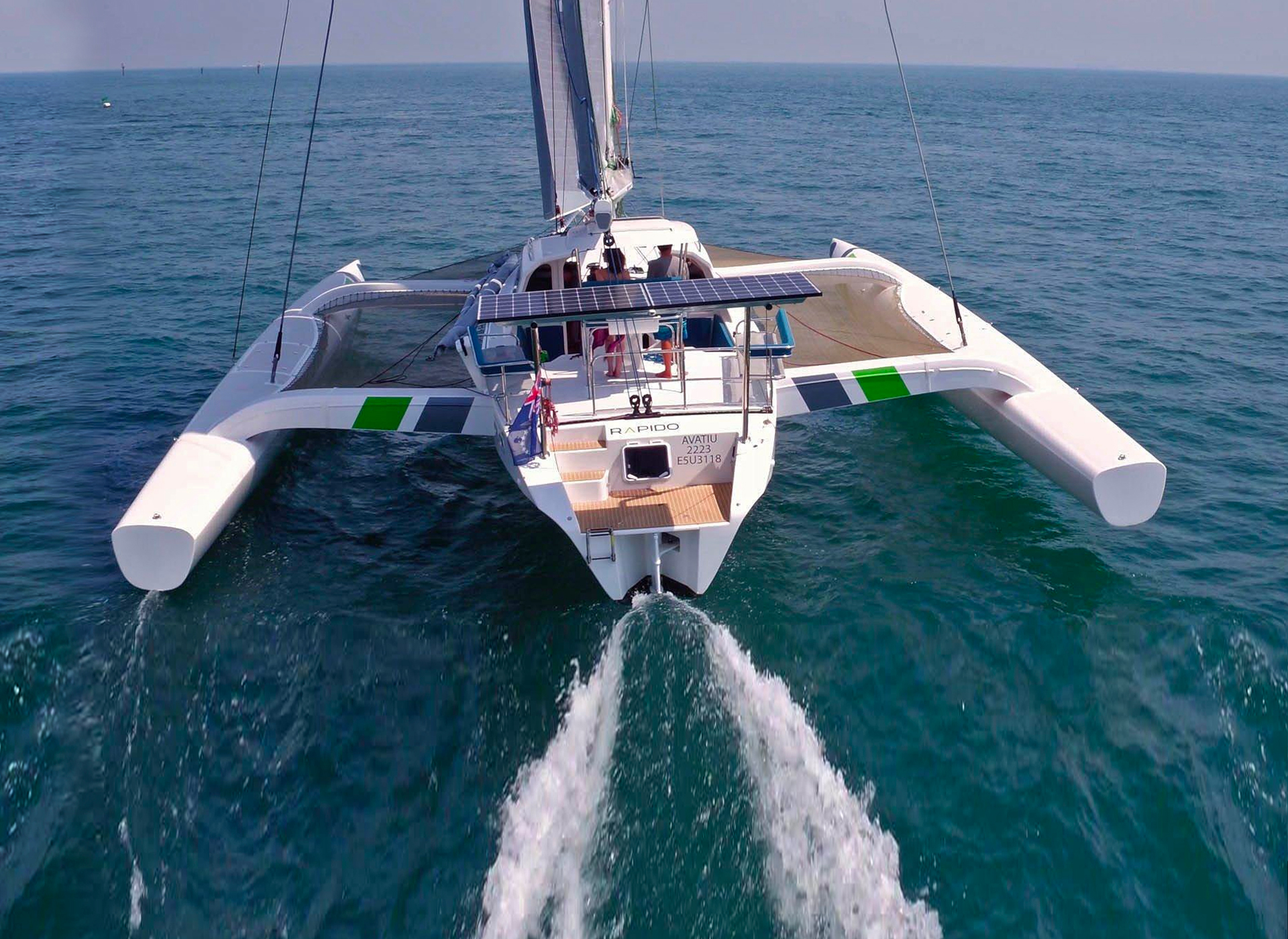 Above: A Rapido 60 Trimaran underway sailing on the water.
Vessel Overview: Concept And Design
The Rapido 60 was designed by premier California firm, Morrelli and Melvin (M&M). It came to life after a discussion between Pete Melvin (of Morrelli & Melvin) and Paul Koch (of Rapido trimarans) who chatted during the runup to the New Zealand America's Cup. The goal was to design a performance cruising multihull that was light, strong, durable, easy to sail, and shippable (since Rapido builds in Vietnam and needs to deliver to owners around the world).
It had to have the convenience of a monohull with most of the space housed in one hull, but it had to be light and bright like a catamaran with above-waterline living. To make it light and efficient, it had to lose the lead keel that keeps monohulls upright. Melvin and Koch settled on a trimaran for its speed and efficiency, but the challenge was to make the boat livable and easily singlehanded, so the owner didn't have to sail with a team to feel safe. The central hull is just over 59 feet long with amas (or outer hulls) on either side that make the total beam nearly 39 feet. It's like a nearly-square speed demon with training wheels.
Above: The Rapido 60 Trimaran Sailing Yacht's hull is sleek and sporty design for performance while still being a comfortable long range bluewater cruiser.
To design this otherworldly machine, M&M pulled out all the high-tech design tools at their disposal including Finite Element Analysis, Computational Fluid Dynamics, Fluid Structure Interaction and the GOMBOC Velocity Prediction Program which they have a license to use. (It was developed for America's Cup boat design.) The result was the creation of a rocket ship that sails like a witch and but is strong (and light) enough to fly the central hull at just 12-13 degrees angle of heel without breaking up.
All three hulls have watertight bulkheads. Critical areas where high load stress is expected (like cockpit door frames) are reinforced with carbon that adds strength but not at the expense of weight since an overbuilt boat is a slow boat. Interior furniture is constructed of a lightweight core and composite panels.
Deck And Sail Plan
The Rapido 60 is approximately half the weight of a 60-foot performance catamaran with an equivalent sail plan that gives her blazing speeds even in light winds. There's a carbon park avenue boom, aramid cap shrouds and carbon diamonds, and a torsional forestay with an integrated structural furler.
The high modulus rotating carbon fiber mast carries over 2,100 square feet of sail area (of North 3Di sails) and that's just between the mainsail and solent. You can add a reacher or a gennaker and reel off 25+ knots on a screaming downwind run which is not only exhilarating, it makes the boat safer too since you have a better chance of sailing out of the way of a major weather system when you're fleet-footed. Light displacement is just over 22,000 pounds thanks to the vacuum infused construction and carbon composite materials.
Livability – Redefining The Trimaran Interior
Traditionally, trimarans haven't been known for a vast amount of livable space and that has hindered them from being chosen for cruising applications. However, the Rapido 60 has turned that idea on its ear. The cockpit, saloon, galley and nav station are all on the same level with plenty of visibility out and 260 square feet of space to live in. The head and shower are forward and either the aft or forward cabin could be used as the master stateroom although it's likely that couples will choose to sleep in the bow.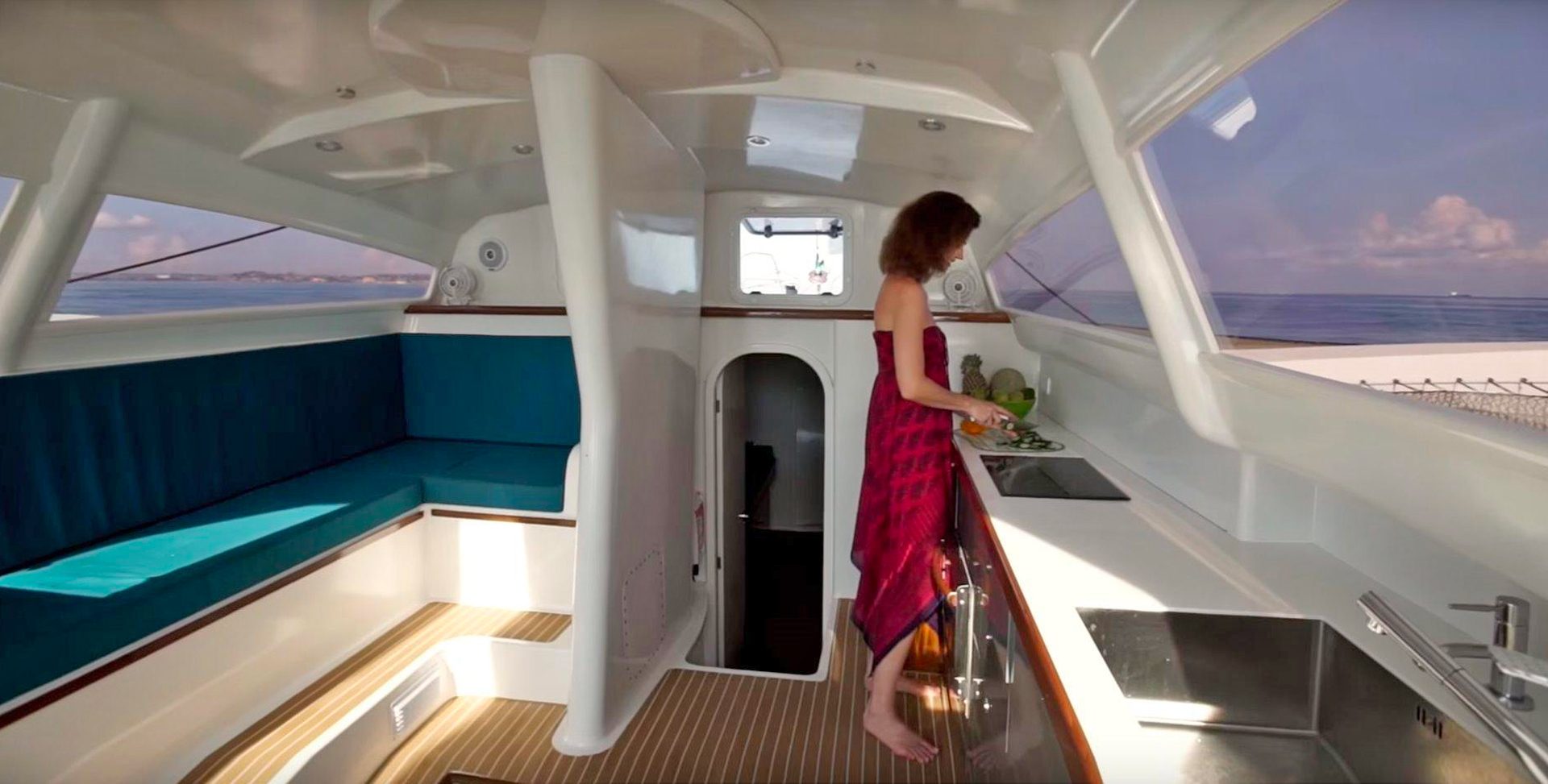 Above: The Rapido 60 Trimaran has turned the idea of small, limited space onboard a performance trimaran on its head by providing 260 square feet of living space with a comfortable design featuring a master stateroom and a fully equipped galley.
There's an aft deck lounge area and the space ahead of the mast has been dedicated to a sun deck. Don't forget about the giant nets on either side that extend from the main hull to the amas with over 200 square feet of play space. The transom swim platform is equipped with a hot/cold shower and a ladder for when you want to take a dip. The stowage secret are the amas with massive storage compartments for fenders, SUPs, water toys and extra gear.
Systems And Propulsion
Weight was considered throughout, right down to all the technical systems. This 24-volt boat has a bank of lithium batteries that are half the weight of traditional lead acid units and can be discharged more deeply so there's more power with fewer batteries. Auxiliary power is provided by a single 53-hp Yanmar diesel with a straight shaft and a folding 3-blade propeller. That said, currently there's an experiment happening to see if twin electric Oceanvolt motors may be added (on either side of the central hull with propellers at 45-degree angles) so the boat can get into even shallower water. With the daggerboard and the T-rudder up, the draft is already down to just over 2.5 feet and adding this propulsion configuration may make that even less.
Gamechanger For Cruising
The Rapido 60 is designed to be an owner-operated boat and is responsive, easy to sail and a breeze to maneuver despite its impressive beam. Nearly all the controls are at the helm and the steering by Jefa systems is direct for maximum feedback to the driver. It's also designed to be a windspeed boat – in other words, it will sail at the speed of wind and will generate apparent wind which makes it perfect for light condition sailing where the engine can be left off, reducing your carbon footprint.
The Rapido 60 is joined by its two smaller siblings, the Rapido 40 and 50. Both of these designs have folding amas so they can be berthed in a narrower slip. The 60 is a little too big for that so its amas are bolted and glued once the boat is delivered. It's a fast design that can make you feel like a rock star racer but it can be singlehanded. It has plenty of room for distance cruising and it's an ultimately stable design with more righting moment than a catamaran so it's unlikely to flip even in large seas. For couple's cruising, it's a gamechanger.
Specifications:
LOA 59' 4"
Beam 38' 5"
Draft 2' 6"/11' 6"
Displacement 22,046 pounds
Air draft 83' 0"
Sail area 2,109 sq ft (main and solent)
Base price $1.8 million
View Rapido 60 Trimaran yachts for sale on YachtWorld today.
View all Rapido yachts for sale on YachtWorld now.
Related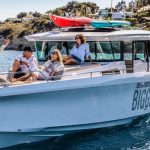 Axopar 45 XC Cross Cabin Review: On The Water 365 Days A Year
Are you looking for a sporty 45-footer to take you boating all year round?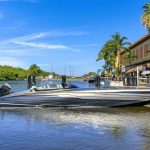 Behind-the-Scenes at Mystic Powerboats
Mystic Powerboats CEO John Cosker gives fans a behind-scenes-look at the custom builder's facilities...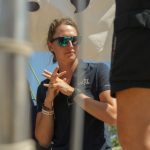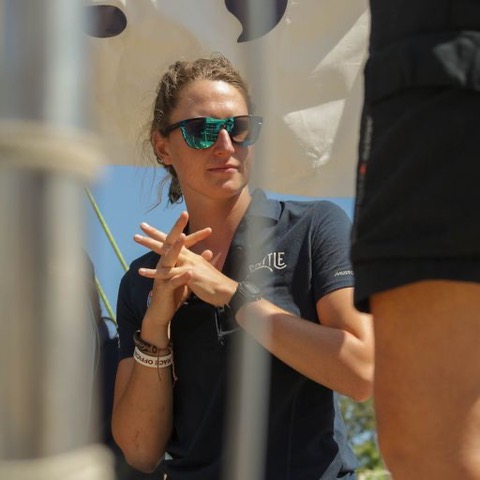 Cruising Tips From An Expert Circumnavigator
Category:
Cruising Under Sail
Professional Sailor Hannah Brewis shares her top tips on bluewater cruising under sail.